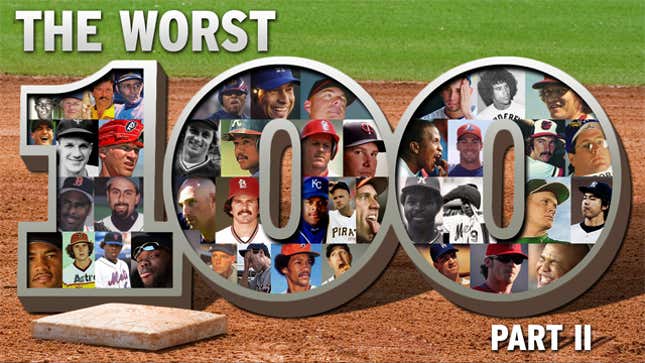 Here's the second part of the roundup of baseball's low achievers. Part 1 is here.
How running an NFL team is like running a restaurant | Chef Emeril Lagasse
Notorious Or Unpleasant Individuals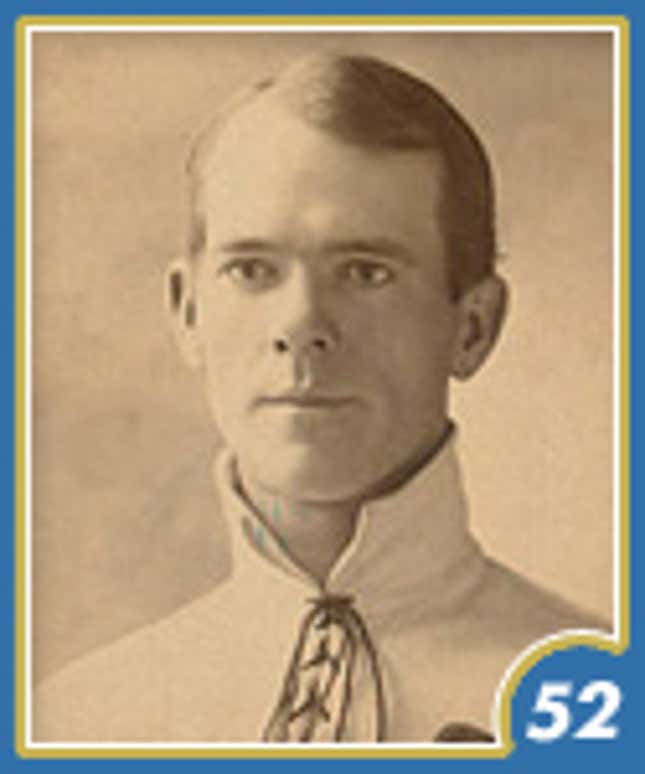 52. Marty Bergen, 1896-1899 (Boston Beaneaters)
Marty Bergen was the brother of Bill Bergen, the worst hitter in baseball history. Unlike Bill, he was a fairly effective batsman, but for years he was a mercurial teammate, prone to paranoia and mental episodes. In 1900, he murdered his wife and two children with an axe, and then slit his own throat with a straight razor.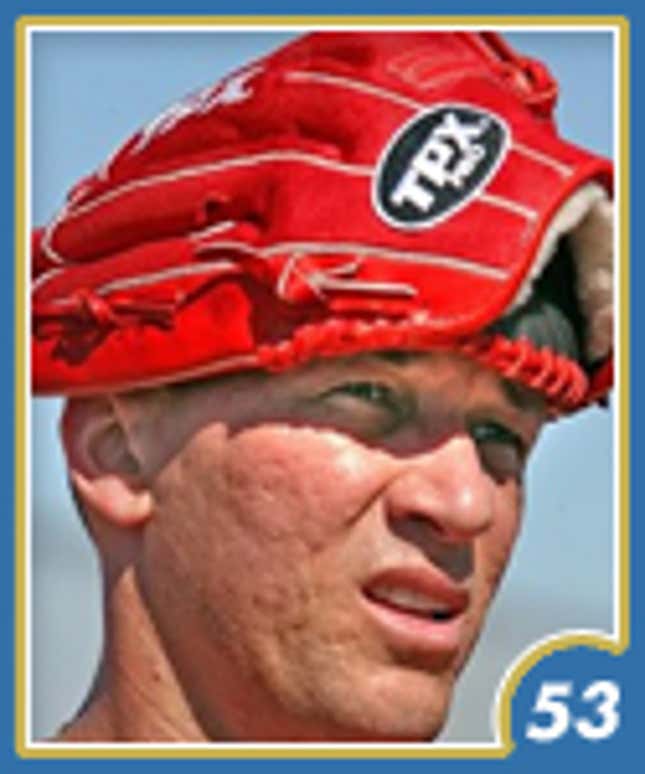 53. Julian Tavarez, 1993-2009 (Giants/Cardinals/Indians/
Red Sox/Pirates/Rockies/Nationals/Braves/Cubs/
Marlins/Brewers)
Many players with reputations for lousy personalities make up for it by winning the respect of their teammates. Julian Tavarez, who was in all fairness a pretty average pitcher, did not pursue this option. Instead, he became notorious for throwing fastballs at his former teammates after somebody—usually Tavarez, who played on ten teams—changed franchises. Tavarez called San Francisco Giants fans "a bunch of assholes and faggots." He got into fights, multiple ones during Spring Trainings, even. He broke things in dugouts and bullpens. Once, while playing for the Red Sox, Tavarez fielded a slow grounder up the line and rolled the ball to first baseman Kevin Youkilis. "Because I want to," he said.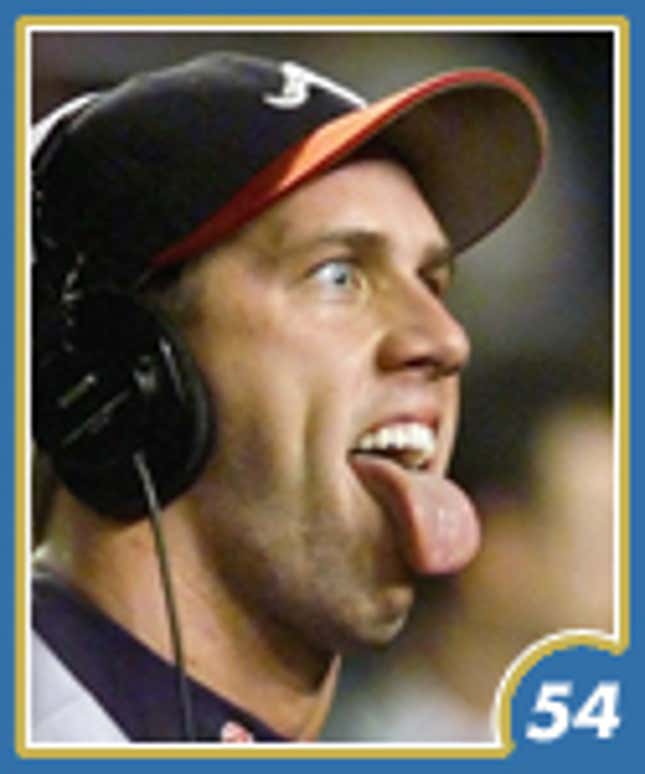 54. John Rocker, 1998-2003 (Braves/Indians/Rangers/Rays)
Ty Cobb was a terrible racist and a fantastic baseball player. For decades, Cobb managed to be both of those things at the same time. John Rocker, on the other hand could not spew hatred and pitch effectively simultaneously. In the years after he infamously ripped on every kind of person who lives in New York, Rocker deteriorated from an All Star buffoon to an ineffective one.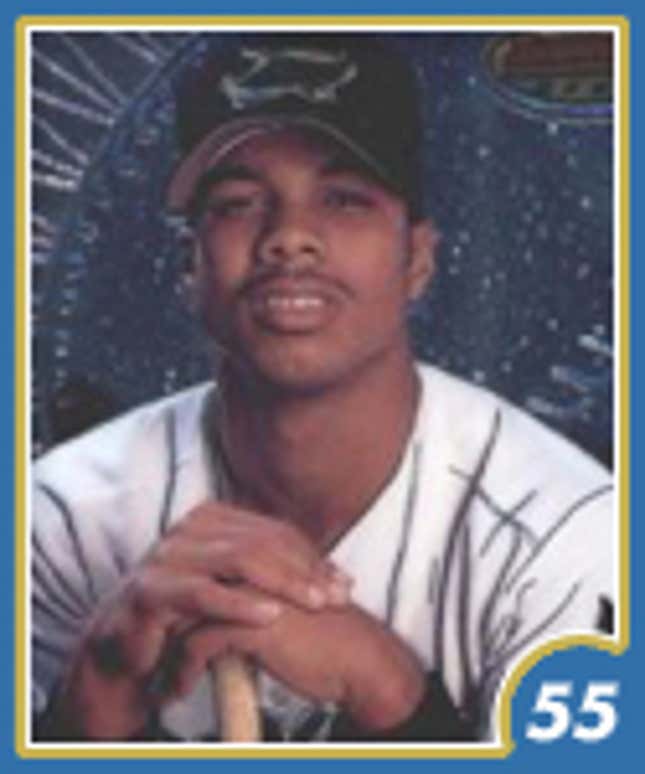 55. Alex Sanchez, 2001-2005 (Brewers/Tigers/Rays/Giants)
Alex Sanchez was the first major leaguer to be suspended for performance-enhancing drug use. His positive test in April 2005 would have been a major coup for Commissioner Bud Selig had Sanchez hit more than four home runs in the 1,000-plus at-bats of his career to that point.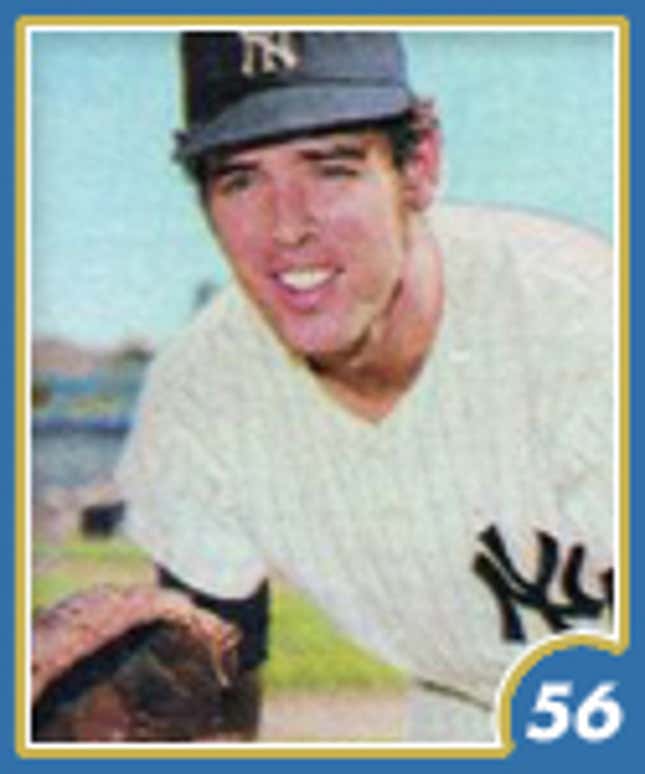 56. Mike Kekich, 1965-1977 (Yankees/Mariners/Dodgers/Rangers/Indians)
Mike Kekich was not an effective major league pitcher. By the low-scoring standards of the late 1960s and early 1970s, his OK-looking 4.59 lifetime ERA was atrocious. Nor was Kekich an effective family man. In 1972, Kekich and teammate Fritz Peterson traded families. They swapped wives, children, dogs and houses. Despite their nontraditional method of pairing off, Peterson and the former Mrs. Kekich got married and had four children of their own. Kekich and the former Mrs. Peterson were done for in a matter of weeks.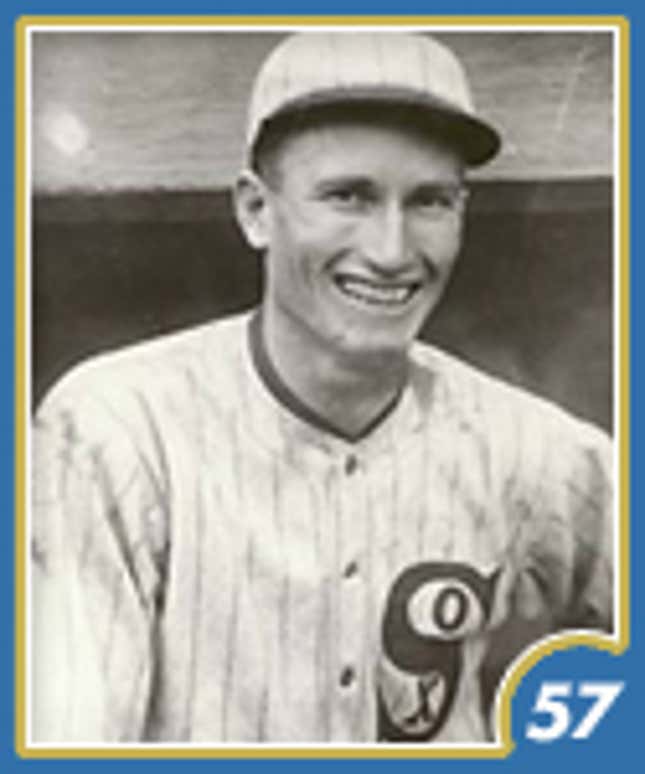 57. Swede Risberg, 1917-1920 (White Sox)
Unlike Shoeless Joe Jackson and other banned members of the Black Sox, baseball did not miss Swede Risberg. Risberg, in fact, was a bad enough player that it's not clear that paying him off was a necessary element of Arnold Rothstein's plot to fix the 1919 World Series. Risberg, normally a shortstop, was a career .243 hitter who rarely took walks, and when he did get hits, he rarely mustered more than a single. In the tainted World Series, he went 3 for 25, but drew 5 walks.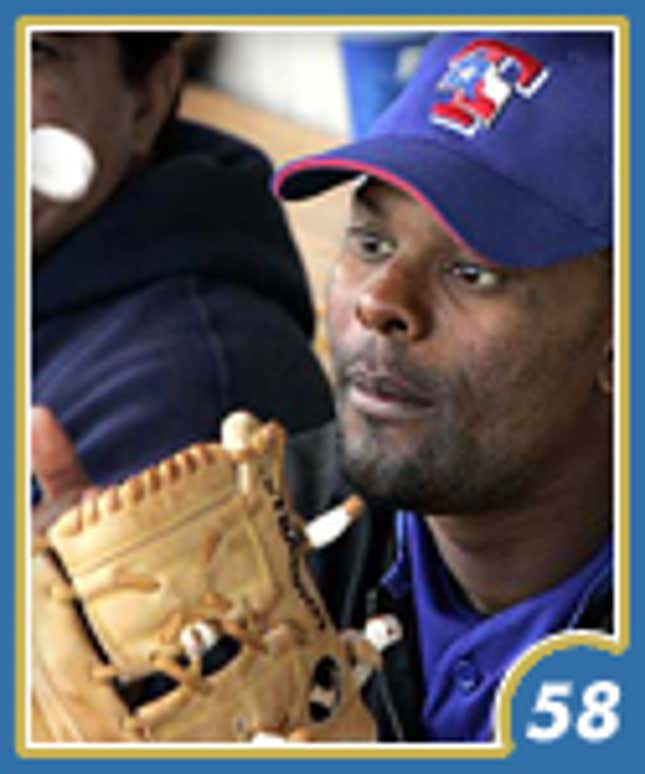 58. Manny Alexander, 1992-2006 (Cubs/Orioles/Red Sox/
Mets/Padres/Rangers)
Manny Alexander appeared sporadically in the majors between 1992 and 2006, batting .231, fielding badly, and accumulating -2.4 WAR. While playing for the Red Sox, Alexander lent his Mercedes to a team bat boy who didn't have a driver's license. When police pulled over the bat boy, they searched the car and found anabolic steroids and hypodermic needles in the glove compartment. Alexander got off without arrest, but the bat boy didn't. He was booked, became tabloid fodder, left his position with the team, and descended into depression.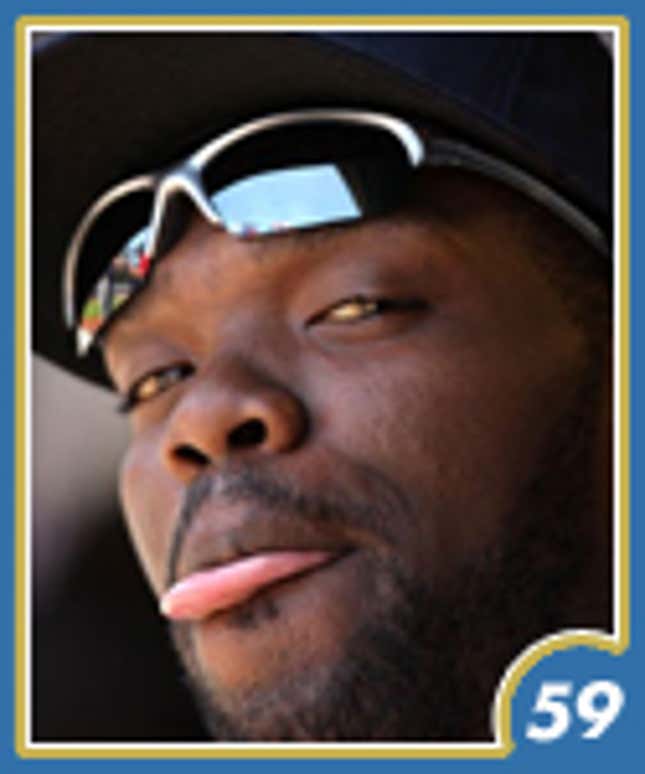 59. Elijah Dukes, 2007-2009 (Nationals/Rays)
When Rickey Henderson was 44 years old, he found himself so unwanted that he had to play for the Newark Bears. Elijah Dukes made it to Newark at age 26. Dukes was no Henderson, but he wasn't bad, either—his 2008 season with the Nationals was quite good, statistically. But Dukes was injury-prone and insufferable. Frequently ejected from games throughout his career, Dukes was suspended 50 35 games in the minors after for throwing a bat at a run-in with an umpire. He collected multiple arrests for assault, making threats, failing to pay child support, and driving with a suspended license. [CORRECTION: Dukes's teammate Delmon Young was the bat-thrower.]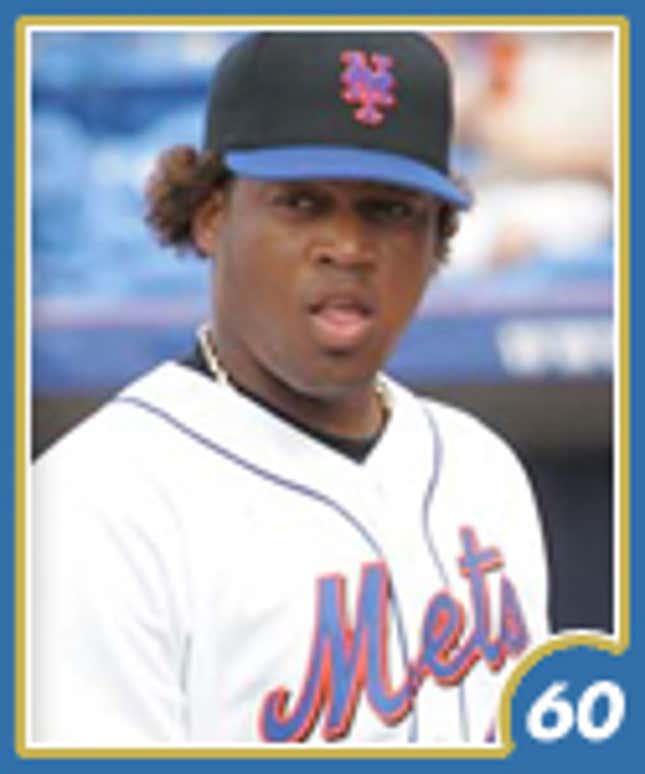 60. Ambiorix Burgos, 2005-2007 (Royals/Mets)
Ambiorix Burgos was a bad closer. In 2006, the second of his three seasons, he pitched 73.1 innings for the Royals, allowing 16 home runs, and posting a 5.52 ERA. (Say what you will about the necessity and meaning of the closer position, but 18 saves in 30 attempts is just not good). Off the field, Burgos was one of baseball's most frightening human beings. He was convicted of assaulting his girlfriend by biting, scratching and slapping her; he has been charged with a hit and run on two women on the Dominican Republic, one of whom later died; and also in the Dominican Republic he has been charged with kidnapping and attempted murder for allegedly poisoning his ex-wife.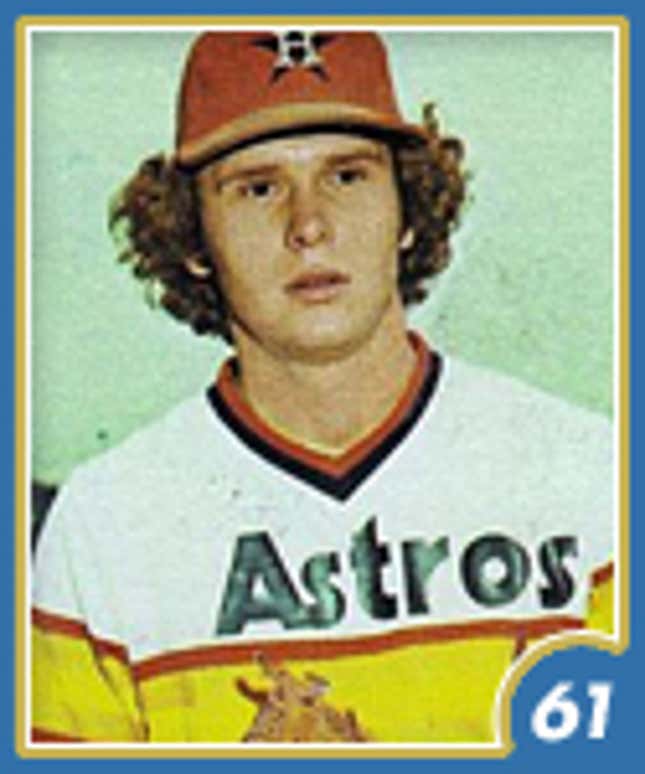 61. Mark Lemongello, 1976-1979 (Astros/Blue Jays)
Mark Lemongello's career was short and mediocre. As a starting pitcher for the Astros and Blue Jays in the late 1970s, Lemongello showed flashes of both promise—decent ERA, a near no-hitter— and insanity—attacking fans, asking if Canadians "spoke American." It was a few years after his career ended that things got interesting. With the help of ex-teammate Manny Seaone, Lemongello kidnapped his cousins Mark and Peter and robbed them of tens of thousands of dollars. Mark Lemongello was a professional bowler, Peter Lemongello an Italian-style crooner who sold millions of records in 1976 via direct advertising on television. Rumor and various unreliable blog sources have Lemongello as wandering the country, remaining one step ahead of his family and regular daily life.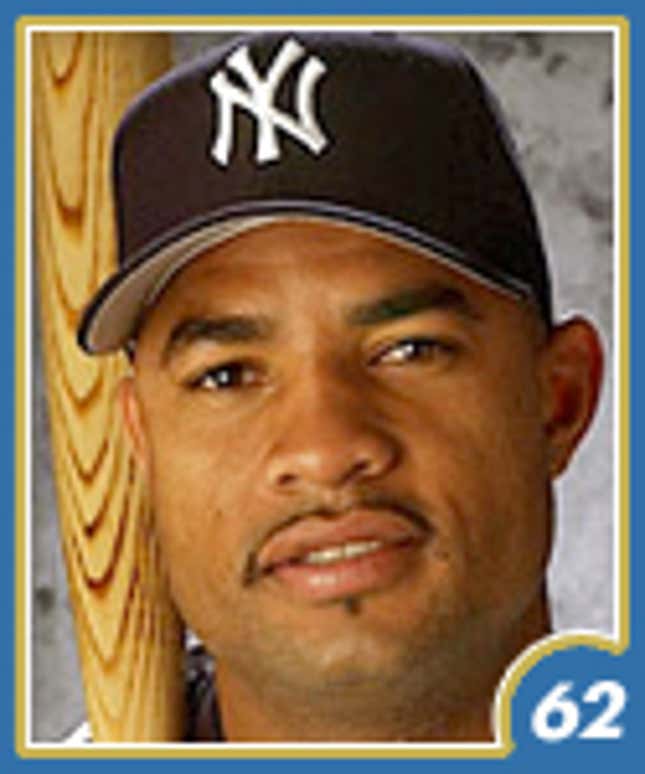 62. Ruben Rivera, 1995-2003 (Padres/Reds/Rangers/Yankees/Giants)
Ruben Rivera was an artist of failure. Before he stole Derek Jeter's glove in spring training of 2002, before he performed possibly the least coherent act of base running in history, and before he settled into his niche as a hitter who regularly flirted with the Mendoza Line despite decent enough power, Ruben Rivera was traded from the Yankees to the Padres for a scrap heap that included player-to-be-named-later Hideki Irabu. Say this for lifetime .216-hitter Ruben Rivera: he was a harbinger of embarrassment, a master of collateral damage, and, even in absentia, a one-man natural disaster.
Just Plain Bad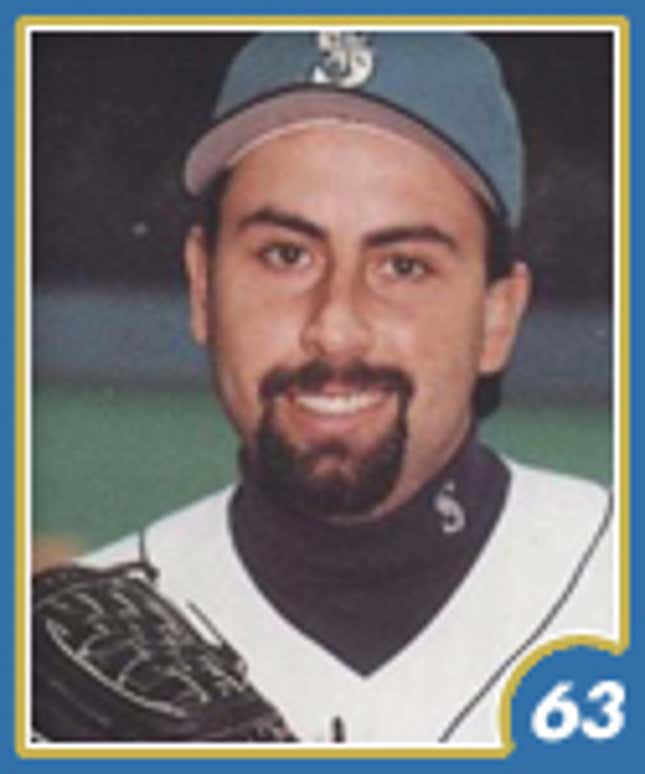 63. Bobby Ayala, 1992-1999 (Mariners/Expos/Reds/Cubs)
Bobby Ayala is on this list as a stand-in for every Mariners pitcher of the 1990s who wasn't named Randy Johnson or Jamie Moyer. Ayala's spectacular blown saves in big games were the volcanic eruptions of a bullpen that included fellow natural disasters like Heathcliff Slocumb, Omar Olivares, and Bob Wells.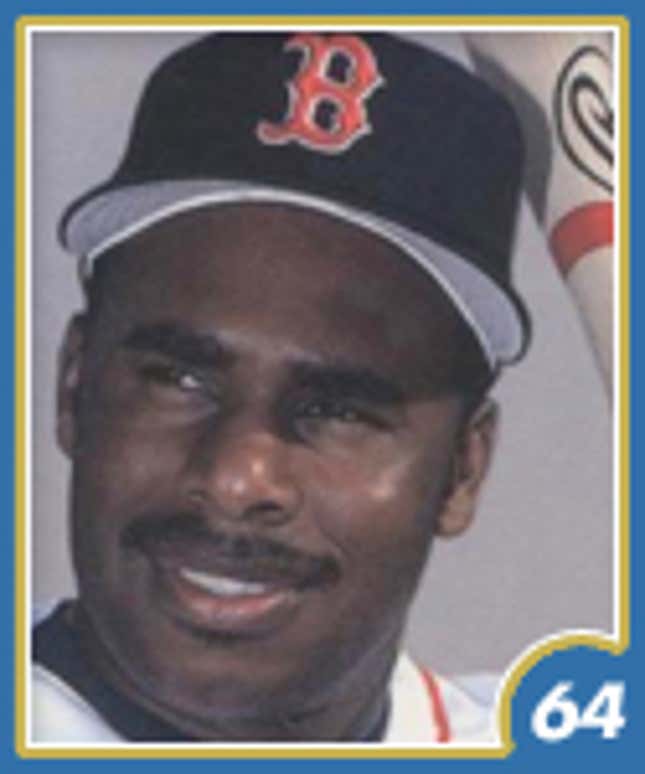 64. Jose Offerman, 1990-2005 (Dodgers/Red Sox/Royals/Twins/Mets/Phillies/Mariners)
As a child in Los Angeles, I associated defensive lapses in baseball with Jose Offerman. I remember vividly watching groundball after groundball roll between his long, useless legs. Now, as an adult, I associate psychological lapses with Offerman. I remember vividly hearing about the time he went crazy at a minor league game with a bat; the time he punched a Dominican Winter League umpire in the face.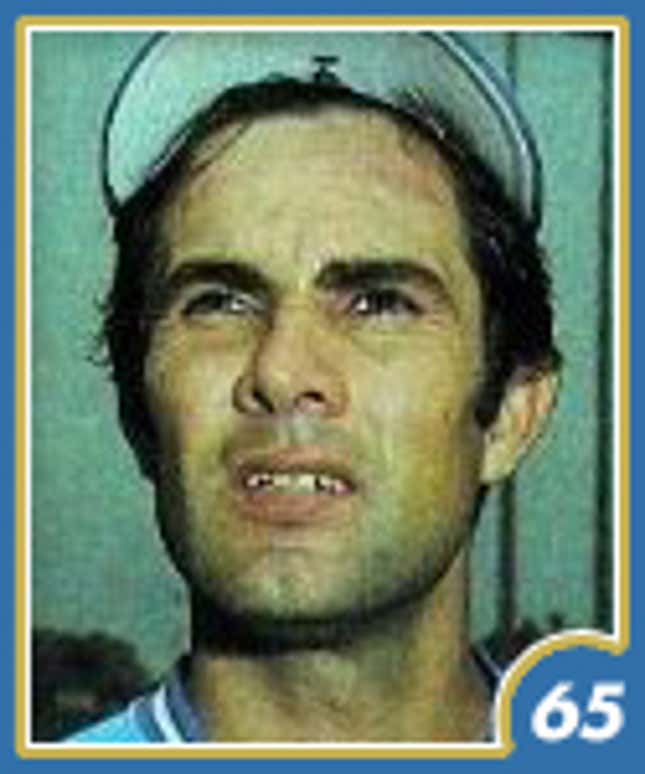 65. Luis Gomez, 1974-1981 (Twins/Blue Jays/Braves)
According to Baseball-Reference.com, Luis Gomez is the player whose career most resembles that of Mario Mendoza. Poor guy doesn't even have any infamy to show for it.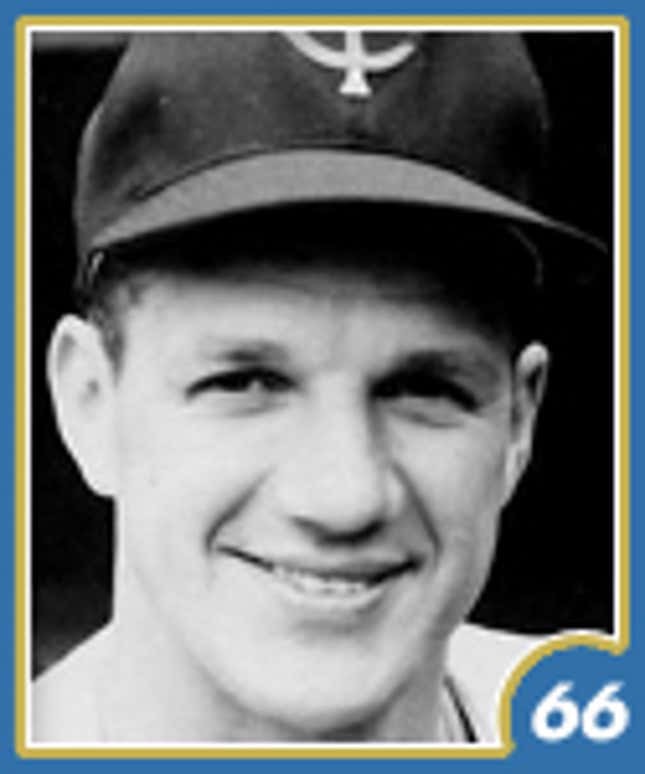 66. Ted Lepcio, 1952-1961 (Red Sox/Tigers/Phillies/Twins/White Sox)
In former center fielder Jimmy Piersall's memoir of baseball and bipolar disorder, Fear Strikes Out, Ted Lepcio stands as a hero. He saves the manic Piersall from beatings, supports him through doldrums, and celebrates the good times right with him. In the eyes of manager Eddie Sawyer, Ted Lepcio barely stood as a utility infielder. "The worst player I ever saw" was Sawyer's exact formulation. Nothing in the numbers says otherwise.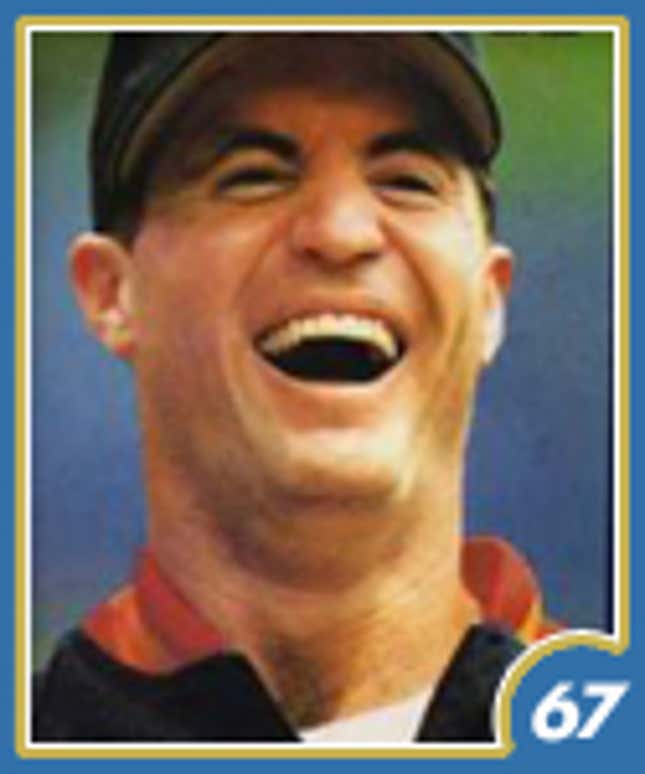 67. Casey Candaele, 1986-1997 (Astros/Expos/Indians)
When we published a lighthearted remembrance of Casey Candaele on Pitchers & Poets, Candaele's brother wrote us an angry email. He didn't appreciate our tone. Well, how about this: Casey Candaele played nine seasons and hit fewer career home runs than Carlos Zambrano. On warm Sunday mornings, he liked to take batting practice naked. On team flights, he liked to ride food trays down the center aisle. There exists on the internet a loving but overwrought poem about Candaele entitled simply "Competent." Perhaps, but only barely.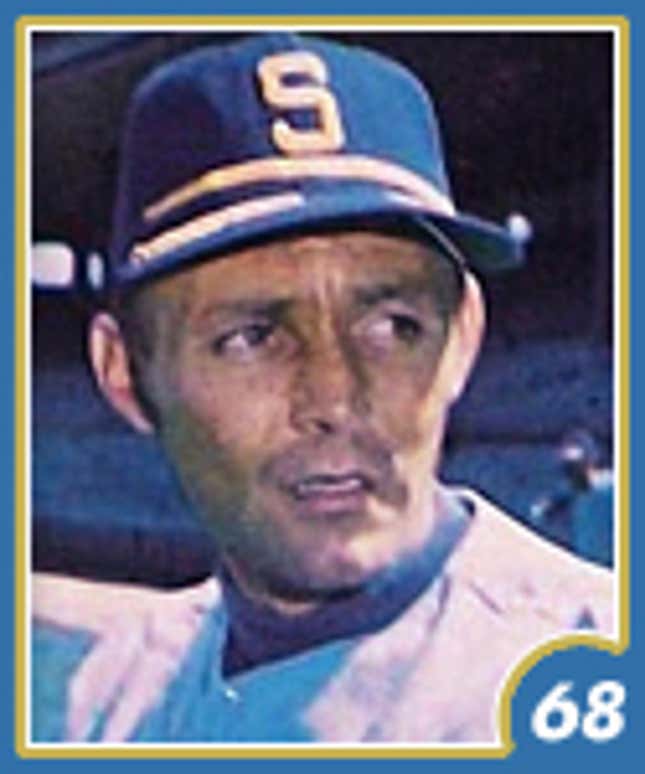 68. Ray Oyler, 1965-1970 (Tigers/Seattle Pilots/Angels)
Ray Oyler was one of the worst baseball hitters of the modern era. He batted just .175 in his career and through the work of a clever disc jockey became a mascot for the futility of the short-lived Seattle Pilots. Over 15,000 Seattleites joined the "Ray Oyler S.O.C.I.T.TO.M.E .300 Club." The acronym stood for "slugger Oyler can, in time, top our manager's estimate" by hitting .300. Oyler never did, but his .165 average with the Pilots in 1969 was thirty points better than his previous season. After going "0 for August" for the 1968 Tigers, Oyler was yanked from his starting shortstop role shortly before the World Series in favor of an outfielder, Mickey Stanley, who had never played the position before. The Tigers won the World Series in seven games, partly because Ray Oyler didn't get a single at-bat.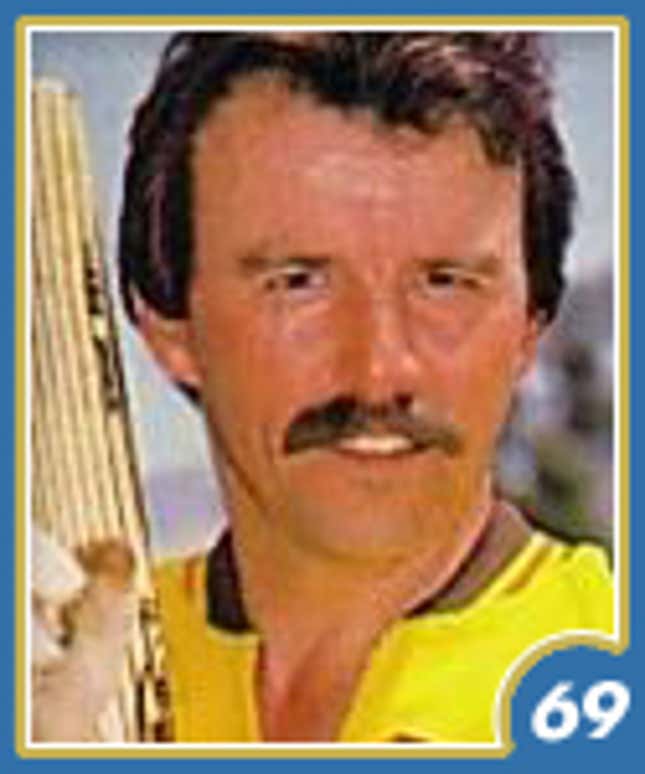 69. Kurt Bevacqua, 1971-1985 (Padres/Royals/Rangers/Brewers/Indians/Pirates)
Kurt Bevacqua once called Tommy Lasorda a "fat little Italian." And while his career .236 average speaks well to how bad of a player he was, Lasorda's response spoke better.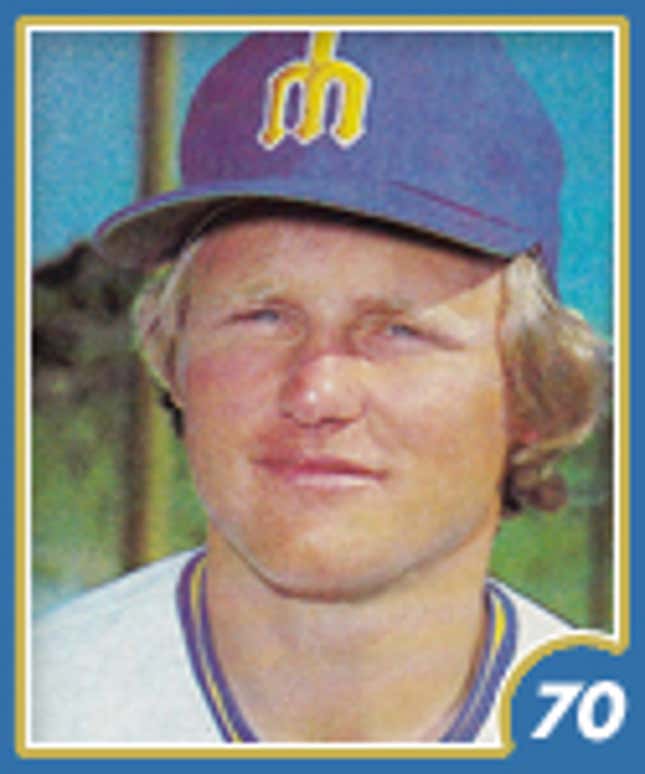 70. Dan Meyer, 1974-1985 (Mariners/Tigers/Athletics)
It's been argued—and argued well—that Dan Meyer was the worst baseball player of the 20th century. He may not have been the worst, but for both statistical and cultural reasons, Meyer merits consideration. In 1978, Meyer posted a gaudy -2.5 WAR. He did so by not hitting for power (8 home runs, just 18 doubles), by not reaching base (.264 OBP), and by playing positions that require at least minimal offensive production (first base and left field). Meyer's subjective badness is also a product of the fact that so many people thought, foolishly, that he was good. He was an original Mariner. His hair was long and golden blond. He twice hit 20 home runs in a season. But Meyer was more like a movie set version of a player. At first glance all the pieces were in place, but a closer look reveals only a façade.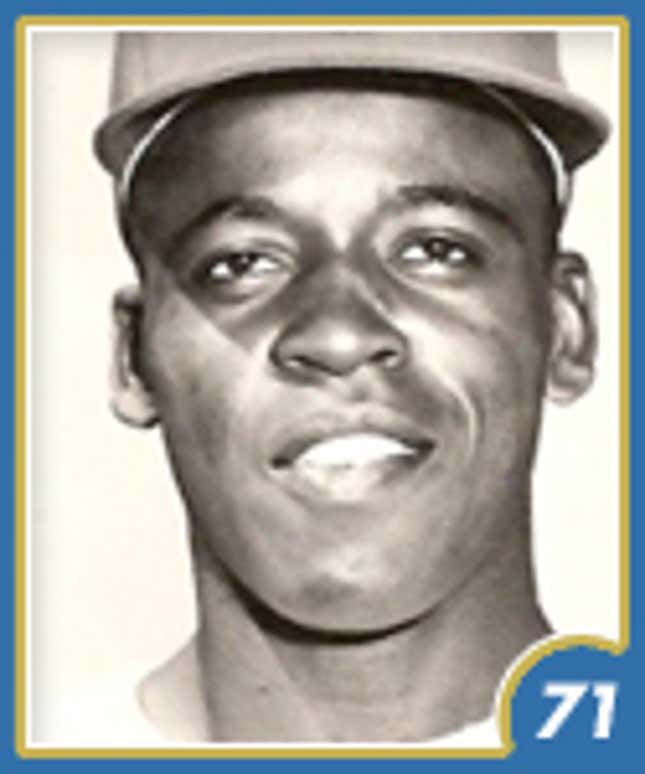 71. Choo Choo Coleman, 1961-1966 (Mets/Phillies)
The Mets of the early 1960s were as entertaining as they were terrible. Almost as amusing as Marv Throneberry was lightweight catcher and career .197 hitter Choo Choo Coleman. Long before Rickey Henderson allegedly forgot who his teammate John Olerud was, Duke Snider once asked Coleman, "Do you know me?" only to have Coleman respond, "Yes, you're number four." Coleman may have been big-timing Snider—he was coming off a career high .250 average in 1962. Manager Casey Stengel didn't think too highly of Coleman either, saying of him, "You have to have a catcher or you'll have all passed balls."
Quietly Very Bad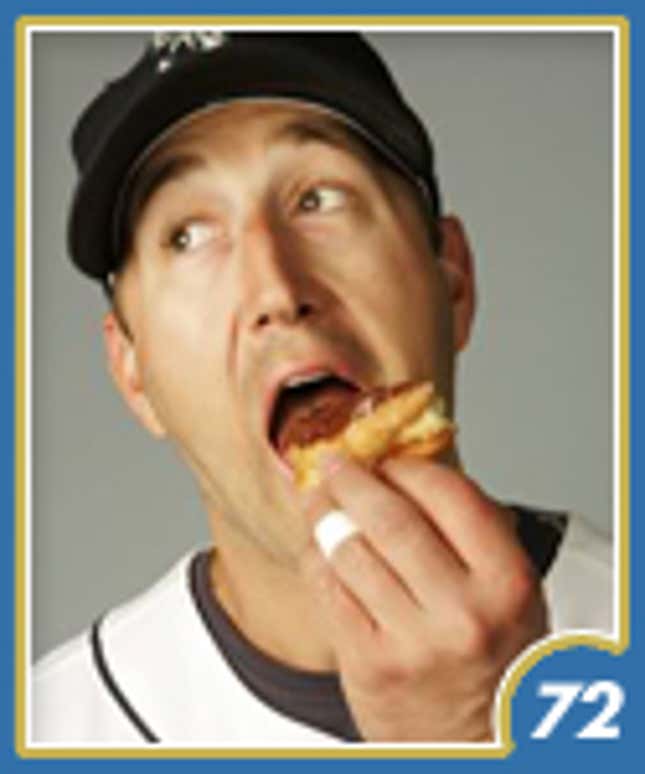 72. Willie Bloomquist, 2002-2011 (Mariners/Royals/Diamondbacks/Reds)
Willie Bloomquist has played every position but pitcher and catcher. He's appeared in major league games every season since 2002. Bloomquist is a compendium of bad clichés. He is the utility player who can allegedly help your team with his defensive versatility despite not fielding exceptionally well anywhere. He's the scrappy hustling little guy—working his butt off to help the team with his intangibles, but actually hurting the team with his inability to hit. Bloomquist's career OPS is .653. He doesn't steal bases. His career WAR, over all those seasons, is 0.8. Willie Bloomquist is the definition of replaceable.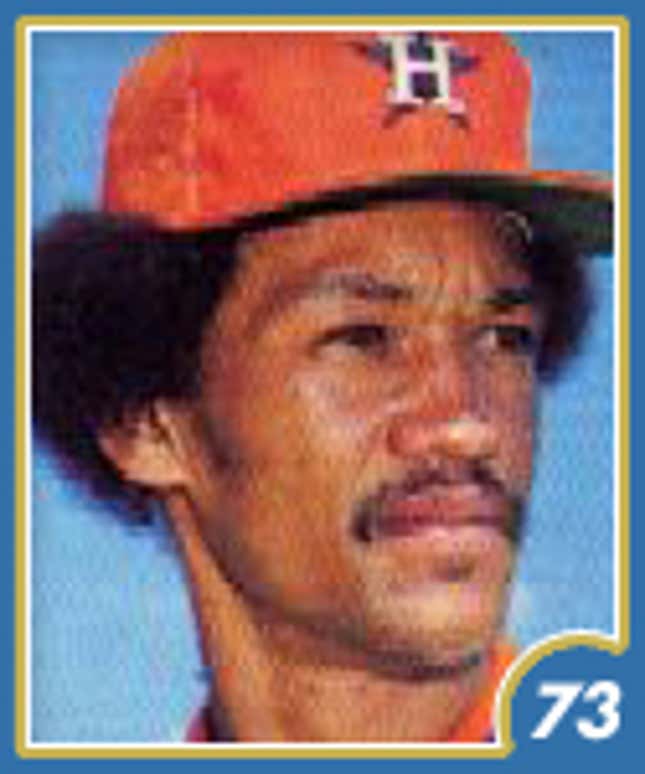 73. Enos Cabell, 1972-1986 (Astros/Tigers/Dodgers/Orioles/Giants)
There is only one player on this list who has been sued by Tennessee Titans quarterback Vince Young and that player is Enos Cabell. Before he surreptitiously trademarked Young's initials and nickname after the 2006 Rose Bowl, Cabell was a corner infielder in the 1970s and 80s. He rarely got on base—career .308 OBP—and he rarely hit for power—just 60 home runs in over 6,304 at bats—but Cabell did once get suspended for an entire season after pleading guilty to cocaine use. So at least there's that.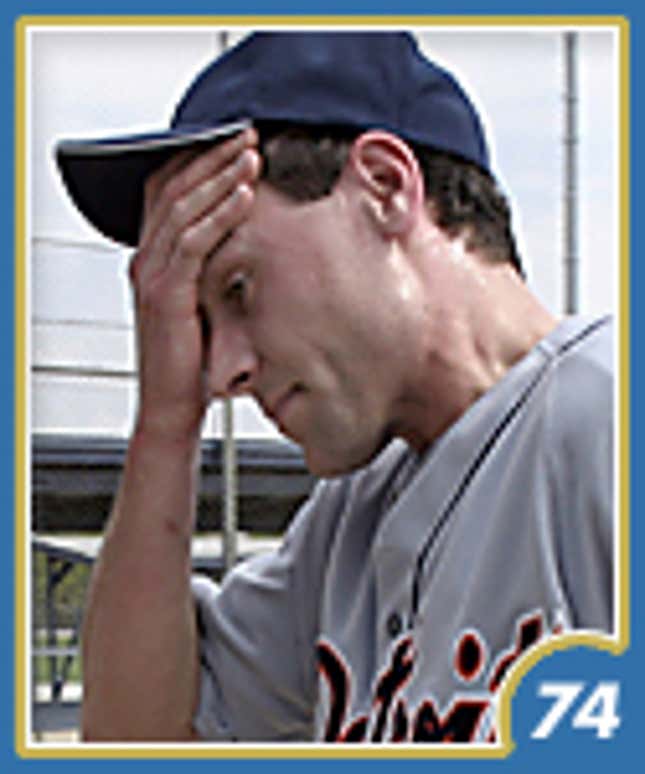 74. Matt Anderson, 1998-2005 (Tigers/Rockies)
Bullpens in the steroid era were like pioneer towns in the American West. Anybody could show up and seek their fortune. Anybody could give closing a shot, try their hand at throwing heat, make a fortune and then find themselves swindled a moment later. After all, if there were rules—if there was justice—how would Matt Anderson have gotten the chance to close in 2001? Anderson was coming off 5.68 and 4.72 ERAs—in other words, typical seasons for a guy who retired with a 5.19 ERA—and somehow managed to save 22 games.
Marvels Of Staying Power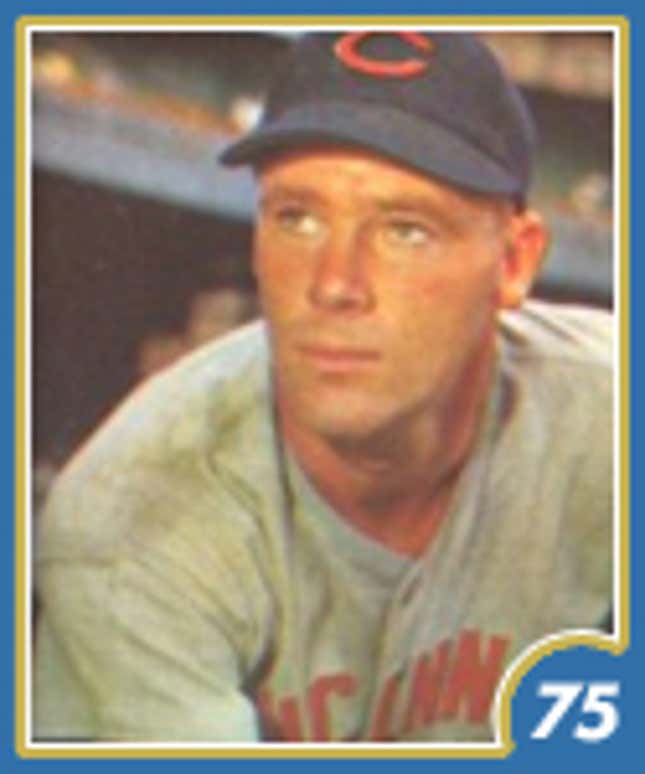 75. Herm Wehmeier, 1945-1958 (Reds/Cardinals/Phillies/Tigers)
Hank Aaron once called Herm Wehmeier, then pitching for the Phillies, "my worst nightmare." Aaron's was an unusual statement in regards to Wehmeier in that it came from an opponent and not a teammate. Wehmeier somehow managed to string together eight seasons as a starting pitcher in the National League despite walking more batters than he struck out. He led the league in walks three times, wild pitches twice, and even hit batsmen once. Had he been a cup-of-coffee minor leaguer or a reliever like he should have, Wehmeier wouldn't have made this list. It's a good thing he stuck around.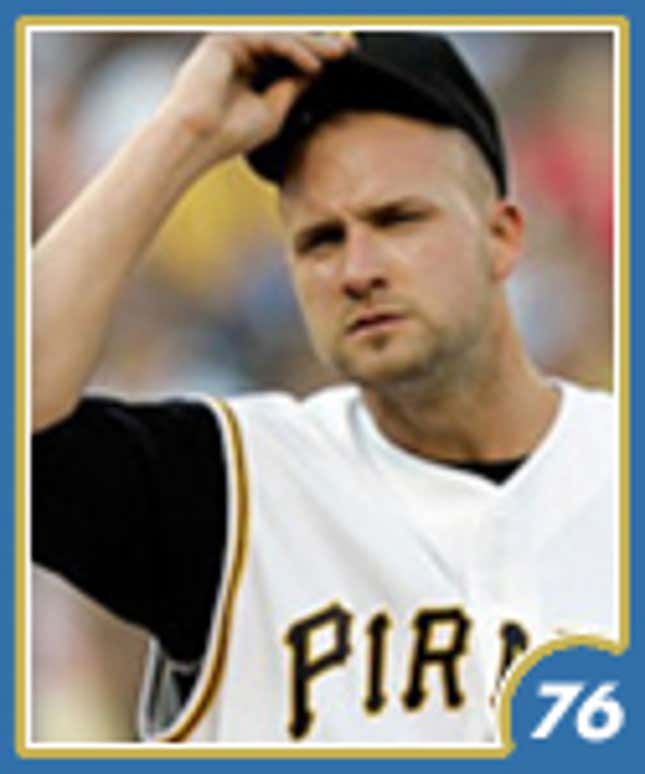 76. John Van Benschoten, 2004-2008 (Pirates)
John Van Benschoten's career owes a lot to the follies of the Pittsburgh Pirates. What other team would have let a guy with a career earned run average of 9.20 pitch 90 innings over three seasons? What other team would have let a guy who walked 68 batters and struck out 65 in that span start 19 games? Van Benschoten, only 31 years old, is a free agent now. Probably not by choice.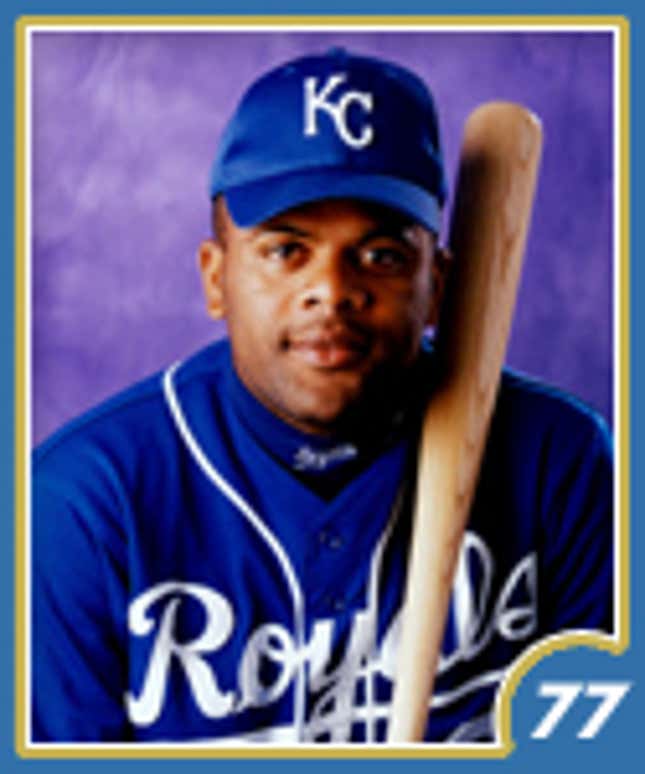 77. Neifi Perez, 1996-2007 (Rockies/Cubs/Giants/Royals/Tigers)
Neifi Perez is the prototypical bad player of the modern era. He was bad at the old stats (a .267 hitter with little power and subpar defensive skills) and bad at the new ones (.672 career OPS, caught stealing an impressive 44 percent of the time). The experts agree: Dave Cameron deemed Perez's 2002 season (-3.5 WAR) the worst in baseball history; King Kaufman, who also wrote an adoring paean to Perez's awfulness, named a statistic for measuring the negative value of a reserve player to his team the Neifi Index.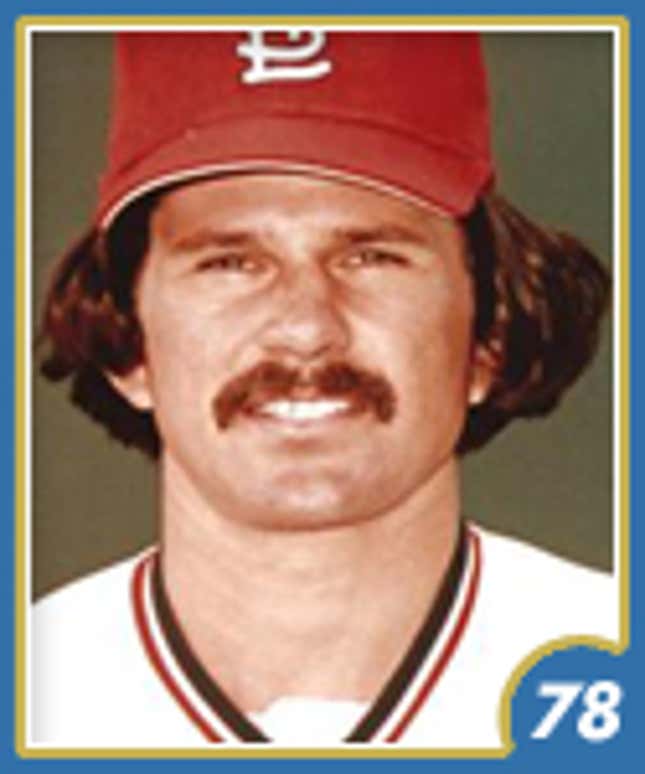 78. Ken Reitz, 1972-1982 (Cardinals/Giants/Cubs/Pirates)
Ken Reitz probably laments the spread of new knowledge about baseball statistics. When batting average ruled the earth, Ken Reitz was could get by. A third baseman for mostly the Cardinals, Reitz was an All Star once. He won a Gold Glove the season before Mike Schmidt rang off his first of nine in a row. He even hit 17 home runs in 1970. But Reitz never ever walked. The respectable looking .260 career battting mark sits in the shadow of a .290 career on-base percentage. Pitiable Ken Reitz, he only seemed average. In reality he was so much worse.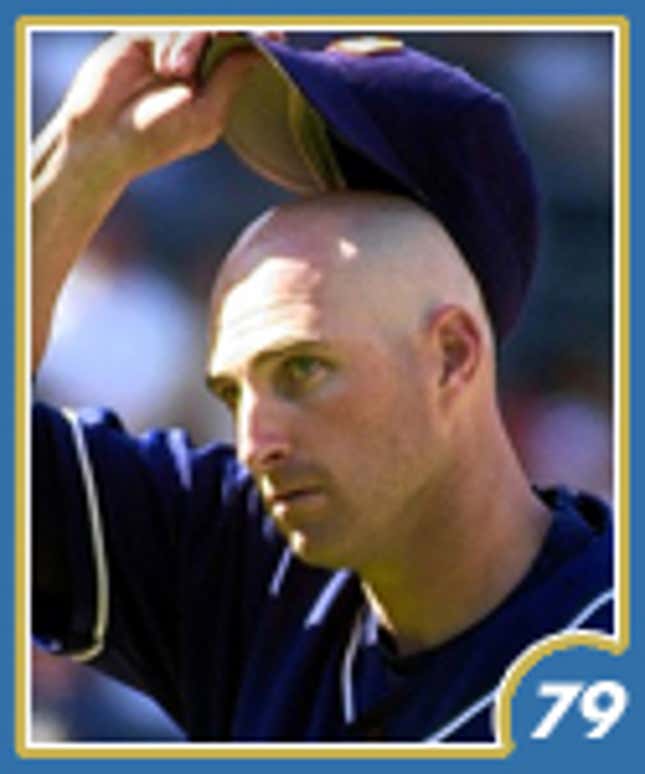 79. Kevin Jarvis, 1994-2006 (Reds/Padres/Rockies/Tigers/Mariners/Twins/
Diamondbacks/Red Sox/Athletics/Cardinals)
Kevin Jarvis seemed to make a career by not being noticed. He pitched in the majors every season every season but one from 1994 to 2006, racking up 780.2 innings despite a 6.02 career earned run average. The problem with Jarvis wasn't strikeouts or walks or home runs. The problem was that players simply hit him and hit him hard, batting a fairly astounding .297/.353/.874.521 against him. [Correction: Jarvis didn't pitch in the 1998 season; .874 was his opponents' OPS, not their slugging percentage.]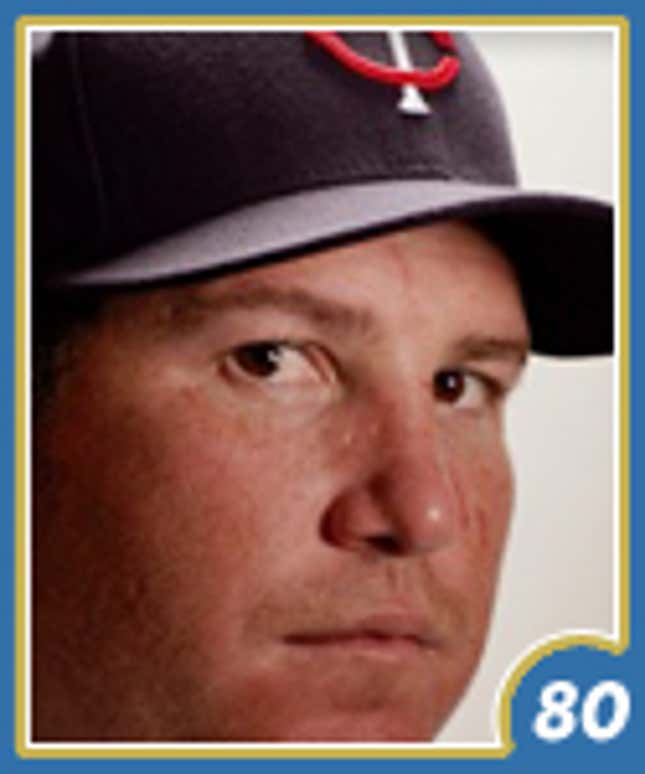 80. Sidney Ponson, 1998-2009 (Orioles/Yankees/Royals/Cardinals/Giants/Rangers/Twins)
What do M.C. Escher and Sidney Ponson have in common besides the fact that both led perplexing professional lives? Why they are both Knights of the Order of Orange-Nassau! Escher, of course, was intentionally perplexing. His artwork dealt in skewed perspectives, optical illusions, and mathematical improbabilities. Sidney Ponson, meanwhile, was just perplexing. He lacked any perspective whatsoever (He assaulted an Aruban judge in a dispute about how Ponson handled power boat, and he drove drunk in Florida), only seemed effective as a pitcher (the optical illusion being that scouts sometimes confuse good velocity with good stuff), and was an improbably bad statistical starting pitcher for 10 seasons (91-113, 5.03).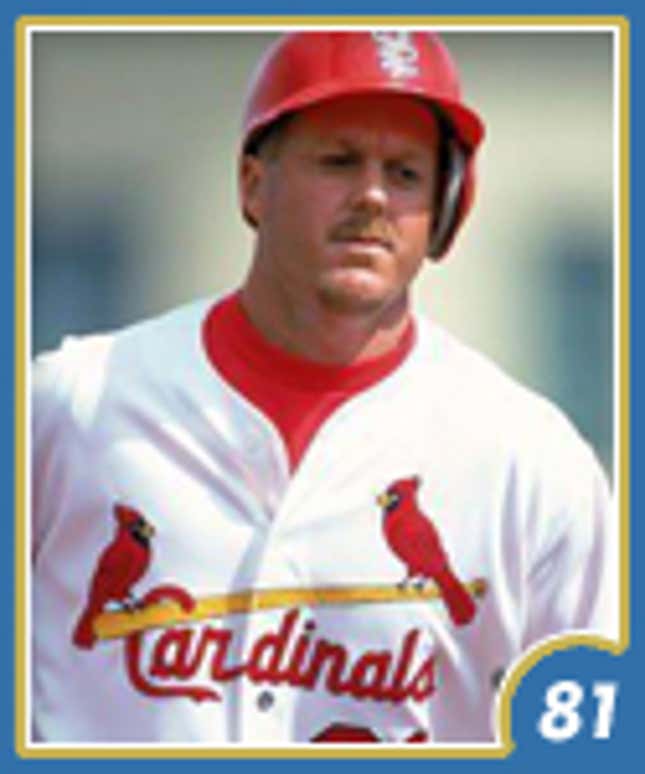 81. Craig Paquette, 1993-2003 (Cardinals/Athletics/Royals/Tigers/Mets)
I got so many Craig Paquette baseball cards as a kid that I always assumed he was an average ballplayer. Paquette wasn't. He spent 10 years as a disposable corner outfielder and infielder, incapable of hitting, unable to defend at any of his positions, and unable to muster enough power to overcome either of those shortcomings. On the back of a baseball card, 99 career home runs look just fine. Too bad there are other stats on the backs of cards, too.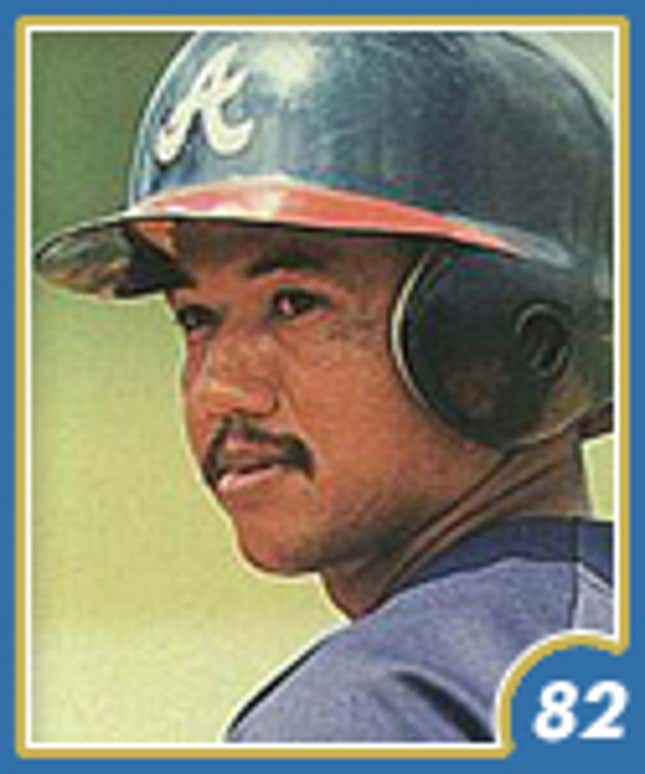 82. Rafael Belliard, 1982-1998 (Braves/Pirates)
Rafael Belliard lasted in the major leagues for 17 seasons. In that span he managed just 81 extra base hits in 2301 at bats. In 1921, Babe Ruth had 119 extra base hits in 540 at bats. It's not fair to compare Belliard to Babe Ruth. Then again Belliard was so bad that it it's not fair to compare him with anyone. He had a career slugging percentage—.259—that was actually lower than his terrible career on base percentage of .270. And worse, if you'll believe an un-sourced Wikipedia factoid, Belliard was named after the murderous Dominican dictator Rafael Leonidas Trujillo.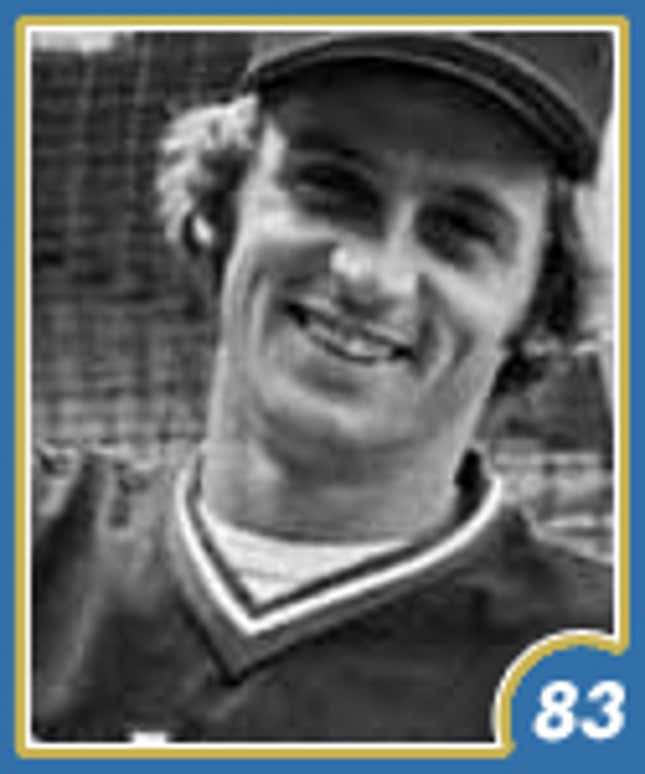 83. Duane Kuiper, 1974-1985 (Indians/Giants)
Duane Kuiper was a forgettable but enduring second baseman for the Cleveland Indians. Then he became a broadcaster for the Indians and later the Giants. Now, thanks to columnist Joe Posnasnki, Kuiper stands as a hero to everyman baseball fans across America. Kuiper was the second-worst percentage base stealer in recorded baseball history. He went 52 of 123. He hit just one home run in 3,754 plate appearances over ten seasons. It took Posnanski years to realize that Kuiper was not a good ballplayer—but much less time to realize it didn't matter. He commanded reasonable expectations. He played hard. He never let Joe Posnanski down.
84. Matt Walbeck, 1993-2003 (Twins/Angels/Tigers/Cubs/Phillies)
It would be easy to fill this list with catchers who played between the late 1960s and late 1980s because almost none of them could hit. A career .596 OPS and 22 home runs in 2,280 plate appearances might have been excusable then. But in the 1990s, among players not named Matt Walbeck, those kinds of stats were almost unheard of. Walbeck was a negative WAR player over the course of his eleven year career. He never reached the postseason. Otherwise, he wasn't all that interesting.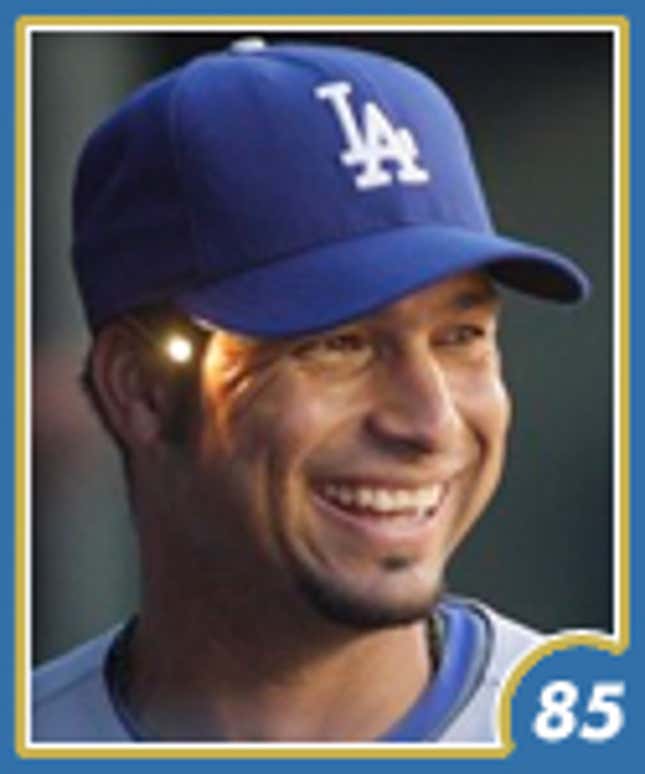 85. Juan Castro, 1995-2011 (Reds/Dodgers/Twins/Phillies/Orioles)
Baseball-Reference's EloRator project presents fans with random combinations of players and asks them to select which is better. It's a simple concept. Some 1734 hitters are rated in order from top to bottom. No. 1 on the list is Babe Ruth. No. 1750 is Juan Castro. He was a terrible hitter through 17 seasons, right up to his retirement last month. In his best years, Castro was worthless. In his worst, his badness tested the woe-measuring limits of both conventional and newfangled stats. In 1998, for example, he batted .195 in just 220 plate appearances. In sabermetric terms, he was worth 19 runs less than your average Quadruple-A level player that season.
Disappointments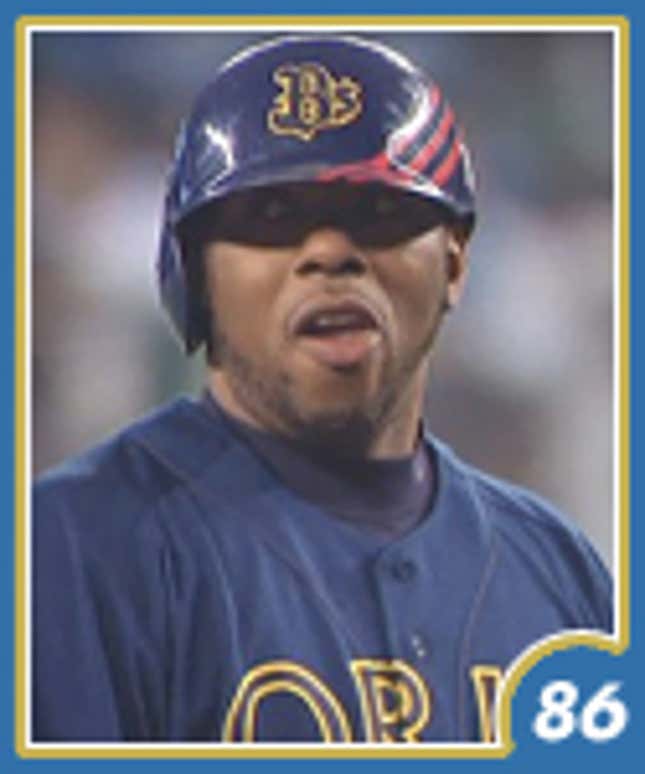 86. Tuffy Rhodes, 1990-1995 (Cubs/Astros/Red Sox)
Tuffy Rhodes hit three home runs off Dwight Gooden on Opening Day in 1994 (his Cubs lost). That was as many homers as he hit in any other season, as he saw bits and pieces of action over five years in the majors. But that unremarkable career does not land Rhodes on this list. What lands Rhodes on this list is the fact that he went to Japan, figured out how to hit, and tied the single-season home run record of one of baseball's greatest heroes, Sadaharu Oh, thereby tarnishing one of my favorite players' legacies forever. (Alex Cabrera, this applies to you as well.)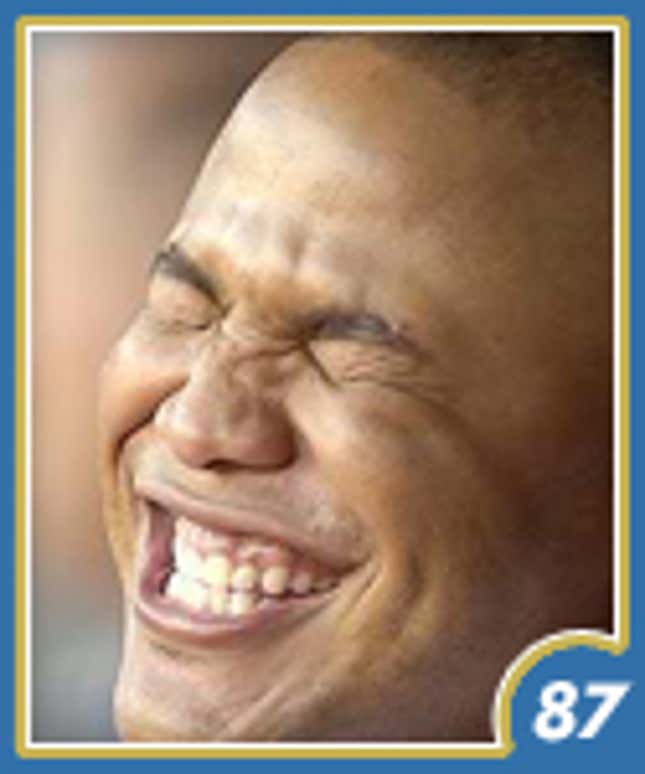 87. Fat Andruw Jones, 2008 (Dodgers):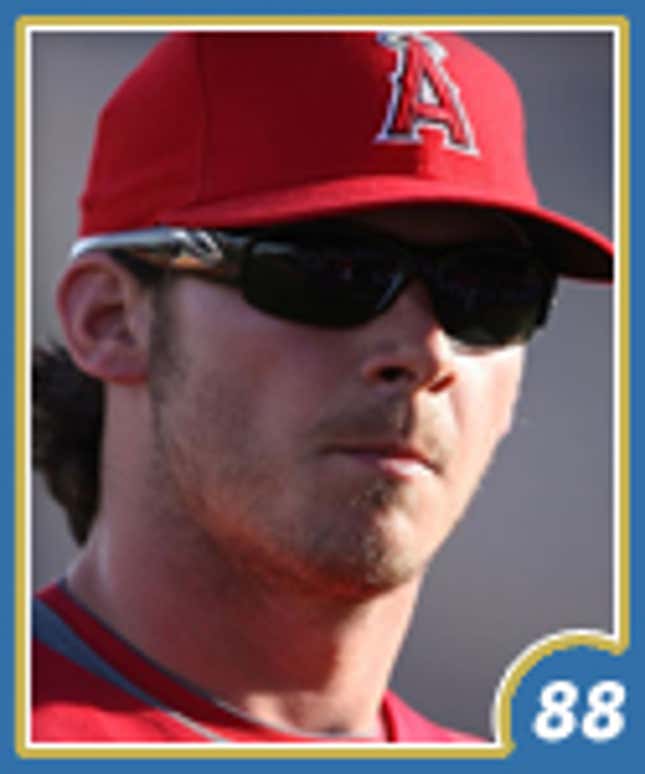 88. Brandon Wood, 2007-2011 (Angels/Pirates)
Somehow, Brandon Wood is only 26 years old. It feels like he's been disappointing baseball fans for at least a decade. Wood was the ultimate mega-prospect. He was Alex Rodriguez and Babe Ruth multiplied by a thousand. In 2005, he hit 43 home runs in the minors at shortstop. In 117 big league games, Wood has devolved from a shortstop into a utility infielder. At the plate, where he's hitting under .200 for his career, the position Wood's performance most resembles is pitcher.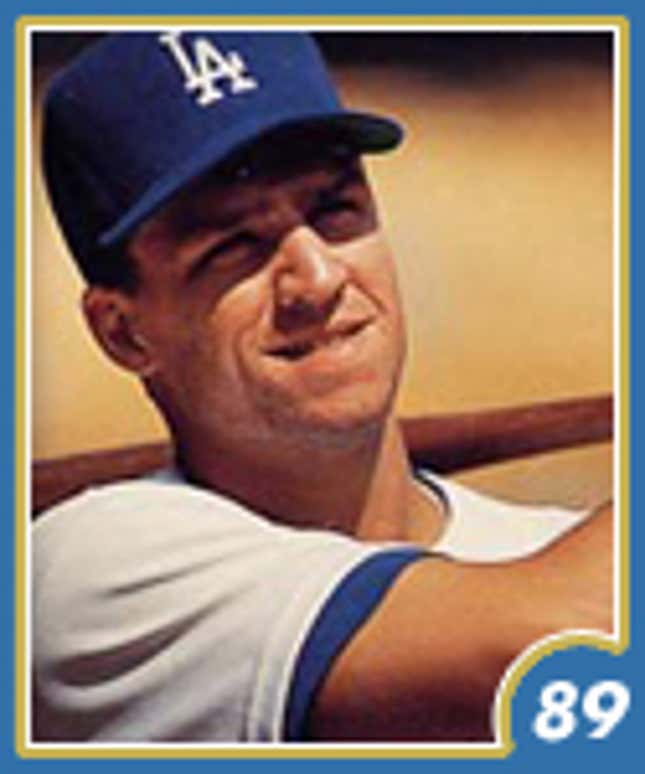 89. Billy Ashley, 1992-1998 (Dodgers/Red Sox)
In the early '90s, when he was the prize of the Dodgers' wealthy farm system, the words Billy and Ashley carried the weight of Paul and Bunyan. Billy evoked his Midwestern roots and his corn-fed appearance—it was Ashley as in Ash, the wood baseball bats are made of, the wood Billy Ashley used to regularly crush home runs out of minor league ballparks. The folk hero was unable to perform under brighter lights. He struck out in more than a third of his major league at bats. He stumbled in the field. By 1999 Ashley was out of baseball. A few years after that, he appeared in a short-lived reality show called "Househusbands of Hollywood." This was Billy Ashley.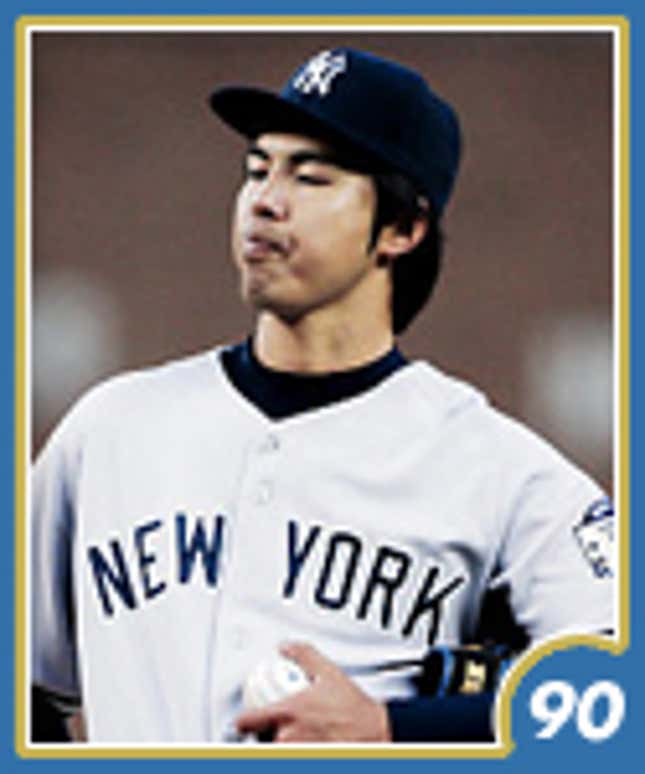 90. Kei Igawa, 2007-2008 (Yankees)
When you think about overpriced Yankees acquisitions of the last decade, you probably think about Jason Giambi, Gary Sheffield, and other veterans brought on as somewhat effective hired guns. Slowly, those guys—not the Jeters and Posadas—became the Yankees' identity. Lost in the shuffle of terrible free agent signings was one Kei Igawa. The Yankees paid a $26 million posting fee just to talk with Igawa—then handed him another $20 million over five seasons. What have they gotten for their money? A 6.66 earned run average, 15 home runs allowed in just 71.2 innings, and for at least the rest of this season, a very expensive minor league pitcher.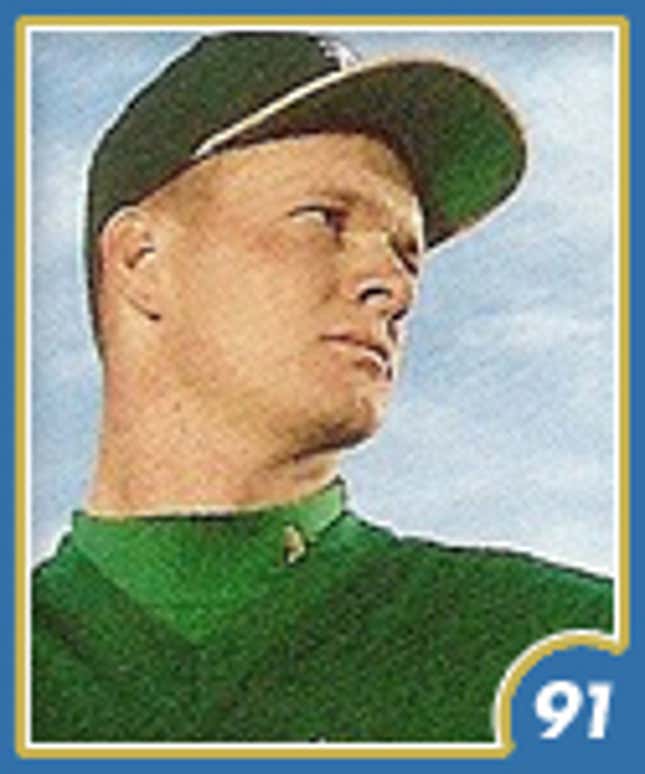 91. Todd Van Poppel, 1991-2004 (Cubs/Athletics/Rangers/Reds/Pirates/Tigers)
Todd Van Poppel pitched 11 atrocious big league seasons propelled by hype alone. He was a top prospect coming into the 1991 draft. He rushed through the minor leagues. And in 907 innings as a crappy starter then crappy reliever, his earned run average was 5.58. If it wasn't for the initial sensation—he did the John Elway and told the Braves, who picked first, that he wouldn't sign with them (they got Chipper Jones instead)—it's hard to imagine that Van Poppel would have lasted in baseball past the 1994 strike. But last he did, to the effect of a 9.06 ERA in 1996 and consecutive ERAs of 5.45 and higher in 2002, 2003, and 2004. The word bust doesn't quite fit for Todd Van Poppel. His failure to meet expectations was a prolonged burning not a single explosive collapse; more like a tire fire.
Hard-Luck Cases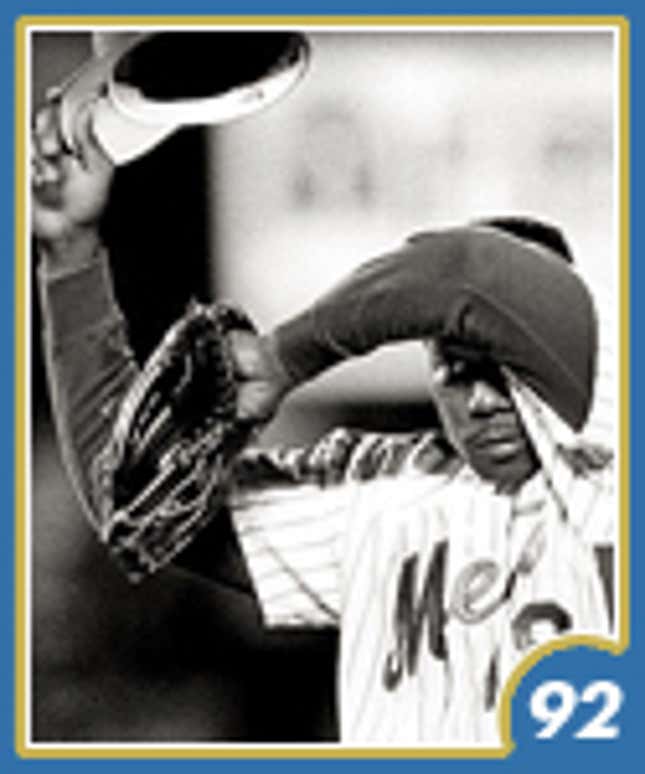 92. Anthony Young, 1991-1996 (Mets/Cubs/Astros)
Anthony Young is the definitive New York Met. He is tragic. He is largely forgettable. And his epic run of failure between May of 1992 and July of 1993 was almost certainly the result of a celestial force far more powerful than any either of his managers, Jeff Torborg and Dallas Green, could conjure. Young—with the help of some truly awful teammates—broke a generations-old record by losing 27 consecutive decisions ,despite a respectable, if not quite solid 4.36 ERA during the span.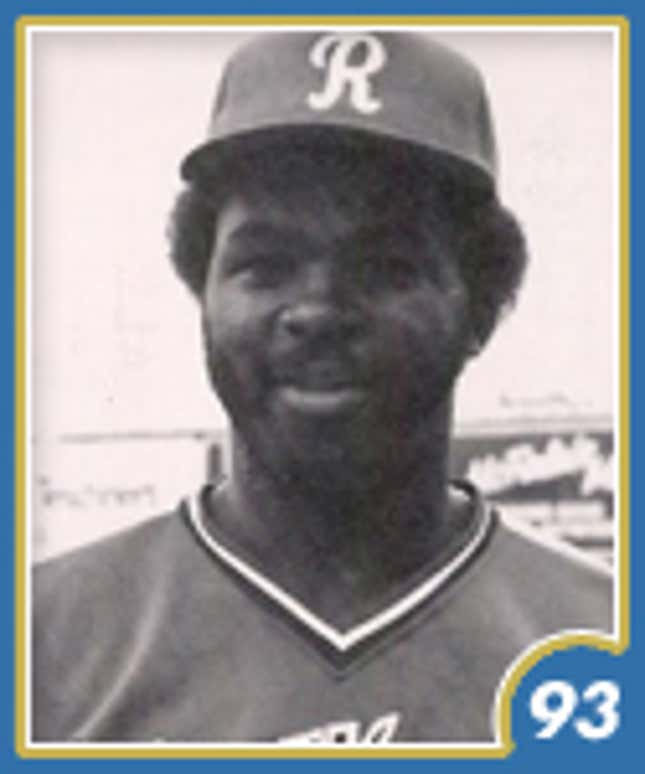 93. Drungo Hazewood, 1980 (Orioles)
In spring training 1980, Drungo LaRue Hazewood was batting .583 for the Baltimore Orioles when he was demoted by manager Earl Weaver. Hazewood, then 20 years old, was a former No. 1 pick and already a successful minor leaguer. In 1979 he hit 21 home runs and got on base at a .378 clip in AA ball. "I've never cut a guy hitting that high before," said Weaver, "but he was making the rest of us look bad with that average." Hazewood never recovered. He came up for a bitter cup of coffee in September of 1980, striking out four times in six plate appearances —then spent three anonymous seasons hitting home runs, reaching base at high rates, and stealing bases in the minors before finally leaving baseball after 1983. In his short big league stint, Hazewood was terrible. But blame his presence on this list on Earl Weaver. And Ken Singleton, who gave Weaver incentive to find a room for a young right fielder.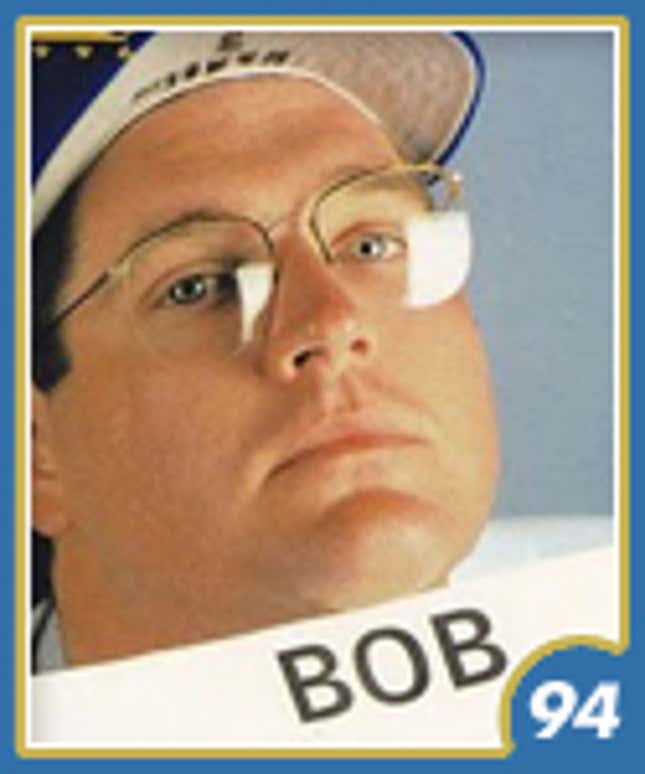 94. Bob Hamelin, 1993-1998 (Royals/Tigers/Brewers)
Bob Hamelin didn't look like a baseball player. He had glasses, a chubby midsection, a mullet and a pasty face. And Hamelin's looks were not deceiving—after the monstrous season at the plate that won him Rookie of the Year, the Hammer wasn't much of a player. Either DHing or playing first base with even less grace than one expects from first basemen, he fizzled into the mid-90s before finally quitting in the middle of a minor league game.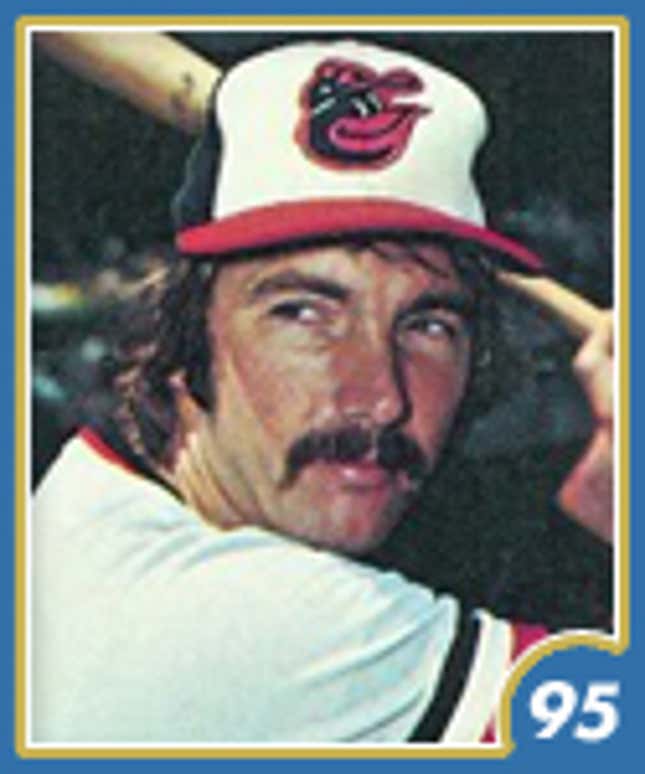 95. Tony Muser, 1969-1978 (Orioles/White Sox/Brewers/Red Sox)
It's hard to believe that Tony Muser was a first baseman, even in the offense-starved 1970s. Muser's nine home runs and .259 average in 663 games over nine seasons are a statement to his indefatigable spirit. A greater testament to his spirit: In 1986, a Brewers spring training facility exploded with Muser inside. Then a first base coach, Muser suffered second and third burns on 55 percent of his torso and upper body and spent months in the hospital and rehab before returning to coach that season; he would go on to manage a hapless Royals team for five years in the late 1990s.
Trade Bait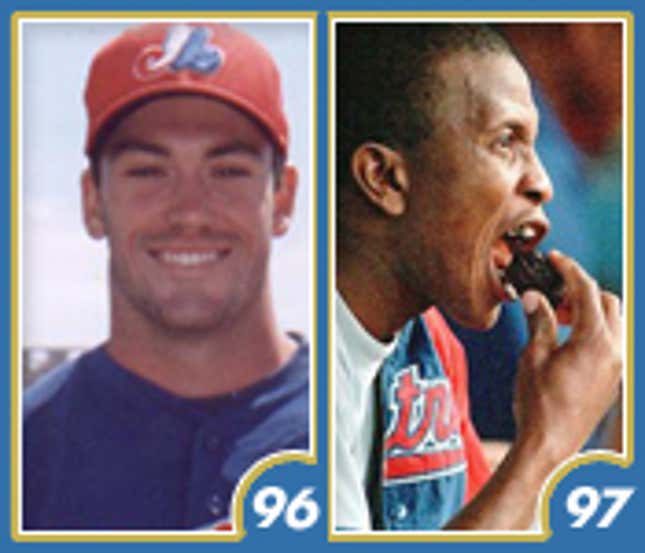 96 & 97. Peter Bergeron, 1999-2004 (Expos); Carlos Perez, 1995-2000 (Expos/Dodgers)
In 1998, the Montreal Expos traded Mark Grudzielanek, Hiram Bocachica, and Carlos Perez to the Los Angeles Dodgers for Ted Lilly, Wilton Guerrero, Peter Bergeron, and a minor leaguer named Jonathan Tucker. Most of those players were fine, unremarkable. But let's focus on Bergeron and Perez—possibly the least valuable everyday players ever traded for one another.
Bergeron was a meek disaster in every respect for the Expos. He didn't hit. He was caught stealing more than he succeeded. Bergeron's career Wins Above Replacement is -3.4. Perez, on the other hand, was a successful young pitcher who imploded spectacularly. In two and a half seasons in L.A., Perez posted a 5.52 ERA. He beat the hell out of a water cooler with a baseball bat, choked and threatened a flight attendant, and finally, unable to retire hitters, he retired from baseball.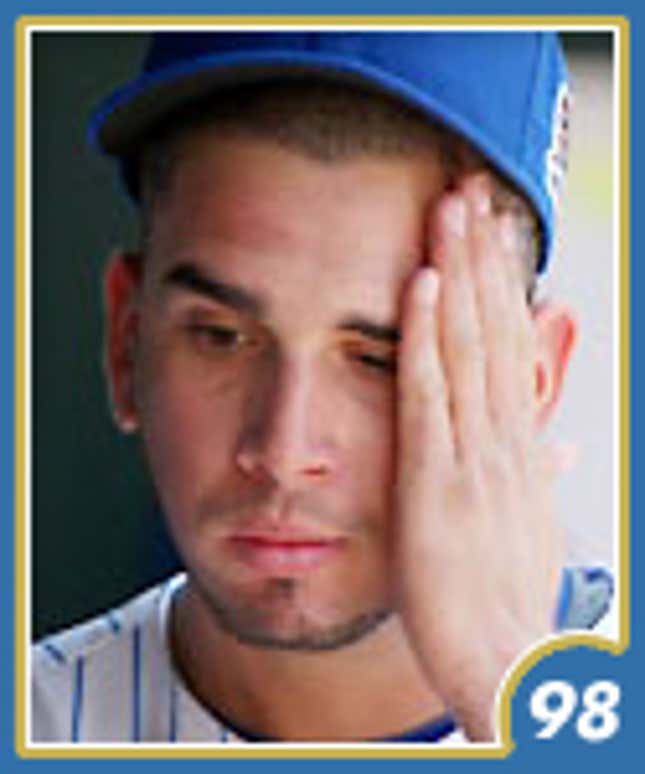 98. Oliver Perez, 2002-2010 (Mets/Pirates/Padres)
The last fifteen years have not been kind to left-handed starters named Perez. There was Carlos. There was Odalis, who went from promising to pathetic. And then there was Oliver, who for a moment seemed like the most auspicious Pirate prospect in a decade, only to forget how to throw strikes, get traded to New York for Xavier Nady, remember how to throw strikes again, sign a huge extension, forget how to throw strikes again, and finally suffer the embarrassment of being deemed too bad to play for the Mets despite being owed $12 million. In 2009 and 2010 Perez walked 100 batters and allowed 85 earned runs in 112.1 innings.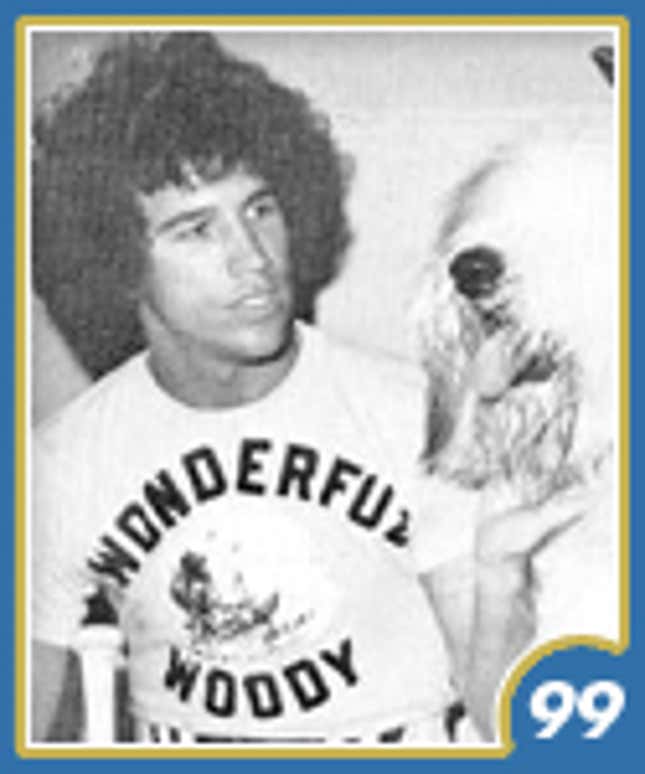 99. Doug Flynn, 1975-1985 (Mets/Expos/Reds/Rangers/Tigers)
Doug Flynn had the unfortunate luck of being acquired as part of the "Midnight Massacre" —the flurry of transactions that in 1977 sent Tom Seaver and Dave Kingman from the Mets for a series of spare parts. Flynn, a utility infielder, had more in common with Seaver than with Kingman as a hitter. He was a terrible offensive player in all the classic ways: he never got on base, ran poorly, had zero power. Nor did Flynn qualify as "good hit, no field." Despite a perplexing Gold Glove Award in 1988, Flynn consistently performed below replacement level at second base, shortstop, and third base.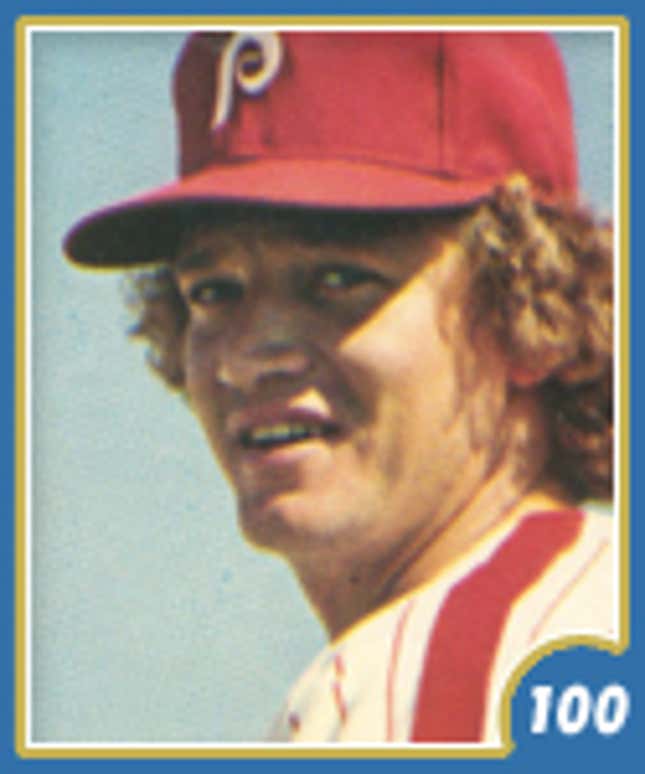 100. Dickie Noles, 1979-1990 (Cubs/Phillies/Rangers/Indians/Tigers/Orioles)
Getting traded is a fact of life for baseball players. Getting dealt for one's self, however, is not. Dickie Noles, a journeyman pitcher in the 1980s, was dealt from the Cubs to the Tigers in exchange for a player to be named later in September 1987. One month later, the Tigers having lost to Minnesota in the A.L.C.S., Noles became that player to be named and was returned to Chicago. Noles was lucky for the distinguishing trade. His career on the mound was as forgettable as they come: he was completely ineffective as a starter and only mildly tolerable as a reliever with six teams over eleven seasons.
Eric Nusbaum is a co-editor of Pitchers & Poets. His work has appeared in Slate, GQ.com, TheAtlantic.com, and The Best American Sports Writing. Reach him on Twitter @ericnus.
Images by Jim Cooke.