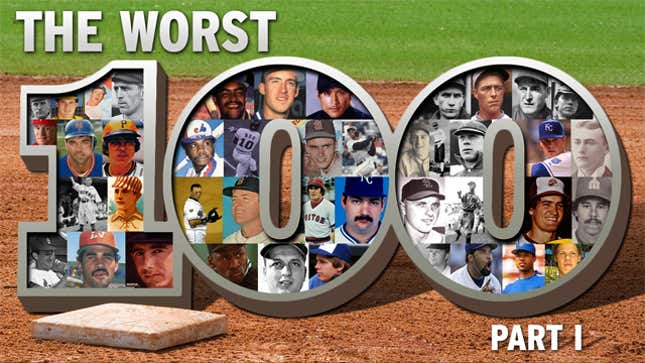 This is a celebration. I realize that sounds strange—compiling a list of the worst of something doesn't seem like a joyous occasion. But by worst 100 baseball players I don't just mean the objective worst, the statistical worst, the most physically discomforting to watch. I mean the players whose failure was enduring, endearing, perplexing,and spectacular. It's easy to identify bad players—sabermetrics has made a truly effective science of it—and it's easy to name cup-of-coffee guys who never had the ability, physical or mental, to stick in the major leagues. But a list like that might mean leaving out guys like Jose Lima, Ray Oyler, or the Rev. Aloysius Stanislaus Travers. In other words, while Rafael Belliard does appear below, nobody wants to read about 100 versions of him.
Chris Paul should ride the bench next season | Keep it a Buck(et)
The Legends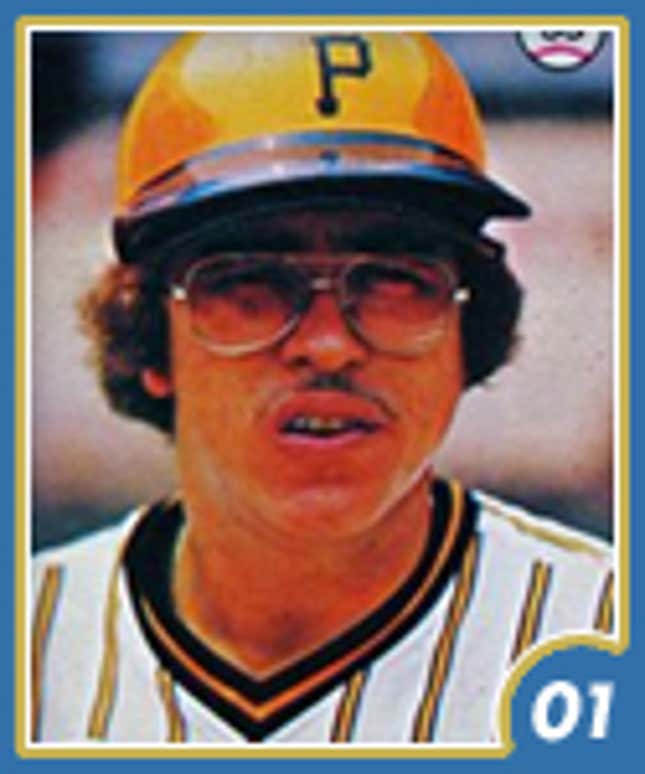 1. Mario Mendoza, 1974-1982 (Pirates/Mariners/Rangers)
Mario Mendoza is the bad player all other bad players are measured by. The Mendoza Line, a .200 average, has been the benchmark of failure for the legions of weak-hitting infielders who came after him. His career average was .215—making him the rare player for whom "lifetime .215 hitter" means he was better than you thought.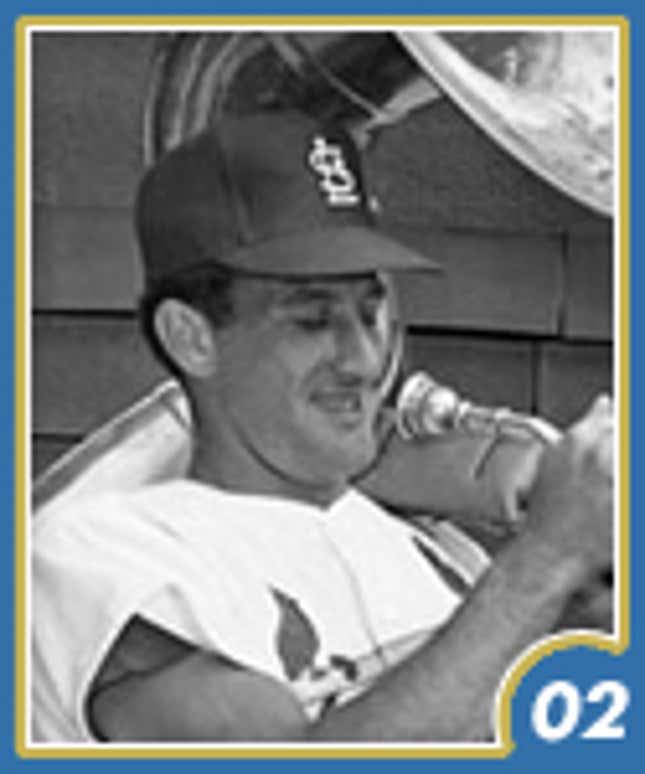 2. Bob Uecker, 1962-1967 (Braves/Phillies/Cardinals)
In a just world, the Mendoza Line would be the Bob Uecker Line, for the catcher who did manage a clean, round .200 career average, bouncing among four teams in his six seasons. It's surprising Uecker hasn't claimed it, given his skill at leveraging failure into fame—as the voice of the Milwaukee Brewers, a Miller Lite pitchman, drunken announcer Harry Doyle in Major League, and the star of "Mr. Belvedere." He is the Rodney Dangerfield of baseball: "People don't know this but I helped the Cardinals win the pennant. I came down with hepatitis. The trainer injected me with it."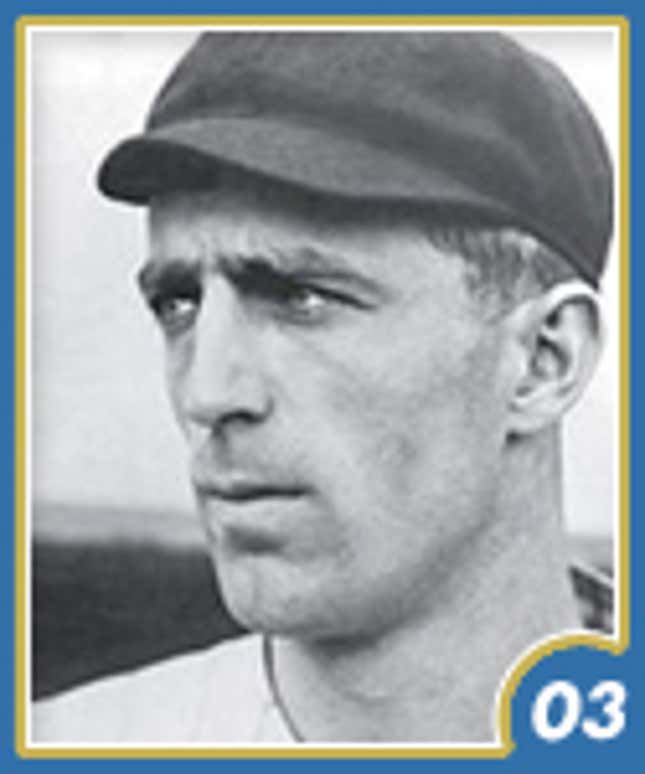 3. Fred Merkle, 1907-1926 (Giants/Cubs/Brooklyn Robins/Yankees)
In his first career start, 19-year-old first baseman Fred Merkle cost the New York Giants the 1908 National League pennant. With two outs in the ninth inning of the season's final game, with the Giants and Cubs deadlocked at 98 wins and the score tied 1-1, Merkle singled to put runners on first and third. Shortstop Al Bridwell followed Merkle's base hit with a single to center. The lead runner scored. The crowd rushed the field to celebrate the Giants' pennant. But Cubs players determined that Merkle never touched second base—he simply ran off the field. A ball—possibly the same ball struck by Bridwell, but maybe not—was retrieved and thrown to second, where the umpires ruled Merkle out. After an appeals process, the game was replayed, and the Giants lost. The Cubs went on to win the World Series, their last one to date. Merkle would last 16 years and hit .273, but he identity was bound up in one mistake, the play known as Merkle's Boner.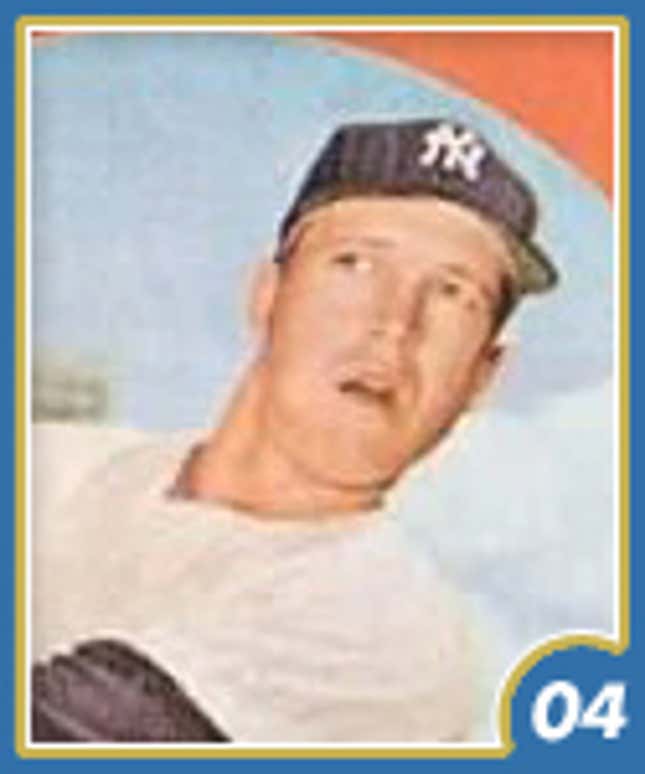 4. Marv Throneberry, 1955-1963 (Athletics/Yankees/Mets/Orioles)
"Marvelous Marv" was the worst player on the worst team of all time. Playing for the 120-loss 1962 Mets, Throneberry set a record for lowest fielding percentage by a first baseman. He once hit a triple, but was called out after missing both first and second base while on his way to third. Like Uecker, Throneberry turned his ineptitude into glory, with the help of Miller Lite commercials. "If I do for Lite what I did for baseball," he said. "I'm afraid their sales will go down." Jimmy Breslin agreed. He once wrote that "Having Marv Throneberry play for your team is like having Willie Sutton work for your bank."
Have You Considered Another Line of Work?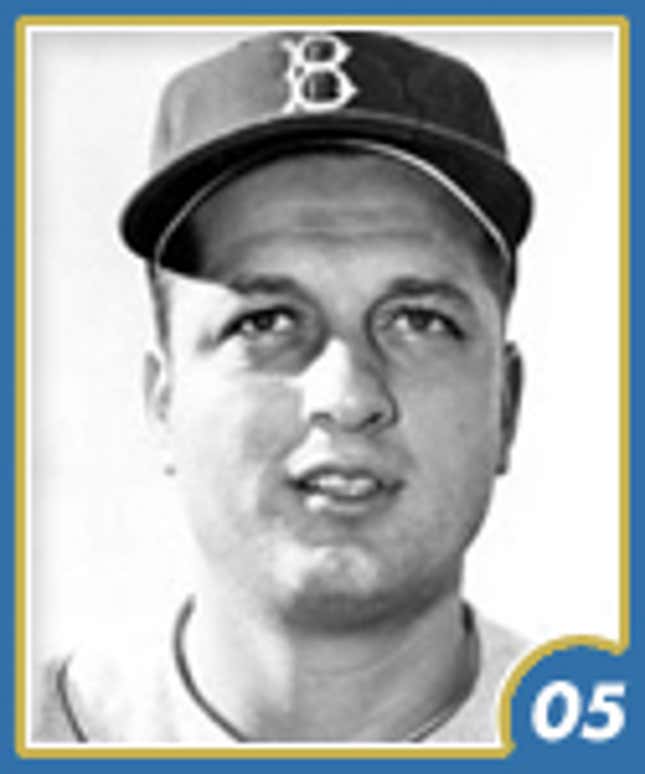 5. Tommy Lasorda, 1954-1956 (Athletics/Dodgers)
Behind the manager and spaghetti hound, the awesome and profane tirades, and the flailing, falling appearance at the 2001 All-Star Game, there stands a pitcher. A pitcher who posted a 6.48 ERA in 26 games over three seasons. And a pitcher who made the most of his brief career by, in 1956, sparking a brawl between his Kansas City A's and the Yankees by volunteering—yes, volunteering—to go throw at the heads of the Yankee hitters.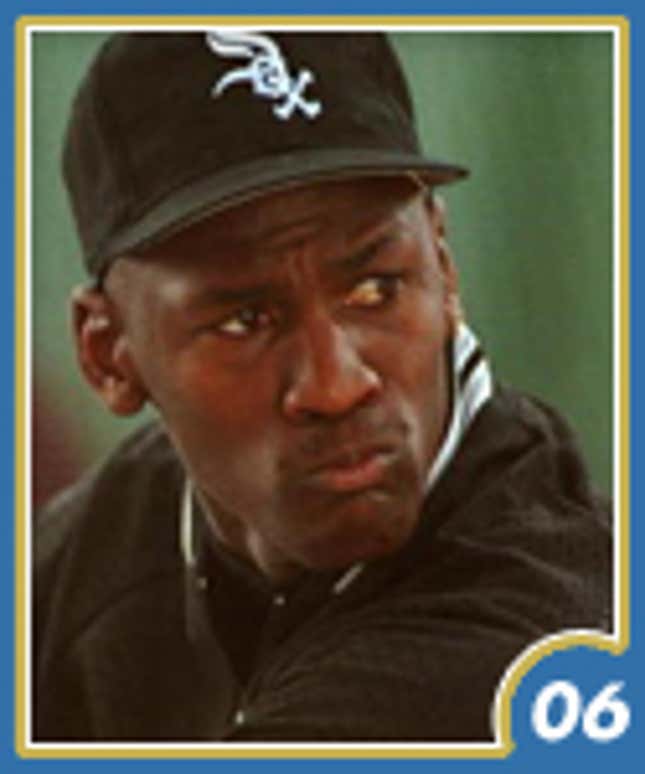 6. Michael Jordan, 1994 (Birmingham Barons)
Some people might think walking into a AA ballpark at the age of 30, after not having played competitive baseball for a decade, and hitting .202 with 30 stolen bases is impressive. Not on a per-dollar basis: During Michael Jordan's baseball stint, Bulls/White Sox owner Jerry Reinsdorf continued to pay his basketball salary. That, along with the absurd standards Jordan set for himself in the NBA and the Veeckian nature of his endeavor, are enough to land His Airness on this list.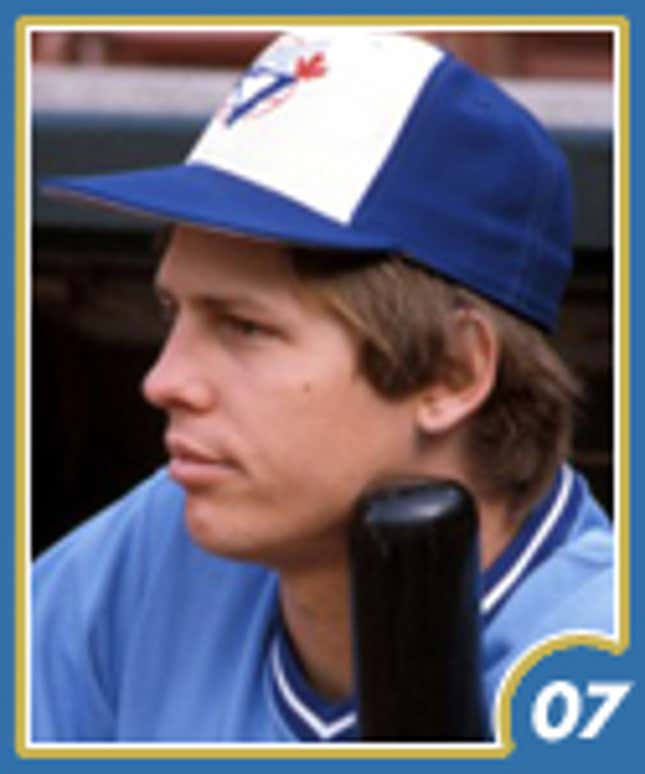 7. Danny Ainge, 1979-1981 (Blue Jays)
Was Danny Ainge a better all-around athlete than Michael Jordan? Both were NBA championship shooting guards. Unlike Jordan, Ainge made it onto a Major League Baseball team, as a tall second baseman for the Toronto Blue Jays. He played some third, too. Playing as a reserve between 1979 and '81, Ainge was consistently a negative WAR player—less productive than a hypothetical 25th-man pickup. He didn't defend especially well, didn't hit for average or power, and wasn't particularly effective on the base paths. His .533 career OPS isn't far from his .469 NBA field-goal percentage. But he did wear a big-league uniform.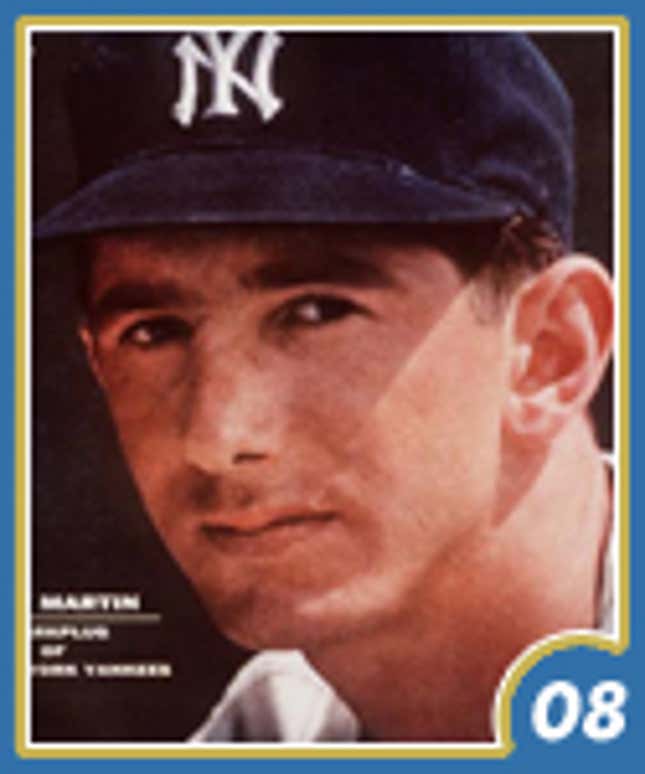 8. Billy Martin, 1950-1961 (Yankees/Tigers/Twins/Reds/Indians/Athletics/Braves)
If it weren't for his managerial career, which led him to leave baseball remembered as mostly an asshole, Billy Martin's primary legacy would be something like "Mickey Mantle's tipsy friend who couldn't hit a lick." Martin the player won five World Series' on Mantle's coattails and enjoyed his "best" seasons with the Yankees, getting on base at what was for him a sprightly rate of .313. In 1957, Martin was dumped off on the Kansas City Athletics for being a bad influence on teammates Mantle and Whitey Ford— i.e. keeping them out too late. The best players make those around them better, the cliché goes. Billy Martin just made them drunk.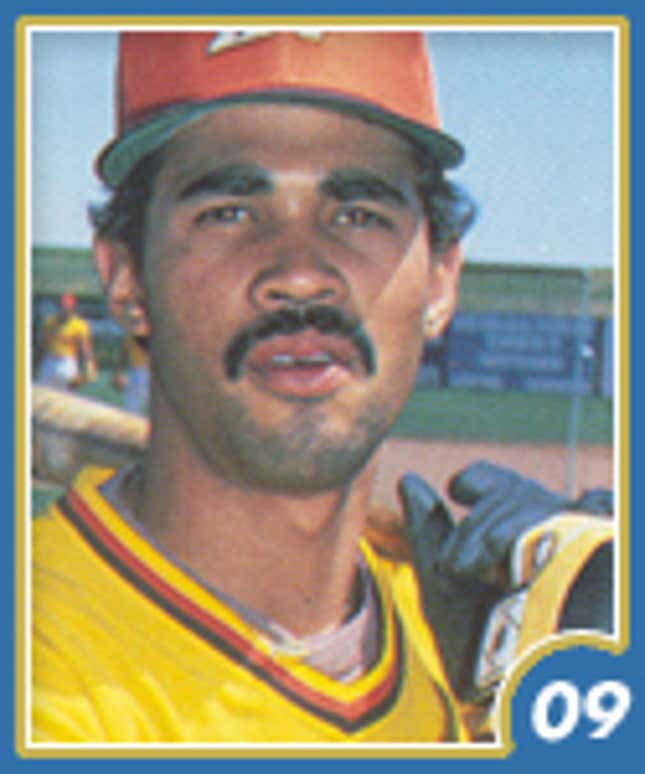 9. Ozzie Guillen, 1985-2000 (White Sox/Braves/Rays/Orioles)
Ozzie Guillen, like many managers, was a bad baseball player. His on base percentage in 15 seasons was .286. His slugging percentage was .238. But he won a Gold Glove, you say. And a Rookie of the Year award! He was a three-time All Star! And he stole a lot of bases! Actually, Guillen was caught on almost 40 percent of his attempts. And after his last All Star appearance at age 27 (for a season in which he had a .284 on-base percentage) he hung around for nine more years, doing nothing in particular with his glove and less with with his bat.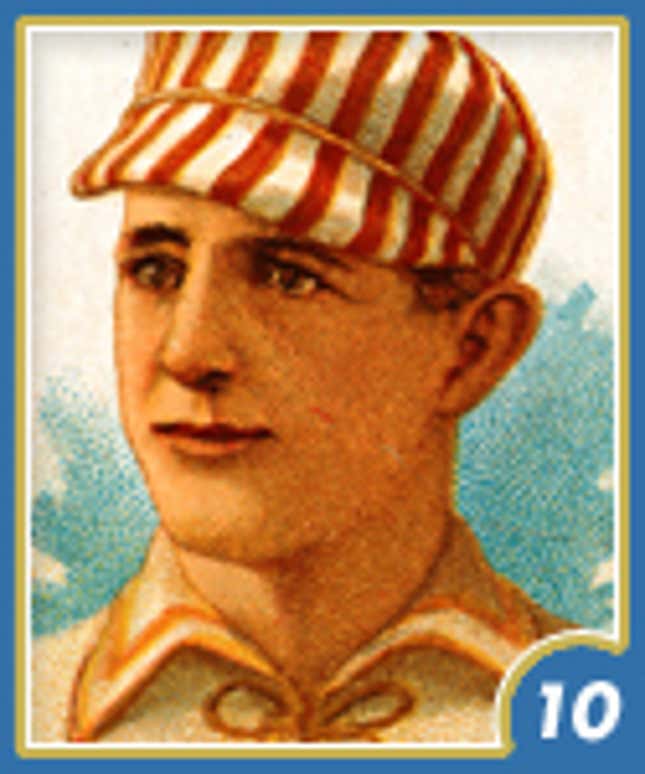 10. Charlie Comiskey, 1882-1894 (St. Louis Browns/Reds/Chicago Pirates)
Charlie Comiskey was hated as an owner, as a manager, and as a player. The last two things become complicated because Comiskey was his own manager. As such, he insisted on inserting himself in the lineup at first base despite being a worthless hitter. Comiskey the player demonstrated no particular prowess at anything, yet he played thirteen seasons. The fact that many people blame his cruelly cheap ownership practices for the 1919 Black Sox scandal only cements his legacy.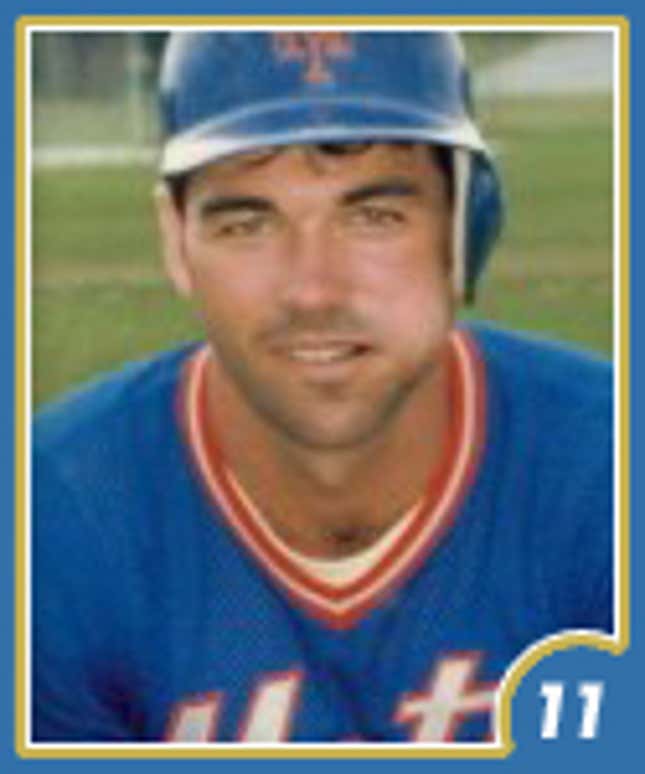 11. Billy Beane, 1984-1989 (Twins/Athletics/Mets/Tigers)
The first chapter of the most important baseball book of the century is dedicated to the travails of one terrible player: Billy Beane. If you believe Michael Lewis in "Moneyball", Beane's complete inability to hit at the minor or major league level sparked his attraction to statistics and eventually, a revolution. Beane, despite having all tools, the size, and even "the good face," did absolutely nothing with his 301 major league at bats. He left baseball a frustrated hitter with a .246 career on-base percentage—the kind of mark that made Beane the executive shudder.
Family Connections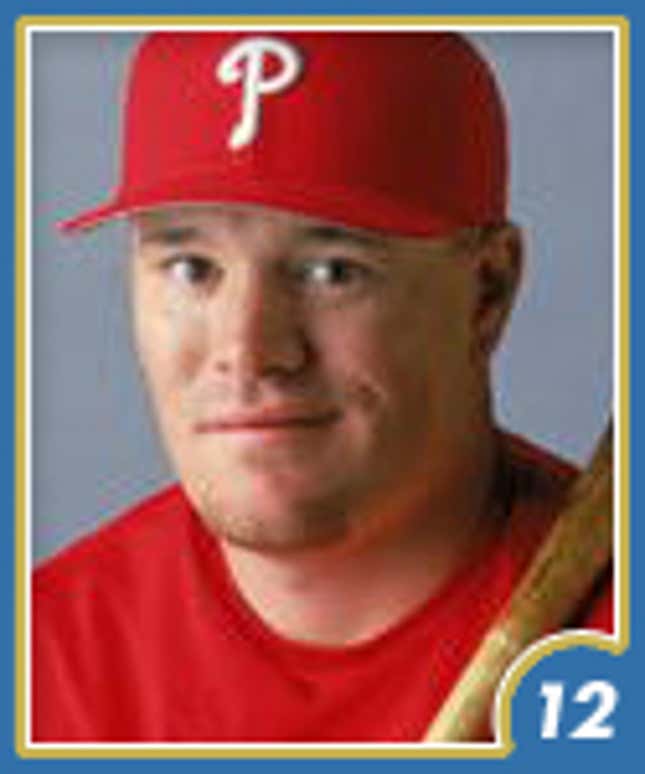 12. Pete Rose Jr., 1997 (Reds)
Pete Rose gave us two decades of historic, compelling baseball. He has given us countless hours of meaningless debate about moral relativism and the Hall of Fame. He has given us confounding pictures in funny jackets and badly tinted sunglasses. But nothing Pete Rose has given us is more stunning or hilarious than the 16 plate appearances his son made for the Reds in 1997. Junior crouched down in homage to his father during his first at-bat, then proceeded to prove that hitting—like hustle—is not necessarily passed down genetically. Still, the Roses have a combined 4,258 hits. And Pete Rose Jr. will always be able to say "Hey, at least my dad isn't Lenny Dykstra."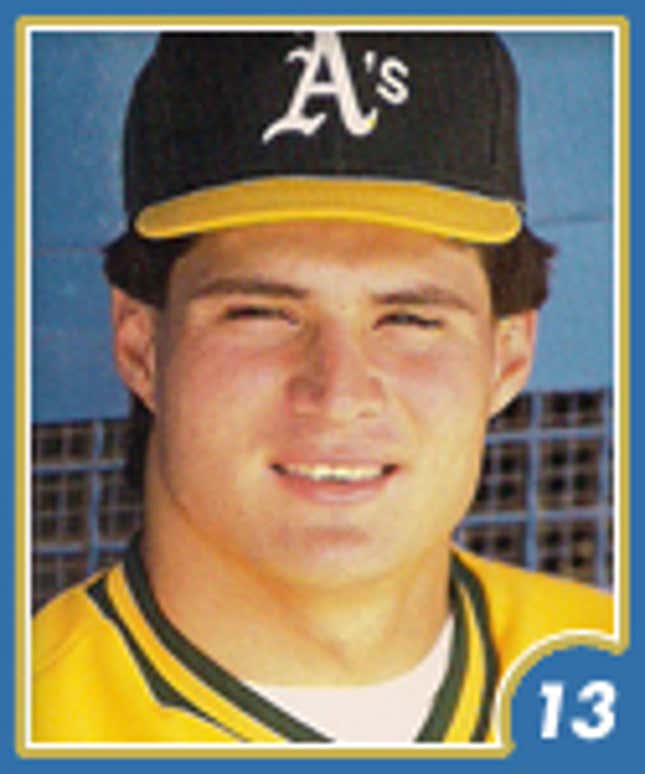 13. Ozzie Canseco, 1990-1993 (Cardinals/Athletics)
Ozzie Canseco's recent attempt to pose as his twin brother, Jose, in a celebrity boxing tournament suggests that he hasn't come to terms with his own identity. But maybe he's better off as a fake celebrity than as a would-be baseball player. In 74 major-league at-bats in 1990, 1992, and 1993, the lesser (and, for whatever mysterious reason, less muscled) Canseco was all brother, no bash, batting just .200. He didn't homer and didn't steal a base. Welcome to the zero-zero club.
One- (At Most) Dimensional Specialists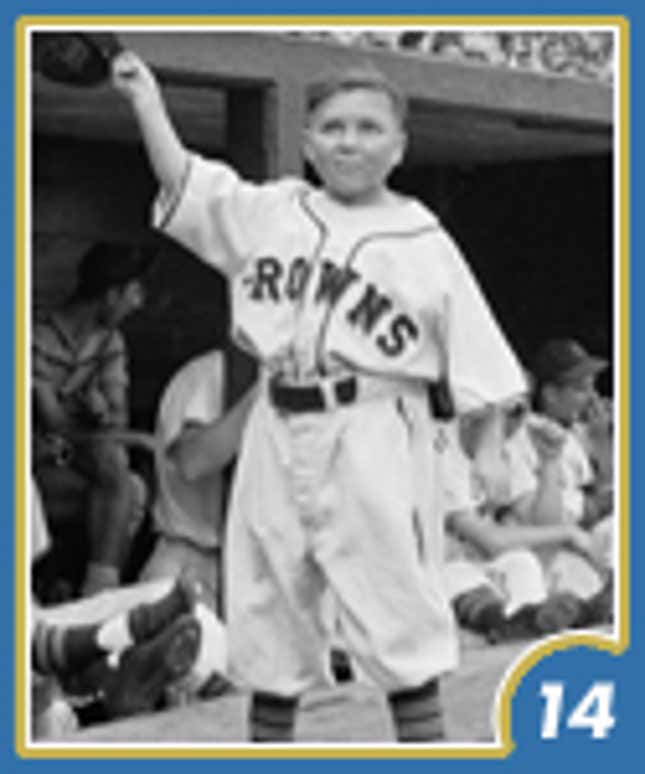 14. Eddie Gaedel, 1951 (St. Louis Browns)
If every player who ever appeared in a major-league baseball game were lined up on the playground for a recess-style, time-and-space-defying draft, Eddie Gaedel would be picked last. The star of Bill Veeck's ultimate publicity stunt stood only three feet, seven inches tall in his St. Louis Browns uniform. But he was an unstoppable offensive force: in his lone at-bat, in 1951, he took four balls, went to first base, and was replaced by a pinch runner. The commissioner intervened, and Gaedel was forced to retire with an on-base percentage of 1.000.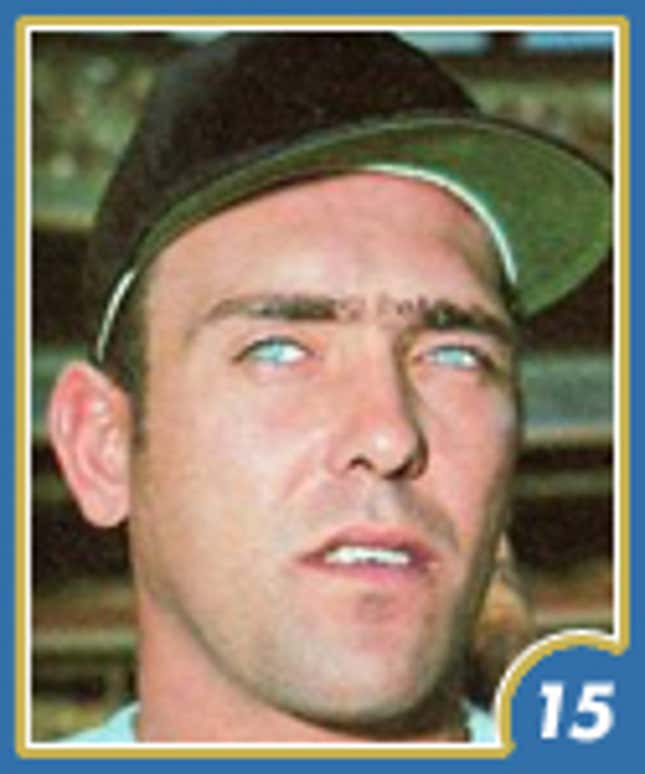 15. Curt Blefary, 1965-1972 (Orioles/Astros/Yankees/Padres/Athletics)
Curt Blefary was so bad defensively that his teammate Frank Robinson called him "Clank." (Robinson was a master at nicknames: he also christened the large Southerner Boog Powell "Crisco.") Blefary attempted first base, third base, catcher and the outfield—all to equally comic failure. He blamed the frequent position changes—attempts by managers to keep Blefary's bat in the lineup—for the offensive woes that descended upon him after a stellar rookie season.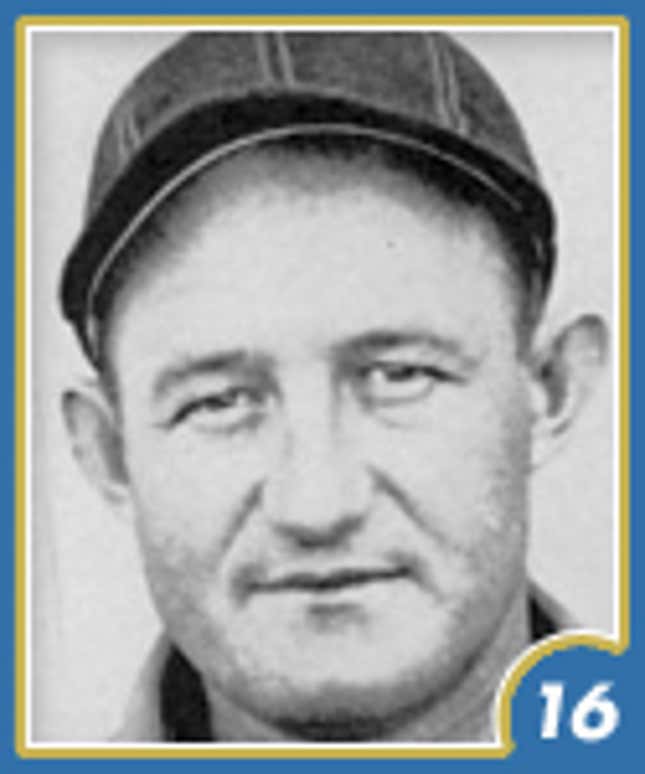 16. Smead Jolley, 1930-1933 (Red Sox/White Sox)
Smead Jolley was a talented hitter, better than average every year but his last. He was the opposite as a fielder. Legend has it—the Society for American Baseball Research is officially skeptical of this story—that Jolley once committed three errors on a single play. First he let a ball roll through his legs in the outfield. After allowing it to carom off the wall, Jolley saw the ball roll back between his legs in the opposite direction. When he finally recoverd the ball, Jolley heaved it over the third baseman's head and into the stands.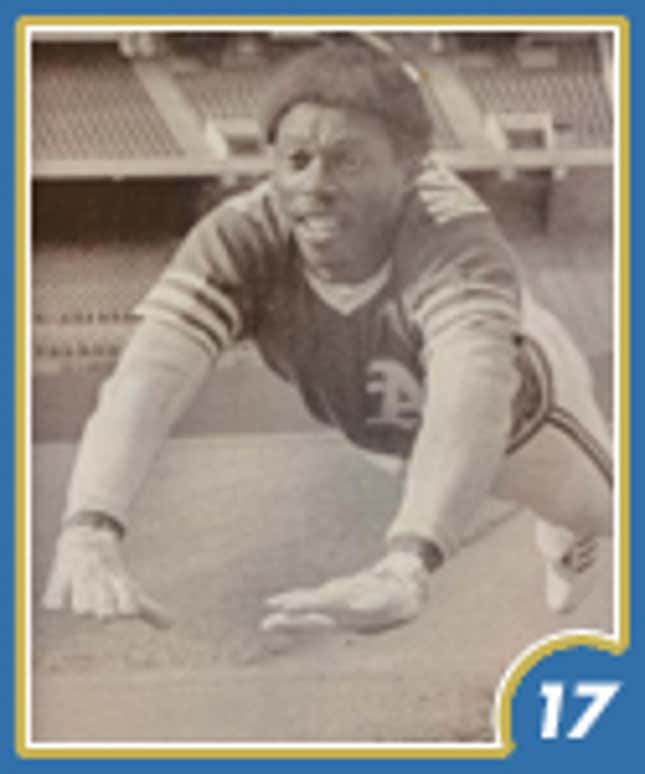 17. Herb Washington, 1974-1975 (Athletics)
Herb Washington never had a major-league plate appearance. He never played in the field, either. But as baseball's only ever "designated runner," he scored 33 runs over bits of 1973 and 1974. Washington, a champion sprinter, was brought to the Oakland A's by eccentric owner Charlie Finley for his speed. Josh Wilker, author of Cardboard Gods and de facto expert on 1970s baseball oddities, called Washington "the most superfluous (hence greatest) hood ornament on the biggest, baddest, Blue Moon Odomest Cadillac in the league." Superfluous might have been putting it kindly: Washington stole successfully on just 31 of 48 attempts. He was picked off in the ninth inning of Game 2 of the 1974 World Series, killing an Oakland rally and handing the Dodgers a victory.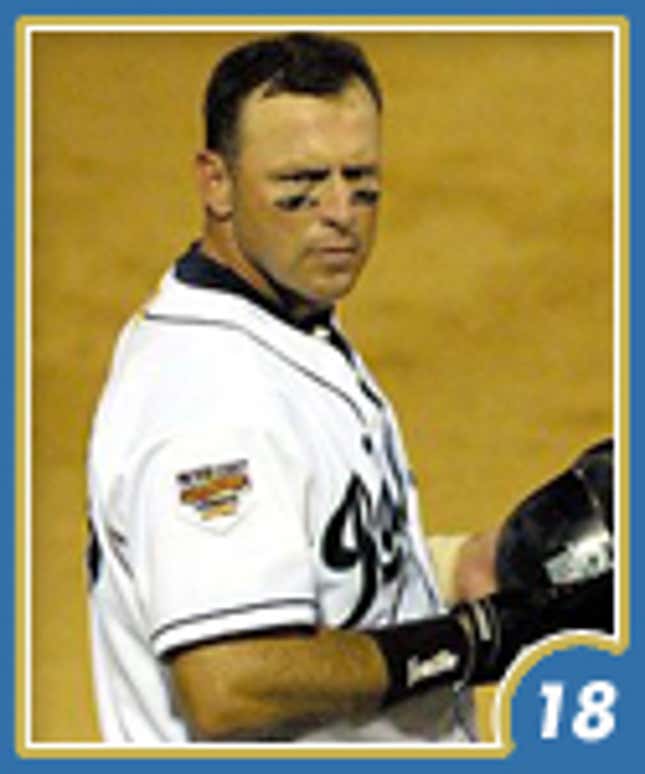 18. J.R. Phillips, 1993-1999 (Giants/Astros/Phillies/Rockies)
In the boom-boom 1990s, it seemed that any corner infielder or corner outfielder could hit 20 home runs in a given season. J.R. Phillips had 545 at-bats between 1993 and 1999, about a regular season's worth. In that time he proved no exception, popping 23 home runs as a backup first baseman for the Giants, Astros, and Rockies. The thing is, while anybody could hit 20 home runs in the '90s, not just anybody could do it as atrociously as J.R. Phillips. Phillips batted .188, striking out 180 times. That's a strikeout percentage of 35.6 percent—higher than strikeout luminaries like Adam Dunn and Dave Kingman, and within a percentage point of Rob Deer.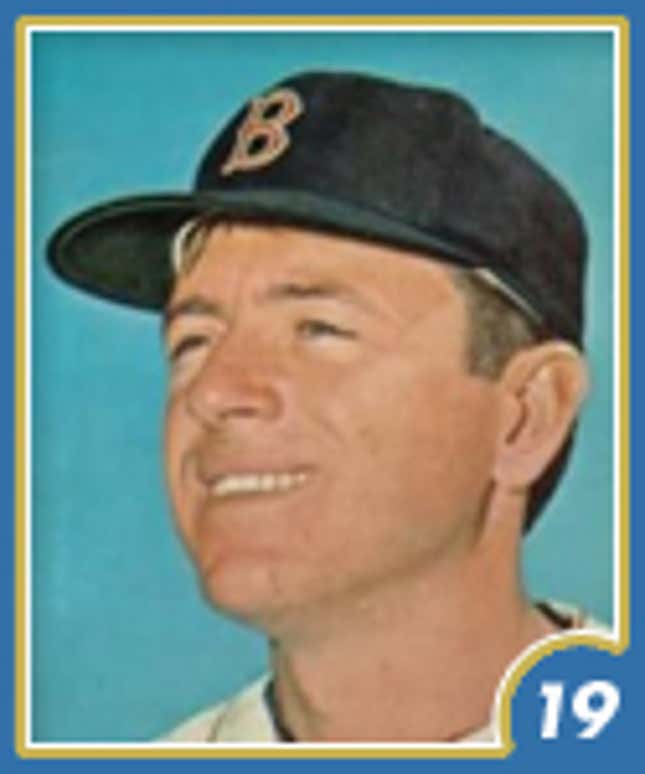 19. Dick Stuart, 1958-1969 (Pirates/Red Sox/Phillies/Dodgers/Mets/Angels)
Dick Stuart was a great home run hitter but a worse defender. The inspiring thing about him is that Stuart acquired his reputation for clumsy feet and leaden hands—and his nickname "Dr. Strangeglove"—at baseball's equivalent of remedial kindergarten, playing first base. Stuart once owned a car with the license plate "E3." His 29 errors at first base in 1963 remain the major-league record for errors in a season at the position.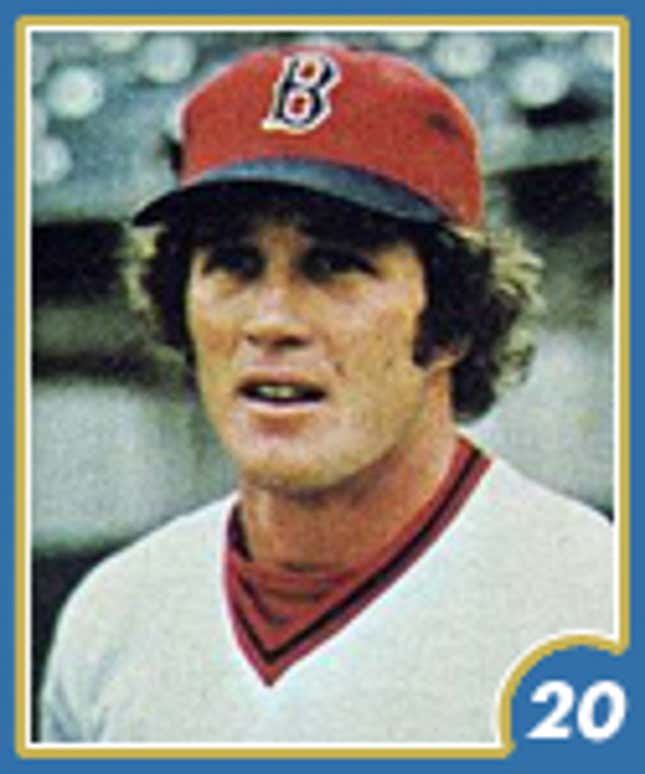 20. Butch Hobson, 1975-1982 (Red Sox/Angels/Yankees)
Butch Hobson was the Dante Bichette of his time. Playing for Boston in the late 1970s, Hobson hit for power but often more than negated the home runs with terrible defense. In 1978, he committed 43 errors at third base, making him the first player in over half a century to post a fielding percentage —.899—below .900. And yet somehow, according to advanced statistics, that wasn't even Hobson's worst defensive year. In 1981, his only season with the Angels, Hobson committed 17 errors in 83 games and demonstrated what might be described as negative range. Later, Hobson contributed a gem to the genre of minor league manager ejection videos. As manager of the Nashua Sounds, he pulled out the first base bag, carried it into the stands, and handed it to a little boy.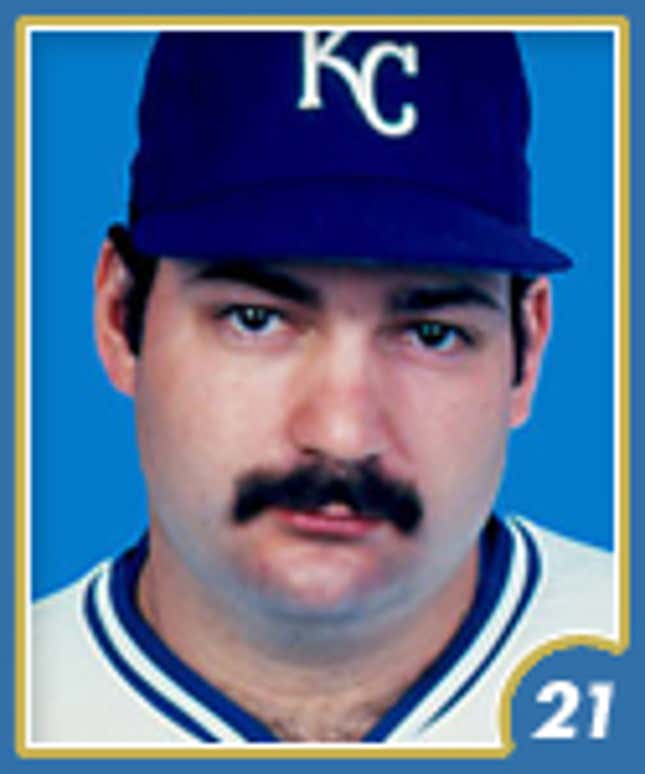 21. Steve Balboni, 1981-1993 (Royals/Yankees/Mariners/Rangers)
Steve Balboni hit home runs; that was a hard thing to do in the 1980s. But Balboni hit them at the expense of literally everything else: singles, doubles, triples, walks, sacrifice flies, sacrifice bunts, everything. Balboni, who split time between designated hitter and first base, batted .229 in a career that spanned the 1980s. "I think I've hit a few that I've never seen anybody else hit as far," said Balboni twice in a 1980 profile from his days on the Nashville Sounds. Balboni also noted that his nickname "Bye Bye" described his copious strikeouts as effectively as it did his home runs.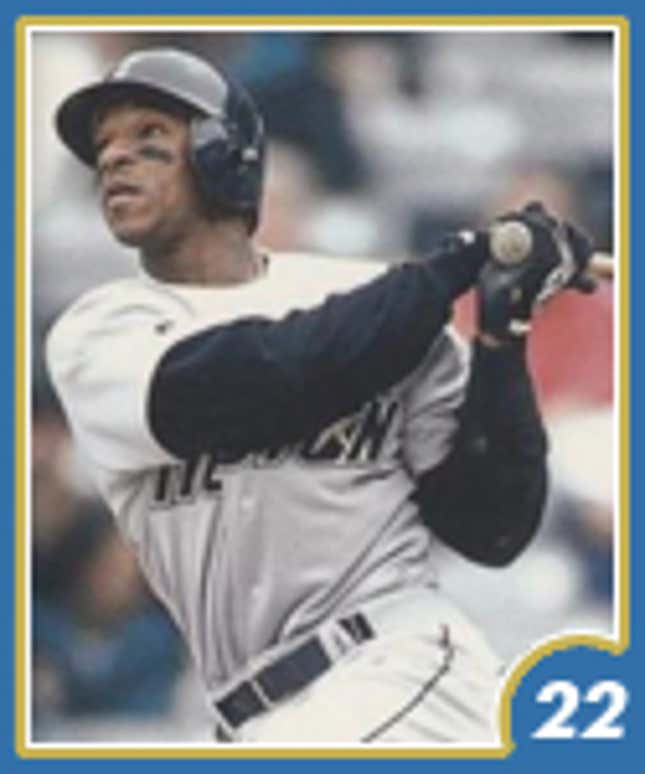 22. Brian L. Hunter, 1994-2003 (Astros/Tigers/Mariners/Phillies/Rockies/Reds)
John Kruk once said: "I ain't an athlete, lady. I'm a baseball player." Brian L. Hunter was a great athlete. He just wasn't much of a baseball player. Hunter stole 74 bases 1998. He stole 260 in his career. And had he been able to get on base more than 31 percent of the time, he would have stolen a lot more.
But They Had Good Points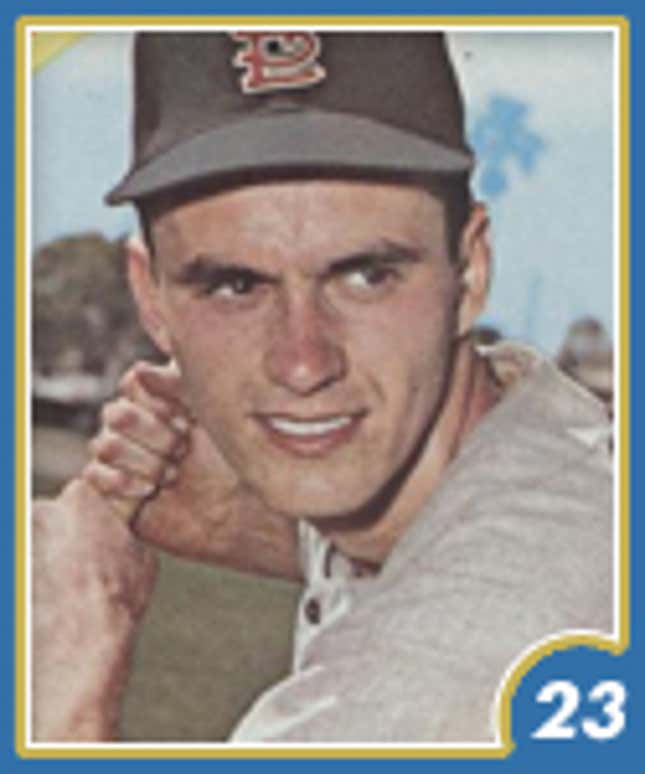 23. Dal Maxvill, 1962-1975 (Cardinals/Athletics/Pirates)
In 1970, Dal Maxvill batted .202 with a slugging percentage of .233. In 150 games, he amassed just 89 total bases. Maxvill's prolonged awfulness—batting .217 and slugging .259 in a 14-year career—would be offset by the fact that he four World Series rings in a seven year stretch with the St. Louis Cardinals and Oakland A's, but Maxvill was not exactly a mustachioed baseball version of Robert Horry. He batted just .115 in 67 World Series at-bats. His coup de grace was a helpless 0-22 performance in 1968.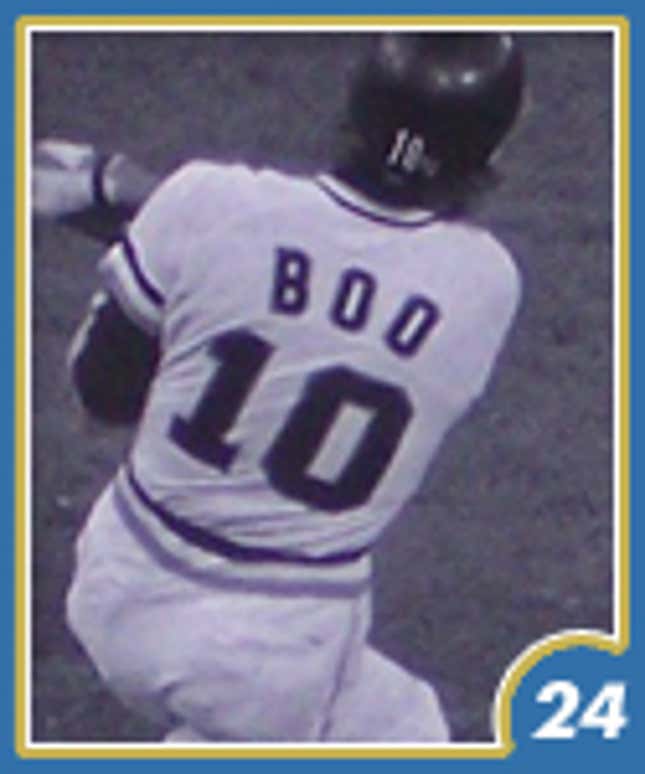 24. Johnnie LeMaster, 1975-1987 (Giants/Pirates/Athletics/Indians)
In a universe occupied by men who not only think but know that they're the best in the world at what they do, self-awareness is a precious commodity. Johnnie LeMaster had almost enough to make up for his career as a .222 hitter. In 1979, after years of having jeers rained down upon him by his home Giants fans, LeMaster emerged for a game with the word "boo" stitched onto his jersey in place of his name.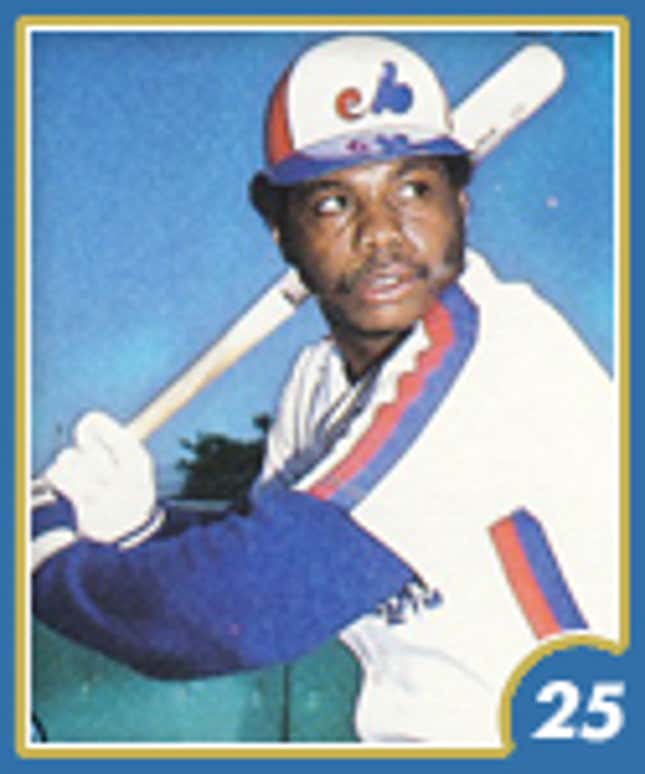 25. Razor Shines, 1983-1987 (Expos)
Razor Shines is a Rorschach test for your attitude about baseball. If you see an ineffective player who by the sheer force of charm and good luck enjoyed 88 plate appearances over four seasons, despite playing an offensively demanding position and demonstrating no ability to hit whatsoever—and then turned those flails at a major league legacy into a two-decade coaching career that includes, of all things, an endorsement from Aquafina—then you are an optimist. If you see a career OPS of .586, then you are a sabermetrician.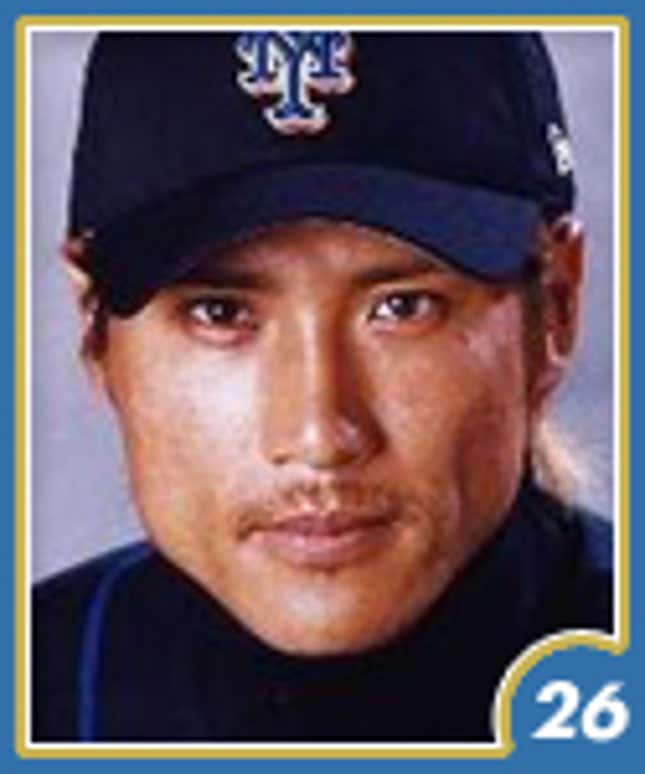 26. Tsuyoshi Shinjo, 2001-2003 (Mets/Giants)
He was lowered from the rafters of a dome into a Japanese baseball game. He won the top prize of ten million yen on Japan's version of "Who Wants to be a Millionare." He has his own clothing line. It probably doesn't bother Tsuyoshi Shinjo that his major league career was a failure; that given more than ample time to figure out National League pitching, he never found his rhythm at the plate; that he's remembered more in the States as a flashy, dyed-hair, wristband-wearing disappointment than a ballplayer of substance. Shinjo had enough style to make us forget his .245 average. And for some ballplayers, style —even when that involves wearing LED-scrolling message belts during ballgames—is enough.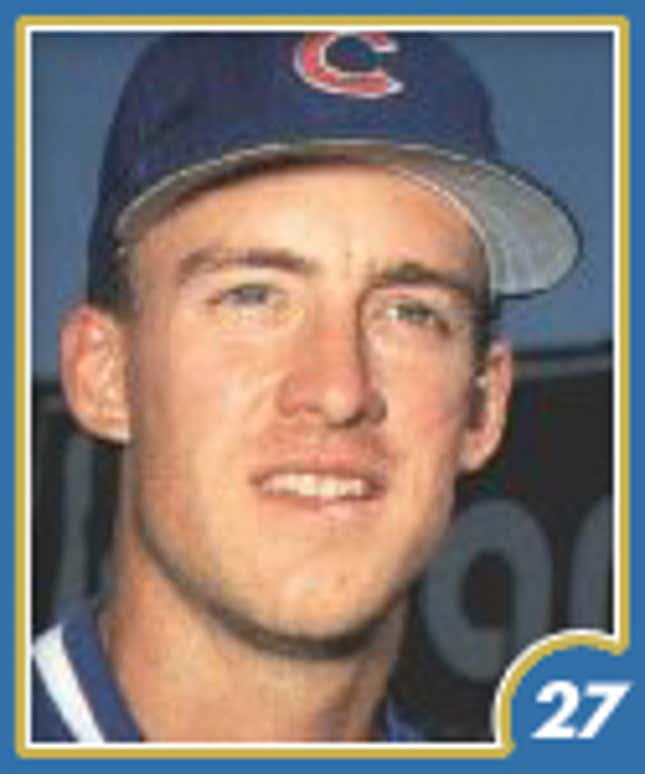 27. Doug Strange, 1989-1998 (Rangers/Mariners/Expos/Pirates/Tigers/Cubs)
In Seattle, Doug Strange is a hero. The highlight of his career—the best thing he ever did on a baseball field—was drawing a game-tying, bases-loaded, full-count walk off David Cone in Game 5 of the 1995 American League Division Series. The walk set up the tie that set up The Double, by Edgar Martinez and scoring Ken Griffey Jr., which decided the series. Then there was every other at-bat of Strange's career. He was a .233 hitter, he demonstrated no power, and he only played one forgettable season as a regular. "I still can't believe I didn't swing at that pitch," Strange said years later. It takes a bad hitter to look back on his own career and say that he's glad he didn't ruin everything by trying to hit.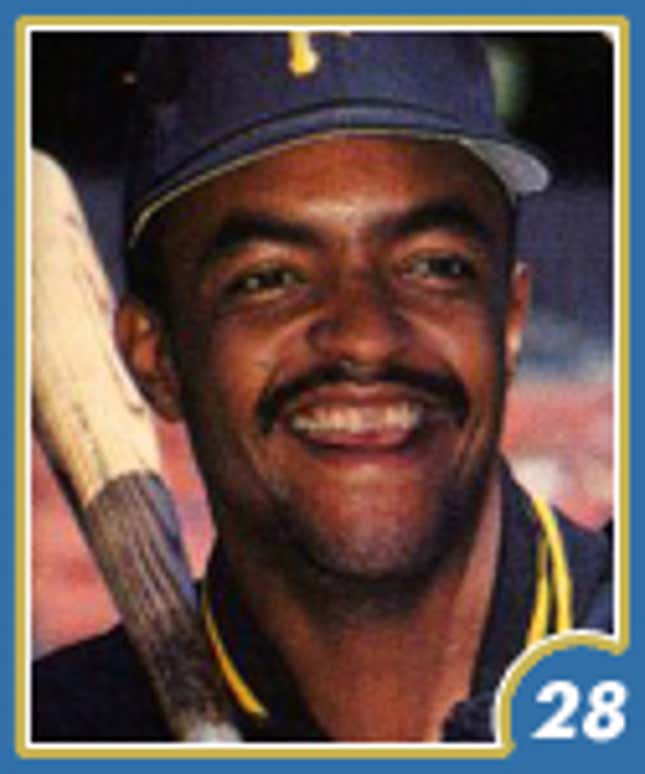 28. Jose Lind, 1987-1995 (Pirates/Royals/Angels)
Jose "Chico" Lind was a second baseman capable of jumping over the heads of his teammates. On the back of an Upper Deck card, he can be seen jumping over catcher Mike Lavalliere. Lind kept a collection of large knives in the clubhouse and sometimes pretended to stab teammates with them. He played great defense at second base. But he was a lousy, lousy hitter: he batted just .254 for his career, with a .295 on base percentage and .316 slugging percentage. Lind left baseball in 1995. In 1997 he was arrested for driving his car drunk and naked from the waist down with seven cans of beer and a gram of coke as passengers. A year in prison and a new outlook on life later, Lind became—what else?—a minor league manager.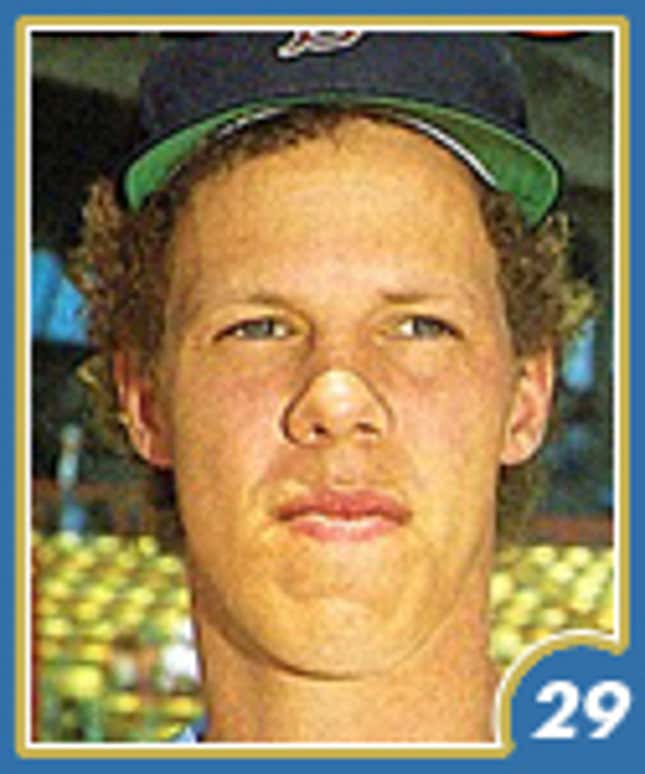 29. Todd Benzinger, 1987-1995 (Reds/Giants/Red Sox/Dodgers/Royals)
Todd Benzinger was World Series champion with the 1990 Reds. The year before, he led the National League in at bats with 628. And that sums up Benzinger's career highlights. A light-hitting, switch-hitting, first baseman, Benzinger was consistently uninteresting. He was equally futile from the left and right sides of the plate: 693 OPS as a righty and .678 as a lefty. He played poor defense. After retiring from baseball, he was a successful high school girls basketball coach and less successful minor league baseball manager.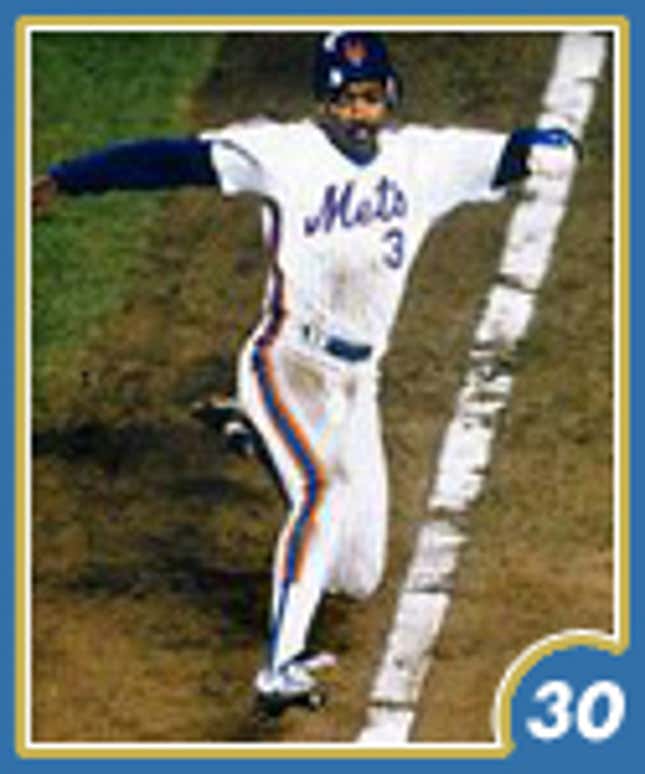 30. Rafael Santana, 1983-1990 (Mets/Yankees/Cardinals/Indians)
Santana was the shortstop on the 1986 Mets. On a team full of superstar drug addicts and skirt-chasers, Santana carved out a reputation for having no reputation. His "good behavior" was even the topic of a New York Daily News profile in 2009. It's true, Santana never got arrested. He also hit just .218 that year, and was a below-replacement-level fielder and hitter throughout his career.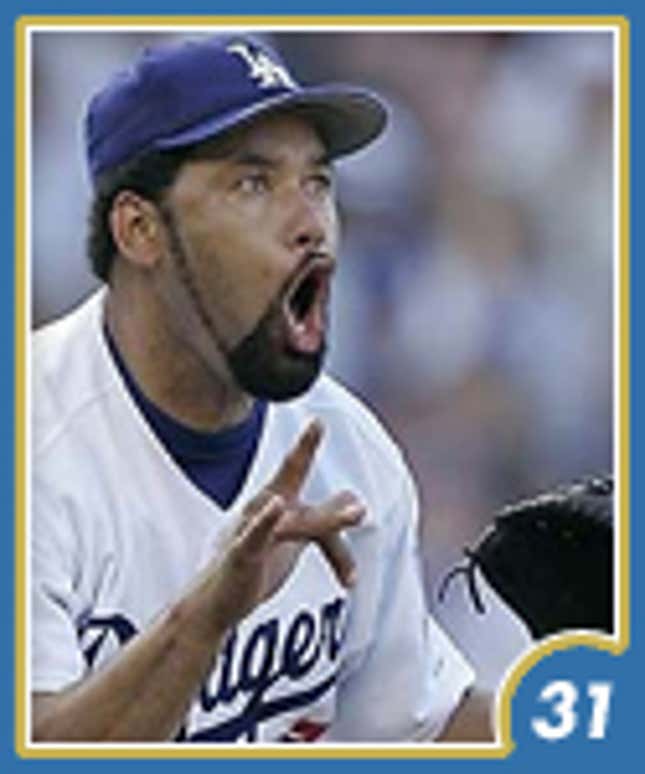 31. Jose Lima, 1994-2006 (Astros/Tigers/Royals/Dodgers/Mets)
There is no player more deserving of celebration than Jose Lima. He made failure a jubilant spectacle and success a hyperbolic joy. Lima was responsible for some of the worst-pitched seasons in baseball history—in 2000 he went 7-16, 6.65 and in 2005 he went 5-16, 6.99—and his durability as a starter was a reflection more on the addictive nature of Lima Time than his actual effectiveness as a pitcher. He sang. He danced. He pitched a miracle shutout in the 2004 playoffs to give the Dodgers' their first postseason victory since 1988. He also usually stunk; it was part of his mystique. Jose Lima is tragically dead. Long live Jose Lima.
Small Sample Sizes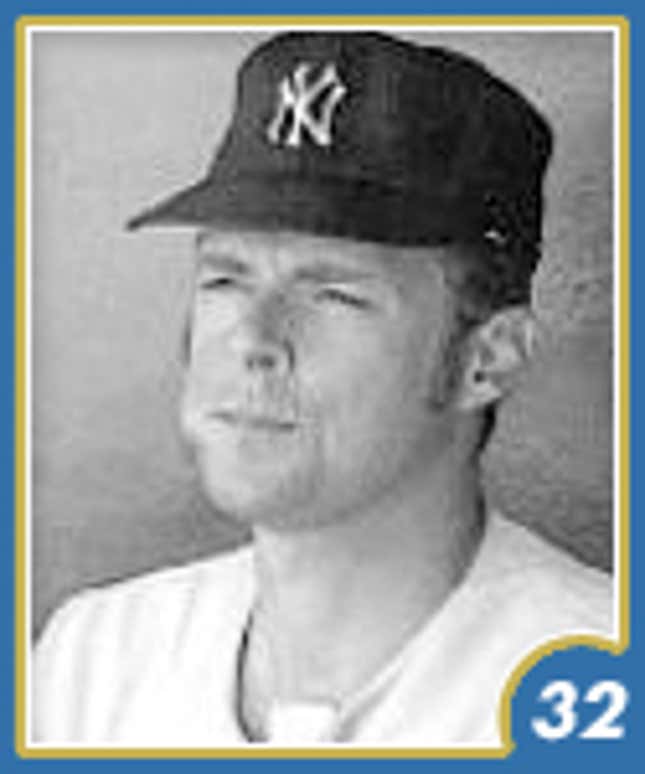 32. Bob Kammeyer, 1978-1979 (Yankees)
Bob Kammeyer gave up only eight runs pitching for the Yankees in 1979. Unfortunately, he never recorded an out, and ended the season with an earned run average of infinity. Infinity is only slightly worse than his 1978 ERA of 5.82.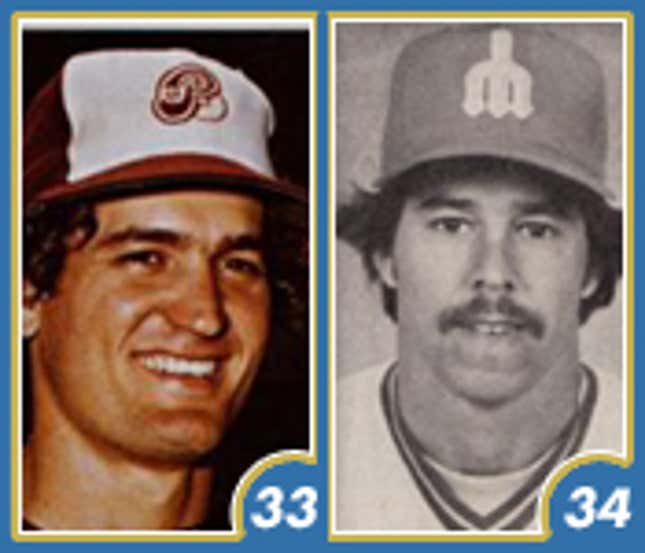 33 & 34. Larry Littleton, 1981 (Indians); Mike Potter, 1976-1977 (Cardinals)
Larry Littleton and Mike Potter share the dubious honor of having the most major league at bats by a non-pitcher without a hit. Both are career .000 hitters in 23 at-bats. Credit to Littleton, though, for drawing three walks in his big league career to Potter's one.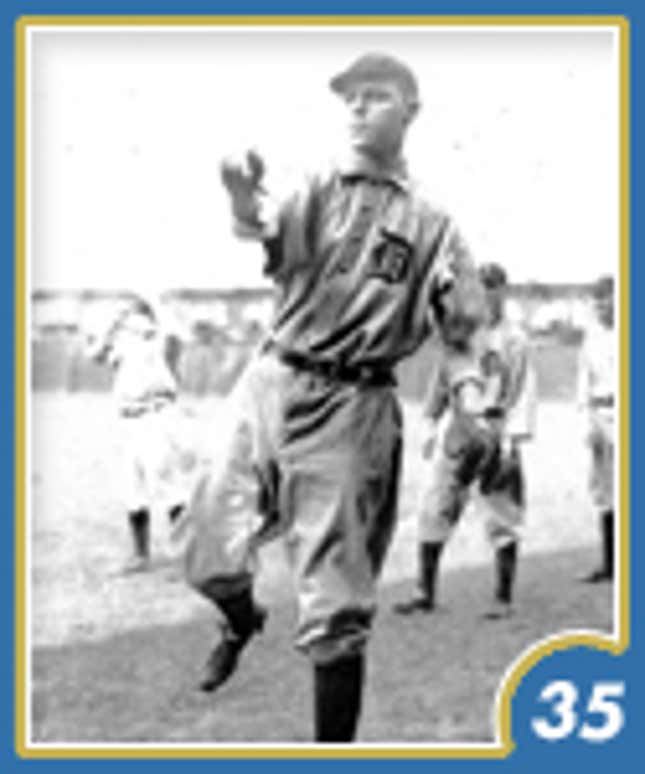 35. The Reverend Aloysius Stanislaus Travers, 1912 (Tigers)
In May of 1912, a man named Claude Lueker, who had no hands, heckled Ty Cobb by calling the Georgia Peach—himself a renowned bigot—"half a nigger." Cobb entered the stands and slugged Lueker repeatedly, ignoring the pleas of fans for him to stop beating up a man with no hands. When Cobb was suspended indefinitely for the assault, his Tigers teammates went on strike until Cobb was reinstated. To avoid paying hefty fines and forfeiting the next game, the Tigers had to find replacement players. Aloysius Travers was one of those replacements: a violist and college student, the not-yet priest was assistant manager of the St. Joseph's College baseball team. In his one major league appearance, Travers pitched a complete game, allowing 26 hits and 24 runs (only 14 earned).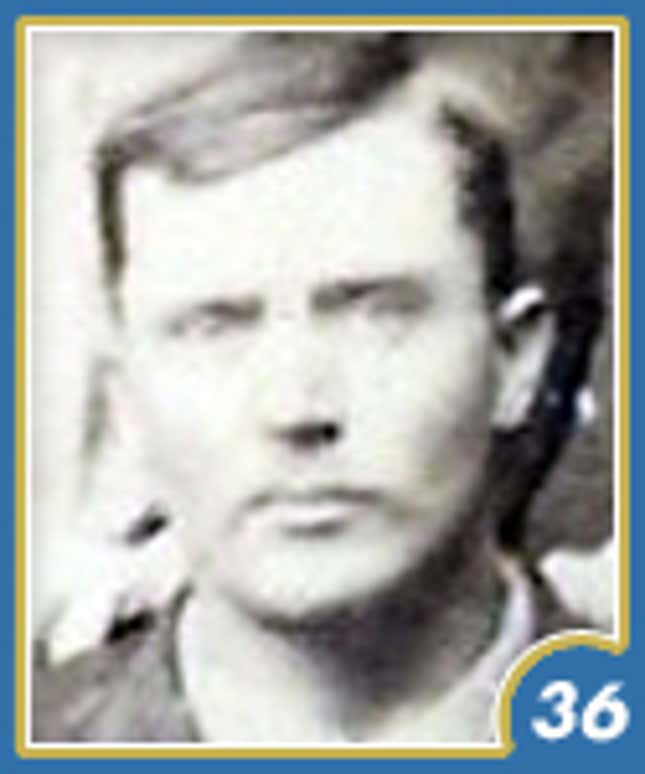 36. Dave Rowe, 1877-1888 (Kansas City Cowboys/St. Louis Maroons/Orioles/Cleveland Blues/Chicago White Stockings)
Travers's 24-run pitching performance is only the second-most-disastrous one in history. In 1882, Dave Rowe, usually an outfielder, took the mound for the Cleveland Blues of the National League. He allowed 29 hits and seven walks in nine innings of work. Rowe, who pitched three other times in his career, retired with an earned run average of 9.78, despite the fact that his final start was a complete game, two-run performance. Rowe also compiled a career record of 44-127 as manager of the Kansas City Cowboys.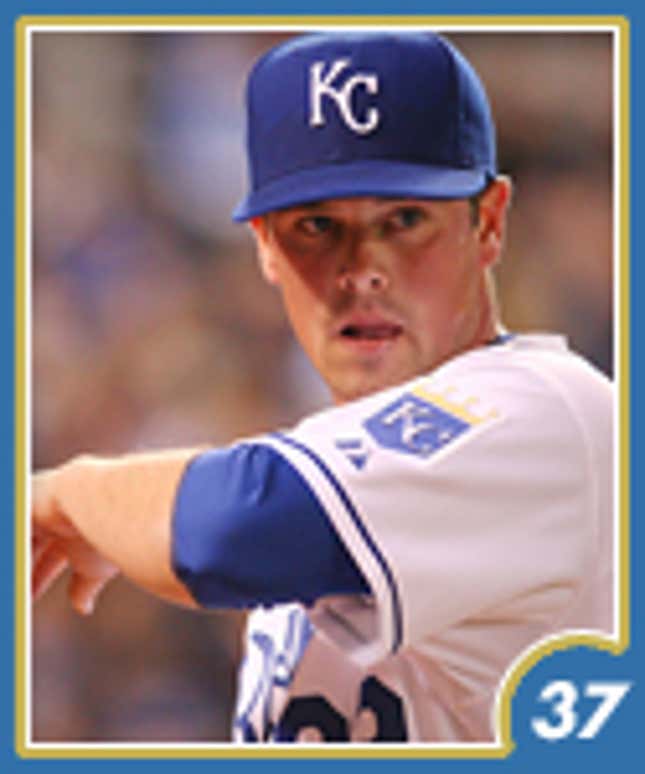 37. Vin Mazzaro, 2009-2011 (Athletics/Royals)
Vin Mazzaro is the lone player to earn his way onto this list during the 2011 season. In a single two-inning appearance against Cleveland, Mazzaro allowed fourteen runs. His earned run average ballooned from 4.50 to 22.74. Was Mazzaro screwed by his Kansas City handlers? Certainly. Is one outing too little to judge a pitcher on? Absolutely not. Throw in the drama, the spectacular nature of Mazzaro's failure, the excruciating delay before he was finally freed from his hellish outing, and the small sample size becomes plenty sufficient.
Hard-Luck Cases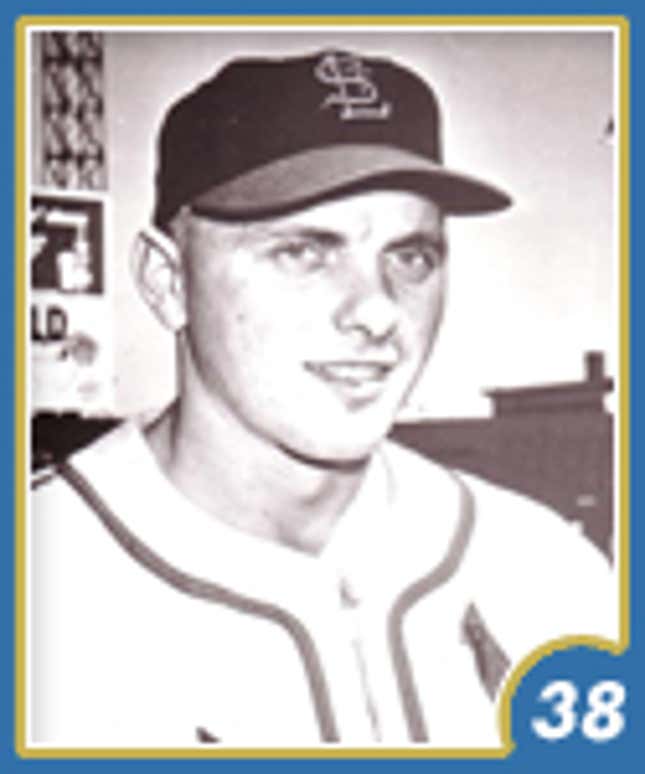 38. Steve Bilko, 1949-1962 (Cardinals/Angels/Tigers/Dodgers/Cubs/Reds)
Steve Biko was a leading anti-Apartheid activist in South Africa in the 1970s. Steve Bilko was one of the greatest minor league hitters of all time. Steve Biko was murdered by South African police. Steve Bilko was forced to retire after a long career because of a nagging leg injury. Steve Biko is the namesake of a song by A Tribe Called Quest and was portrayed by Denzel Washington in Cry Freedom. Steve Bilko is the namesake of television's Sergeant Bilko. Steve Biko never had a major league at-bat. Steve Bilko had almost 2,000 but he never did much with them.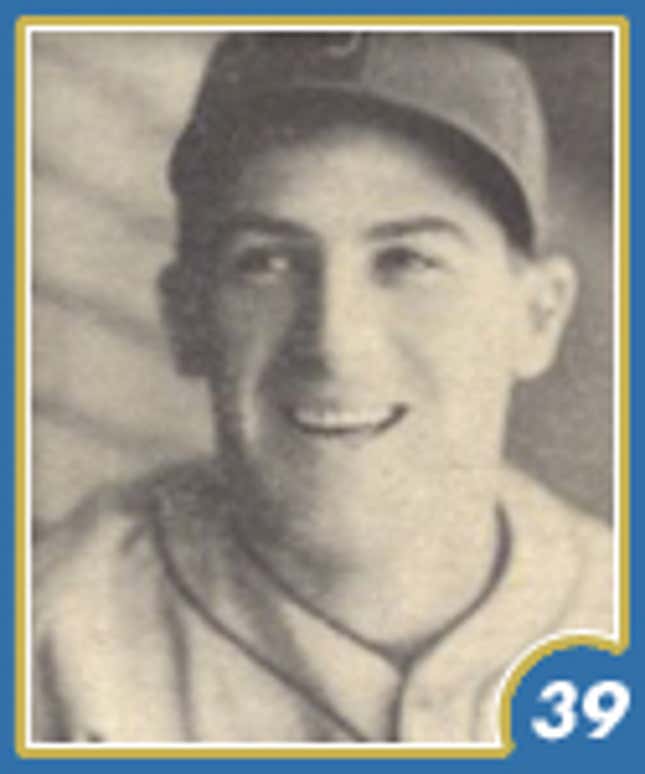 39. Hugh Mulcahy, 1935-1947 (Phillies/Pirates)
Hugh Mulcahy was such a bad pitcher that nickname was "Losing Pitcher." He was also the first major league player drafted for military service during World War II. He tried to get a six month deferment to play the 1941 season, but the government denied Mulcahy's request. "Losing Pitcher," indeed.
Historical Curiosities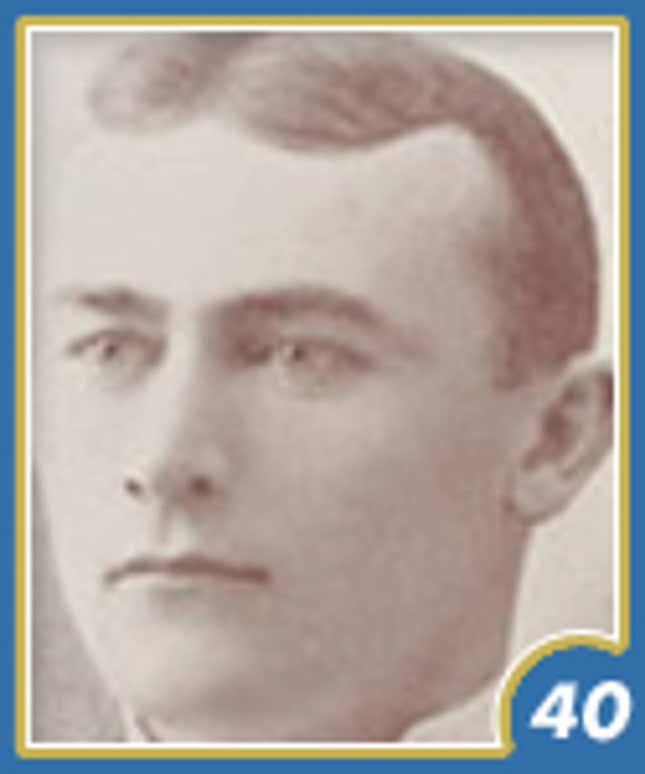 40. Tommy Dowd, 1891-1901 (St. Louis Browns/Cleveland Spiders/Washington Senators/Boston Americans/Boston Reds/Phillies)
Jim Jividen, author of "The Blog of Revelation" has done excellent work in discovering and chronicling bad baseball players. Some of the names on this list also appear on his list of the worst 20 ballplayers ever. Thomas Jefferson "Buttermilk Tommy" Dowd is by far Jividen's greatest find. Dowd, who went to Brown and allegedly discovered Rabbit Maranville the prospect, was the worst fielder of all time. Fangraphs and Baseball-Reference agree that Dowd (who couldn't hit either) was worth negative 73 runs as a fielder.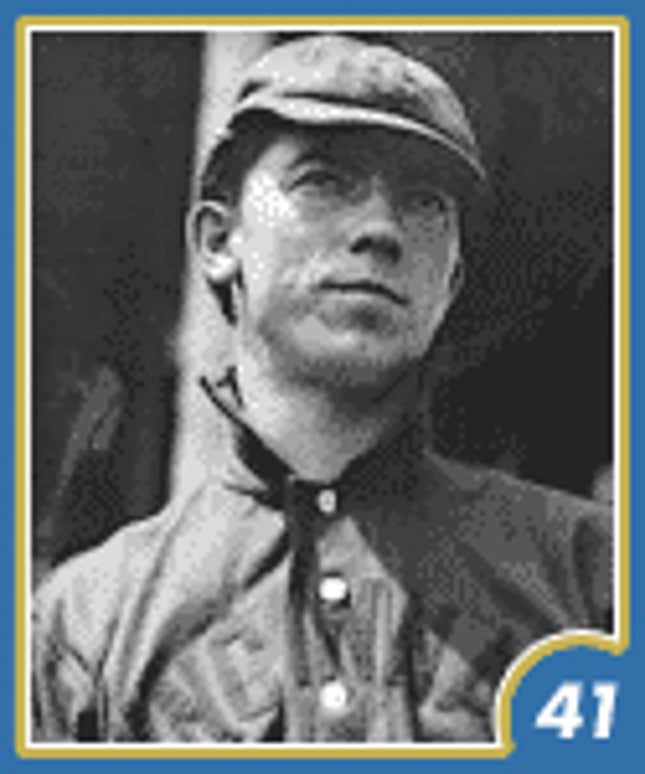 41. Bill Bergen, 1901-1911 (Brooklyn Superbas/Reds/Dodgers)
Records of Bill Bergen's early 20th century baseball career have him as an excellent defensive catcher—perhaps the best of his day. Unfortunately they also have him as a terrible waste offensively. Bergen has the lowest career batting average of any player with 2,500 at bats. He hit .170 with two career home runs. The advanced metrics are no more forgiving: among all non-pitchers, Bill Bergen's career wOBA is the worst.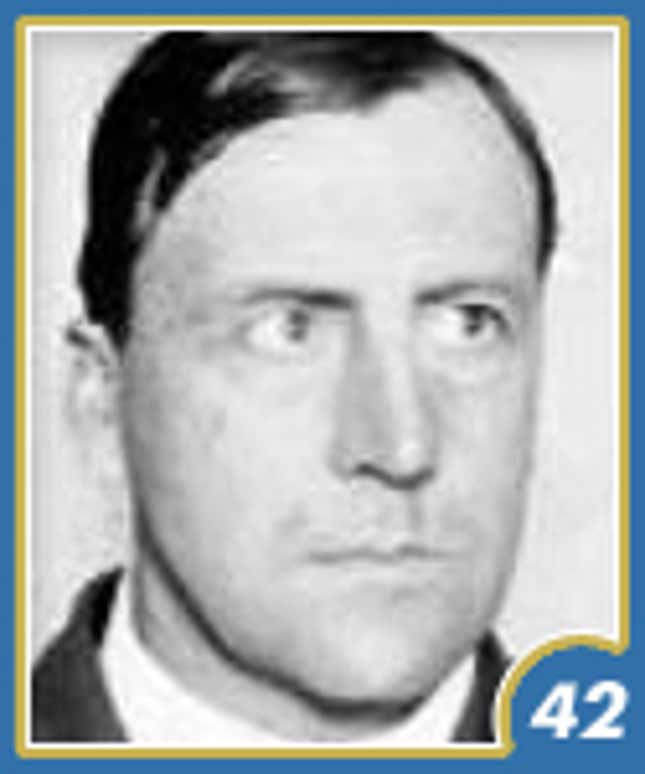 42. Crazy Schmit, 1890-1901 (Cleveland Spiders/Orioles/Pittsburgh Alleghenys/New York Giants)
Before Terrell Owens and his pen, there was Crazy Schmit and his notebook. Schmit, a pitcher for the Cleveland Spiders, had a terribly bad memory. Legend has it that to overcome his forgetfulness, Schmit kept a notebook in his pocket full of what he considered to be opposing hitters' weaknesses, and consulted its contents while on the mound. Allegedly he once pulled out the notebook with Cap Anson (sometimes the story has it as Honus Wagner) at the plate, read aloud that the Anson's weakness was the base on balls, then proceeded to walk him. While we'll never know whether the notebook gambit was effective, we know that Schmit himself was not. He retired with a 5.45 ERA.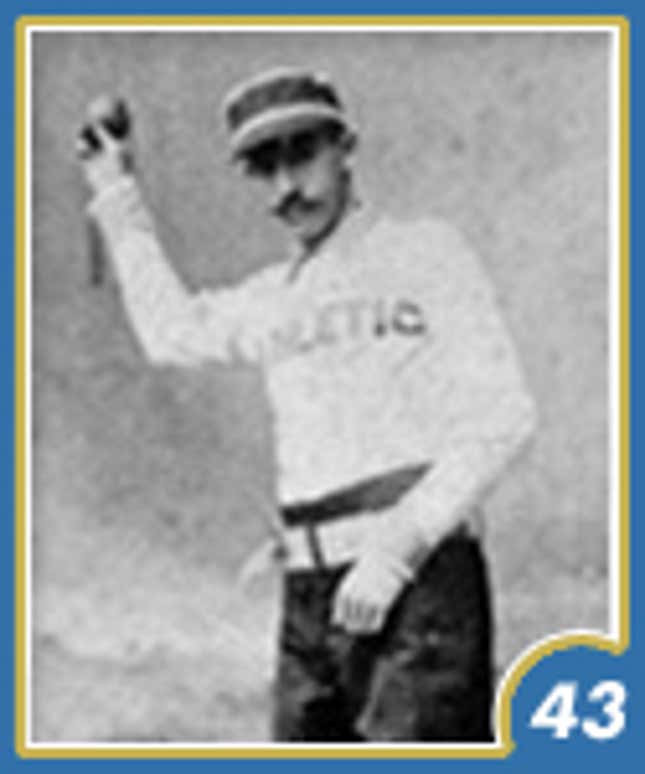 43. Gus Weyhing, 1887-1901 (Philadelphia Athletics/Phillies/Washington Senators/Brooklyn Ward's Wonders/Louisville Colonels, Brooklyn Superbas, Cardinals, Cleveland Blues, Pirates, Reds)
Augustus Weyhing might at first glance strike you as a fine example of 19th century baseball pitching. Rubber-Winged Gus did indeed win a great number of games. But even for the rough-and-tumble era in which he played, Weyhing's reputation was far from fine. Not only did he hit 277 batters during his career—still the major-league record—but he was accused of stealing pigeons in Louisville, Kentucky between the 1891 and 1892 seasons.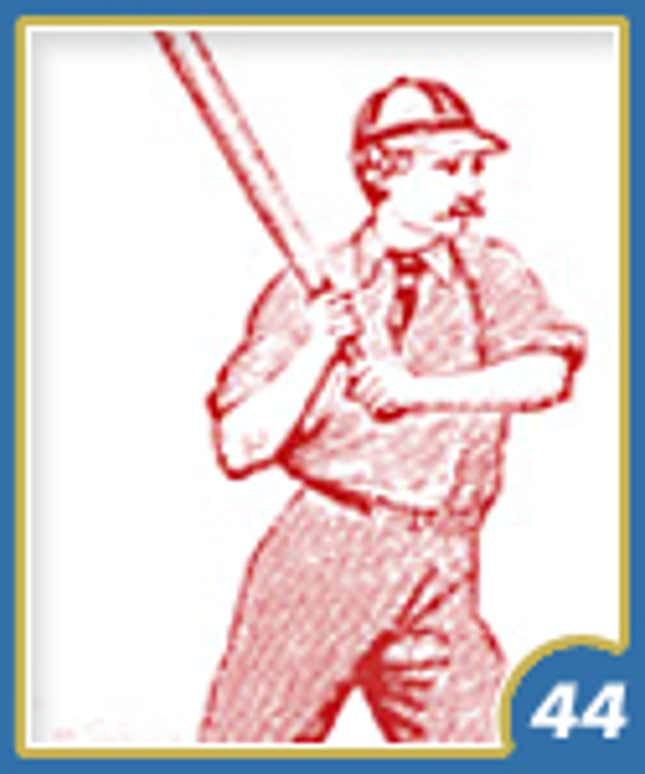 44. Tony Suck, 1883-1884 (Chicago/Pittsburgh/Baltimore Monumentals/Buffalo Bisons)
Tony Suck sucked long before the word "suck" came to mean suck. According to the Online Etymology Dictionary, the earliest recorded use of the word as slang for being inferior came in 1940. Tony Suck retired in 1884 after two seasons of miserable play as a catcher, shortstop, and outfielder with the Buffalo Bisons, Baltimore Monumentals, and Chicago Browns. His offense was lousy: a career on base percentage of .205, a career slugging percentage of .161, and zero home runs. His defense, somehow, was worse: Suck's fielding percentage was .894 behind the plate, .783 in the outfield, and just .754 at shortstop.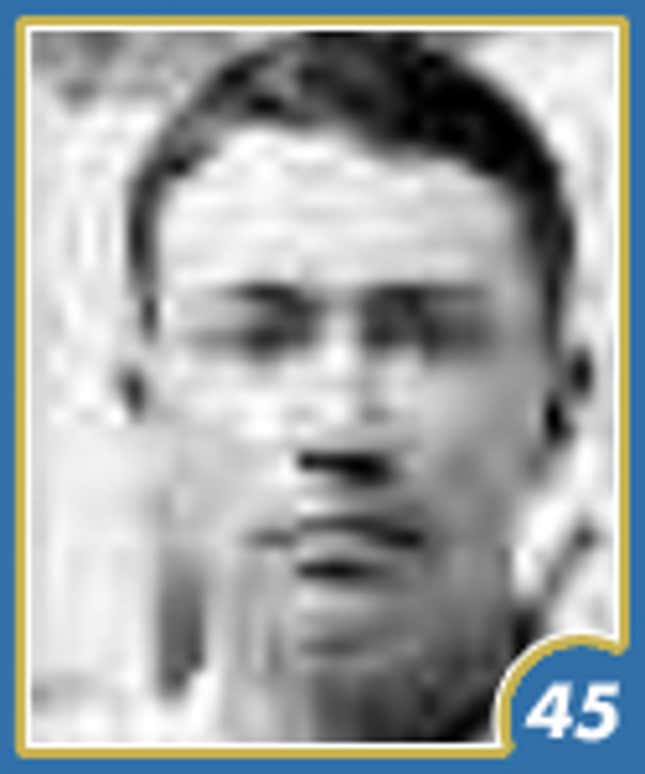 45. Jim Lillie, 1883-1886 (Buffalo Bisons, Kansas City Cowboys)
Jim Lillie played in the Deadball Era. His stats should be measured as such. Even so, in 1886, Lillie, whose nickname was Grasshopper, put together one of the worst baseball seasons ever. He batted .175, reached base at a .197 clip, and also slugged .197. Lillie struck out 80 times—he only reached base 84.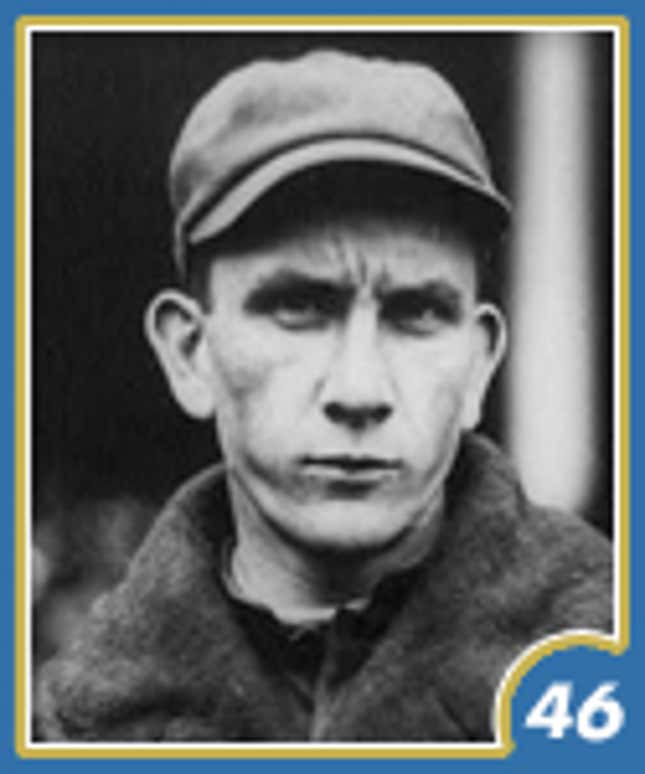 46. Rabbit Maranville, 1912-1935 (Braves/Pirates/Cardinals/Robins/Cubs)
Yes, Rabbit Maranville is in the Hall of Fame. No, that's not the only reason he's on this list. Maranville was a punchless hitter for 23 seasons, mostly with the Boston Braves. He was famously short, famously ugly, and famously fast (hence the name Rabbit). Less famous is the fact that Maranville was not a particularly effective base stealer. He stole 291 bases and was caught 112 times-and that's with 14 years' worth of his caught-stealing numbers missing. His career OPS+ was 82. Not even Maranville's reputation for great defense, hard drinking, and uproarious vaudeville routines can make up for that.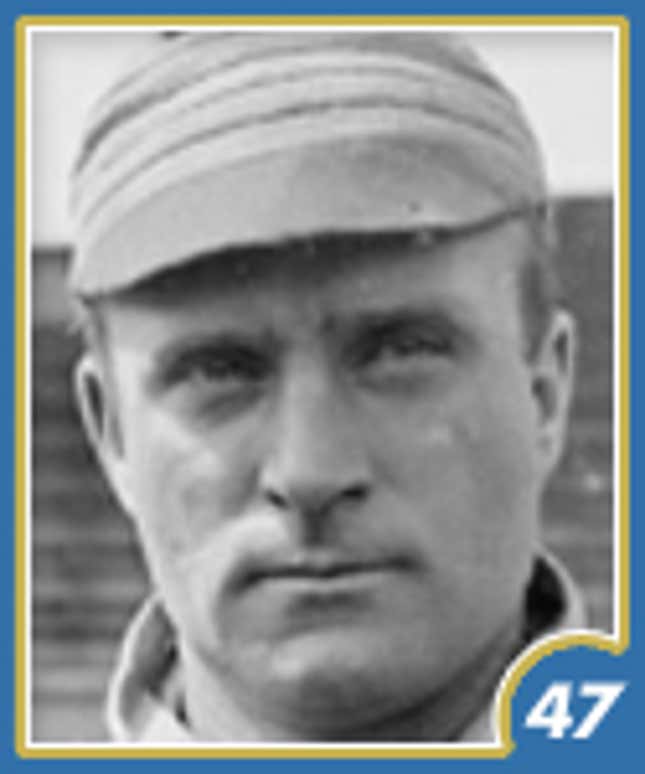 47. Malachi Kittridge, 1890-1906 (Chicago Colts/Washington Senators/Boston Beaneaters/Louisville Colonels/Cleveland Naps)
At first glance, Malachi Kittridge is just another light-hitting catcher from the early 20th century, a powerless career .219 hitter. At second glance, he is one of the worst hitters of all time, posting the 2nd lowest career OPS+ of any player with 4,000 plate appearances. At third glance, Kittridge is one of the least successful managers in baseball history, leading the Washington Senators to an 0-14 start in 1904, then getting fired when the team reached 1-17. At fourth glance, he is a generally inept character who once suffered a sprained ankle while walking around with $300 worth of nickels and dimes in his pockets. And at fifth glance, Kittridge is a man who once allowed a run to score as a catcher while he was dusting off home plate.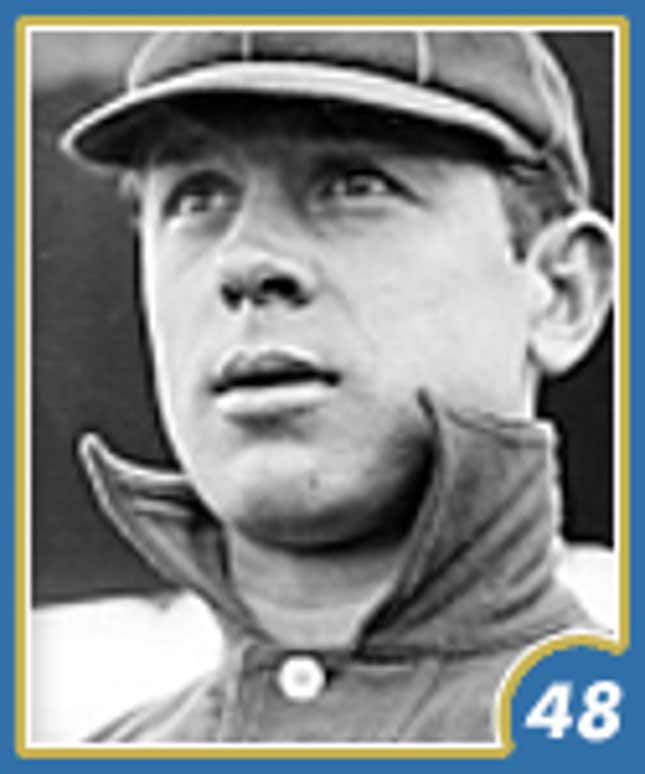 48. John Gochnaur, 1901-1903 (Cleveland Naps/Cleveland Bronchos/Brooklyn Superbas)
A few years ago, John Gochnaur was rescued from the annals of the Baseball Encyclopedia by an writer named Mike Attiyeh. His original article on Gochnauer's bad play appeared at BaseballGuru.com. It's no longer up, but Attiye's findings echo on the internet to this day. Gochnaur has a legitimate claim on worst player ever: he batted .187 in his three-year career between 1901 and 1903. He never hit a single home run. And in his final season, he committed 98 errors in 134 games.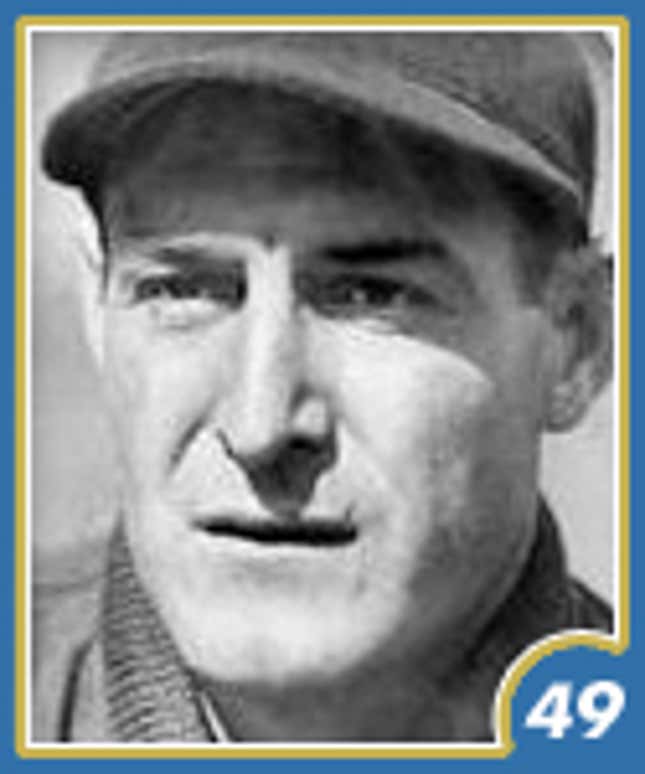 49. Les Sweetland, 1927-1931 (Phillies/Cubs)
Les Sweetland had the highest single-season ERA of any pitcher to ever qualify for the title. In 1930, Sweetland went 7-15, 7.71 for the Phillies. A 7.71 ERA is bad—but compared to the rest of Sweetland's awful career, not that bad. His career mark was 6.10 and his single-season best was 5.04.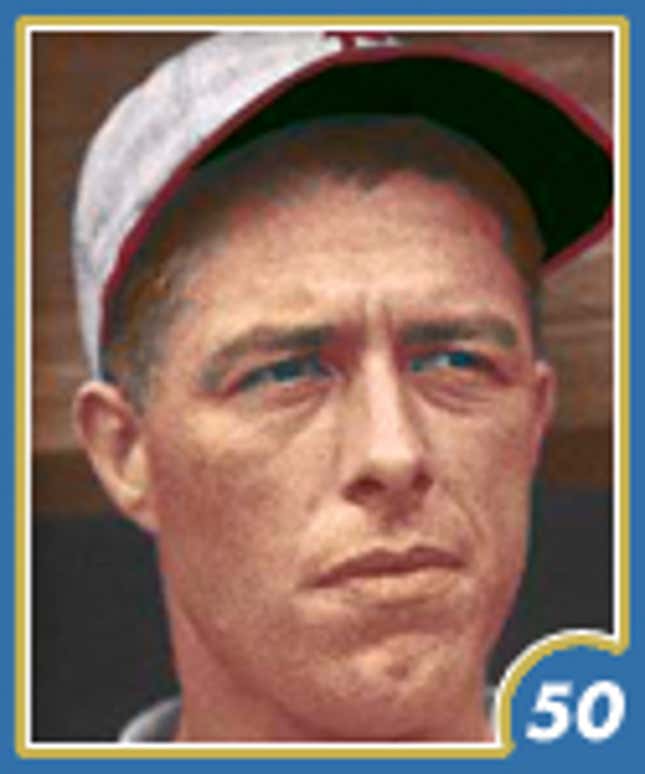 50. Claude Willoughby, 1925-1931 (Phillies/Pirates)
Sweetland was only barely the worst pitcher on the 1930 Phillies. His teammate Claude Willoughby (nicknames: "Flunky" and "Weeping Willoughby") went 4-17 with a 7.59 ERA. Willoughby, who pitched a few years longer than Sweetland, was only slightly better over his career. He retired 38-58 with a 5.84 ERA, striking out only two batters per nine innings while walking more than four.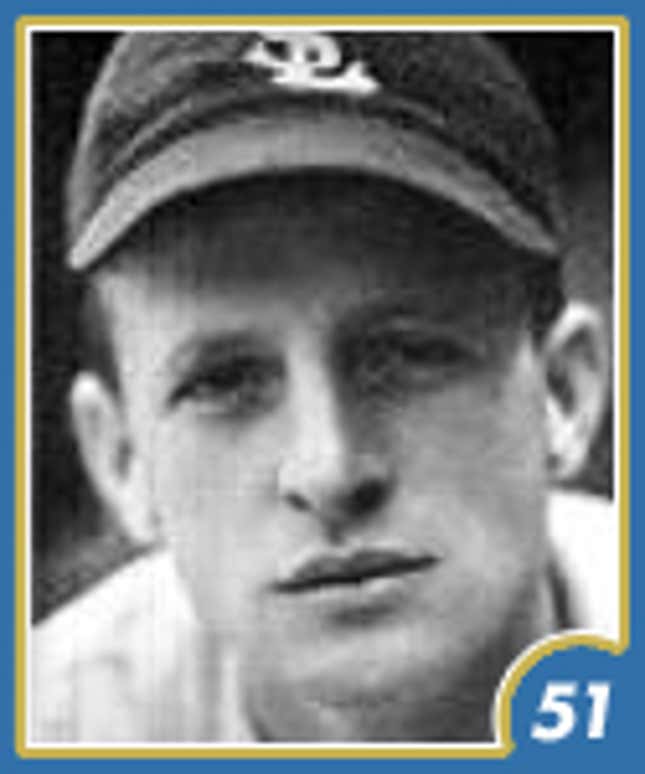 51. Jim Walkup, 1934-1939 (St. Louis Browns, Tigers)
Jim Walkup was born in Havana, Arkansas. He was the second player named Jim Walkup born in Havana, Arkansas, to pitch in the major leagues. The first Jim Walkup only appeared in two games. The second appeared in 116. Walkup No. 2 went 1-12 for the St. Louis Browns in 1938 with a 6.80 ERA. The previous season, he went 9-12 with an even higher 7.36 ERA. He retired in '39, after a brief stint with the Tigers, having gone 16-38, 6.78, and having walked nearly twice as many batters as he struck out.
Part 2 is here.
Eric Nusbaum is a co-editor of Pitchers & Poets. His work has appeared in Slate, GQ.com, TheAtlantic.com, and The Best American Sports Writing. Reach him on Twitter @ericnus.
Images by Jim Cooke.