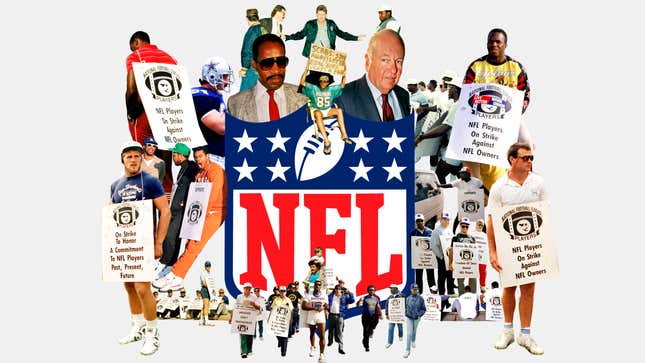 The darkest day in NFL history began with several Philadelphia Eagles players arriving at Veterans Stadium at midnight, some 13 hours before the scheduled kickoff of a game against the Chicago Bears. They weren't there to play; they were there precisely not to play. More specifically, they were there to stand sentry at all of the stadium's entrances, where they would be picketing against the ragtag group of bartenders, firefighters, and insurance salesmen that the owners had hired to take the field in their place.

Jokic? Embiid? The NBA MVP is obvious... right? | Keep it a Buck(et)
It was Oct. 4, 1987—Week 4 of the NFL season. The league and the NFL Players Association were unable to come to terms on a new collective bargaining agreement by the end of August, and the players had authorized a strike that began Sept. 22, just after the end of Week 2. The strike—the league's second in six years—wound up wiping out Week 3. The players wanted the right to free agency, in addition to better better pension benefits, severance, and the elimination of artificial turf. The NFL's free agency system at that time required compensation to go to a player's former team, which had a chilling effect on player movement and, in turn, on salaries. The owners dug in to prevent any change, on the specious and already familiar grounds that it would destroy competitive balance and make labor costs unaffordable. But the players had no idea just how determined the owners were to break their solidarity.
Tight end John Spagnola was the Eagles' player rep at the time. He felt that the NFLPA's strategy of playing two games and going on strike—a repeat of their tactic in 1982, which wiped out seven games that year and achieved little beyond some modest increases in severance, back pay, and pension benefits—did too much to show their hand.
"This time the owners were loaded for bear," Spagnola told me over the phone.
Management's plan was to recruit strike-breakers, to leverage the notion that even the highly skilled labor of NFL players could be replaced. The league had its PR apparatus on its side, to say nothing of the public's reluctance to sympathize with professionals making an average of six figures per year to play a game.
G/O Media may get a commission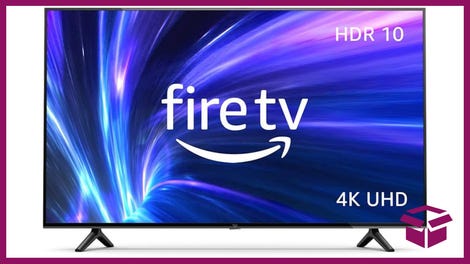 42% Off
Amazon Fire TV 50" 4K Smart TV
By early September, as Mike Tanier wrote in his book-length feature "Year of the Scab: The True Story of the 1987 Players Strike and Replacement Games," reports began to circulate that teams had offered some of their final training-camp cuts $1,000 as a contingency in the event of a strike. On Sept. 10, the Chicago Tribune reported, the owners voted unanimously "to play through a player strike by fielding anyone willing to wear a uniform." By the time of that vote, according to the Associated Press, 19 of the league's 28 teams had already begun signing players.
And by that morning of Oct. 4, there was about to be a bigger clash outside Veterans Stadium than inside it.
---
Three months ago, at a meeting to discuss whether players protesting racial injustice during the national anthem should be punished, Houston Texans owner Bob McNair really stepped in it.

"We can't have the inmates running the prison," McNair told a roomful of NFL executives and other owners.
It was a gaffe in the classic political sense of "accidentally saying what you really mean." McNair's words were not meant for public consumption; the wider world knows about them only because ESPN The Magazine got wind of what he said and published it as part of lengthier tick-tock about what happened at the league meetings. McNair later apologized. When that didn't fly, he tried to say his words referred not to the players, but to the league office. Pretty much no one believed him.
McNair's behind-closed-doors candor should come as no surprise. His "inmates" remark has a direct antecedent that dates to the '87 strike. As the CBA talks broke down that year, a quote that to this day is widely attributed to Dallas Cowboys president Tex Schramm started making the rounds. "You guys are cattle and we're the ranchers," Schramm supposedly told NFLPA executive director Gene Upshaw during a late-stage bargaining session in September 1987. "And ranchers can always get more cattle."
Contemporary press accounts indicate Upshaw was merely paraphrasing an exchange he had with Schramm. "Tex Schramm made it very clear," Upshaw told reporters at the time. "The owners are the stewards of the game and the players are only transients. That's like saying they're the ranchers and we're the the cattle, and they can always get more cattle." But the provenance of the quote is less relevant than the sentiment behind it.
And that sentiment—that the players were fungible, disposable, and not entitled even to the modicum of agency they had—was impossible to miss. The explanation of the owners' tactics was left to Hugh Culverhouse of the Tampa Bay Buccaneers, a notorious skinflint and historically negligent owner. On Culverhouse's watch, the Bucs once lost at least 10 games in 12 consecutive seasons. He ran the Bucs on such a shoestring that players were reduced to grabbing lunch at a local fast-food drive-thru after taping up for practice. Yet when it came to replacing striking players with scabs, Culverhouse uttered a line that to this day remains the league's failsafe when it wants assert its power over the players: "It's in the best interests of protecting the integrity of the game."
So much of what's happened since—from players' inability to secure more guaranteed contracts to the league's manipulation and denial of the science of brain trauma to the heavy-handedness of the league's discipline—can be traced to the '87 strike. It's hard, drawing the line between then and now, not to view that time as the birth of the modern NFL.
---
Clashes between labor and management were a fact of life in many industries throughout the 1980s. This ranged from President Ronald Reagan's decision to fire all 11,000 of the country's striking air-traffic controllers to NBC's decision to replace Valerie Harper on her own television show to the bitter miners' strike in the UK. Both MLB and the NFL went through lengthy work stoppages at the start of the decade, and on Sept. 21, 1987—the day before the NFL players' strike deadline—an arbitrator found MLB's owners guilty of collusion for having largely decided not to sign free agents. Tanier dredged up a line from Philadelphia Inquirer sports columnist Phil Sheridan: "The NFL can't even take the chance of granting free agency because now they would actually have to live up to it."

The owners were positively terrified of free agency. Ed Bouchette, then as now the Steelers beat writer for the Pittsburgh Post-Gazette, once wrote about how Art Rooney Sr., the franchise's patriarch, took him aside to explain how the strike would ruin the game. In his autobiography, Rooney's son, Dan, wrote that Schramm and Culverhouse "wanted to beat down the players, not make a deal with them." The league had already endured numerous work stoppages, and the union had always folded quickly, often after incremental gains, if any at all. This remained true even as MLB's example of making its collusion case was right there as a positive example of what could be achieved by remaining united and not backing down.
By '87, according to Dan Rooney, management came in armed with sufficient intel from the '82 strike to break the union. "We had found in 1982 many veteran players would have crossed the [picket] line if there had been a viable alternative to the strike," Rooney wrote. That "viable alternative" would be the use of scab players.
To counter, Spagnola told me, he came up with a plan that was even more ridiculous. Sometime during the season's first two games, which the regulars would still play before hitting the picket lines, Spagnola suggested a work slowdown. His idea? Have a player field the opening kickoff and walk it to the other end of the field, with no resistance from the opponent. Let it take the entire 15 minutes of the quarter, if it has to—and do it for all four quarters.
"It'll kill the commercials, it'll kill the timeouts, it'll kill the game, everyone will be booing," Spagnola told me. "After 60 true minutes, you would have a game over."
The union had few other options, but still. "As poorly conceived as it was," Spagnola said, "that was the idea. It really didn't win much support."
In addition to a more realistic plan, the owners had an added advantage: In recruiting scab players, they were able to draw at least in part from a pool of comparable talent, because the rival USFL had folded just 18 months earlier. The USFL, which played in the spring, didn't compete directly with the NFL on the field, but it was capable of offering enough money to rookies to entice several of them its way, which in turn drove up the salaries for drafted NFL players. Still, most of the NFL's scab rosters, which teams' GMs signed with varying degrees of enthusiasm, were stocked with ordinary dudes from all walks of life who were delighted to jump at the opportunity to play NFL football, even if only nominally and even if just for a fleeting moment.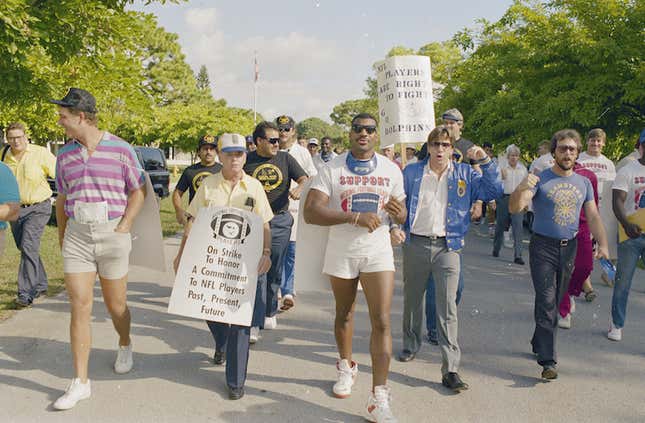 The use of the scabs served the dual purpose of continuing league operations while simultaneously putting additional pressure on the striking players, who were already not getting paid during the strike. This added pressure manifested itself in many ways, especially as a handful of veterans across the league gradually decided to cross the picket line, which tested the union's solidarity. Los Angeles Raiders quarterback Marc Wilson, New York Jets defensive linemen Mark Gastineau and Joe Klecko, Steelers center Mike Webster, and quarterback Danny White and linebacker Randy White of the Cowboys were among the most prominent line-crossers right from the start. These players had their reasons for breaking with the union—they saw a chance to prolong their careers, or to keep earning top dollar as they aged, or felt loyalty to ownership that surpassed their loyalty to their peers, or a simple obligation to fulfill the terms of the contract they signed. Football players, after all, are weaned on a sense of obedience and duty. As the longtime player agent Tony Agnone put it to me last summer, "You'll never confuse football players with the Bolshevik revolutionaries who stormed the Winter Palace."

Minnesota Vikings tight end and player representative Steve Jordan, the father of current New Orleans Saints star defensive end Cameron Jordan, put it like this: "NFL football players, like most pro athletes, we're just a microcosm of society. And so you have selfish players, you have benevolent players, you have people that are 'me' people and you have people who are not so me-oriented. Once we got into it, what I was surprised to see is that some of the older guys who had made a fair amount of money, who weren't [living] paycheck to paycheck, acted as if they were."
There were tensions. Gastineau got into a scuffle and was spit on by a teammate as he made his way to practice with the scabs; Jets players hid eggs in a baby carriage to throw at the replacements. In Houston, Oilers players broke the window of a bus that carried the scabs. According to Tanier, a Green Bay Packers player was cited by police for throwing an egg at a scab's car. Two Kansas City Chiefs players stood in the back of a truck holding rifles, though they later apologized and insisted the guns weren't loaded. Rooney's book said the Steelers moved their practices to Johnstown, some 60 miles east of Pittsburgh, to avoid any confrontations. The Eagles initially housed their scabs in a hotel in South Jersey, but according to Tanier, they wound up moving to three different locations in a span of 10 days because Spagnola prowled around at night in his best attempt to talk the scabs out of doing what they were doing.
Players who refused to cross couldn't get team-provided medical treatment or rehab services, which amped up the pressure. The Vikings offered to allow two injured veterans, defensive end Mark Mullaney and tight end (and future Tennessee Titans coach) Mike Mularkey to receive treatment without having any interaction with the scabs, and after consulting their teammates, both agreed. But once he was back, Mularkey told Fox Sports in 2012, he said the team asked him to sit in on meetings and rehab with the scabs. He refused and never went back.
No team was torn apart more thoroughly by the presence of the scabs than the Cowboys. Tanier relayed this passage, written many years later on the Cowboys' website, about the first day Randy White, a future Hall of Famer, arrived for practice alongside the scabs by pulling up in his pickup truck:
Well, the picket line was in progress, and the guys made White, of all people, wait patiently for an opening to drive through. Finally, White, nicknamed "Manster" for very good reasons, crossed the sidewalk into The Ranch entrance. But by then, Tony Dorsett and a couple of the other guys walked in front of White's truck. There was a standoff. White was burning. ... And let me tell you, Randy White is the last guy you want burning, especially back in the day. The game of chicken was on.

Finally, White smashed the clutch in and raced his engine, sticking his head out the window. He then briefly popped the clutch. The truck slightly lurched forward. Teammates, you know. This was ugly. They were ready to go at it. That's what labor differences can instigate.

Dorsett and gang finally moved. White raced down the driveway to the players' entrance, tires smoking.
Dorsett, another future Hall of Famer, had taken to referring to White as "Captain Scab." But he, too, would eventually cross the picket line after the first weekend of strike games on Oct. 4-5. It turns out Schramm had sent Dorsett and several other veterans a letter on the first day of the strike. That letter reminded those veterans that the Cowboys had structured their contracts to include annuities, a major part of their retirement portfolios. Dorsett's even included real estate options. The letter also said that any player who wasn't on the active roster by Oct. 15 would stop receiving payments toward their annuities.
Dorsett was boxed in—and he's still bitter about it. As he told the Cowboys' website this past October:
"That was horrible. I mean, I was one of the more vocal guys and all that, and I was out picketing. I would have lost a lot of money, and I said, guys, 'They got me, and they are using this against me, so I'm going to have to go back.' And I crossed back over the line, but I would go back on the line when the day was over. Every chance I had I would be out there talking with the guys.

"And Coach [Tom] Landry was getting a little upset about that, but I said, 'Coach, I really don't want to be here. I want to be out here with these guys.' I come from Western Pennsylvania. I know what unions are all about. I want to be one of the guys. I was very vocal about it. That was a tough time. That was a tough time for me."
Divide-and-conquer tactics like the one Schramm subjected the Cowboys to continue to this day, from workplace rules that favor veterans to a salary structure that has created a growing inequality between the league's stars and the far larger class of younger, more vulnerable roster fodder.
Back in '87, the owners also had the upper hand in other ways. On the day they voted to authorize the acquisition of scabs, per the AP, they also announced they had been awarded a $100 million line of credit. Fielding scabs also meant they would only have to repay the broadcast television networks a portion of the $473 million they were expected to receive in revenue that year. Besides, as Tanier wrote, the league had the networks by the balls:

The networks weren't just worried about Week 3. They weren't high on spending top dollar to broadcast low-quality football. Network lawyers poured through their deals with the NFL, looking for loopholes that would allow them to ignore the games (or at least pay less for them). Several major advertisers pulled out rather than endorse a second-rate product. Cowboys president Tex Schramm put feelers out to local networks in the event the big three backed out. Ultimately, though, the networks decided to air the games, for three reasons. First, there was the curiosity factor that was sure to keep ratings acceptable for at least the first week. Second, there was the potential for strike-related shenanigans outside the stadium, particularly in Philadelphia, that would prove both newsworthy and ratings-friendly. Third, and perhaps most importantly, there wasn't much else to show.
That last factor, of course, is the best explanation for the grip pro football continues to have on the networks even now.
---
Getting players to stick together remains a constant problem for the union, but this was especially true in '87, as the owners proceeded with their scab plan. Spagnola, the Eagles' player rep, told me the NFLPA had "something" held in reserve, but nothing that could make up for the players' loss of income during a prolonged strike. The regular players on most teams organized their own workouts and practices to stay in shape, but there might have been no greater sign of how unprepared the union was than the story Dan Rooney shared in his autobiography about player rep Tunch Ilkin approaching him to ask if the strikers could use the team's practice field. Rooney wanted his players to be in shape for the games after the strike, and told Ilkin where to find the key. Here again the contrast with the MLB players' union was unmistakable. MLB's union was led by Marvin Miller, a former top negotiator for the steelworkers' union who could sell individual players on what was at stake for future generations of players. The NFLPA, meanwhile, was run by Upshaw, a former player, and the communication down the ranks was abysmal.

A prime example of this was what then-New York Giants wideout Phil McConkey told Sports Illustrated a few months back:
McConkey remembers linebacker Harry Carson and defensive end George Martin standing in front of the team, writing out a list of the players' collective grievances on a chalkboard. On that list were many issues that the "average worker could relate to"—as McConkey put it. Things such as better retirement benefits, improved healthcare, better severance pay and educational training, "the types of things that would be helping guys in their 50s, 60s and 70s." The issue of free agency was ranked seven out of the nine issues the players enumerated.

Then the strike began, and it soon became clear that the NFL's union—which is "not as organized, not as cohesive a union as some of the other sports," as McConkey says—had centered their protest around free agency. McConkey was confused. That was not an issue that would benefit the vast majority of the players in the league.

"The things that we thought we were striking for were, the things that we voted on, were not the main issues of that strike," McConkey says.
Miller's autobiography is largely about logistics. A failure of this kind never would have happened on his watch. But Jordan, one of the Vikings' player reps at the time, told me he thought Upshaw did "an admirable job, considering the circumstances." For one thing, Jordan explained, the NFL has many more players to keep in line than MLB—a difference of maybe 1,000 strong-willed men. For another, baseball's union had a much bigger war chest to use to withstand a work stoppage, largely because it had more money to divvy up among fewer players. In addition, baseball players tended to skew older and to have longer careers.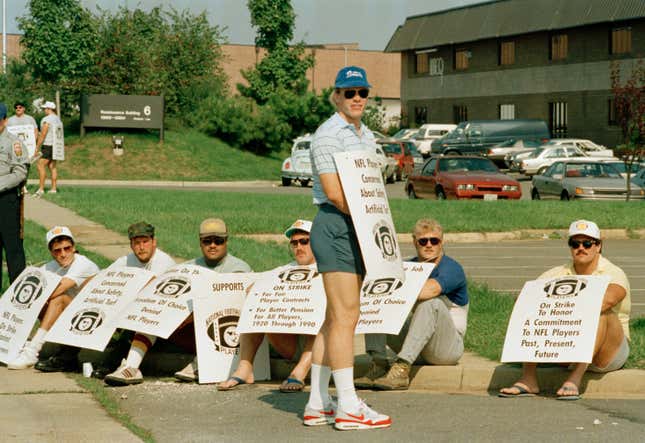 Washington is believed to be the only team not to have a player cross the picket lines, though the Vikings and Eagles only had players cross to receive medical treatment.* The Vikings, Jordan said, had a team leadership council that helped instill unity. But the council itself was not immune to the pressures that are unique to the NFL's labor situation. "Scott Studwell, on my team, he was one of my leaders, he was my guy on the council," Jordan said. "And he came to me, he said, 'If this thing lasts more than two or three weeks, I'm going in because we'll never make this kind of money ever again in our life, and we'll never be able to make this up.' Which was really shallow thinking on his part."

Studwell, who by then was already in his 30s, went on to work for years in the Vikings' scouting department. But there's a throughline from his thinking to the battles that the NFLPA faces today in trying to get players to see beyond their self-interest. In a sport whose violence inherently puts every player on a knife edge, taking the long view can be difficult. The owners know this as well as the players do, and they hold the higher cards.
As for the scabs themselves, Spagnola of the Eagles did his best. He attempted to talk some of them out of what they were doing by telling them they were tools being used by management, that they were taking money and jobs from players who had earned it, and that they had no chance of making the team once the strike was finished. But, at the same time ...

"When a guy has a dream of playing in the NFL, who are we, current NFL players walking away from the game, to say, You know, you shouldn't do this," Spagnola said. "We were all concerned with our own self-interest."

Teams approached the acquisition of scabs in different ways, and the coaches, who had a little more than a week to prepare a ragtag group of guys who largely weren't capable professionals, were caught in the middle. Giants general manager George Young, whose team had won the Super Bowl the year before, was generally uninterested. "He wasn't more aggressive out of respect to the veterans," longtime Newsday football columnist Bob Glauber told me. The same went for head coach Bill Parcells. "He kind of carried himself with a sense of resignation throughout the strike," Glauber said. Eagles head coach Buddy Ryan, a natural shit-stirrer who was prone to saying fuck-all to then-owner Norman Braman, couldn't possibly have cared less. Wrote Tanier:
"He installed a vanilla 3-4 defense that looked nothing like his vaunted 46 defense. He gave the strikebreakers an off-the-shelf strategy guide from a local bookstore and told them to study it. His offensive coaches designed a skeleton of an attack that would include none of the sizzle produced by a Randall Cunningham scramble. Ryan described the experience as 'boring as hell.'"
Both the Eagles and Giants lost all three of their scab games, with the Giants dropping a 6-3 overtime decision to the Bills that might have been the worst game ever played.
There are too many surreal stories about where the scabs came from to even begin to recount them all. The Vikings' scab quarterback was Tony Adams, who had retired from the NFL nine years earlier. A Vikings defensive end, Phil Micech, returned to his chemical engineering job before the strike was over because he had run out of vacation days. Seattle Seahawks GM Mike McCormack dragged his feet on signing scabs, many of whom were "plucked from their jobs as cops, bouncers and construction workers," the Seattle Post-Intelligencer's Clare Farnsworth would write years later. McCormack, a former player and coach, had plenty of mixed feelings. But his sense of duty also led him to escort his scabs through the picketing strikers.
Cowboys head coach Tom Landry, meanwhile, was every bit the company man. "I think it will be fun," he said, according to Tanier. Washington assembled a roster that would win all three of its scab games, including a 13-7 victory on the road against a Cowboys team full of regulars who had crossed the picket line. Because of an injury, Washington even had to turn that night to backup quarterback Tony Robinson, who was on a work furlough from prison, where he had landed as a result of a cocaine charge.
Those scab victories would propel Washington toward an eventual Super Bowl championship that season, though none of the Skins' scab players received rings. In a recent 30 for 30 documentary, then-head coach Joe Gibbs said the scabs "helped us win the division and have a chance to play at home and get to a Super Bowl." When asked why those scabs never got rings, Gibbs seemed caught off-guard:
"That one would be hard for me to answer. I don't know that I have a good answer for that. I would say, you know, they certainly deserved a lot of credit, but a Super Bowl ring, it would be kind of hard for me to answer. I think that was a very small portion of Redskin history."
Tanier detailed the story of Mike Hohensee, a former player in the USFL and the brand-new Arena League who was tending bar when the Bears tapped him to be their scab quarterback—a job he won by beating out current New Orleans Saints head coach Sean Payton. Hohensee quarterbacked the Bears scabs to a pair of victories and seemed to win the trust of head coach Mike Ditka. The Bears even traded Doug Flutie, one of their regular quarterbacks, during the strike, which opened the possibility of a post-strike roster spot for Hohensee. But after sustaining a knee injury late in that second game and feeling he needed to sit out the following week, Hohensee found himself in Ditka's doghouse. Here's Tanier:
It only took a few weeks for dreamers like Hohensee to wake up to the harsh realities of life as a real NFL player. They were supposed to endure pain and risk serious injury every week. Self preservation was considered weakness, or laziness, or ingratitude. The favor of a coach like Ditka extended only as far as next Sunday. As soon as replacements like Hohensee started thinking like regulars, as soon as they started worrying past their next paycheck and started fretting about the long-term consequences of their injuries, they were no longer gutsy, lovable long shots.
Hohensee wound up on injured reserve and collected $3,000 per week while he rehabbed his knee. Ditka never stopped questioning his sincerity. "If I were a doctor and someone told me his knee hurt, I would put a scope in it and find out what was the matter right away," Ditka told reporters. "I think that's the option we're going to give him," On Nov. 3, 1987, the Bears released Hohensee. Afterward, Hohensee told the Chicago Sun-Times, "[Ditka] pretty much told me I'd never play for the Bears again and that he wouldn't recommend me to anybody."
The scabs reportedly earned $4,000 per game after taxes, and fans reacted to them with a mix of indifference, derision, and curiosity. Many teams were given faux nicknames that were as stupid as the union-busting stunt they represented: Phoney Niners, Saint Elsewheres, Shams, Dol-Finks, Sea-Scabs, Spare Bears, Scabskins. In Dallas, the scabs were embraced, and fans took to calling them the Rhinestone Cowboys. The owners agreed to refund fans for tickets, and in union-friendly cities like Philadelphia and Detroit, attendance was abysmal. For the first weekend of scab games it wasn't much better anywhere else, though the Broncos drew nearly 40,000 fans for theirs. "That one was kind of like, Wow, you people will watch anything," Spagnola told me.
That anyone would pay to watch the scabs at all still doesn't sit well with NBC analyst Cris Collinsworth, who was then a wide receiver for the Cincinnati Bengals.
"We were out on the picket line one day and I remember one of the most bizarre things in the world standing out in front of the stadium and the fans going past," Collinsworth told the Arizona Republic back in October. "I remember this one guy comes up to me and says, 'Cris, believe me, I'd rather be watching you guys play, but my son is 6 years old, we have tickets to the game, and he won't know the difference.'"
That sentiment is familiar to me. I was 12 years old in 1987, naive to the realities of labor-management relations. I went to a scab game: Colts-Steelers, in Pittsburgh, on Oct. 18, the third and final weekend of the strike. My father was a longtime season-ticket holder, and we were going, and that was that. I remember little about that day except that the Steelers won, and that their quarterback was Steve Bono, one of the few players who would parlay his scab experience into a long-term NFL career. I also remember that Three Rivers Stadium was maybe half-full that day, if that. The game ended the Steelers' sellout streak, which had dated to 1972. But as Bouchette wrote for the Post-Gazette a few years back, the team later changed its mind and decided not to count its one scab home game as part of the sellout streak. As far as the Steelers are concerned, the streak still stands.

---
After that first weekend of scab games, the players' leverage was quickly vanishing. According to Tanier, the overnight ratings for that first Sunday of games was 17.6, which was a drop, but not a calamitous one. Also, those ratings revealed that most fans continued to tune in even after perhaps simply peeking out of curiosity. Rumors started flying that picket lines would be crossed en masse, with one player admitting it might be best if the players dropped free agency from among their list of demands. The union toyed with that idea before ultimately presenting a plan that told the owners no single agenda item would prevent a settlement. It was a feeble attempt at a compromise, but the owners smelled blood. More Tanier:
The two sides met for several days starting on October 5, but owners still claimed that the union's free agency demands were standing in the way of meaningful progress. "We're at a roadblock, we're mired down," said Jack Donlan, management's chief negotiator.

The roadblock seemed to be management owned and operated. After a week of talks, the two sides reached agreements on eight of the 38 articles in a proposed bargaining agreement. But as talks wore on, new demands cropped up. Suddenly, management wanted to lock players into six-year contracts instead of three-year deals. Players demanded that the replacement games be struck from the record book, but management refused. Players were stunned. They assumed that by back-burnering free agency, they could reach a swift settlement. Management simply brushed the olive branch aside and demanded more. Donlan and the owners kept talking about the "long, difficult strike" ahead of them, knowing full well that a long strike favored management as long as fans kept tuning in to replacement football and veterans kept trickling across the picket line.
Several players began to cross the picket line that week, including Dorsett and several Dallas Cowboys. Among them, San Francisco 49ers legend Joe Montana was the most prominent. Montana hadn't supported the union during the '82 strike, and he broke ranks in '87 after others started to do so. In the years that followed, he would join another union-busting outfit known as the Quarterback Club, a splinter group of popular players that stopped assigning its licensing rights to the NFLPA by partnering with the league instead.
Plenty of other players felt the fans' ire. Former Bengals quarterback Boomer Esiason once told Sports Illustrated's Peter King that the strike "made me public enemy Number 1 in Cincinnati. The fans hated a guy making $1.2 million going on strike. I threw for 409 yards against Pittsburgh [in November, weeks after the strike ended] and was walking up the tunnel after the game and got hit with a full beer." In Dallas, Dorsett was booed mercilessly by Cowboys fans after his return.
In Chicago, the Bears held a rally on Oct. 11 that drew thousands. It was the morning of a home game scheduled for the second Sunday of scab games. The players were left to watch in disbelief as many of those same fans walked over to Soldier Field for the scab game against the Vikings. Bears star safety Gary Fencik, in a television interview, was livid. "The players on this team will never feel the same way about the fans in the stands," Fencik said, according to Tanier. But Fencik wasn't done. Told a fan had been injured in an automobile accident en route to the game, Fencik said: "For one of the scab fans who nearly killed himself when he ran into a barrier near Soldier Field ... I don't feel sorry for you." The Bears won their game, and they drew a decent crowd. Around the same time, as Tanier noted, the owners walked away from the bargaining table.
Heading into the third week of scab games, roughly 90 veterans crossed the picket line, including Flutie, who had been traded that Tuesday from the Bears to his hometown New England Patriots. All told, according to Tanier, approximately 230 of the league's 1,600 players would cave—just 14 percent. But it was enough. By Wednesday, Oct. 14, Upshaw gave in and told the players to return to work the following day. The strike had lasted a total of 24 days.
But the owners weren't done sticking it to the players: Management had set a deadline of 1 p.m. on Wednesday for players to report back in order to play that weekend. Those that didn't were literally turned away on Thursday. The maneuver was especially punitive in that it allowed the owners to withhold another game check from the regular players, though Spagnola told me the regulars were eventually paid for that third week. The records and stats compiled by the scabs all counted—and still do.
This was the moment the owners broke the players, when the idea that management could do whatever it damn well pleased firmly took root. It's a dynamic that plays out to this day, for two simple reasons.
"At the end of the day, it's about control and money," Jordan told me. "Those are the two things that really resonate with the NFL."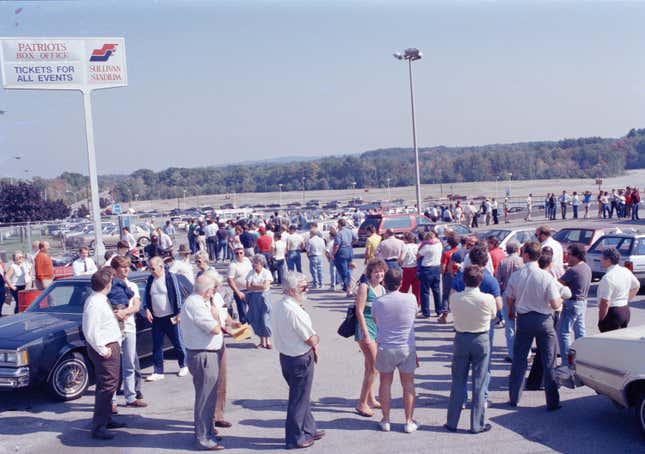 Guaranteed contracts? The owners won't do it. Head trauma? The league was still manipulating the science well into this century until the threat of a class-action lawsuit forced it into at least acting like it gave a damn. Player discipline? The commissioner always had absolute power, but not until a true autocrat like Roger Goodell got the job was it weaponized as it has been the last dozen years. Marijuana as a palliative, a concept the owners themselves seem to grasp? They understand it mostly as just another negotiating chip to play. "We can't have the inmates running the prison," Bob McNair says today, his words reverberating back 30 years, to a time when management literally put anyone they could find in a uniform instead of ceding any control—and then insisted it all count.

"That was all difficult to process," Spagnola said. The one other concession to the regular players was that bonuses and incentive clauses were prorated. Spagnola, who today works as a financial planner in Philly, said he missed earning a particular bonus by one reception. Ryan, who developed a tremendous bond with his players by refusing to go all-in on working with the scabs, even offered to put Spagnola back in a game late in the season so he could earn the bonus. Spagnola declined, on the principle that he didn't play for stats.
"In hindsight," he said with a laugh, "that was another stupid decision I made in my life."
---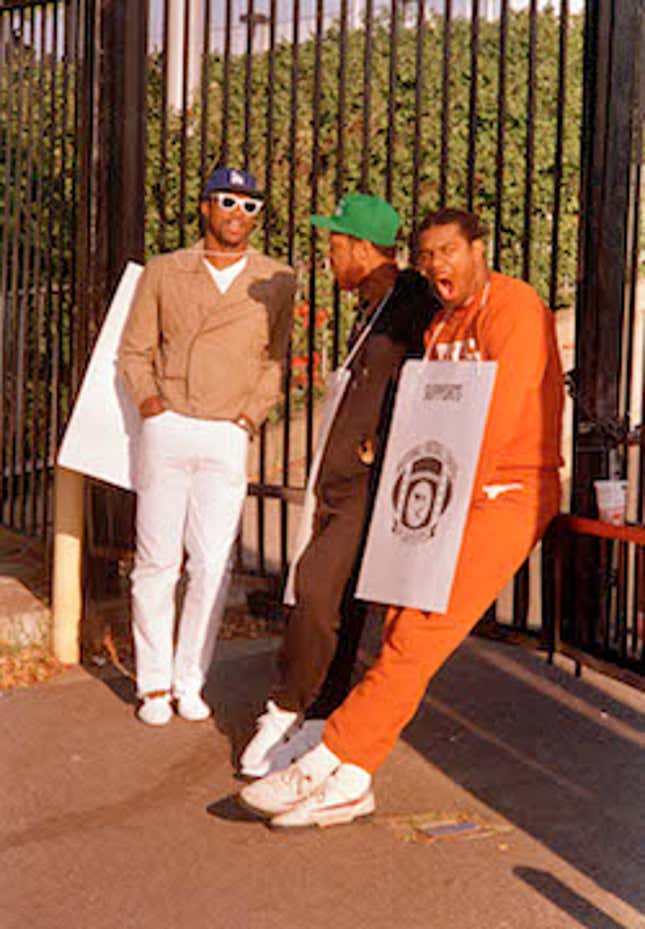 Though the Eagles' regular players guarded the entrances to Veterans Stadium throughout the night and early morning of Oct. 4, 1987, the scabs for the Eagles and Bears slipped into Veterans Stadium in the pre-dawn hours without much resistance. Payton was one of those scabs. Years later, he told Peter King the Bears got there at 5 a.m. and slept on the floor of the locker room.

Spagnola had met that week with the president of the AFL-CIO, but the Eagles
countered by obtaining a court order that put a number of restrictions on any demonstrators. Spagnola told me he wanted to arrange an alternative flag-football event at nearby JFK Stadium that would have included the actual Eagles and Bears players. Spagnola was trying to avoid what was sure to be a confrontation in a big union town. But when Philadelphia city officials told him he'd have to pay rent money and insurance and a host of other costs, Spagnola relented. So picketing it would be.
By 9:30 a.m., thousands of union sympathizers—teachers, steamfitters, carpenters, Teamsters, plumbers— began to arrive. Soon, according to reports, their numbers swelled beyond 3,000. Spagnola addressed the crowd and pleaded for calm. "It was chaotic," Spagnola told me. There were a few scattered incidents of unrest: some punches thrown, a van that was rocked by a group of about 100 people, Teamsters blocking traffic and blaring the horns of their big rigs, eggs and rocks that went flying. Eventually, Tanier wrote, police were sent in on horseback to scatter the crowds. A mere 4,074 fans officially made it into the stadium—the smallest crowd in modern NFL history, and a figure some observers considered to be generous.
What did the strike accomplish? Mainly, it taught the union that the owners weren't going to give them free agency through the normal bargaining channels. In February 1989, the NFL came up with a restricted form of free agency known as Plan B, which allowed teams to hold limited rights to protect 37 of their players. It was still a shitty arrangement, so by November, the union decertified and sued the league in federal court. They won free agency in 1992, and by the next year the NFL had established a system that included free agency and a salary cap. And, despite ownership's hand-wringing, the sky didn't fall. In fact, the opposite happened.
The league grew into the money-grubbing behemoth we know today, and for years it often seemed from the outside that it had achieved some semblance of labor peace. Then came the realization that the league had been manipulating the science on brain injuries. In 2006, when Roger Goodell became commissioner, he immediately set about exerting his authority to its fullest on matters of discipline, an exercise that has repeatedly landed the league and the players' union in court. Even as revenues climbed into the stratosphere, the owners locked the players out during the 2011 offseason. The players prioritized better workplace rules and health and pension benefits, but they gave back to the owners a sizable portion of their revenue share. Another defeat.
Goodell just re-upped for as much as $200 million in guaranteed money, even as guaranteed contracts remain a pipe dream for most players; management is still finding additional ways to keep salaries down and divide the players. There have been painkiller lawsuits, and frank discussions from players on the deleterious effects they've suffered from the league's cavalier distribution of drugs. In 2012, there was a lockout of the game officials, who were replaced with scabs in a disastrous echo of the 1987 players strike. Colin Kaepernick may have been blackballed. The concussion settlement the owners agreed to pay out appears to be a never-ending mess. And so on.
A stronger union in 1987 might have prevented a lot of these issues, or at least lessened their impact today. But it's clear that some of the same organizational problems continue to exist—problems that come down to sheer numbers, to educating players on the issues, and to the rapid turnover within the ranks.
"A part of that is that the union, just due to the logistics of the union itself, created an issue," Jordan told me. "Because, again, when you have younger players and all that, as opposed to baseball, who's got a little older demographic and things of that nature—the current union are the only people that can vote and make the decisions."

If there's a positive to be taken from those decades of getting rolled by management, it's that players now seem to be finding their voice. Eric Winston, the NFLPA president and Bengals offensive lineman, told me this summer that the players' awareness of union-related issues is far greater than it was when Winston entered the league in 2006. A bona fide star like Seahawks cornerback Richard Sherman signaled last summer that players should be prepared to strike when the current CBA expires after the 2020 season. And Steelers safety Mike Mitchell recently went off on the league's confusing on-field disciplinary procedures. The players won a victory in October when the owners declined to punish them for using the national anthem as a platform to protest racial injustice. But what about their awareness of the power they truly wield?
"I think that they understand that they have a voice," Steve Jordan told me. "I don't know that they understand the impact of it—the full impact of it."

On this, it seems, things are not much better than 1987. Despite all the gains the players have made, the owners can still remind them that they see them as inmates.