I have terrible news for you, America. I know that you've already endured a harsh autumn of partisan politics and mass tragedies and inconsistent NFL officiating. I know you can't handle one more goddamn piece of bad news right now. It's too much. It may break your spirit entirely. But I have to do it. If I don't tell you now, you may learn this from an enemy, or from Twitter, or from your rich asshole brother-in-law:
There are no chicken coops for sale in this year's Williams-Sonoma Christmas catalog.
I know. I know. Stay strong. We'll get through this TOGETHER. I know you feel lost now that you won't be able to shell out $1,000 for a goddamn chicken coop made out of driftwood by celebrated Carroll Gardens wood visualist SAMUEL PINE. Between this and the collapse of that one Blake Lively catalog, your interminable compulsion to run up your credit limit on horrible crap may never find a proper outlet.
HOWEVER, I do have some good news to soften the blow, my friend. While the coops are gone, the Williams-Sonoma Christmas catalog is still here. And yes, it remains as hilariously tone-deaf as ever, ready to help you plan the PERFECT holiday entertaining season, because to experience anything otherwise would be COLD DEATH. You must have a flawlessly laid-out dinner spread. You must have coordinated china and stemware patterns. The lyrics to "Sleigh Ride" must literally BE your life. You must SING! Yes, you must join hands with your gorgeous WASP children and sing carols in perfect harmony aloud for all to hear, so that the rest of world knows the truth: that their lives are SHIT and you, good friend, live among the holiday gods, in an evergreen paradise scented with luscious peppermint oils and laden with soup tureens and festooned with garlands sewn from the skinned corpse of a dead swan.
Behold hand-crafted teacups, and copper mugs filled with hot mulled wine, and very tiny candies with even tinier bits of candies sprinkled upon them, and jolly wreaths, and big hunks of imported bleu cheese that will help distract EVERYONE from the fact that Mumsy and Dudsy are still waiting for their divorce papers to finalize! You'll gather round the hearth and drink fizzy punch while a gaggle of homeless orphans stand outside your window in the freezing cold … staring. LONGING. Aching to be taken in so that they might know the touch of your jingle-bell napkin rings.
It's all still here, people. We may not have our coops, but we'll always have Christmas, and we'll always have this catalog, crammed with page after page of frilly garbage. So let's crack this fucker open and see what's what. Do they have kouign-amann in this year's catalog? OH YOU BETTER GODDAMN BELIEVE THEY GOT KOUIGN-AMANN.
G/O Media may get a commission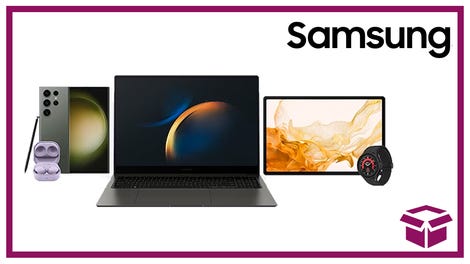 24 hour deals
Discover Samsung - Daily Deal
Item 91-5729801 - TARTAN TABLECLOTH ($103.96-$127.96)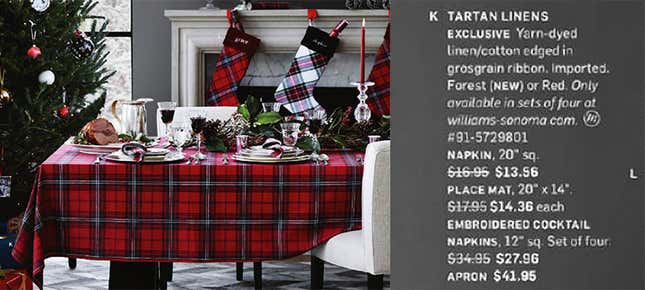 Copy: "Yarn-dyed linen/cotton edged in grosgrain ribbon. Imported. Forest (NEW!) or red"
Drew Says: Gotta have that grosgrain. Oh, is your tartan tablecloth NOT edged in the grosgrain? Then that's not proper tartan. That is wrapping paper, and you should go to hell. My REAL tartan tablecloth was hand-woven by an angry Scottish barbarian named Hamish who personally dyes his yard-dyed linen in the blood of live ewes. Accept no substitutes.
Item #91-7313240 – SODASTREAM PENGUIN SPARKLING WATER MAKER ($199.95)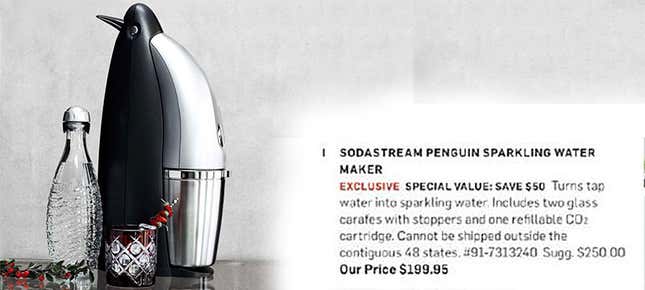 Copy: "EXCLUSIVE. Turns tap water into sparkling water … cannot be shipped outside the contiguous 48 states."
Drew Says: Why do I want my Sodastream to be shaped like a penguin? That just makes it look like the penguin is shitting carbonated diarrhea out of its butt. Look at the video!
What the fuck, penguin? I never saw you do this in Happy Feet 2. And why can't I get my penguin poop-squirter outside the contiguous 48? What if I have friends in Alaska*? Wouldn't a penguin-themed gift be climate-appropriate for my blubber-eating nieces and nephews?
(*Yes, I am aware that penguins generally don't live in the northern hemisphere, but still … SNOW.)
Item #91-4004149 - TRUMAN ROUND BAR CART ($999.00)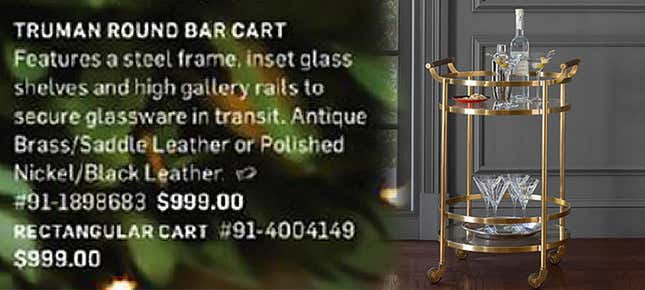 Copy: "Features a steel frame, inset glass shelves, and high gallery rails to secure glassware in transit."
Drew Says: That's a thousand bucks for a bar cart. How could I possibly need this unless I live in the coach section of an airplane? Furniture is already a gigantic ripoff, and that's for USEFUL shit like couches and chairs. Fragile glasses and whiskey bottles were not meant to be wheelable. My guests don't need that extra flourish. They're not invalids. They can make the 10-foot trip to the damn bar. GET UP AND GET YOUR OWN GIMLET, BRADLEY.
Item #91-6221295 - PEPPERMINT BARK BITES ($12.59)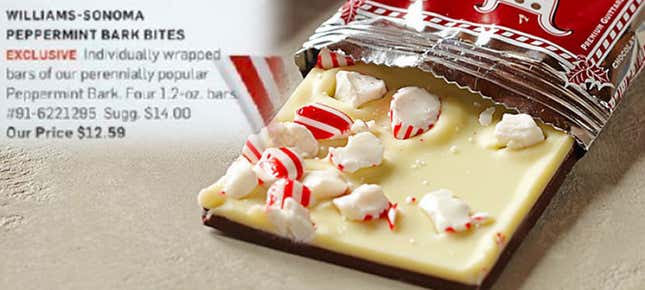 Copy: "Individually-wrapped bars of our perennially popular peppermint bark"
Drew Says: I don't know why you need individually wrapped portions of peppermint bark when the regular bark already comes pre-broken for your snacking pleasure. But screw that for a moment. What you really need to know is that, this year, Williams-Sonoma is getting in on the SOCIAL MEDIA KRAZE with their own peppermint bark hashtag!
"#BARKYEAH Share your favorite peppermint bark moments and we'll regram our favorites"
And so many moments to choose from! LOOK! [Opens bark album.] Here's me and a piece of peppermint bark outside Paris. And here's me indulging in some peppermint bark next to Woody Allen. And here's a photo of me sticking some peppermint bark in my anus before putting it back on the cookie plate for unsuspecting family members. No, Chad. YOU have the last one. I'm stuffed! [Watches eagerly.]
Item #91-7308307 - PEPPERMINT NORTH POLES ($16.95)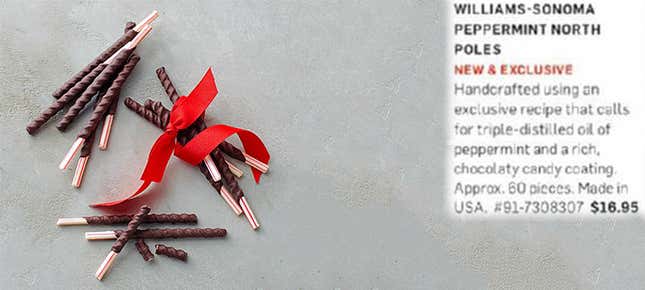 Copy: "Handcrafted using an exclusive recipe for triple-distilled oil of peppermint and a rich, chocolaty candy coating"
Drew Says: Triple-distilled peppermint oil? #BARKYEAH, BITCH. If you're distilling your peppermint oil only two times, you might as well use your coffee-stirrers for cleaning the toilet, as far as I'm concerned.
By the way, W-S has greatly expanded their peppermint bark offerings this year because apparently, peppermint bark is the only thing you can actually afford to buy from them. They even have peppermint bark COFFEE, for some reason. How much peppermint bark flavoring could you possibly require? You're killing the magic. WHY NOT MAKE THE WHOLE FUCKING STORE OUT OF PEPPERMINT BARK WHILE YOU'RE AT IT.
Item #91-832522 – ASSORTED GINGERBREAD MUG TOPPER ($19.95)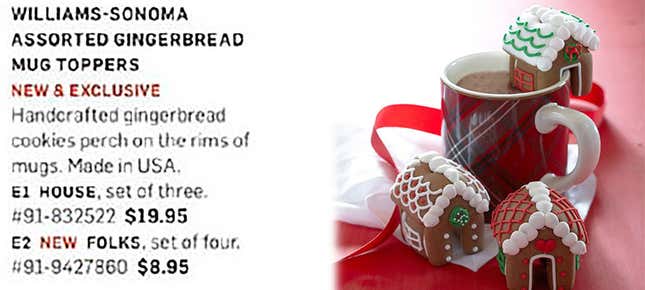 Copy: "Handcrafted gingerbread cookies perch on the rim of mugs. Set of three."
Drew Says: How am I supposed to drink my hot cocoa when there's a fucking house in the way? Like, if the point is to present the mug WITH the cookie house hanging off of it, and then you take it off to drink it, why put the cookie house there to begin with? I could go get a pound of Murray Ginger Snaps for two bucks if I want. Three of these idiot houses are $20! There's not even a fourth one for Daddy. My mug is NAKED without it.
Item #91-832522 – MARSHMALLOW SNOWMEN STICKS ($12.95)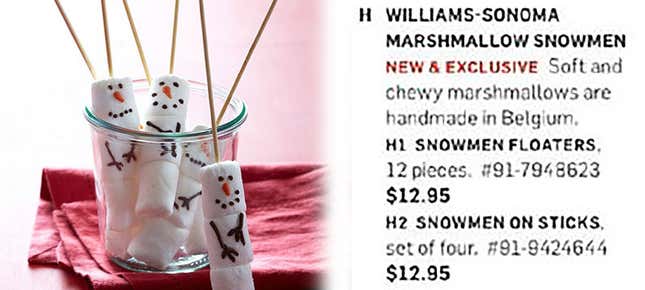 Copy: "Handmade in Belgium. Set of four."
Drew Says: Four! Four sticks! Ohhhhh, but they're made in Belgium. Listen, I don't care if they were made in Buckingham Palace by whipping egg whites between Kate Middleton's asscheeks. They're still marshmallows. They can only be so good, no matter what kind of whimsical drawings you put on them. My taste buds don't care. That snowman will die quicker than a normal snowman.
Item #91-6416833 – COOKIE CUTTERS WITH HANDLES ($2 each)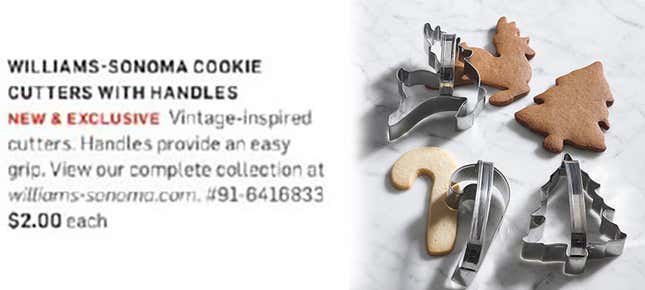 Copy: "Handles provide an easy grip."
Drew Says: Handles! Shit, why didn't I think of that? I'm not being cynical. That's a REALLY good idea. W-S founder Chuck Williams actually passed away last week. He was a man of many accomplishments, but I consider cookie-cutter handles to be his crowning glory. My whole life, I've been garroting my hands with razor-sharp cookie cutters. Sometimes I mistake the dull side for the sharp side and vice versa, which is why I have a snowflake scar on the inside of my palm that will NEVER heal.
Item #91-193594 - COOKIE PRESS ($34.95)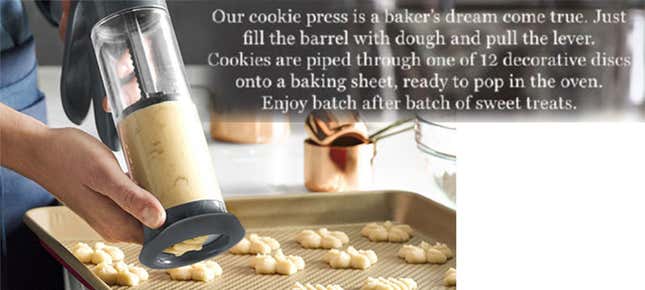 Copy: "Our cookie press is a baker's dream come true. Just fill the barrel with dough and pull the lever."
Drew says: COOKIE GUN. Fuck yeah! Load me up and I will take out an entire cookie swap with that fucker. PEW PEW PEW 50 snickerdoodles right in Priscilla Purrington's grill. YOU CAN TAKE MY COOKIE GUN FROM MY COLD DEAD HANDS. That'll teach her not to have a grosgrain table runner.
By the way, it's obviously insane to shell out $35 for a cookie bazooka when you can achieve a reasonably similar result using a stupid cookie cutter. The cookie gun will go right into your dustbin along with the infamous waffle batter dispenser and cracker spinner. The truth is that to have a functional kitchen, you only need a few items. A cookie cannon is not one of them.
Item #ohgodsweetjesusno - AMERICAN GIRL BY WILLIAMS SONOMA ($9.95 - $1.2 trillion)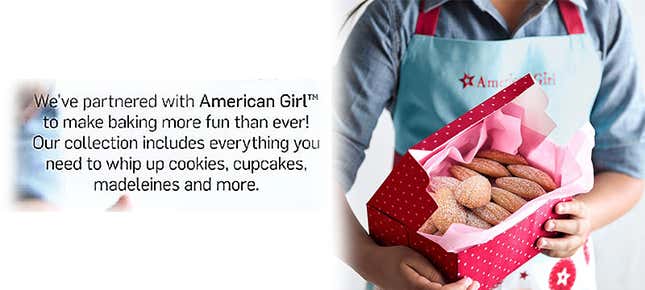 Copy: "We've partnered with American Girl™ to make baking more fun than ever!"
Drew Says: NOOOOOOOOOOOOOO. Oh, God. Oh, God, the Second Axis 0f Evil has formed at last! They're wasting no time transitioning my little girl from $100 dolls to demanding a full-fledged $10,000 Viking rangetop. Don't you see? They've made American Girl into a gateway drug to BIG KITCHEN! GAHHHHHHHHH. What kinda message are you people sending? I don't see American Girl partnering with Office Depot! WAY TO REINFORCE GENDERED NORMS AS ESTABLISHED BY THE PATRIARCHY YOU SLIME!!!!!
The aprons are cute, though. Bet my little girl would go apeshit for those.
Item #91-674007 – SIX MONTHS OF CHEESE ($299.95)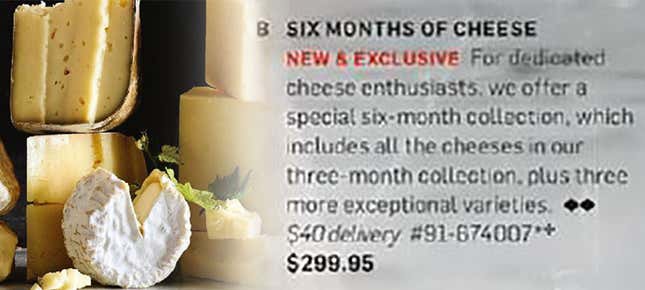 Copy: "For dedicated cheese enthusiasts"
Drew Says: You better be dedicated if I'm gonna shell out $300 to have a wheel of coffee-rubbed Danish whipboy cheese delivered to your doorstep for half a year. You have to be very wealthy or very peculiar to be that devoted to funky cheeses, and if that's the case, then you can jolly well buy your own from your local cheesemonger.
By the way, I'd like to know how many orders they get of this shit every year. Do they have a warehouse of foot cheese ready to go? How much of a market can there possibly be for cheese clubs? Who ARE these people with all this disposable income? When I get money, I stash it away, because I know that college tuition and house loans and head cancer are coming for me ANY day. Who are all these free-spirited people with endless money to burn? Aren't we supposed to be struggling as a country? I WISH I WERE SECURE ENOUGH TO BUY ALL THAT CHEESE.
Item #91-427141 - DEVILS ON HORSEBACK ($49.95)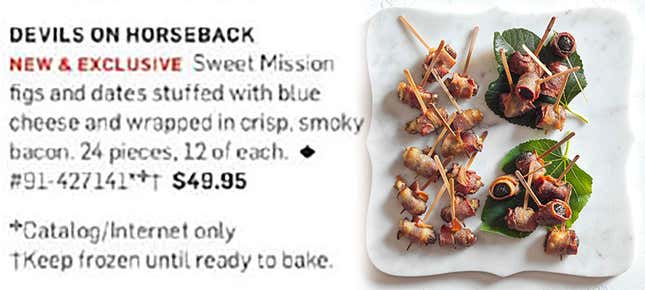 Copy: "Sweet mission figs and dates stuffed with bleu cheese and wrapped in crisp, smoky bacon. 24 pieces."
Drew Says: Wait, is that what those are really called? I had no idea. That's the most metal appetizer I've ever heard of. I'm gonna make those (like I'd ever order two dozen for 50 bucks, are you nuts?), and then serve them at a party SPECIFICALLY so that I can stare at guests and say, "Fancy a devil on horseback?" and then watch their heads explode. I asked the Deadspin staff if they had ever heard of this term. Here now is a sample of their reactions:
* "what"
* "I did not"
* "no one"
* "i love bacon wrapped dates and i did not know that. bacon wrapped dates are my shit"
So there you go. I think they invented the name just to make it sound jazzier. "Oh, these aren't crab cakes. They're POSEIDON'S BATTLE STOOLS."
Item #91-672043 - LOBSTER SLIDER ROLLS ($129.95)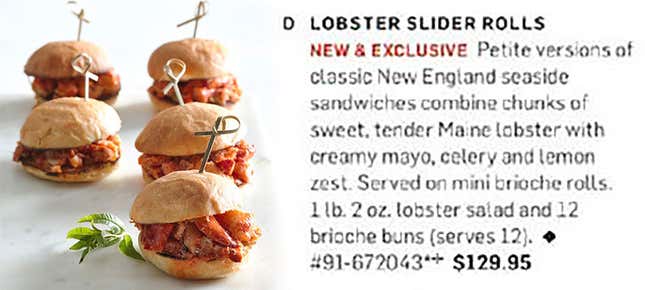 Copy: "Chunks of sweet tender Maine lobster with creamy mayo (NOTE: HURRRRRR), celery and lemon zest. Served on mini brioche rolls."
Drew Says: Mini brioche rolls? What? No. For $129, I want the full brioche roll, and I want a fully cooked two-pound lobster inside that roll, shell and all.
This is the great racket of a place like Williams-Sonoma or Dean & Deluca: They serve a wealthy customer base that is lazy enough to pay virtually ANY amount for anything that is pre-made. W-S doesn't make its money from cookie guns, but from the yummy mummy who breezes through a Balducci's hot bar without looking at a single price tag. There's no concept or concern for what things OUGHT to cost. If a dozen miniature lobster burgers (aka Demons In The Outhouse) are $130, they're $130. Shit, make it a THOUSAND dollars. Who gives a shit? BURN ALL MY MONEY THERE'S MORE WHERE THAT CAME FROM AMIGO.
Item #91-689070 – ASSORTED HOLIDAY TRUFFLES ($39.95)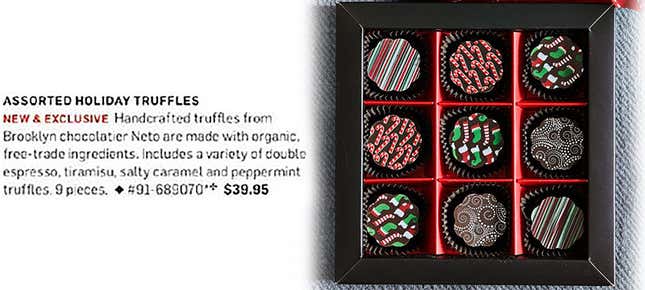 Copy: "Set of nine."
Drew Says: Nine? FUCK YOU. Give me more. Let me tell you about BIG CHOCOLATE and how they operate. They move into a city like New York, and then they set up a bunch of very pristine and cute boutique chocolate shops with gorgeous displays of meticulously painted boxed chocolates flavored with lavender and just a TOUCH of goat spice, and then they want to charge you $80 per piece. I've had it. These are thoughtless office gifts, and I'm NEVER paying more than 10 bucks for a thoughtless office gift. I hope you all go bankrupt.
Item #91-146 - HOLIDAY PERSONALIZED GINGERBREAD SLEIGH ($59.95)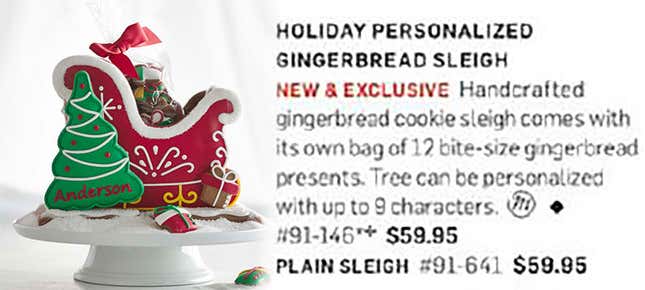 Copy: "Handcrafted gingerbread sleigh comes with its own bag of 12 bite-size gingerbread presents. Tree can be personalized up to nine characters"
Drew Says: Up to nine characters? Well, my son Barkleygraysoncovingtontaylortyler is going to be heartbroken. This is discrimination, pure and simple. By the way, you'll notice that only one child's name per sleigh is allowed. So you're gonna have to buy an individual cookie sled for Buckworth, Millington, Princeleigh, AND DesdeHannah to keep them from bitching.
Item #91-4078127 – HOLY FUCK KOUIGN-AMANN OMG OMG OMG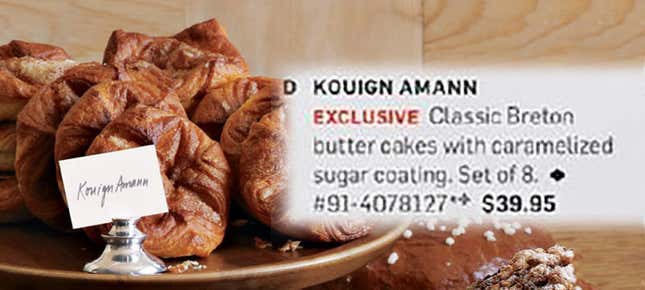 Copy: "Classic Breton butter cakes with caramelized sugar coating"
Drew Says: Are you still eating cronuts? In 2015? PTOOEY! I can taste your lack of relevance from here, you washed-up hobo! Go feed your stale cronuts to your pet ferret. Foodies in the know will tell you that kouign-amann are the HOT PASTRY ITEM OF THE YEAR. I would wait eight days on a street corner just so that I could eat one of these and then lecture you on its proper pronunciation. It is QUEEN-ah-mann. FOR I AM THE QUEEN OF ALL FLEMISH BAKED GOODS.
Item #91-20946 – TRUFFLE LOVERS GIFT CRATE ($299.95)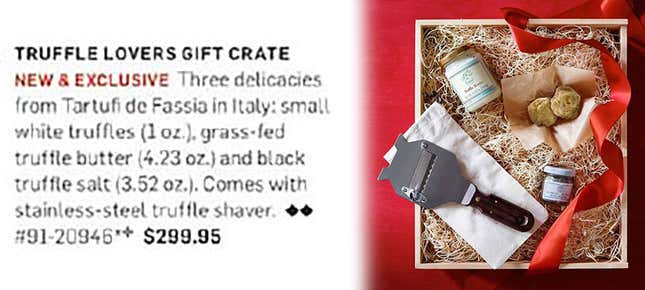 Copy: "Three delicacies from Tartufi de Fassia in Italy: small white truffles (1 oz.), grass-fed truffle butter (4.23 oz.), and black truffle salt (3.52 oz.) Comes with stainless steel truffle shaver."
Drew Says: It's a situation that vexes me every year: What DO I get for the truffle-lover in my life? Papa John recently discontinued his Truffle Lover's pizza, and dearest Muffy simply WON'T accept anything less than hand-sniffed black truffle shavings from the Provence region. Thankfully, W-S has a $300 airplane boxed lunch ready to go for her. You know, as a casual kind of thing. If only they made a truffle GUN.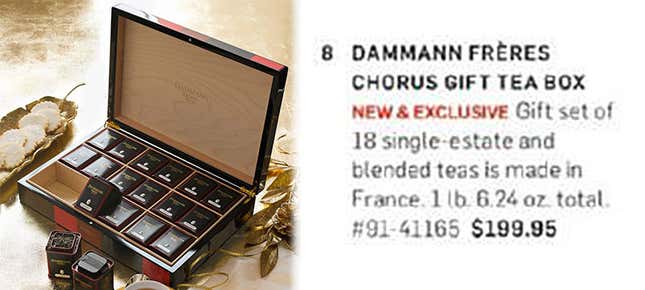 Item #91-41165 – DAMMANN FRERES CHORUS GIFT TEA BOX ($199.95)
Copy: "Gift set of 18 single-estate and blended teas is made in France."
Drew Says: Two hundred bucks! For tea! At the Chinese restaurant, the tea is FREE. Are there shrooms in that tea? You know, I make fun of coffee snobs a lot, because fuck coffee snobs. But tea people are worse. They go to fancy tea shops and gush over pyramidal tea bags and act like a Portuguese explorer that's just returned from THE ORIENT having discovered the majesty of fresh Darjeeling. It's tea. It doesn't even have booze or meat in it. We have more exciting things going on in 2015.
Item #91-166657 – HOLIDAY DOORMATS ($59.95)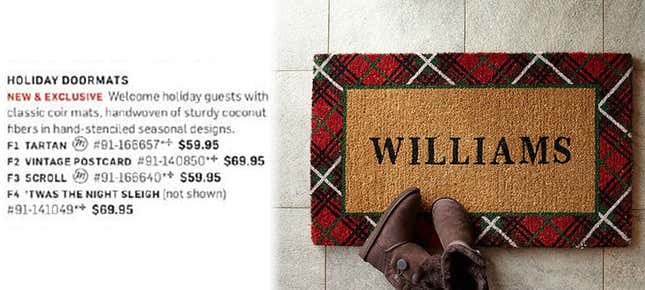 Copy: "Welcome holiday guests with classic coir mats, handwoven of sturdy coconut fibers and hand-stenciled in seasonal designs."
Drew Says: Comes in tartan! Just what Hamish wanted.
MERRY CHRISTMAS, EVERYONE!
---
Drew Magary writes for Deadspin. He's also a correspondent for GQ. Follow him on Twitter@drewmagary and email him at drew@deadspin.com. You can also order Drew's book, Someone Could Get Hurt, through his homepage.

Lead art by Jim Cooke.