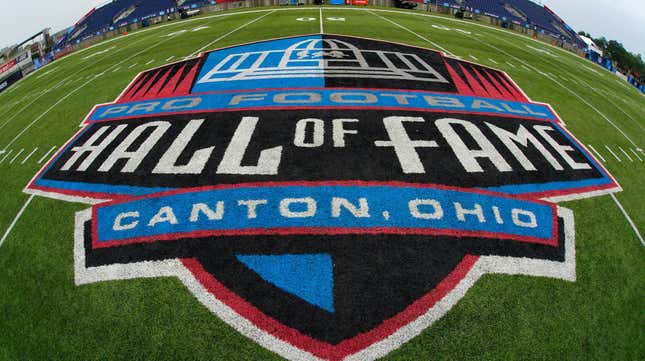 Deion Sanders had a point last year about the Pro Football Hall of Fame.
He made it in a narcissistic way when he suggested that his bust be placed in a different room, but that didn't make it any less true. The 2022 inductees were great players, but a few were certainly not legendary. Also, DeMarcus Ware and Devin Hester got snubbed in their first year of eligibility, and why Patrick Willis didn't make the cut twice is baffling to me.
This year's finalists though, when the inductees are announced Sanders should release a video of him giving this group a round of applause. Darrelle Revis, Joe Thomas, and Dwight Freeney were named finalists in their first year of eligibility.
Unfortunately, the Pro Football Hall of Fame has that silly rule that allows a maximum of five modern-era finalists to be inducted each year. While Revis should be a lock to get in his first year, Thomas may be forced to unjustly wait. He is a six-time first-team All-Pro, but also an offensive lineman who never played in a playoff game and spent his entire career with the post-1999 Cleveland Browns.
Freeney will almost certainly be forced to wait, even though he was one of the most dominant pass-rushers of his generation. On the turf at the old Hoosier Dome, he was a terror coming off the edge. At only 6-foot-1, he still made first-team All-Pro three times. While Peyton Manning, Marvin Harrison, and Reggie Wayne — currently stuck in that long wide receiver line to get into the Hall of Fame — receive most of the praise, without Freeney that defense is not strong enough to get the Indianapolis Colts to two Super Bowls.
This year's modern-era inductees will probably be Revis, Torry Holt, Willie Anderson, Ware, and hopefully Willis. It should be considered institutional malpractice by the committee that he has been a finalist twice and has still not been inducted. He retired after only eight seasons because of a nagging big toe injury, but he made the Pro Bowl in his first seven and was a five-time first-team All-Pro. He played a position of great reverence — inside linebacker — and was absolutely one of the best to ever play it.
If there was true justice, of the 15 finalists, a minimum of 12 players would be inducted this year. Other finalists include Darren Woodson, Jared Allen, and Andre Johnson. Woodson made it out of the semifinals for the first time even though he has been retired since 2003.
The 2023 class will be a memorable one. Revis' induction will of course be the highlight because it can be argued that he is the greatest cornerback of all time. The phrase Revis Island was not a gimmick to sell t-shirts. Many of the greatest wide receivers to ever play in the NFL got shipwrecked there. He also knew how good he was, and made damn sure that he got every dollar that he could out of the NFL. A legend on the field and at the bank.
However, as great as this class will be, because of limitations it will still fall short of what it could be. Players like Hester, Willis, Johnson, Ware, and Wayne should have been no-brainer selections. They dominated the NFL for many consecutive years. These players weren't simply highlighted on the game plan, they were capable of making a play every single week that could win their team a game. Instead, the committee selected a weak class last year and is going to have to force some new worthy candidates to join some veteran ones when they all have to go through the process all over again.
What is supposed to be a celebration of excellence is largely reduced to a barroom argument because of silly limitations, and a committee that has made some mistakes that Colorado's new head coach rightfully pointed out.