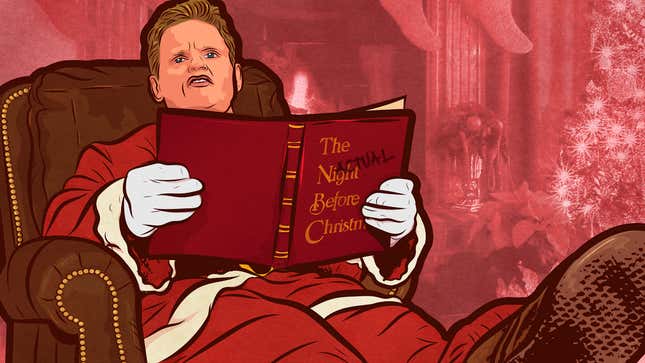 'Twas the night before Christmas
And all through the house…
Not a damn thing was ready.
Not the wrapping, not dinner,
Not even a set table.
The kids were in undies,
And still watching cable.
I turned off the TV.
I told them to get dressed,
Then to pick up the Legos.
The fucking house was a mess.
My lecture was useless.
They didn't clean up.
"Hey, when do we get presents?
WE WANT OUR FREE STUFF."
My daughter cried, "I want an iPhone,
An iPad, and an Xbox, too!
Because all the other kids have them."
Of course they fucking do.
But we can't afford that.
We got her a sweatshirt at Sears.
She'll probably hold it
Against us for years.
The doorbell rang.
My parents were here.
I let out a wince.
My children all cheered.
They came in with candy canes,
And chocolate, and gumballs too!
"Mom, don't give them all that,
Or I will literally kill you."
I went to the kitchen.
I was trying to make a roast,
With fancy creamed leeks.
And for hors d'oeuvres? Shrimp toast.
I got the recipes from Ina Garten,
That perfect Hamptons sleaze.
"Do you have your $600 Vitamix?
Then this dinner party's a breeze!"
No, Ina, it wasn't.
I sliced my hand on the grater.
The roast burned, the leeks were cold.
I bet Ina gets Christmas catered.
We gathered at the table.
I solemnly said grace.
My son walked up,
And wiped a booger on my face.
The kids wouldn't eat the roast.
They demanded mac and cheese.
"Why," I asked them,
"Are you so goddamn hard to please?"
The dinner struggle ended,
Time for candy and cookies and pies!
Stale gingerbread pieces!
A fruitcake we all despised!
Now the kids were high on sugar,
And spazzing out like demons.
Fucking great. Right on cue:
The biggest meltdown of the season.
My parents were judging.
I could feel their eyes on me.
"Oh," said my mother.
"Losing control, are we?"
"No, Mom. I'm fine.
I've got this shit handled.
Now, go make yourself useful,
And blow out the candles."
But she blew too hard.
A candle fell to the rug.
It started to flame.
IT'S ON FIRE! HOLY FUCK!
The neighbors called the cops.
We all rushed outside.
The whole town could see us.
I wanted to hide.
"Nothing to see here!"
I said calmly. "This is fine!"
Everyone soon left,
And by God's grace, it was now bedtime.
I tucked the kids in.
I felt my heart soften.
They said, "That was fun!
Nana should burn down the house more often!"
Downstairs, I discovered
A mountain of dirty dishes and dirty knives.
We'll be washing this shit
For the rest of our lives.
I skipped the dishes, cracked a beer…
At last, a bit of luck.
But wait! There was a train set!
It needed assembly! Fuck.
I laid out the parts,
And the instructions to use.
"You'll need the following items…"
Oh shit, there were screws.
By midnight, we were exhausted.
I didn't even know my name.
Being Santa's a pain in the ass!
It'd be better if he never came.
No sugarplums, no kerchiefs,
No merry-dimpled elves.
Instead, we just CHILL,
And spend a week being ourselves.
BIG CHRISTMAS is to blame!
They sell you perfection.
Like a plastic surgeon
Hawking butt injections.
Where's the flawless dinner?
And the lovely décor?
Does anyone pull that off?
I feel inadequate and poor.
We fell into a slumber
Deeper than you could ever fathom,
At our age, a good sleep
Beats a nine-hour orgasm.
The kids woke at dawn.
It was raining, not snowing.
They sprinted downstairs,
And instantly got going.
"Wait a second!" I screamed.
Let me take some pics!
"I need to know who gave you what,
So we're not ungrateful dicks!"
The kids plowed through the gifts.
There was paper all over the floor.
And somehow, in three minutes,
There was five tons more.
We spent all our money;
I can't even imagine the bill:
For a bunch of plastic shit
That will end up in a Chinese landfill.
The children are playing separately now.
It's like a dreamy fog.
I'm not gonna shower today.
I'm gonna bathe in egg nog.
I'm lying on the couch
And now I can see the sun.
The best part of the holidays
Comes when they are finally done.
Christmas is over at last.
It's barely 9 a.m.
There's no school until January…
The fuck we do until then?