This is Jason Heyward. He is 6'9", and 385 pounds of pure muscle. His middle name is "Adenolith." Shards of his bat can cure cancer. And he will save baseball. Definitely one, maybe two of these things are actually true.
It wouldn't be accurate to say that Heyward homering on his first major league swing was the act that propelled him to be spoken of in Messianic tones. No, much like John the Baptist paving the way, Heyward's acts have been prophesied for some time. Consider that home run more like Jesus's first miracle of water into wine.
And the converts are numerous. Due to a quirky MLBPA rule, player merchandise can't be sold until that player appears in his first major league game. So Heyward jerseys weren't allowed to go on sale until the game became official in the fifth inning, when they flew off the racks: 541 of them at Turner Field alone.
But the adoration of the masses isn't enough to anoint him a Savior. The Annunciation came today from Hank Aaron himself.
The legendary Atlanta Braves slugger told The Associated Press Tuesday that Heyward, who is black, ''can mean an awful lot to what ails baseball.''

''You don't know how excited I was, and not only me,'' Aaron said. ''I was talking to (civil rights pioneer and former Atlanta mayor) Andrew Young about the same thing, and he wants me to bring him out there to meet Heyward. It's beginning to move through the black area. People are getting excited.''
G/O Media may get a commission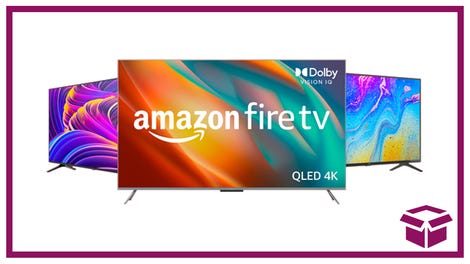 Ooh. stunning.
New Amazon Fire TVs
The lack of African-American players isn't baseball's biggest concern, but it should be up there if they're concerned about the level of talent in the league. The faces of that shrinking demographic have been players like Torii Hunter and Milton Bradley, not the greatest ambassadors. So baseball would love for Heyward to inherit Ken Griffey Jr.'s mantle, because, right now, all we know is he's a great hitter. He's a blank slate for fans to project their desires upon.
But that's just a hoped-for future. Right now, he's just a 20-year-old kid who's 2-for-5 in his career. Maybe we should wait another couple of games before we officially declare Jason Heyward a god.
Aaron Says Heyward Can Help 'What Ails Baseball'

Braves sell more than 500 Heyward shirts and jerseys Monday [Atlanta Journal Constitution]