If you're like a lot of sports fans, there's a good chance that you are just now starting to pay attention to baseball. You've finally recovered from all those sleepless nights spent watching NBA playoff games, the world around you is starting to fall into a summer malaise, and you're ready to spend the next few months eating only food that has been grilled and watching baseball. There's probably a few things you need to get caught up on, and one of them may be a little shocking. Guess what? The Astros are good now.
The Astros? The Houston Astros? The same team that lost 416 games over the last four years?
The very same team!
You're playing.
I am most definitely not playing. As of this writing, the Astros are 42-31 and in first place in the AL West. In fact, they currently have the best record in the American League.
Okay, but doesn't that have a lot to do with the fact that the AL West is a crappy division?
Well, not exactly. It's true that none of the other teams in the Astros' division jump out as powerhouses, but the AL West isn't Quadruple A, either. If you want to use run differential as a barometer of how good a team actually is, the AL West is respectable. Everyone is beating up on the Mariners (-51), but the Rangers (+15), Angels (+4), and A's (+35) aren't pushovers. This isn't the NL East, where the Mets (-16), Braves (-13), Marlins (-20), and Phillies (-119) have conspired to build the Nationals a highway to the division title. Hell, even the Royals have the Indians (-28) and White Sox (-79) to beat up on.
G/O Media may get a commission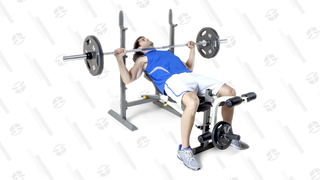 10% Off
Marcy Folding Weight Bench
Besides, this is a team that lost 203 games over the last two seasons. The fact that they are 11 games above .500 and leading their division is pretty astonishing. Even if they were scratching out tough wins and playing .500 ball this far into the season, it would be worth remarking on.
Fine, you've convinced me that the Astros are kind of good, but how?

This is the fun part. Last season, the Astros ranked dead last in the American League in strikeouts (1,442), batting average (.242), and had the third-worst on-base percentage (.309). So far this season, the Astros are ranked dead last in the AL in strikeouts (679) third-worst in batting average (.242) and fifth-worst in on-base percentage (.310).
That doesn't really look like improvement.
Right?
So, what gives?
What gives is that the Astros have simply gotten better at their offensive style, which essentially boils down to "swing at everything and try to hit the ball really damn hard." That kind of identity is always going to lead to a low batting average and lots of strikeouts, but it can also lead to a lot of wins if you've got the right people doing all that free swinging.
All those strikeouts are killer when Matt Dominguez, Dexter Fowler, and Robbie Grossman are the ones doing the flailing. But when it's the likes of Colby Rasmus, Evan Gattis, and George Springer—guys who can actually do some damage when they do make contact with the ball—taking all those mighty hacks, good things start to happen. They're getting just enough power from just enough spots in the order to counterbalance their terrible batting average and on-base percentage. See third baseman Luis Valbuena, who is hitting .195, but whose 19 homers have kept him above replacement level.
Luis Valbuena, possibly hitting a home run. Probably striking out, though. Photo via Getty.
---
Houston was respectable in the home-run department last year, clubbing 163, but they should eclipse that mark easily in 2015, having already socked an AL-leading 107 dingers. They were also dead last in the AL in doubles in 2014, but have already hit 127 this year, the third-most in the league. As a result, their slugging percentage has jumped from .383 to .426, and they are scoring about one-and-a-half more runs per game in 2015 than they did in 2014.

So they swing hard and mash a lot of taters. But what about the pitching?
This is where the Astros deserve a lot of credit. Whenever a team that's been bad for a long time starts to play well, it's easy to assume that the newfound success is just the natural byproduct of all the top prospects that the team has been gobbling up in the draft. "Oh, all those can't-miss prospects that you spent the last six years drafting have finally reached the majors and you're good now. Great, do you want a cookie?" goes the dismissive line of thinking.
But this isn't really what's happened to the Astros, especially where the pitching staff is concerned. They've made massive improvements—they were in the bottom half of the AL in strikeouts, ERA+ and FIP last season, but are the top five of each category so far this year—and they've done it without the services of any young phenoms. Currently, there is only one guy in the Astros' rotation that was drafted in the (late) first round, and their best pitcher, Dallas Keuchel, was a seventh-round pick in the 2009 draft.
Keuchel's been giving the Astros the production of an ace despite not having the most devastating stuff. His fastball tops out at about 90 mph, but he manages to chew through lineups with pinpoint control. He pounds the bottom of the zone with his sinker, and his 64.1 percent groundball rate is the second-highest mark in the majors.
Keuchel is emblematic of the Astros' team-wide pitching philosophy, which Grantland's Ben Lindbergh dove into last month. No other team in the league is as good at keeping the ball down and eliciting weak contact from hitters, and it's this approach that's helped turn a pitching staff full of castoffs and fringe prospects into an effective rotation, despite the fact that the team's average fastball velocity is the second-lowest in the majors.
And then there's that former first-round pick that I mentioned before. His name is Lance McCullers, he was drafted 41st overall in the 2012 draft, and he has a 94-mph changeup. He's striking out just over 10 guys per nine innings and has an ERA+ of 161 through seven starts. He's pretty good!
If the pitching staff isn't blowing hitters away, then a lot of this success has to be because of the defense, right?
True, although defensive value is still very hard to measure with absolute certainty. If you look at FanGraphs' advanced defensive metrics, Houston rates as just the 24th-best defensive team in the majors. But if you go by defensive efficiency, which tracks the percentage of batted balls that a team turns into outs and can tell us a lot about a team that sees as much contact as this one does, the Astros come in as the fifth-best defensive team in the majors.
It's also worth looking at another metric made available by FanGraphs, Inside Edge Fielding, which rates every batted ball a team sees based on how difficult it would have been to field, and then tracks how often teams successfully field those balls.
The Astros outfield, being cool. Photo via Getty.
---
Only one other team has seen more batted balls that were rated as unlikely to be fielded (the #10-40% column here) than the Astros, but they have managed to make plays on 38.9 percent of those balls, good for the fifth-best rate in baseball. What this tells us more than anything is that the Astros have a decent knack for making spectacular defensive plays.

They play smart defense, too. In Ben Lindbergh's article on the pitching staff, he revealed that Houston is on pace to deploy the most defensive shifts in the majors:
263.

The number of infield shifts the Astros have used this season, according to Baseball Info Solutions. No other team has shifted as often. The Astros are on pace for 1,578 shifts in 2015, which would break the record they set last year, with 1,341. BIS reports that they've already saved eight runs via the shift, which ties them with the Rays for the most in the majors.
So should I get on this bandwagon or what?
Sure, why not? This team has a lot going for it, and there are some really entertaining players on the roster. Jose Altuve, the 5-foot-6 second baseman who smacked 225 hits last year and finished with an absurd .341/.377/.453 slash line, is a legitimate baseball marvel. Who isn't entertained by a guy who is the size of an eighth grader smacking 47 doubles?
This is also the first year that the Astros are getting a full season's worth of George Springer, a big-time prospect who carries a lot of pre-injury Grady Sizemore vibes and is a threat to reach the 30 homers and 30 steals plateau. He also does stuff like this in the field:
And then there's Carlos Correa, the 20-year-old super prospect who took over at shortstop on June 8 and hasn't looked like anything other than a future All-Star since. Making grand pronouncements about a player's future based on less than a month of playing time always makes one feel a little foolish, but it's hard not to get caught up when Correa is turning fastballs that most guys wouldn't even be able to get a bat on into thunderbolt home runs.
Also, did I mention Lance McCullers and his 94-mph changeup?
There's also something undeniably fun about the Astros' style. On-base percentage is still God for most MLB teams, and milking as many pitches and walks as possible out of every game is a great way to win. The problem with this kind of philosophy is that watching a bunch of Red Sox beardos spend four hours grinding their way through 12-pitch at-bats doesn't always make for the best viewing experience. The Astros aren't interested in that bullshit; they're here to swing the goddamn bat and try to hit some goddamn dingers, on-base percentage be damned.
It's cool when a team finds success by zigging while everyone else is zagging. These Astros are reminiscent of last year's Royals team, which waved goodbye to power hitting altogether and instead rode elite run-prevention and team speed all the way to the World Series. The Astros are kind of like a more balls-out version of the 2014 Royals—they also steal bases like crazy, but they've traded otherworldly defense and a squadron of flame-throwing goons in for gobs of homers and doubles.
It's also worth mentioning that the Astros are one of the more ultra-analytical teams in baseball. The front office is full of dudes who used to work for Baseball Prospectus and NASA, which means there's a good chance that this strange formula for success wasn't created by accident. This team is a good reminder that the answers to baseball's many math problems don't always look like Kevin Youkilis and Adam Dunn.
Okay, so are these guys going to the World Series or what?
Probably not. It's hard to imagine a team that strikes out like crazy and spends as little time on base as the Astros do winning it all. Not impossible to imagine, though. As ESPN's Jayson Stark pointed out, only four teams in history have ever led their league in strikeouts, steals, and home runs—a feat that the Astros could very easily achieve by the end of the season—and two of those teams went on to win the World Series. Those teams were the 1938 Yankees and the 1976 Reds.
That's crazy!
It is.
So you're telling me that the Houston Astros are good, fun to watch, and also have a shot at being a legitimate historical oddity.
I am.
Dang. Baseball is crazy.
Indeed.