At this point, there is no use becoming attached to any player on the Oakland Athletics. All of them will eventually be jettisoned, and often in a frustrating and unceremonious way.
The A's designated two-time All-Star Stephen Vogt for assignment today, and he probably won't clear waivers; even if he does, he doesn't sound like he'd take a minor league assignment if the team offers him one.
Vogt's been really bad this season—76 OPS+ bad—so the move makes sense as a baseball decision, but what do the A's really have to lose right now by keeping one of their few guys with a notable name on the roster even though he's been playing like total butt? A good chunk of the team is playing like total butt!
Granted, Vogt has been actively harmful on the field. He's been lost at the plate, and has been downright damaging behind it. In 43 games catching, Vogt committed six errors, tied for second-most across MLB. But he represented the A's at the last two All-Star games, and by all accounts is beloved by his teammates and the fans:
G/O Media may get a commission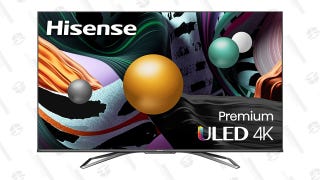 Save $350
Hisense ULED 65" Android 4K HDR Smart TV
Are the A's gonna contend? Nah. Is it advisable to build or maintain a roster based on emotional tenderness? Probably not. Is Billy Beane ever going to be sentimental about roster decisions? Definitely not. The last few seasons have been a barrage of similar departures. The team traded away Josh Reddick, Coco Crisp, and Rich Hill last season; Tyler Clippard and Ben Zobrist in 2015; and Yoenis Cespedes and Josh Donaldson in 2014. The team's method of rebuilding, which they do often, has always been fickle.
That's the nature of a rebuild, but in the case of the A's, you never know how long Beane will sit tight before starting his next project. Waiting for an aging, struggling, but mostly reputable catcher to get his crap together was not part of the current plan. It's an unceremonious goodbye, but at this point anyone who cares about the team is used to painful departures. And pain in general.