Each of tennis's grand slam tournaments has its own app, which allows users to track live scores and completed matches, watch highlights, and get the latest news. Anyway, that's what it's supposed to do.

The revamped Australian Open app, and even the Australian Open website, have been debilitatingly glitchy throughout the event, throwing up error messages when trying to load pages, showing wrong scores, wrong opponents, and wrong times, and doing it all in a too-wide format that makes mobile browsing difficult. Here are the first three reviews featured on the app's page.
From user MeonMeeop:
Love the AO but not enamored with the app

I always love following the first slam of the year. Unfortunately, this year's app doesn't measure up to the tourney's standards. I keep getting "There was a problem loading the page" messages—there's nothing wrong with my connection—and having the screen freeze mid-scroll so that my only recourse is to switch categories or close the app. This is especially aggravating given the linear organization of material such as videos, which means a lot of scrolling to find the specific content I'm looking for, and a lot of re-scrolling when I return after a freeze event. I guess I'll be following along on my PC.
And tennisfanusa:
Been using this app since Qualies and would consider myself a super user of Tennis grand slam apps; overall I feel lots of frustration with this new interface style.


1) If you viewed an individual Player Profile from the Draw page you would put get stuck in an endless loop on the player's profile- I.e, there was no going no back to the draw page without starting back at the main Matches Centre.

2)Mostly get errors errors when trying to view the Results page

3) Having to scroll sideways to view a player's past grand slam performances is a pain.

4) not easy to view draws! Spacing is Very wide, too wide to read intelligibly. I desperately tried to find the PDF but it was all the way at the bottom and then you had to go to another page and when the PDF finally opened it was in a small window. Just a pain.

AUSOPEN you can do better!

From APPtheGreg:
"There was a problem loading the page".


What happened to this app?!? This usually was one of the better apps out there among the Grand Slams considering that it coins itself as the most "innovative". Among of issues, please fix the bugs where I can't view the draw or view completed matches without being directed to the message "There was a problem loading the page". Also a rule of thumb, it's never a good sign when the app feels basically like the version of the mobile website. Please update before the first half of this fortnight...
G/O Media may get a commission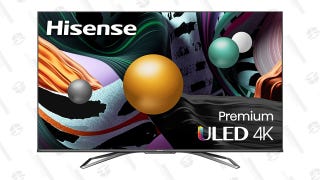 Save $350
Hisense ULED 65" Android 4K HDR Smart TV
These responsible app reviewers are not the only ones who have noticed. Whole conversations on Twitter have been dedicated to people complaining about the app and sharing screenshots of the busted webpages. I mean, look at this and tell me the score of Diego Schwartzman's match:
And this:
So what's the deal? Tennis Australia and tech giant IBM cut ties last year after more than 20 years of working together. According to CRN, the company provided "a range of technology services to Tennis Australia, including web hosting and IT services as well as functionality for fans, such as iOS and Android mobile apps." CRN also wrote:
It is unclear how IBM and Tennis Australia will unpick deep integrations established over a 24-year relationship now that the sponsorship has come to an end.
It is now pretty clear. I emailed Tennis Australia for comment and will update when I hear back.