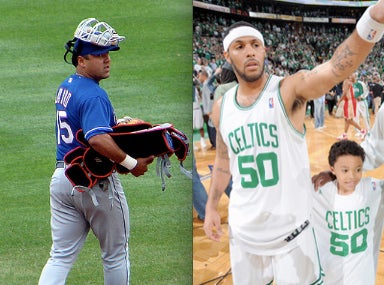 More details emerge in the arrest of Gerald Laird and his prospect brother after a drunken brawl at a Suns game. The whole thing was set off when their grandfather groped a Celtics wife. Isn't that how it always happens?
The whole Laird family watched the Dec. 30 Suns-Celtics game from a suite inside the U.S. Airways Center. Witnesses say the brothers were warned by security when they arrived because they were already intoxicated. And with the free booze in the luxury boxes, things went pretty much according to script.
Charlsie House, wife of Eddie House, accused the Lairds' 70-year-old grandfather of touching her inappropriately. Words were exchanged, then punches:
Officers who responded to the fight said Brandon Laird, 22, shouted derogatory remarks toward House and other women at the lounge before taking a swing at one of the women. The Yankees' prospect was booked on suspicion of misdemeanor disorderly conduct.

Gerald Laird, 30, signed a $3.9 million one-year contract with Detroit earlier this month. The Peoria resident was booked on suspicion of misdemeanor assault for allegedly striking a security guard in the head from behind during the brawl.
Oh, and the uncle got charged too, for good measure. Basically all the Lairds except the grandfather.
Gerald Laird, what's your excuse?
The catcher said he felt he was in danger and just trying to "watch the game and have some fun," according to his statements to police. He also told police the fight involved "some lady inside that was bragging about her husband playing for the Celtics."
That might be so, but it's more bragging rights to know someone on the Celtics than to be someone on the Tigers.
Report released in arrest of 2 pro baseball players in Phoenix [Arizona Republic]