There's a pattern here. Four years ago at the Rogers Centre someone nailed an umpire with a beer. Three years ago a fan chucked a full beer can at the Orioles' Nate McLouth. In last year's ALDS, the crowd protested a bizarre play by littering the field with trash, a scene lowlighted by a baby being hit with beer. And last night, in the seventh inning of the Toronto's eventual 5-2 win, one person nearly brained Orioles left fielder Hyun Soo Kim with a beer can:
"Something like today should never happen," Kim said, through his interpreter, Danny Lee. "This was the first time it happened, and hopefully the last time. He was surprised, and kind of shocked that happened."
A Blue Jays spokesperson told ESPN.com that the beer-thrower left before security could arrive, and so was not identified or ejected. Toronto PD told CityNews they're working to track down the person responsible.
What happened afterward is not entirely clear. Center fielder Adam Jones came over and angrily gestured into the crowd, before umpires and security arrived. One Orioles fan in the building said things were getting especially bad:

G/O Media may get a commission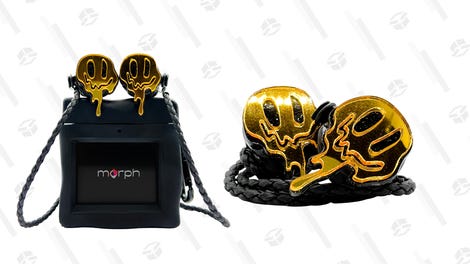 morph audio
Morph Earphones
It's being reported in a number of outlets that Jones confirmed that racial slurs were being used, but that's not necessarily an obvious reading of Jones's words. Here's Jones's postgame interview, via MASN. The question comes at 0:44.
One reporter says he saw on Twitter a report of slurs toward Jones and Kim, apparently referring to the tweets embedded above, and asked if Jones heard them. His answer:

"I've heard that so much playing baseball. I don't even care. Call me what you want. But...call me what you want, I don't care."
In an attempt to pin down a firmer answer, a reporter follows up with "Did you hear that happen tonight?"
Jones:
"Oh, you hear everything. We can hear everything. People cussing, flipping you off, I get it, that's fine. But to go out of character—to put us in harm's way, we're here to play baseball, nothing more, nothing less, and to put us in harm's way, that's not part of the game."
To me that's unclear enough that I'd avoid putting "Adam Jones says Blue Jays fans used racial slurs" as a headline, but most outlets are doing just that. I dunno.
If you have any idea who the beer-thrower might've been, give the Toronto Police a call. They'd love to hear from you.