The results of this year's MLB Photo Day have been submitted to the Getty Images wire, and once again, professional baseball players who would rather be anywhere else have been subject to awkward poses for future media guides. Here are some of the best ones.
Someone recapped Game 4 of the Cubs-Giants NLDS to Cory Gearrin, then immediately took his photo:
Dammit, Gerardo:
Tyler Saladino's mustache indicates that he's here to do two things: Play ball, and kidnap dames then tie them to train tracks.
G/O Media may get a commission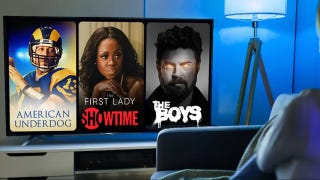 UNDER $1
99¢ Prime Video Channels
Please, my son...he is very sick:
Anthony Rizzo's tablet was hacked:
Bartolo watch: The 43-year-old is now on the Atlanta Braves, filling a spot on a roster of Guys You Knew Elsewhere that includes Matt Kemp, R.A. Dickey, Brandon Phillips, and Jaime Garcia. What a weird team.
Adam Lind's goat is looking tight:

Max Scherzer still has heterochromia iridum:
When someone determines your value at a lower number than you believed it to be:
Meet White Sox pitcher Matt Purke, or as he's known around the clubhouse, "Stock Photo Of An Apathetic Switchel Enthusiast":