Sami Grisafe just might be the best quarterback in the history of women's football. In 2000, she became the first female to play quarterback in a Varsity Division I high school game for Redlands High School in California. She played professionally for the Chicago Force of the Women's Football Alliance (WFA) and Team USA before retiring in 2014. Grisafe, a two-time Championship Game MVP and a two-time WFA offensive player of the year, came out of retirement to play one more season with the Force in 2017. She recently spoke with me about her return to the field. 

How did you get started in football? Were your parents on board?
When I was a kid, it was much less physical for women in sports. This was in 1995. I was 10 years old and playing boys baseball, so my mom was kind of already used to the idea of me being the only girl in a male sport. But it was a little difficult to convince her [to let me play football]. She had to have an hour-long conversation with the head of the youth football league. He explained that the first week would be just grass drills with pads and the second week we'd start hitting. If I didn't like the hitting, he told my mom she could pull me out. During that entire second week, my mom was hoping to God that I was going to hate it. But I didn't. And I've been playing ever since.
So, obvious question here: Why did you decide to come out of retirement?
I was about to leave to go climb Mount Kilimanjaro in late September when I received a call from Linda Bache, the owner of the Chicago Force. She said, "Hey, it's looking like the Chicago Force is going to [fold.] I was wondering if you wanted to be a part of our last season, our swan song." I knew this would be my last opportunity to play and I knew I would regret not doing it. So, I told her I'd think about it when I was climbing and get back to her. But I knew the day before we left to go on the trip that I wanted to play. All I had to do was make it work with my music schedule.
G/O Media may get a commission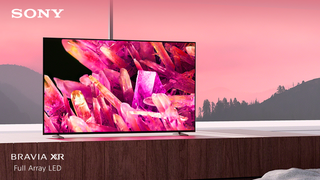 $400 off
Sony 55 Inch 4K Ultra HD TV X90K Series
It sounds like it's hard to walk away from the game completely.
It's very difficult. Not so much because of the game, but because of what the game provided. And what it provided was some amazing friendships, mentorships, and camaraderie. That's what made it hard to leave, but then I had [an ACL tear] and that pretty much solidified it.
Have you had to adjust the way you play your game now because you have been away from the sport for a few years and you're, uh, a little older?
[Laughs] My great grandmother used to come to my football games when I was little and she'd say, "My mind tells me I can go out there and play with you but my body tells me different." And that sticks out in my memory because that's kind of where I am right now. I can still throw the ball as well [and as far] as I did, though I require a lot more warmup time. Being able to read a defense and being able to do it in three seconds, having awareness, being able to lead a team—those are the things I was more concerned about after being away from the game. And I'm more sore after practice than I had ever been.
I remember when I was 22 and 23, and there were 40-year-old women on our team. They'd complain about being sore and I'd say, "It's only practice," and they'd glare at me as if to say, "You just wait." And they were right.
Well, clearly, you've been around football for a long time. Do you think the sport has evolved where women are concerned—meaning, are women more accepted these days?
We're at an interesting time, because right now women are more visible in football than ever before. Jennifer Welter, who's a friend of mine, was with the Arizona Cardinals for a while and that was great for visibility in the NFL. My friend Katie Sowers went to the Super Bowl with the Atlanta Falcons and she's training to be a scout for them, so she's affiliated with that organization. Those are big strides I think, but I would also caution people to not stop there.
How so?
People can sometimes get comfortable with a little bit of progress. But we have to keep pushing the envelope and make sure there's respect there, too. I constantly battle with it. We have to not only change the minds of those in the traditional football camp, but also the minds in our football camp as well. There are 67 teams this year in the WFA this year and the majority of them shouldn't be there. That's not a knock on the players, but a lot of games turn out to be 65-0 and that's not good for women's football. No one is going to want to watch a game that ends in the first quarter.
Speaking of watching games, why doesn't women's football get the attention it deserves?
I think we don't get the attention because people have already made up their minds about it. If it's not promoted on television and on billboards and things like that, people are just going to write it off. It's like, if they don't see it then it must not be good.
Looking at it from a music perspective, I know so many artists who are way more talented than some of the people in the Top 40 but they just don't have the money behind them to be seen. Major labels don't want to back an artist that doesn't have a lot of Twitter followers. Without that platform and the money to be able to sell it, people just assume it's worthless. So, I'm in the Indie music industry and in a lot of ways, I'm in the Indie sports industry as well.
If you could describe women's football players in one word, what would it be?
Tenacious.
Good word. Why, tenacious?
Because regardless of the amount of money, lack of visibility or the lack of praise and respect, the women that are involved in the game are there and they keep coming back. They are a part of a cohesive community that I don't know if the NFL has ever fully experienced. There's full support throughout the team because it's about the team not the individual. And also, they are there for the game and to prove to their daughters and their male counterparts that they are there for the right reasons. They aren't going anywhere.
Why do you think our male counterparts assume that women don't have the intelligence of understanding the X's and O's of football or the physical capability of playing this game the way it's meant to be played?
I think the assumption that women don't know anything about the game is perpetuated by people not asking. I think that a lot of people don't want to know that women are knowledgeable about the game. Because it takes away something that they feel is theirs that they don't want to share. That causes a lack of confidence there in what we know, and there shouldn't be.
If there's anything I've learned coming back and playing again, it's that we know just as much if not more than some of the coaches that are teaching us what they know. I think the general consensus is about a certain group of people, and the only thing we can do is prove them wrong, play as well as we can and not sit out during football conversations.
What do you love most about football?
I love that there is no negotiation in it. In our world, right now there are so many things that are being argued. There's a lot of talk about who people are and what they do, and not a lot of action proving the case. In football, you can't negotiate championships. The only way you're going to get one is through hard work. It's one of those things where the performance on the field is a good reflection of hard work and dedication, and that says a lot about the person. And that's what football is—it's a microcosm of who's working hard and who cares about something bigger than themselves. That's what it means for me in my life.
What are your overall thoughts on concussions and have you had many yourself?
Concussions are a very serious matter. I think we need to continue to do everything we can to teach proper technique to prevent them at all costs. I have suffered a few concussions in my 15 years of playing tackle football, but have been lucky to not have any long-term effects from them, thus far.
However, I know a few men and women I have played with whose lives have been forever changed from their concussions. They can't handle loud places, they deal with depression, they have to limit screen time and strenuous exercise. Every day they are reminded of their concussions. That being said, we all know the danger involved when playing football. I think the risk is what makes the bond between teammates so special. Every player is putting themselves at risk for someone else and the sacrifice and trust that is born from that creates relationships that last a lifetime.
I can't speak for others, but for me it's worth the risk. Football has given me a lifetime of lessons, friendships, and memories I wouldn't trade for the world. The pros by far outweigh the cons.
You had mentioned earlier before we even got into the interview that the Women's March inspired you and got you motivated for the football season. Can you tell me a little bit more about that?
Seeing a group of women come together in masses worldwide like that is—I don't know how it couldn't be inspiring. I think collaboration and power in numbers is a very important theme for everything. There are things bigger than ourselves that are important and we have to fight for them. The only way we're going to be successful in that is if we come together and fight together.
---
Lyndsey D'Arcangelo is a freelance writer and an award-winning author based in Buffalo, N.Y. You can find her on Twitter at @darcangel21.