Your morning roundup for Sept. 26, the day we heard Stephen King read a sequel to The Shining. H/T to Braden for the photo. Got any stories or photos for us? Tip your editors.
What we watched: Not much. The Giants and Eagles knocked one another around. The Bills beat the Patriots for the first time in forever. The Vikings choked away a 20-point halftime lead and now the Lions are 3-0. The Saints and Texans kept scoring. The Jets fumbled away the second half against the Raiders. The Bucs beat the Falcons even though Josh Freeman was terrible. The Steelers nearly lost to Jeff Spicoli. And the Yankees and Rex Sox might still be playing.
All in all, a pretty boring day, no?
Elsewhere
So, how how was the Battle for I-95? "The game pitted Team Philly against Team Melo in something billed as The Chosen League. Really it was a low-rent carnival disguised as basketball — loud music, loud fans, loud dunks, but not much in the way of actual competition. It was like an NBA All-Star game, only with fewer All-Stars and even less defense." [CSNPhilly]
G/O Media may get a commission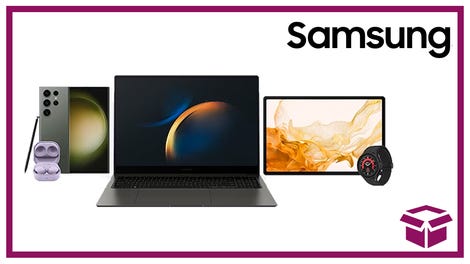 24 hour deals
Discover Samsung - Daily Deal
Clayton Kershaw, pitching's likely triple-crown winner: "Already the NL leader in ERA and strikeouts, Kershaw virtually clinched the pitching Triple Crown today. He ends the year with a 2.28 ERA and 248 strikeouts. Roy Halladay also started today and pitched six scoreless innings, lowering his ERA from 2.41 to 2.35. Cliff Lee, who has a 2.38 ERA going into his start against the Braves on Monday, would have to pitch at least 10 2/3 scoreless innings or strike out at least 17 batters to deny Kershaw titles in either category. While a 17-strikeout game for Lee wouldn't be an impossible under normal circumstances, there's no way he's getting there while on a pitch count in his final start before the NLDS." [Hardball Talk]
Your Roller Skating Racing Interlude:

Philly shows its appreciation for the Giants in the most Philly way possible: "Wow. We just had a 7 maybe 8 year old. Throw a beer at the bus. #greatparents. Not" [@JustinTuckNYG91]
Emeritus agrees: "Message: We love you, No. 5. We appreciate everything you've done. Now please come back to us. Come back for more home games in 2011. It could be for a one-game playoff Thursday against the Braves, or, better yet, for an NLDS series against the Philadelphia Phillies. Come back and stay through 2012 and beyond." [St. Louis Post-Dispatch]
There are still a few Mariners fans out there somewhere: "The percent declines in attendance are based on a comparison of 2001 numbers with 2010 numbers. In other words, the analysis compares attendance for the best team in Mariners history with attendance for the third-worst in team history in terms of losses. Attendance dropped 40.54 percent from 2001 to 2010. But is there any doubt why? The 2001 team won a major-league record 116 games in a still-new Safeco Field. In 2010, the Mariners lost 101 games for the second time in three seasons." [Seattle Post-Intelligencer]
Merch: Managing editor Tom Scocca and contributing editor Drew Magary have both written books. You can buy Scocca's Beijing Welcomes You: Unveiling the Capital City of the Future here, and Magary's The Postmortal here. Now do it.
Send stories, photos, and anything else you might have to tips@deadspin.com.