The Portland Trail Blazers looked dead about three different times in the fourth quarter of their Game 5 loss to the Golden State Warriors. There was the time when the Warriors' starters came back in with a four point lead and quickly stretched it to eight. After C.J. McCollum shot them back into it and hushed an already-celebrating Warriors' arena, Steph Curry opened up another lead, which McCollum and Ed Davis somehow wrenched closed. So Steph hit a rude, inevitable dagger to informally end the game.
But even after that, when they were clearly cooked, Damian Lillard gutted his way into three free throws to temporarily make it a one-possession game. The Warriors hit their free throws and took care of the Blazers 125-121, but Portland never backed down, even when it seemed obvious to the entire arena (and hell, probably most of the TV audience) that the Warriors were whirring into an unmatchable gear. Playing the Warriors when they're on is like trying to fight the ocean, but Portland put everything they had into this series and played with as much heart as any team has in these playoffs. They're gone now, and the playoffs are less fun without them, but they can leave with their heads held high.
Teams come together over the course of a postseason, but Portland has been a persistently cohesive team all season long. They're full of young, untested, springy players who enable the team to play modern, spaced-out basketball. This sort of composition and style usually makes for entertaining 30 win teams, not playoff series winners, and teams who lose four starters in one summer aren't supposed to get better. Most projections had them winning less than 30 games and missing the playoffs by a healthy margin.
G/O Media may get a commission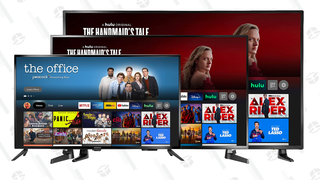 Up to 44% off
Prime Early Access - Insignia Fire TVs
But rather than roll over and accept their destiny, the Blazers came together. Castoffs like Ed Davis, Gerald Henderson, and Al Farouq-Aminu thrived when given more minutes. Young dudes like Allen Crabbe and Mo Harkless found their stride for the first time. They were fun to watch because they hit a bunch of threes and McCollum and Lillard are maniacs, but they also played like they were free from the crushing pressure that can cripple even elite teams. The lack of expectations was probably freeing. They were a unit, and they played together. For as good as Damian Lillard is, the Blazers were never one of the five most talented teams in the Western Conference, but they played goddamn hard every night and their youth and (not to get too spooky here) belief helped them charge through a ragged, soggy set of lower-tier teams and grab the five seed.
Even in an series against the biggest juggernaut in basketball, Portland brought it. They managed to scrabble out halftime leads in the last four games of the series and seemed to be overwhelmed by superior talent more than anything. Damian Lillard, who once hid out in Oracle Arena so he could get some shots up on the court, averaged 31 points and seven assists against his hometown team and his tenacity helped carry the Blazers much further than anyone thought they could go.
They may have only managed to survive as long as the Rockets, but the two series could not have been more different. Portland was never supposed to be here, but they outplayed expectations the whole season, so one more series of defiant basketball was in character. They'll be back.