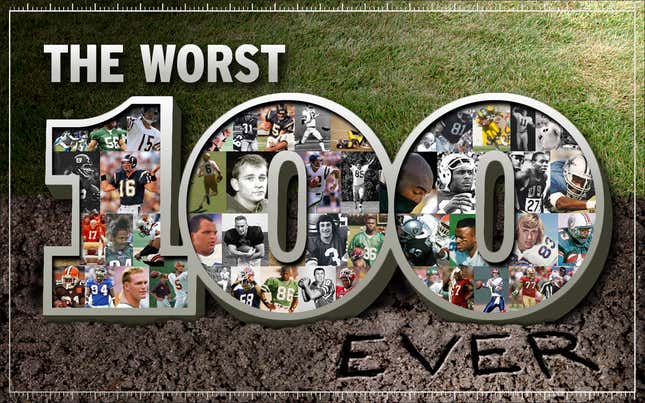 The NFL Network recently compiled a list of the 100 best players in NFL history, as selected by a blue-ribbon panel. This is not that list. Part 1 is below. Part 2 is here. Share your own list at #theworstever.
How running an NFL team is like running a restaurant | Chef Emeril Lagasse
Blair Thomas was a bust. A larger-than-large bust.
Selected by the Jets as the No. 2 overall pick in the 1990 NFL draft, the Penn State All-American was supposed to become one of the great running backs in league history. He was, Joe Paterno said, "the best player I've ever coached" — a brutalizing combination of otherworldly speed and bulldozer power.
After six years, however, Thomas was an NFL ghost — a forgotten man whose 2,236 career rushing yards represented one of the biggest disappointments in league history. Thomas was never great. Never exceptional. He was, frankly, average. A solid, unremarkable, run-of-the-mill NFL player who, had he not been selected so high, would have gone down as a solid, unremarkable, run-of-the-mill NFL player.
Which is why he doesn't belong here.
Earlier this month, the NFL Network completed its 100 greatest players series — an impressive list that started with Joe Namath at No. 100 and ended with Jerry Rice at No. 1. Inspired by that effort, I have compiled my own rankings — the 100 worst players in NFL history.
The base criteria is simple: You had to have been a very bad NFL player. That alone, however, is too easy. The league is filled with subpar performers who last a game or two, then vanish for eternity. (Where have you gone, Onzy Elam?) Here, not only do the candidates have to be bad; they have to be bad and of consequence. A high draft pick who flopped miserably (Ryan Leaf, No. 6). A starting cornerback who was regularly abused by opposing quarterbacks (Curtis DeLoatch, No. 53). A backup signal caller who was asked to save his team but could barely complete a forward pass (Babe Laufenberg, No. 3). A field-goal kicker who, literally, couldn't kick a field goal (Bob Timberlake, No. 2).
Some of the players might surprise you. Larry Brown, the accidental MVP of Super Bowl XXX, parlayed his shining moment into a large free-agent deal with the Raiders — who were shocked to learn he was terrible at all aspects of the sport. Erik McMillan, a two-time Pro Bowl safety with the Jets, intercepted passes only when he wasn't getting burned by opposing receivers.
There have been a million lists of the NFL's biggest disappointments, and this is not one of them. Not all of these men were disappointing. They were, however, all bad. Very bad.
Here, for the first time, are the 100 worst players in NFL history.
Well, my 100 worst players in NFL history.
* * *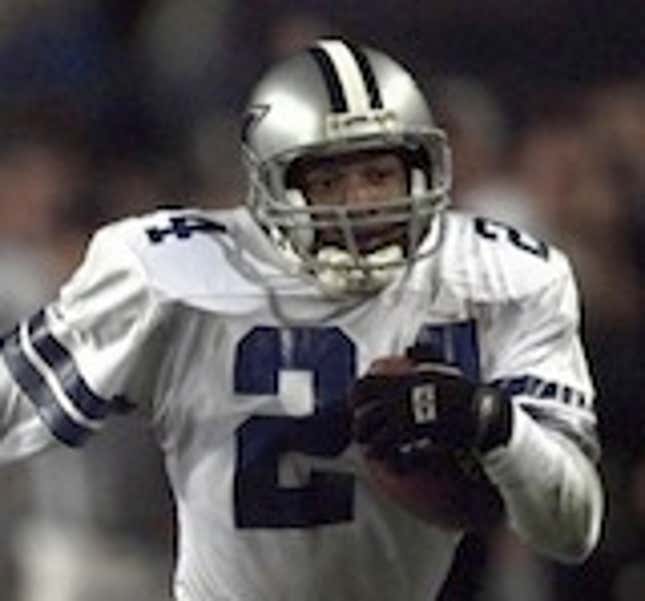 100. Larry Brown; cornerback; Cowboys, Raiders; 1991-98: A 12th-round pick out of Texas Christian, Brown somehow held a starting job with the Cowboys for five years. No speed, no hands, no confidence — and he lucked into the Super Bowl XXX MVP trophy when Pittsburgh quarterback Neil O'Donnell threw him two softies.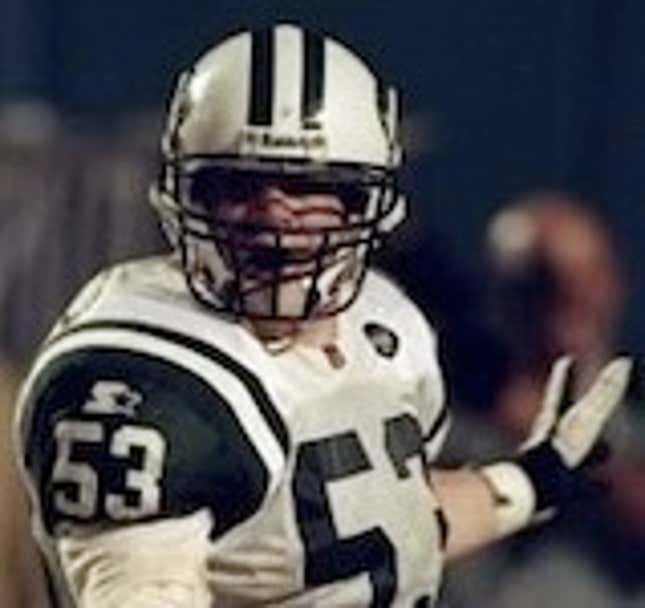 99. Chad Cascadden; linebacker; Jets; 1995-99: Oftentimes, "overachiever" is code for something like "This team is so bad, they've got Cascadden logging serious time." Slow, unskilled, overwhelmed — the model Jet of his era.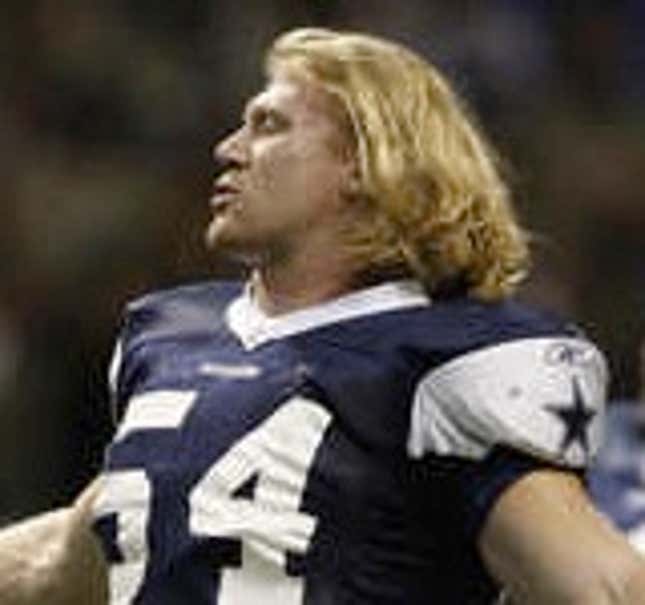 98. Bobby Carpenter; linebacker; Cowboys, Dolphins, Lions; 2006-present: Still earning an NFL paycheck, but for how long? The softest linebacker in the history of the league — but a heckuva nice guy.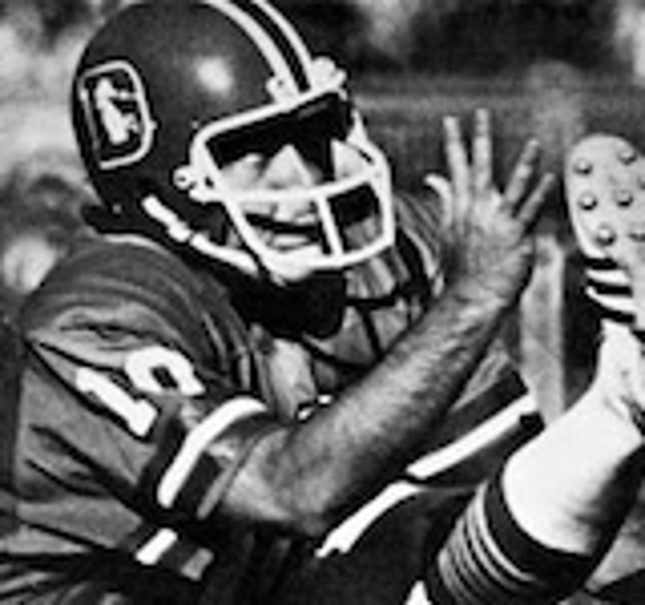 97. Bucky Dilts; punter; Broncos, Colts; 1977-79: His best year was his rookie year, when he averaged 39.2 yards per punt. To quote Evan Greenberg, "His punts were kind of like dying quails, the equivalent of Eddie 'The Eagle' Edwards' ski jumping accomplishments." Had one rushing attempt in his career and lost 14 yards.


96. Rick Norton; quarterback; Dolphins, Packers; 1966-70: Started only 11 career games, which was about 11 too many. Seven touchdown passes, 30 interceptions, and 56.7 yards per game.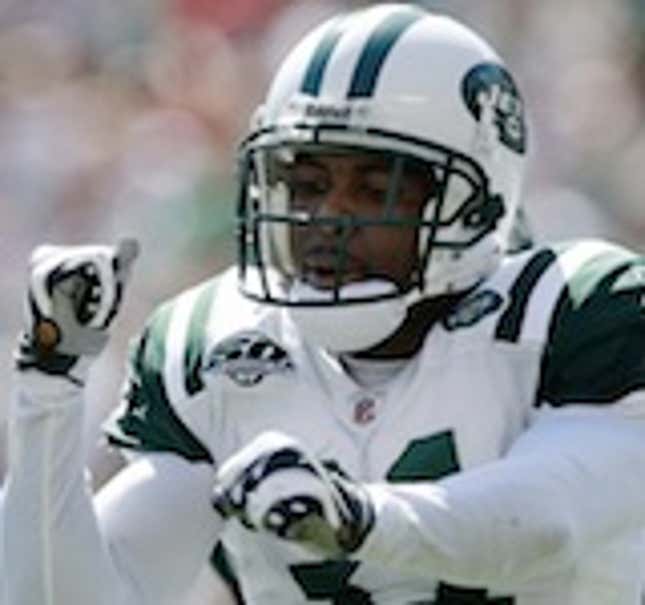 95. Ahmad Carroll; cornerback; Packers, Jaguars, Jets; 2004-06, 2008-09: If Joe Montana stands as the perfect quarterback, Carroll stands as the imperfect cornerback. Slow to respond, not especially aggressive, gets beat deep, overwhelmed by tall receivers. Three career interceptions.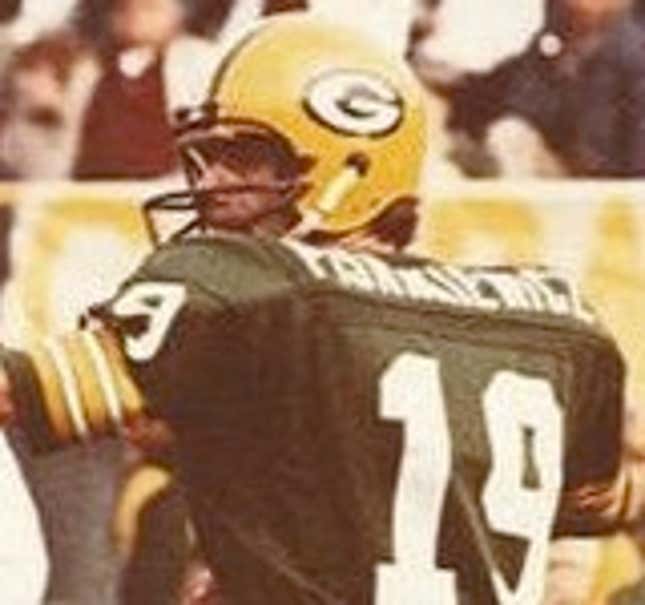 94. Steve Pisarkiewicz; quarterback; Cardinals, Packers; 1978-80: The Cards expected Pisarkiewicz to quickly supplant Jim Hart as the team's leader. Instead, they found themselves cursed with a scatter-armed underachiever who was out of the league after thee years.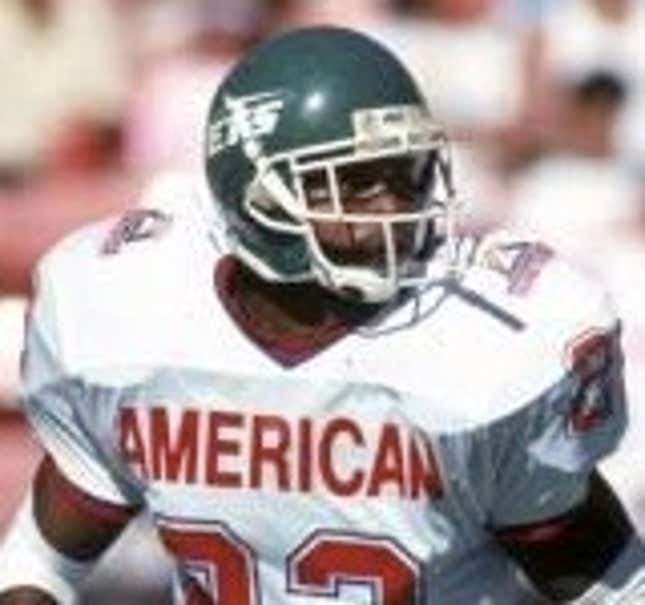 93. Erik McMillan; safety; Jets, Chiefs, Browns, Eagles; 1988-93: There is often no more misleading statistic than interceptions, and nobody proved that like McMillan. A two-time Pro Bowler with the Jets, McMillan spent most of his time hanging back and waiting for balls to come his way. He was a poor tackler and a worse cover man. Once teams figured that out, he was exposed and, quickly, gone.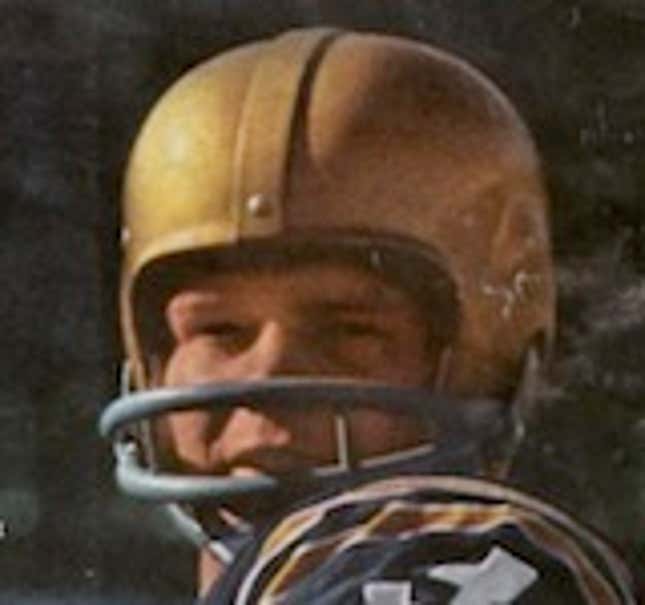 92. George Izo; quarterback; Cardinals, Redskins, Lions, Steelers; 1960-66: The St. Louis Cardinals thought they were landing a franchise quarterback with the No. 2 overall pick in the 1960 draft. Instead, they got a soft-tossing journeyman who, in seven wayward seasons, never threw more touchdowns than interceptions.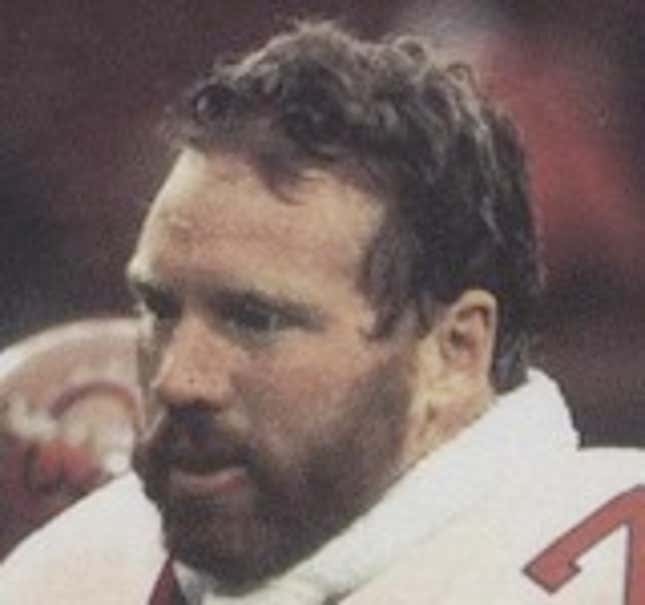 91. Kit Lathrop; defensive lineman; Broncos, Packers, Chiefs; Redskins; 1979-80, 1986-87: Lathrop was an NFL nobody before jumping to the USFL's Chicago Blitz. He was twice named to the new venture's All-League team, but when it folded he returned to the NFL. Where he stank.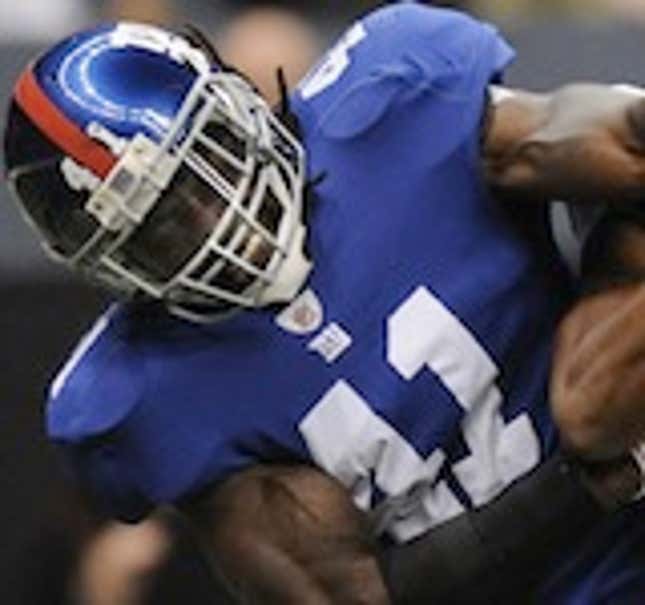 90. C.C. Brown; safety; Texans, Giants, Lions; 2005-present: As the joke goes, C.C. stands for "Can't Cover." Some players manage to find work no matter how poorly they play. Here's Exhibit A.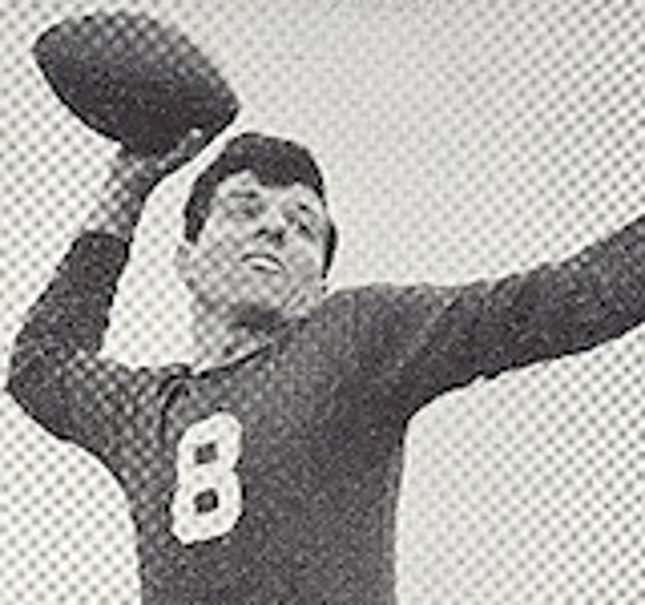 89. Frank Tripucka; quarterback; Lions, Cardinals, Broncos; 1949-52, 1960-63: In 1952, the legendary Notre Dame quarterback threw three touchdowns and 17 interceptions — then left to play the next eight seasons in Canada. He returned in 1960 to lead the very bad Broncos and was, well, very, very bad.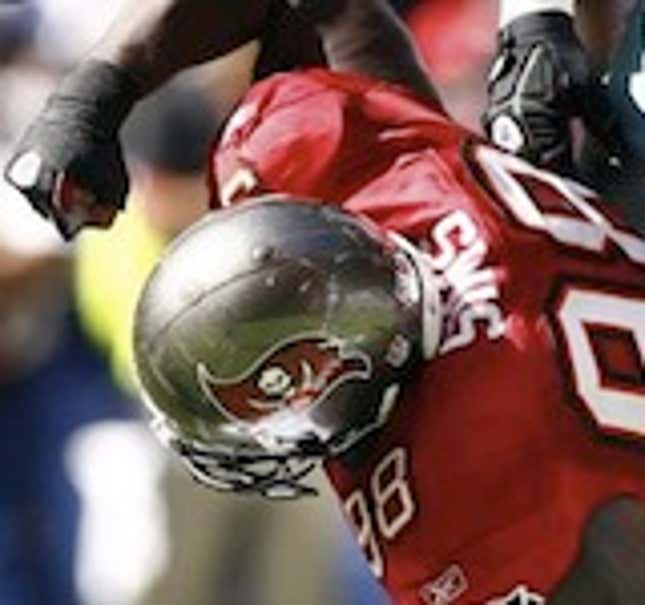 88. Ryan Sims; defensive tackle; Chiefs, Buccaneers; 2002-present: Over nine years, the man drafted ahead of Albert Haynesworth and John Henderson has accumulated 8.5 sacks and zero big plays. Shockingly resilient for a shockingly subpar player.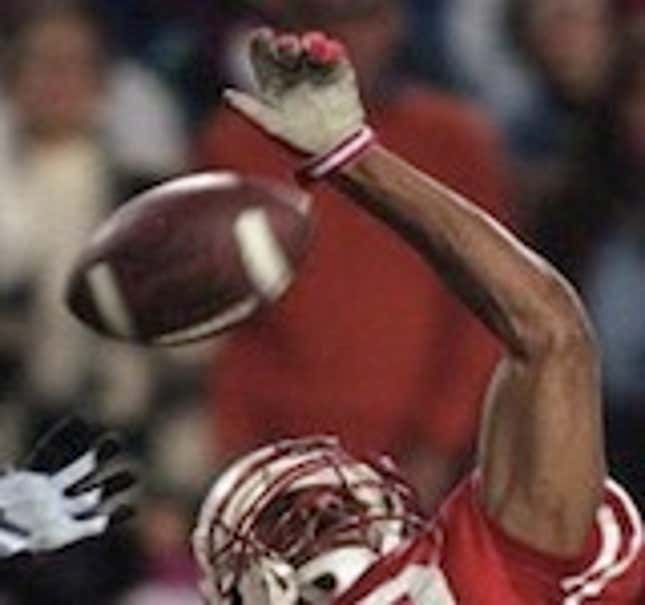 87. Michael Booker; cornerback; Falcons, Titans; 1997-2001: Atlanta used the 11th pick in the 1997 draft on Booker, then learned that he didn't really care for professional football. Started only 10 games as a pro before retiring with casual indifference.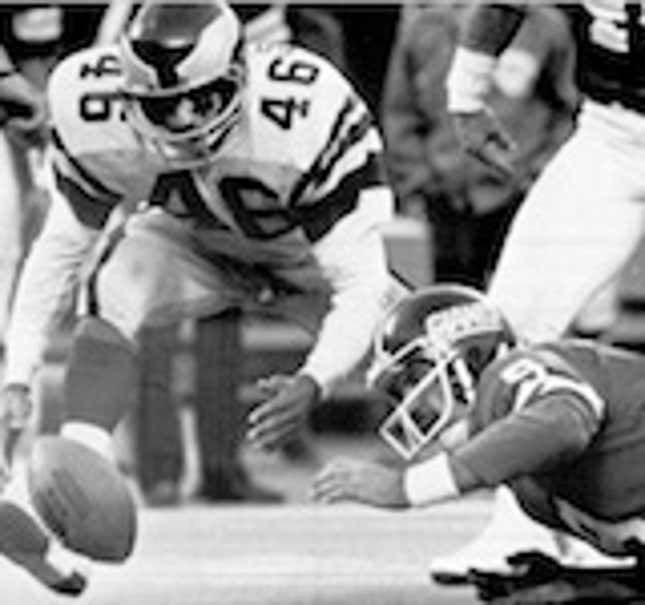 86. Joe Pisarcik; quarterback; Giants, Eagles; 1977-84: Though best remembered for his botched handoff in the closing minutes of a loss to the Eagles in 1978, one game alone does not define Pisarcik's dreadfulness.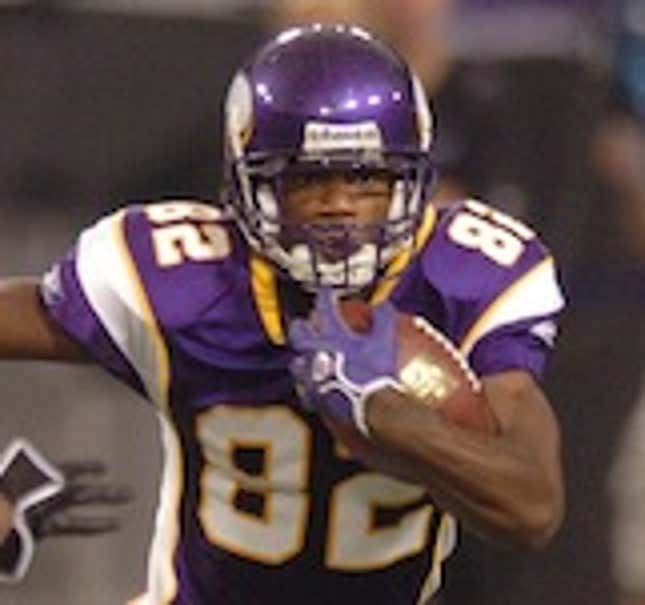 85. Troy Williamson; wide receiver; Vikings, Jaguars; 2005-09: Blown away by his breathtaking speed, Minnesota used the No. 7 pick in the 2005 draft to take Williamson. Apparently, the team forgot about his hands. Following the 2006-07 season, Williamson blamed poor depth perception for 11 drops. Later threatened Vikings coach Brad Childress to a fight — which, oddly, helped his popularity.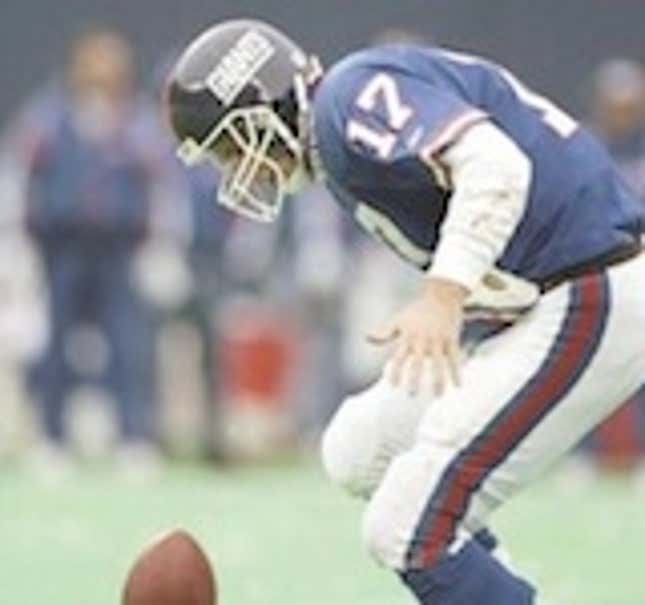 84. Dave Brown; quarterback; Giants, Cardinals; 1992-2001: The Giants thought Brown would become the next Phil Simms. Instead, he became the next Scott Brunner. Indecisive, erratic, and the face of a very bad era of New York Giants football.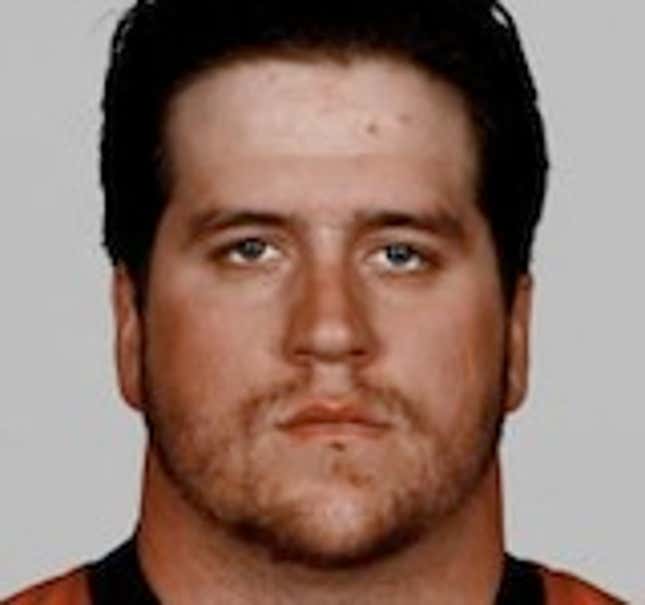 83. Eric Ghiaciuc; center; Bengals; 2005-08: The weakest link on a dreadful offensive line, Ghiaciuc's blocking in three years as a starter helped the Bengals go 19-28-1. Has tried catching on with various teams, but never sticks.


82. Carl Smith; fullback; Lions; 1960: At the time, Smith's size (6 feet, 200 pounds) made the Lions think they had drafted football's next great blocking back. Smith played 14 games and showed the good people of Motown that size doesn't equal skill. He lasted a single season.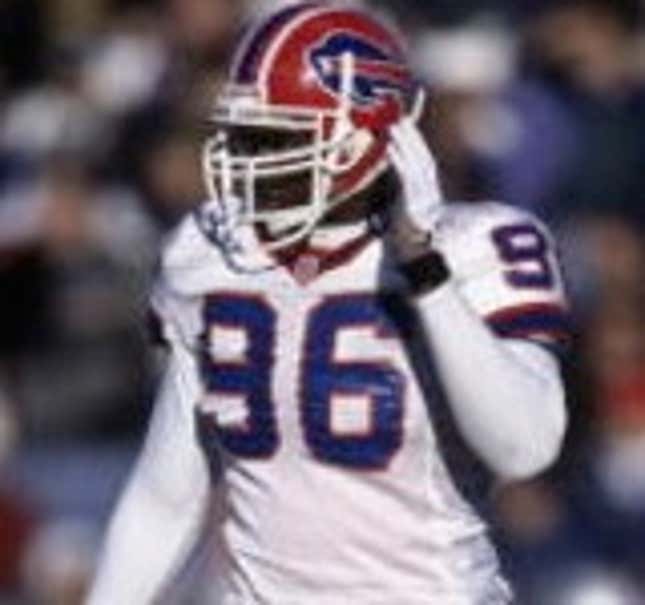 81. Erik Flowers; defensive end/linebacker; Bills, Oilers, Rams; 2000-2004: When the Bills used a first-round pick on Arizona State's fantastic pass rusher, they were thinking Bruce Smith 2.0. With five career sacks, they got Byron Smith 2.0.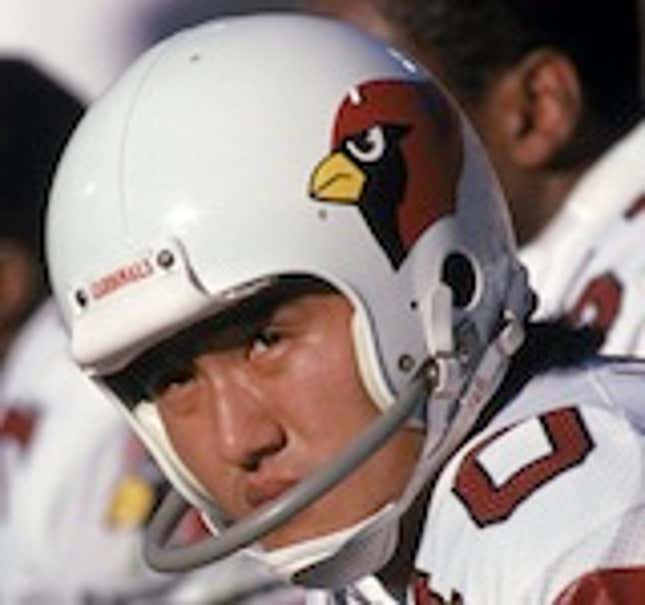 80. John Lee; kicker; Cardinals; 1986: First player of Korean descent to be drafted into the NFL was also first player of Korean descent to be dumped by the NFL. Cardinals used a second-round pick on UCLA's All-American kicker, signed him to a four-year, $900,000 deal, then watched as he made only eight of 13 field goals. "His leg just wasn't strong enough," Rams coach Gene Stallings once said. "You're going to miss field goals, I understand that. But my gosh, his leg."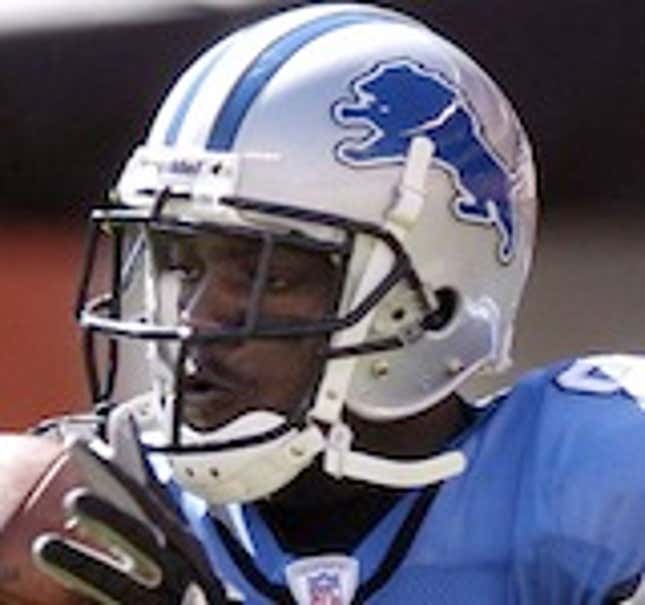 79. Charles Rogers; wide receiver; Detroit Lions; 2003-05: The No. 2 overall pick in the NFL draft admitted he loved marijuana more than touchdowns. The end result: 36 catches and four touchdowns in three seasons.


78. Eric Schubert; kicker; Giants, Cardinals, Patriots; 1985-87: Schubert earned raves at the University of Pittsburgh for his powerful leg. Accuracy? Eh, not so much. With the Cardinals in 1986, Schubert connected on three of 11 kicks. That's 27.3 percent, for those keeping score.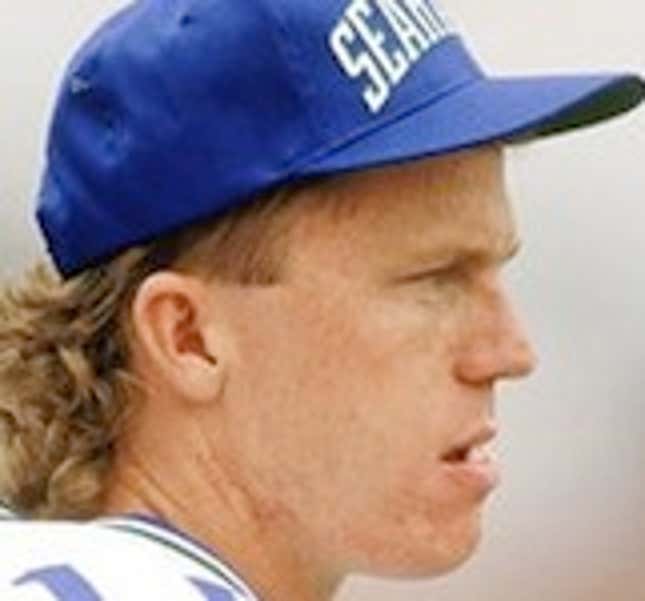 77. Dan McGwire; quarterback; Seahawks, Dolphins; 1991-95: In a 1992 game against the Cowboys, McGwire — a 6-foot-8, 243-pound tree of a quarterback (who happens to be Mark McGwire's younger brother) — was sacked four times before being knocked out in the third quarter. It was the best performance of his career.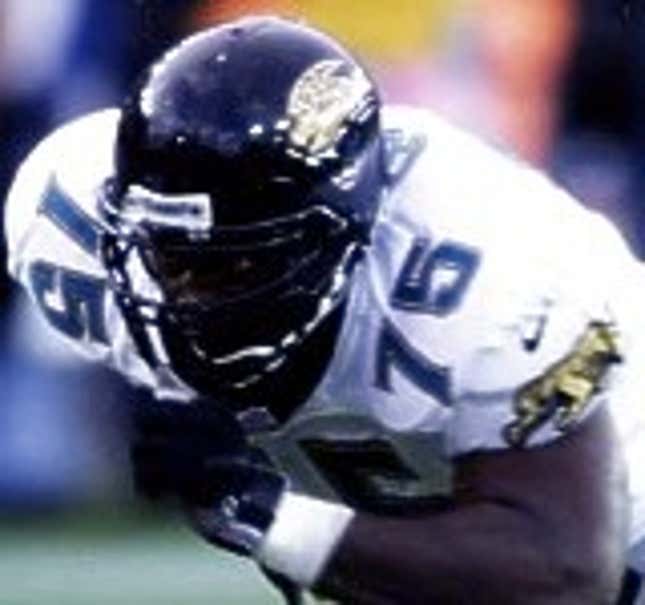 76. Eric Curry; defensive end; Buccaneers, Jaguars; 1993-99: When the Bucs picked him with the sixth selection in the 1993 Draft, the Alabama stud was considered a game-changing pass rusher. His 12 career sacks — many of which came by pure accident — dispute that point.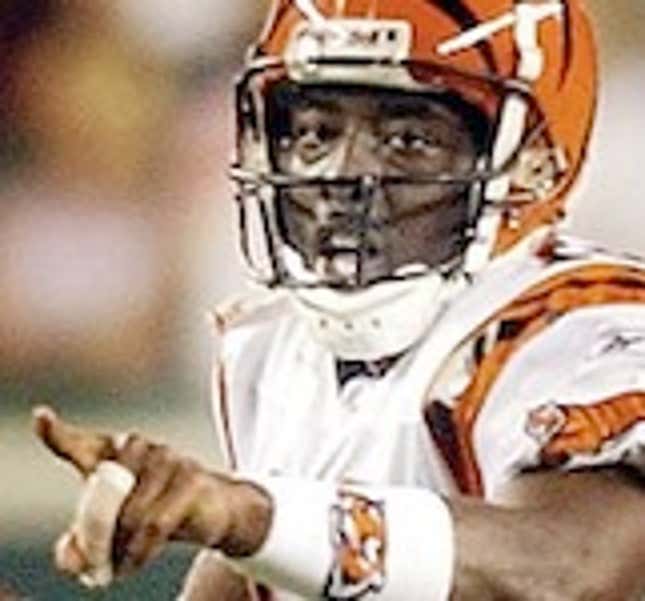 75. Akili Smith; quarterback; Bengals; 1999-2002: The third overall pick simply had no clue how to play quarterback in the NFL. To his credit, he admitted as much.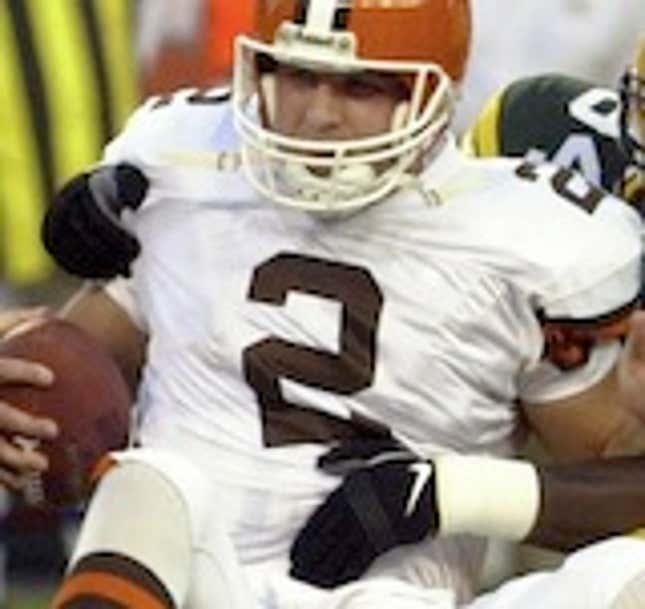 74. Tim Couch; quarterback; Browns; 1999-2003: See: Smith, Akili.


73. Jim Gallery; kicker; Cardinals, Bengals, Vikings; 1987, 1989-90: When kickers are drafted, as Gallery was by Tampa Bay in 1984, there's the general expectation that the guy's pretty good. Gallery, however, was anything but. Of his 25 career attempts, 11 went through the uprights. With the Bengals in 1989, he made two of six. In other words, he probably loses a kicking contest with Ndamukong Suh.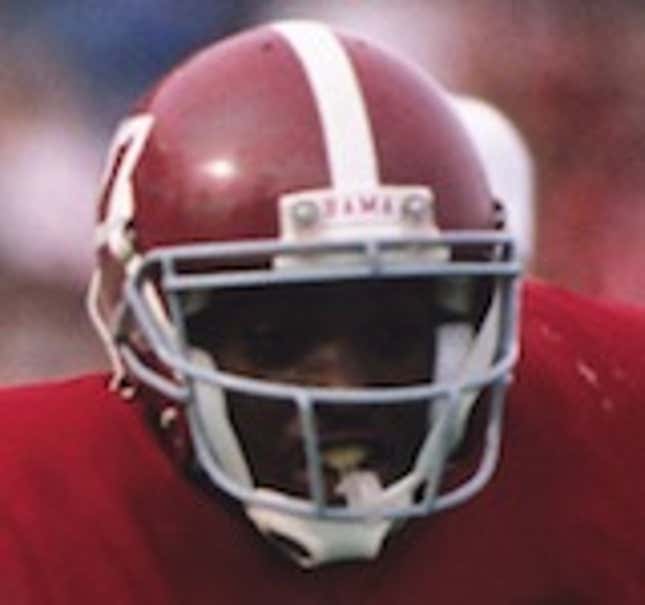 72. Siran Stacy; running back; Eagles; 1992: His funky name brought him fame. His funky game brought him shame. The Eagles wasted a second-round pick on Stacy, who appeared in one game before being released. A year later the Browns brought him in for an audition, but lost interest when he was arrested for theft at K-Mart.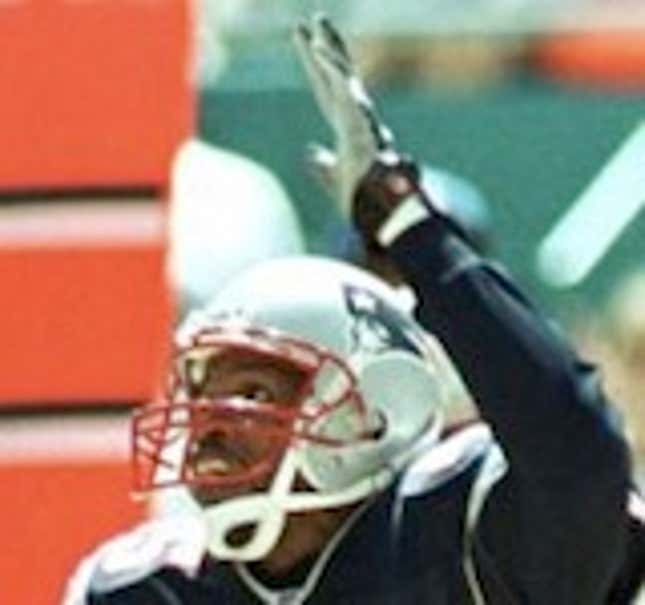 71. Otis Smith; cornerback; Eagles, Jets, Patriots, Lions; 1991-2003: Somehow lasted forever, but has any defensive back in modern NFL history given up more big plays?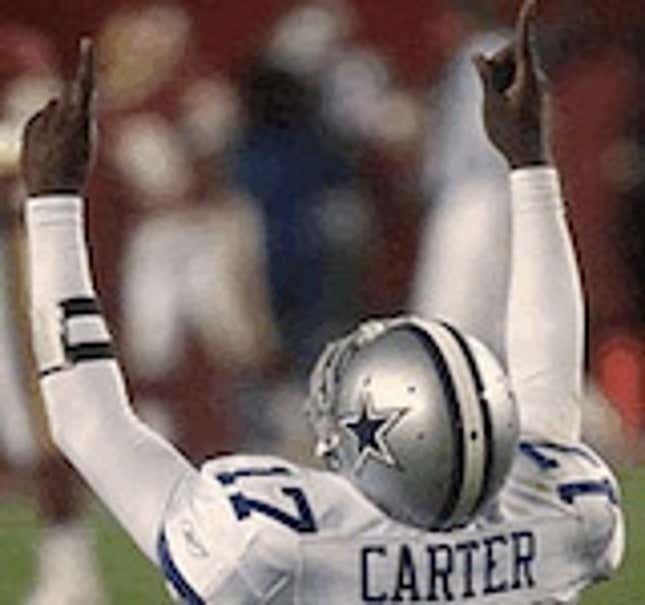 70. Quincy Carter; quarterback; Cowboys, Jets; 2001-04: For a minute there, it looked as if Jerry Jones was right to use a second-round pick on a player projected to go in the fifth or sixth round. Carter, however, never met a defense he could read or a receiver he couldn't overthrow. Legal problems also damned his career.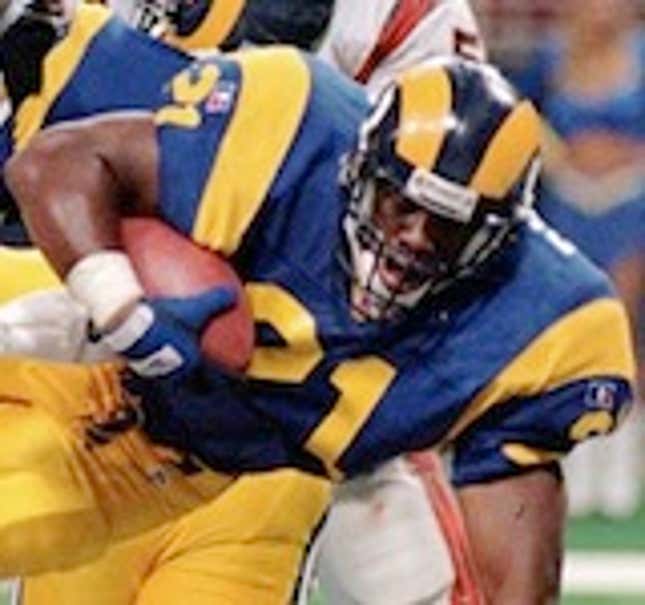 69. Lawrence Phillips; running back; Rams, Dolphins, 49ers; 1996-99: Mostly remembered for his myriad legal incidents, Phillips also happened to be a junk halfback. Never averaged more than 3.5 yards per carry in a disastrous career that made Dick Vermeil cry (more than once).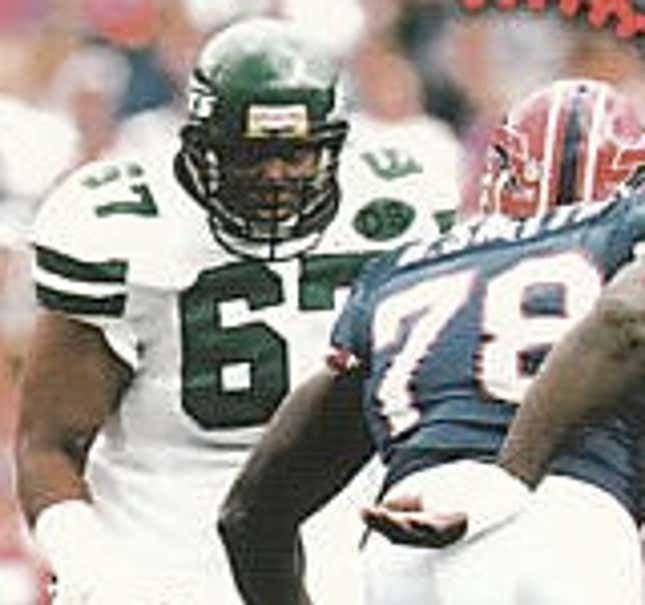 68. Everett McIver; offensive guard; Jets, Dolphins, Cowboys; 1994-99: As a rookie McIver, a converted defensive tackle, was placed on the offensive line and asked to block Buffalo's Bruce Smith. The result: Quarterback Boomer Esiason was nearly killed, and New York's Hugh Douglas gave us the quote of the year: "Owww — Boomer's dead. Is he dead? Oh my God, he killed Boomer!"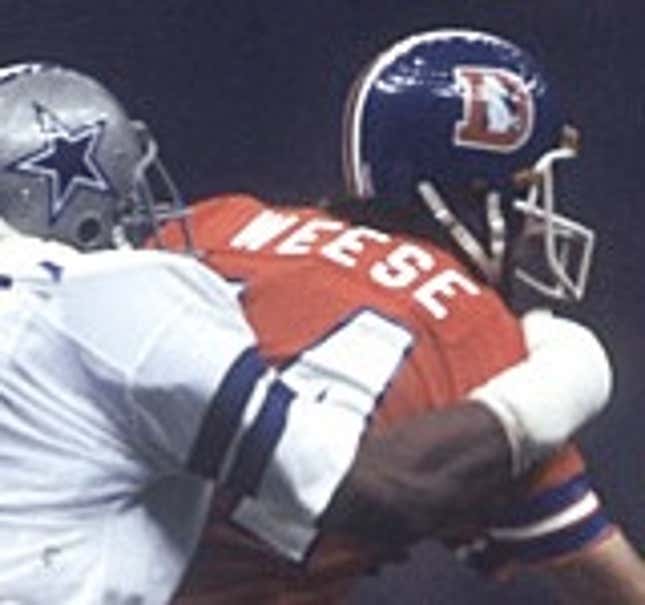 67. Norris Weese; quarterback; Broncos; 1976-79: The former Ole Miss star replaced Archie Manning in college and did quite well. His NFL career? Not so much. Weese was long considered Denver's quarterback of the future, but the future never came. Went on to a nice career as a CPA.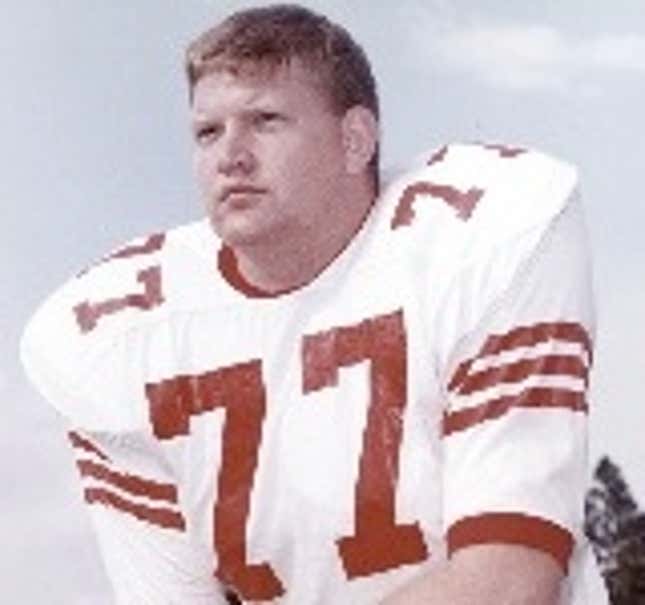 66. Dennis Byrd; defensive end; Patriots; 1968: Not to be confused with Dennis Byrd, the New York Jets lineman from the late-1980s/early-'90s. Or, for that matter, with a competent NFL player. The Boston Patriots used the No. 6 selection in the 1968 draft to take Byrd, then discovered that he could neither rush the quarterback nor stop the run. He lasted one year.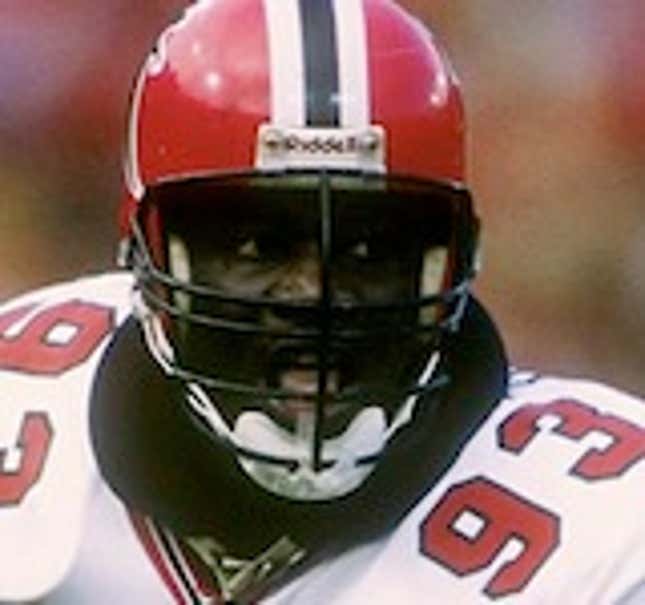 65. Aundray Bruce; linebacker/tight end/defensive end; Falcons, Raiders; 1988-98: Had he gone in the sixth round, Bruce would've been sorta OK. But as the No. 1 selection of the 1988 NFL draft, he goes down as a huge failure. Started 16 games as a rookie, 13 games in his second year — then spent the rest of his days as a role player, jumping from position to position and doing very little of note.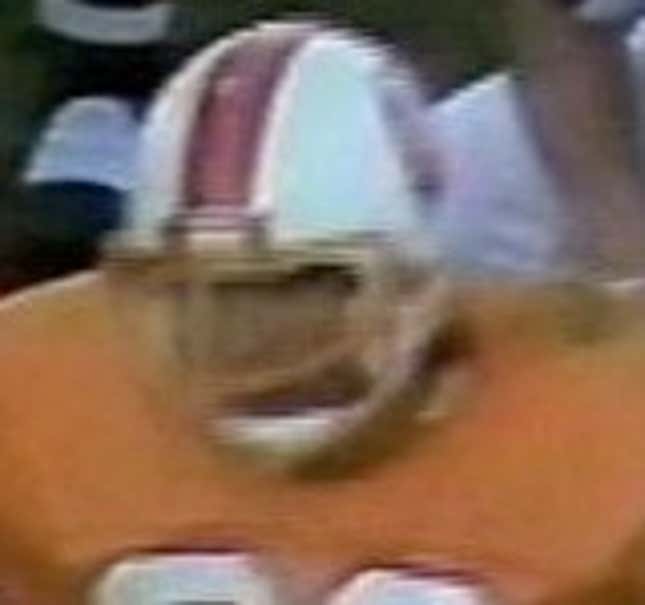 64. Dana Nafziger; tight end/linebacker; Buccaneers; 1977-82: Caught nine passes for 119 yards for the 2-12 Bucs of '77 — and it was all downhill from there.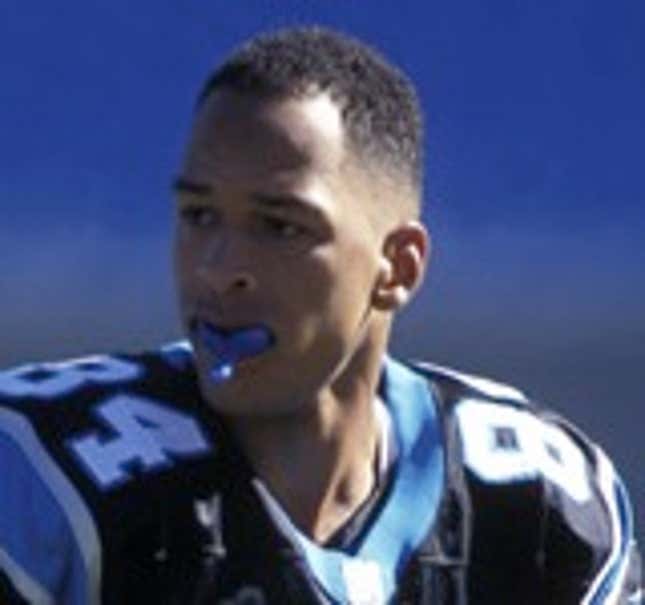 63. Rae Carruth; wide receiver; Panthers; 1997-99: Carolina's 23rd all-time leading receiver ran dreadful routes when he wasn't allegedly hiring a hitman to kill his girlfriend.


62. Roger Vick; fullback; Jets, Eagles; 1987-90: Combined poor running and terrible blocking into one unique package.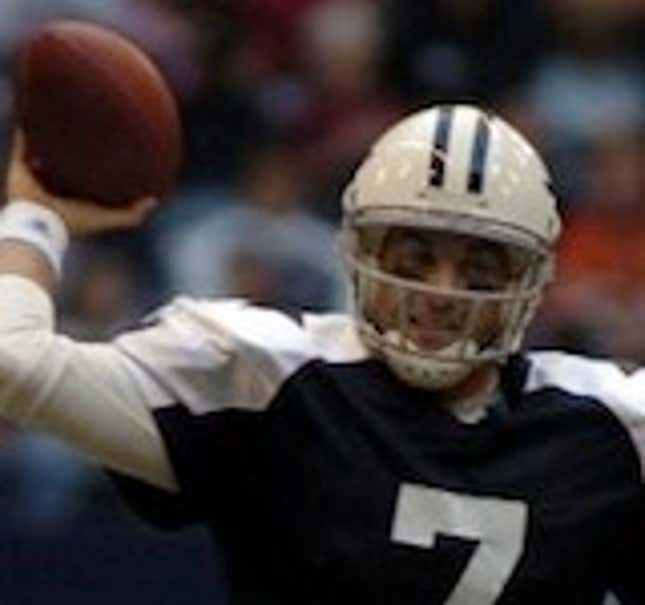 61. Drew Henson; quarterback; Cowboys, Vikings, Lions; 2004-08: Henson's defenders would note that he appeared in only nine games. Henson's detractors would note that he was given 8,000 chances to unseat mediocre quarterbacks and never came close. On Thanksgiving Day 2004, Henson started his first game for Dallas, going 4-12 with 31 passing yards before exiting. The anti-Bo Jackson — dreadful in both professional football and baseball (hit .234 in three seasons of triple-A ball, then managed one hit in nine at-bats with the Yankees).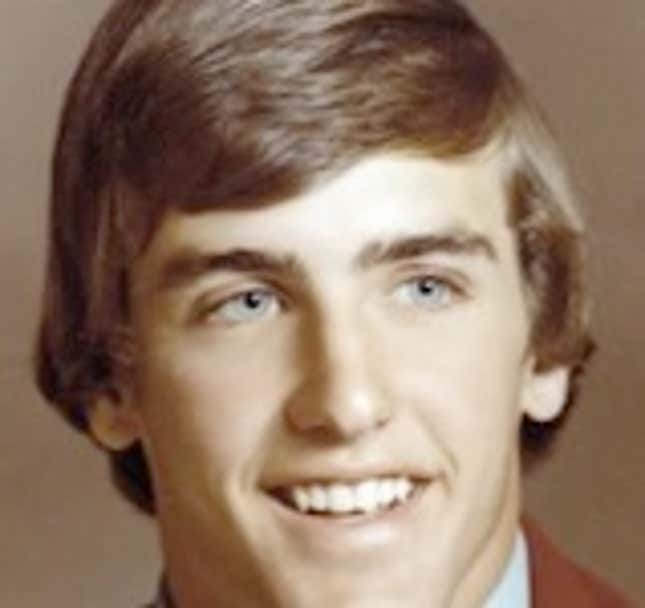 60. Scott Fitzkee; wide receiver; Eagles, Chargers; 1979-82: When coaches want their pass catchers to understand the power of burst, they show videos of Jerry Rice. When coaches want their pass catchers to understand what happens when you don't have burst, they show Fitzkee. Four NFL seasons, 17 catches.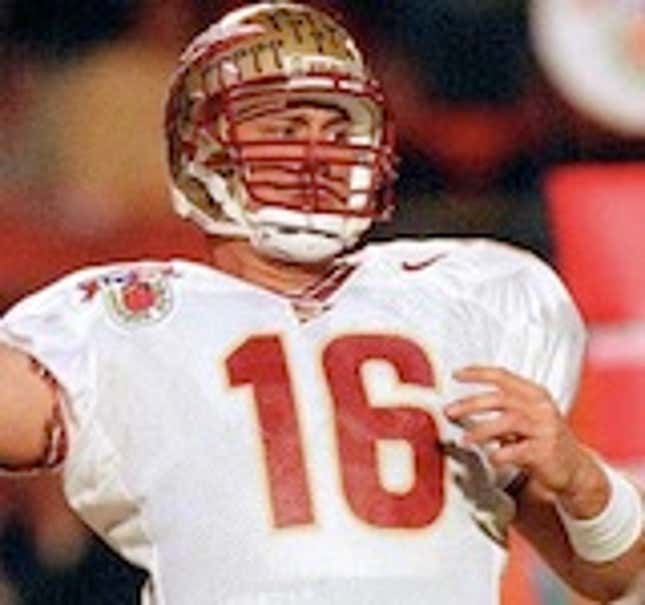 59. Chris Weinke; quarterback; Panthers, 49ers; 2001-07: Started 15 games as a 29-year-old rookie and reminded many of another Heisman winner — the immortal Gino Torretta. Started only four more games before his retirement after '07.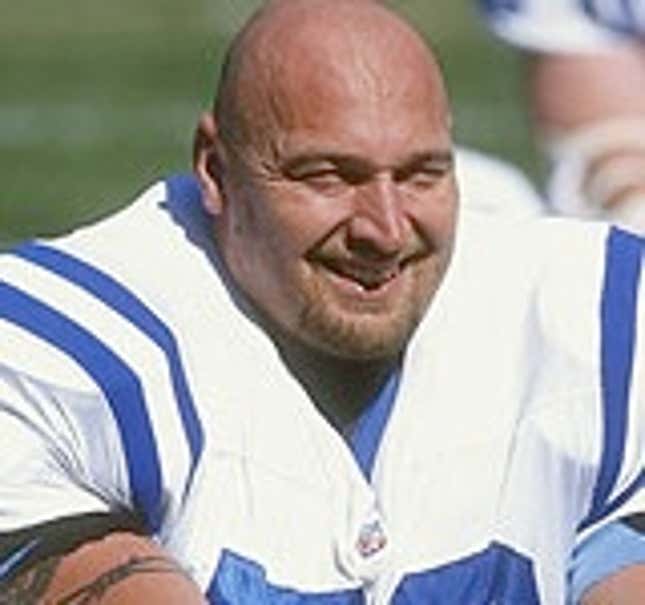 58. Tony Mandarich; offensive lineman; Packers, Colts; 1989-91, 1996-98: Judged solely by his three years in Green Bay, during which he was ruthlessly mocked by opposing pass rushers, Mandarich is Top 5. But in a Vanilla Ice-like return from the dead, Mandarich actually played reasonably OK for the Colts.


57. Matt Robinson; quarterback; Jets, Broncos, Bills; 1977-82: Once upon a time, Robinson was considered the next Joe Namath. Once upon a time, bread was a nickel a loaf. Robinson was never able to beat out Richard Todd in New York, Craig Morton (age 37) in Denver, or Joe Ferguson in Buffalo. He went to the USFL and sucked there, too.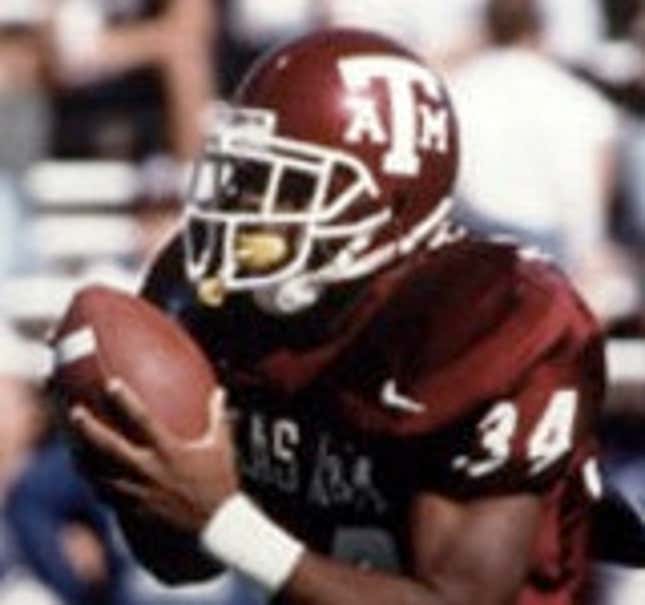 56. Leeland McElroy; running back; Cardinals; 1996-97: At the '96 Draft at Madison Square Garden, McElroy was the last player in attendance to be picked. Afterward, he gave the requisite "I'll prove everybody wrong" speech. True to his word, he proved everybody with the Cardinals wrong.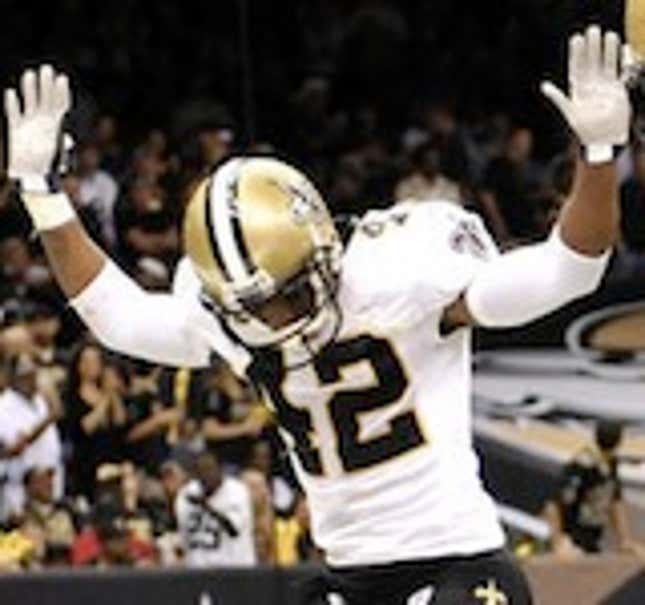 55. Jason David; cornerback; Colts, Saints; 2004-2008: Easily the lousiest cornerback of the 2000s, and a man whose 16 career interceptions can be chalked up to the old adage, "If they throw your way 30 times a game, you might catch one or two."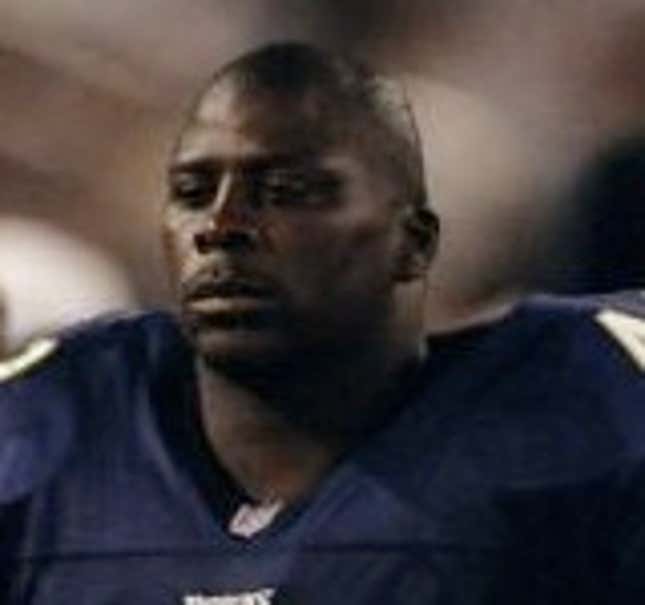 54. Roosevelt Potts; fullback; Colts, Dolphins, Ravens; 1993-98: Ran for 711 yards as a rookie with the Colts in 1993 before defenses learned that slow, immobile ball-carriers tend to stink.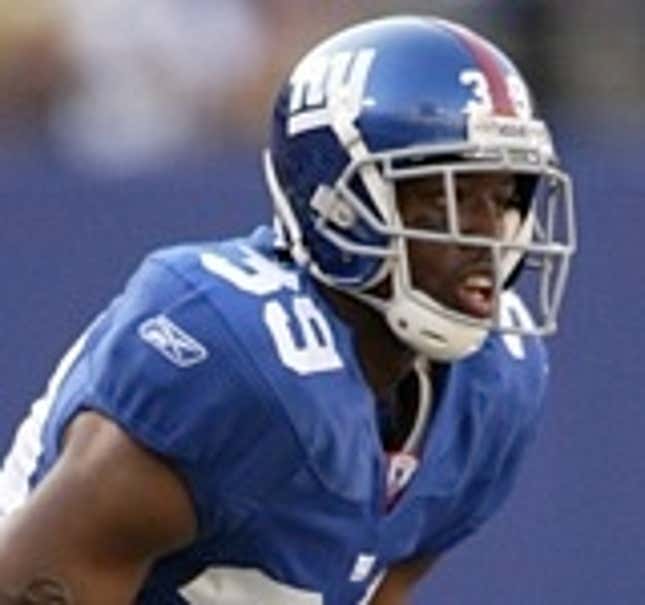 53. Curtis DeLoatch; cornerback; Giants, Saints, Panthers; 2004-07: Save for covering and tackling, awfully good.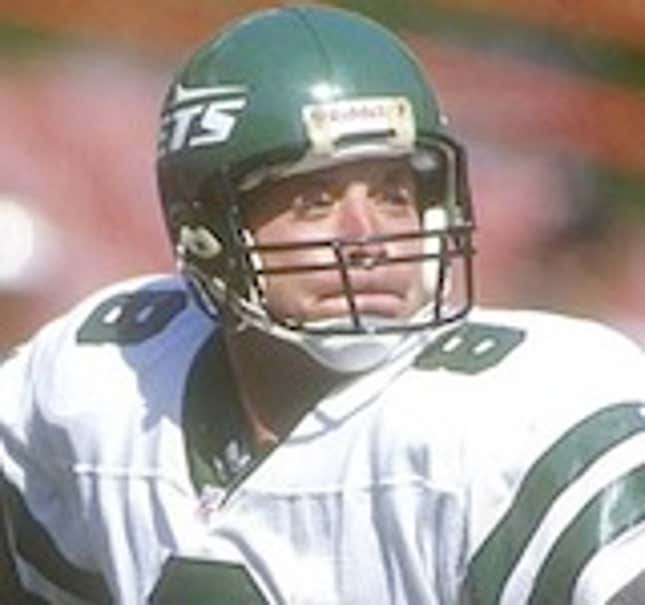 52. Browning Nagle; quarterback; Jets, Colts, Falcons; 1991-96: In the early 1990s, all Jet fans heard about was Nagle's big arm. Then, in 1992, he started 13 games, and his big arm — which really was quite big — had no touch or accuracy. Seven touchdowns, 17 picks, zero future.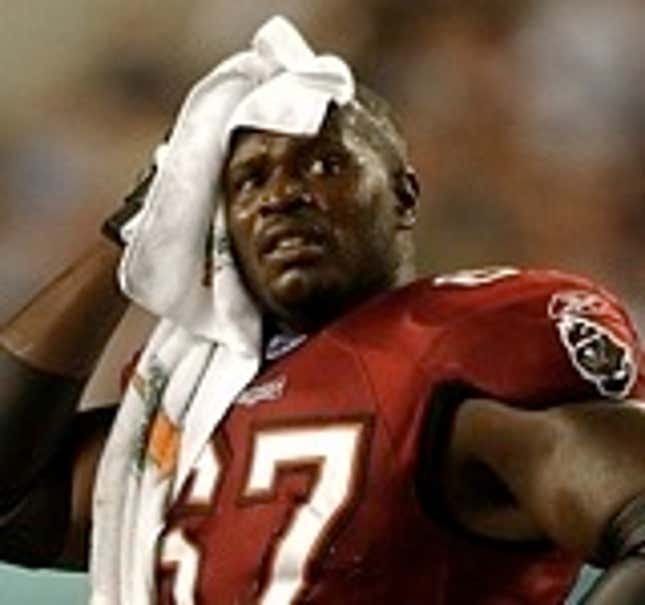 51. Kenyatta Walker; offensive tackle; Buccaneers; 2001-06: Once, while facing Julius Peppers, had three false starts called on the same down.


Part 2 is here.
Jeff Pearlman is a columnist for SI.com and the author of The Rocket That Fell to Earth: Roger Clemens and the Rage for Baseball Immortality and Boys Will Be Boys: The Glory Days and Party Nights of the Dallas Cowboys Dynasty. He can be reached at anngold22@gmail.com. Read his blog at jeffpearlman.com.
Top graphic by Jim Cooke.