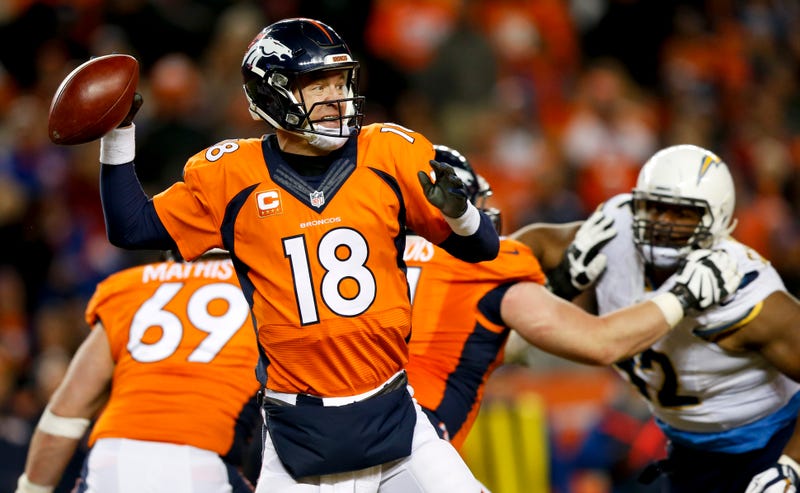 Active Sunday for the first time since Nov. 15, and serving as a backup for the first time in his career since 1994—when he was behind Todd Helton on Tennessee's depth chart—Peyton Manning spent the first half watching the Broncos turn the ball over and seemingly squander a chance to be the AFC's No. 1 seed before he got the first inkling he could get into the game. Head coach Gary Kubiak approached him during halftime, Manning said, and asked, "If we need you, can we put you in there?"
"I think I can go in there and do something," Manning replied. And he did...something. After coming in halfway through the third quarter, following Denver's fifth turnover, Manning wasn't great, and he wasn't bad. He threw just nine times, completing five passes for 69 yards. He was sacked once, didn't get picked, and led four scoring drives to turn a 13-7 deficit into a 27-20 win over the Chargers to give Denver homefield advantage through the playoffs.
"Just my gut told me to turn it over to [Manning] and let him lead the football team," Kubiak explained, and it must have been a tough call. Many of the Broncos' first-half woes weren't specifically Brock Osweiler's fault, and though Kubiak was noncommittal about his playoff QB plans, going to Manning feels irrevocable. They won't go back to Osweiler, not after the home crowd lost its mind for Manning's entrance, and not after the constant cutaways to Osweiler on the sideline, clapping stoically like an Oscar loser.
Manning's probably the right choice. Neither he nor Osweiler distinguished themselves statistically this season, but with all other things being equal (and I'm not certain they are), Manning's got the postseason experience. He's had six weeks to rest and will now get two more, which bodes well if his early-season struggles were solely due to his injuries. Then there's the supremely unquantifiable lift he brought to the Broncos' comeback. I don't know if I believe in momentum or sentiment or emotion, but several Broncos players explicitly said Manning's presence alone gave the team a lift.
"The cheers, the energy surge, it changed the whole atmosphere," defensive end Antonio Smith said. "It wasn't Brock's fault we were losing. But man, when those fans went wild, I knew nothing was going to stop us."
"It lifted the whole stadium, it lifted the O-line, the O-line got with it," cornerback Aqib Talib said. "I don't know if it was just his presence, but it was just a little energy came through the building."
It's a nice story, but it's tough to buy that having Manning under center meaningfully or permanently turned around Denver's offensive line play and run game. Or that that emotional lift will carry over to the divisional round, when the Broncos host either the Chiefs, Steelers, or Texans, the first two of which may be as good as anyone in the conference.
The Broncos' path to the No. 1 seed has been one of the stranger ones in recent history, and they constitute one of the more enigmatic championship contenders. That defense is still incredible. The offense, despite its holes on the line, remains capable of breaking big plays and scoring in bunches. The big question mark, the one that should determine just how deep Denver can go, is at the quarterback position. At least it seems clear now that Manning will be that QB. Which doesn't clear up a single bit of uncertainty.