Did Denver have a tremendous amount of faith in its defense? Did Denver have absolutely no faith in Peyton Manning? Chicken-and-egg, but either way it worked, and Denver won Super Bowl 50, 24-10.
Cam Newton was the most explosive player in the NFL this season, and the Panthers scored the most points in the league. Even against better quality opponents in the playoffs, they looked basically unstoppable. But just like they did two weeks ago against Tom Brady, Denver's front seven put the fear of god into Newton. He was an abysmal 18-41, was hit 11 times, sacked six times, fumbled away two balls, and was intercepted once.
The purest distillation of Newton's night occurred on 3rd-and-24 with just over two minutes remaining, and Carolina down 14. Absolutely needing to make something happen, Newton was chased out of the pocket and had to throw the ball away, and was flattened just after he released it. All he could do was rage impotently at the official for not throwing his flag.
Ever since Peyton Manning returned from a foot injury in Week 17, he has looked incredibly old and incredibly hobbled, and the Super Bowl was no exception. He wasn't even really able to manage the game Trent Dilfer-style, looking seconds away from throwing a lame duck interception every time he dropped back. But he only threw one, and didn't throw the game away.
G/O Media may get a commission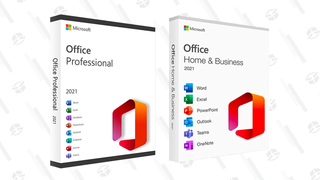 89% off
Microsoft Office Professional 2021 Lifetime License
Denver looked supremely comfortable going three-and-out on each possession, knowing their defense was unstoppable. And besides making Newton's night a living hell, the Denver defense scored one touchdown and forced a fumble at the four-yard-line to set up another. Von Miller, DeMarcus Ware, and kicker Brandon McManus were by far the most effective offensive weapons the Broncos had. Fittingly, Miller became the eighth defensive player to be named Super Bowl MVP.
To many it was a boring Super Bowl—it was certainly less exciting than the Patriots-Seahawks rumble from last year—and that's fair. Is there any play from this game you are going to remember even a month from now, let alone in a year or a decade? But it was also really fun to see two defenses absolutely crack two talented offenses, and watch for one of them to figure a solution out.
But neither could, and so Denver's terrifying defense won the game.
Photo via AP
---
E-mail: kevin.draper@deadspin.com | PGP key + fingerprint | DM: @kevinmdraper