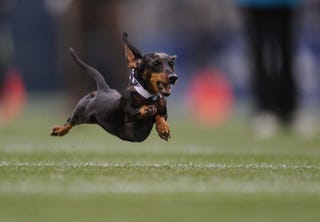 That's the sausage-shaped nugget dropped into this article on the ways the Cleveland game day experience will be changing this season.
Kevin Griffin, the team's new VP of marketing, is reportedly "all about this one." And why not! Dachshunds are the fifth-most-hilarious of all dog breeds when running (behind, obviously, Bloodhounds, Boxers, French Bulldogs, and Komondors).
Because we're not all lucky enough to get to Browns games, here's a bunch of Dachshund races. Godspeed, little wieners.
Holy shit, I hope Fox Sports 1 televises nothing but wiener dog races.