This is the totally true* story of Danny, a 24-year-old Canucks fan who on the spur of the moment decided to drive from Vancouver to San Jose for Game 4 of the Western Conference Finals, and ended up wandering the streets in a hospital gown with no memory of the preceding nine hours.
*Events have been reconstructed to the best of our abilities through the help of Danny's friends, other fans present, the Canucks, and a day-after collection of cell phone photos.
Here is Danny's story, in his own words.
Act 1: The Idea
Saturday, May 21: 8 p.m.
After working all day, Cody, David, and I decide we are going to go to a bar in downtown Vancouver. Our friend Jared dropped us off at the bar we usually go to, we walked in and there was about three people inside and they were playing weird music so we decided it was no good and we wanted to leave and go to another bar across town. I call Jared to come back and get us, which he does. On the drive across town we decide that it would be more fun to go to a casino rather than the bar.
Jared says that if we are going to go to a casino we might as well go to the States.
Cody says that if we are going to go to a casino in the States we might as well drive straight to San Jose for the Canucks game.
G/O Media may get a commission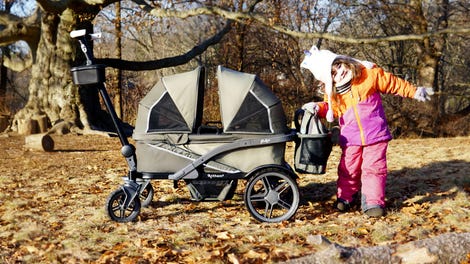 30% off
The Anthem All-Terrain Stroller Wagon Adventure Bundle
Go everywhere with your kids
This must-have bundle nets you either of Gladly's award-winning Anthem2 or Anthem4 All-Terrain Stroller Wagons as well as must-have accessories like a parent cupholder, a removable storage basket, extra-large canopies, a nap system, quilted comfort seats, a cooler bag with a padded shoulder strap, and a travel bag.
After a quick Google search we figure that we can make it in 15 hours if we go now and don't stop except to get gas.
9 p.m.
We arrive at the border. We have nothing but the clothes on our backs, our passports, and a keen sense of adventure. The border guard lets us through with no problem and the adventure begins.
11:25 p.m.
Drive through Seattle.
Sunday, May 22: 2 a.m.
Drive through Portland.
6 a.m.
Enter California.
8:30 a.m.
Cody gets on Craigslist and starts looking for tickets. We arrange to meet a guy who has four tickets in a row for $190 each.
Act 2: The Party
11:48 a.m.
We arrive at HP Pavilion, aka "the Shark Tank," 12 minutes before the game is supposed to start.
Noon
Grab two beers — Budweisers because drinking light beer in Canada is not cool — and go find our seats. It is by far the loudest arena I have ever been in, with Canucks fans everywhere. It is like a cult. People are chanting and waving towels, and we are all looking at each other in shock that we actually made it to the rink for this. The intermission comes, and we go to grab more beers. Some lady gives us a handful of tickets for free drinks. We slam the drink we have already bought and reload for free. I am feeling like a Greek god.
The Canucks decide to turn up the heat during the second period, which ends with Vancouver leading 3-0. We go back downstairs and grab more free beers. We are high-fiving every Canucks fan in the building.
3 p.m.
Game ends, and the Canucks win 4-2. We walk outside and there are Canucks fans everywhere. Instant party atmosphere. We walk around for a few minutes and soak it in, then hop on a rickshaw. We tell the lady driving to take us to wherever the Canucks fans go to party.
3:15 p.m.
Arrive at some bar the name of which I still do not know [Ed note: The Old Wagon, the unofficial Canucks fan headquarters in San Jose]. I see two guys from the golf course I work at, and they're at the best table in the house. We go and sit with them. Guy who was sitting near us at the game brings over a tray of Jägerbombs which we promptly slam. Jared makes himself the bar's official greeter. He stands at the door shaking hands with every person who walks in. People keep bringing us free drinks. Somebody hands me the strongest vodka-cran ever poured.
We see a limo pull up to the bar and out steps Francesco Aquilini, the owner of the Vancouver Canucks, his two buddies, and the three hottest girls I have ever seen. They walk in and for whatever reason are drawn to us. We offer them a seat at our table and they sit with us.
3:30 p.m.
The girls that came in with the Canucks brass think we are cool and continue to sit with us. One of the guys brings over a bottle of Patron and 20 shot glasses and fills them all up. This is the very last thing I remember. Everything else my buddies filled me in on the next day.
I grab a shot and spill it on one of the girls. She yells "party foul" and says I have to take a shot. I down it. She says "again." I down another shot. She says "again." I down another shot. In the end I did six or seven shots of tequila straight. Keep in mind that I've already drunk seven tallboys, a Jägerbomb, and at least a triple vodka-cran, and I haven't eaten or slept in 36 hours.
We tell Aquilini's friend our story of how we got to the game. He thinks it's the coolest thing ever and tells Francesco our story about five times (he has been drinking as well). They all think it's pretty awesome that we drove straight down, so they get our names, and tell us there will be tickets for us at will call for Game 5 back in Vancouver in two days. They ask how we are getting home from San Jose. Jared tells them that we drove down and are going to drive home again in the morning. This answer is unacceptable. They insist we get on the airplane with them. We say we can't because Jared's car is in San Jose. Their solution is to buy Jared a new car once we get back to Vancouver. Jared and Cody stand and debate whether they should actually get in the limo with them. At this point I am sitting at the bar in a half-comatose state. Aquilini and his entourage leave. We think we are legends.
Act 3: The Gathering Darkness
4 p.m.
I start to take a turn for the worse. Dave and Cody carry me outside where I fall flat on my face and start puking. People are taking pictures and videos, and Jared tries to fight some guys who are taking videos of me. They pile me into a cab and leave Jared at the bar because he's found some kids he wants to play football with. Davy and Cody tell the cab driver to take us to the closest hotel, which is the Arena Hotel, in walking distance of HP Pavilion. I fall out of the cab and Davy goes to get a hotel room while Cody sits with me in the parking lot. They pull me into the hotel where I collapse again and start convulsing. The lady at the hotel says she is calling the hospital, and Davy and Cody agree with her assessment.
At this point I have puked everywhere and pissed myself. Davy and Cody get my clothes off and pump my stomach. Two paramedics and four firefighters show up. For some reason, I resist. They strap me to a stretcher, and I continue to lose my shit. Davy and Cody try to stop them from taking me to the hospital. The paramedic tells them that they can sign for me to stay with them but if I die they will be charged with involuntary manslaughter. They let the paramedics take me to the hospital.
9 p.m.
Dave and Cody come to try and pick me up from the hospital. They cannot get me to wake up. The doctor punches me in the chest, slaps me in the face, and pours water on me, to no response. Dave and Cody leave me at the hospital. They leave their phone number with my nurse and tell her to call them when I wake up.
Monday, May 23: ??? a.m.
I wake up in the hospital. I sit up in my bed, and the whole emergency ward looks at me like I've risen from the dead. I have no idea where I am. A nurse and a paramedic walk to me and they are both laughing. I ask the nurse where I am. She says I am in a hospital. I say no shit, but really — where am I? The Santa Clara Medical Clinic. I ask why I am there and what happened. The paramedic goes on to tell me exactly what I had to drink and that I was the drunkest person he'd ever seen. He says it was pretty impressive since Santa Clara is a college town. I tell him we were drinking with the owner of the Canucks. He laughs and calls me a liar. At that point I'm not even sure if it's true or not.
I ask when I can leave. They tell me I can't do anything until I can walk. The nurse removes my IV, and I stand up and take some steps. She tells me to lie down for five minutes and gives me a glass of juice and a sandwich. I am wearing socks, boxers, and a hospital gown. I ask the nurse for my clothes. She says I don't have any because I came in wearing only my boxers and socks.
I walk to the phone and try to call Jared and Cody. No answer. The nurse hands me an alcohol awareness pamphlet on which is written that my friends are staying at the Arena Hotel, room 238. I ask how far it is to walk to my hotel. The nurse tells me about six miles but because I don't have any shoes or clothes she can't let me leave. She tells me to go sit in the lobby. I wait about 20 minutes, then go back in and try to call my friends again. No answer again. I say fuck it. I walk back to the waiting room, wait for the nurse at the desk to look away, and walk out the front door.
I walk to the main road and turn right. Seems like the right thing to do. Walk for about a mile and see some guy delivering bread to a restaurant. Ask him where the arena is. He tells me about five miles away, gives me some basic directions, and sets me on my way. A lady stops me about a mile from the hotel and asks if I am the kid wandering around in a pillowcase. I say sure. She says she has been listening to the police scanner and the cops are looking for me. I continue toward the hotel.
Act 4: The Escape
3:38 a.m.
After maybe three hours I get to our hotel. I knock on the door and Jared answers it. The boys start laughing because I am standing at the door wearing a hospital gown and they have no idea how I actually got there. I tell them the police are looking for me and it's probably a good idea for us to leave. We gather up our shit and hit the road. They have my shoes but we cannot find my shirt or pants, which is fine because they are covered in piss and vomit. Luckily, my phone, wallet, and passport are on the nightstand. We hop in the car and start home. I am still only in a hospital gown.
6:30 a.m.
We stop at a McDonald's for breakfast. I am still only in my gown and have bandages and shit taped to me. I go into a truck stop and buy new shorts.
8 a.m.
Cody gets a text from the girl I spilled a drink on saying that they have our names and our tickets are at will call if we are going to make it back on time for Game 5. We are astonished that this is actually happening but figure we are the coolest guys in the world right now.
8:08 a.m.
We learn our photo is up on the Canucks web site. We cross the border and get back into Canada. No problems getting through even though I'm thinking I may have done something illegal.
I may have a massive hospital bill, too. But I'm alive so I guess that's cool. This was probably the best bad idea we ever had.
Postscript: Game 5
Tuesday, May 24: 5 p.m.
Game 5 is unreal. We have our doubts the tickets will be there, but when we get to will call and give our names, the kid behind the window gets this weird look on his face, walks to a file cabinet, walks back with an envelope, and says, "Do you know who gave you these tickets?"
Cody says, "Mr. Aquilini!"
Then the kid just shakes his head, laughs, and hands them over.