I'm sorry, what? The Caps spanked the Lightning last night. That's two consecutive spankings! What is going on here? It would be a little too psychologically neat to posit that all the Ovechkin-era Capitals ever needed was to be underdogs, finally without pressure. Or that once they were finally able to dispatch their arch-nemesis Penguins, everything after that is just gravy. But something is happening here.

"You're on the road," Washington coach Barry Trotz said, "and it's us against them, and this group has really bonded. They've got a lot of resiliency, and they're having fun."
The Capitals beat the Lightning 6-2 in Tampa to head back home up 2-0 in the Eastern Conference Final. After a sharp first period, the Lightning allowed five unanswered goals and the crowd peaced out en masse midway through the third. For whatever demons the Caps finally shed by making it this far, it doesn't fully explain why the Lightning—the clear best team in the East for pretty much the entire season up to this point—are playing like ... well, like the Caps of postseasons past: high-strung; disorganized; seemingly convinced that the worst is going to happen, thus inviting said worst to happen.
Such as Andrei Vasilevskiy accidentally directing a cross-ice feed into his own net, with three seconds left before the end of the second period. (And, given how things are going, I'm certain that if Vasilevskiy had let it go, Ryan McDonagh would have gotten a stick on it for the own-goal.)
G/O Media may get a commission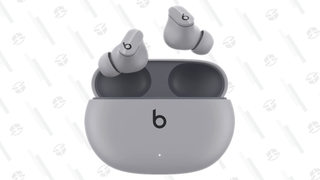 "We've played tentative and a little bit slow," Jon Cooper said. "We have so much more in us and we're just not getting it out for whatever reason," Anton Stralman said.
From the other locker room, Brett Connolly observed, "they look like they're frustrated a little bit over there."
That's manifested in some very unlevel ice. Tampa, playing tight, has given up a ton of rushes while earning very few the other way. Here is just about the scariest thing a goalie can see coming at him:
Vasilevskiy has not been good. It's certainly not been all his fault—see the goal directly above—but the Capitals are easily winning the goaltending battle. (Cooper has already said Vasilevskiy will start Game 3, but I would presume on a relatively short leash.) And remember, Vasilevskiy is the East's only Vezina finalist while Braden Holtby was benched to start the playoffs. Everything is going the Caps' way.
And the scorers are taking advantage. Alex Ovechkin had a goal and an assist on Sunday. Kuznetsov had a goal and two assists. But the emergent hero has been Lars Eller, pressed into the unenviable role of having to replace Nicklas Backstrom, still nursing an injured hand.
Eller, who has stepped up to center Washington's second line and its top power-play unit (which is three for seven in this series), has five goals and six assists in these playoffs—three of each since Backstrom was hurt in Game 5 of the Pittsburgh series. He led all Caps forwards in minutes in these first two games, and is thriving alongside T.J. Oshie and Jakub Vrana. Funny what happens when a guy gets to play with better wingers, though Eller understands that given how stacked Washington is at center, the third line is his lot. He's been paying attention, though:
"If you're around the best players all the time and you have the right mind-set, that you want to learn, then you're going to become a good player," Eller said. "Just being here and watching Backstrom and Kuznetsov the last two years, I learned a ton. I learned a ton. It was not from talking and getting tips or that kind of stuff, but just the way the play, the calmness they have to their game and the decision-making. I always thought I had good abilities, but it's about learning how to use those abilities to your best and just watching those guys has been a help for my game."
The bounces and big plays are going to Washington, and the Lightning have looked too far back on their heels to reverse things. And now the series moves to D.C. for Tuesday's Game 3, where the crowd is going to be preposterous. After Pittsburgh, the refrain in the locker room was about being halfway to a Cup. Now it's about being halfway (in this series) to a Cup final. If it feels like this is postseason as Zeno's paradox, that's what happens when you don't dare consider where this might all be leading—but keep winning anyway.