Four days ago, this Kickstarter campaign from "Dirty Bird Sports" popped up on the project-funding platform. The name is a reference to former Atlanta Falcons running back Jamal Anderson, the project's apparent patron, whose "Dirty Bird" touchdown dance was a fixture of the Falcons' 1998-99 Super Bowl run.
Asking for $500,000 in capital funding, the collaboration with Jam Entertainment (Anderson's company) promised to deliver a challenger to EA's popular NCAA Football video game franchise. Perks for investors included dinner with "co-owner" Jamal Anderson, a chance to play-test the game, or a signed helmet from former Ohio State greats Archie Griffin, Eddie George, or Jim Tressel. The promotional copy suggested the game would be different from EA's offering, thanks to the participation of former college and pro football players, and would feature every college football team—including NAIA squads—and the highest-quality 3-D models ever seen.
That is, of course, if you believe the Kickstarter page, which asserts that the graphics actually come from the game. They don't. In fact, the funding campaign was canceled earlier today, shortly after we spoke with Anderson. He told us he had nothing to do with the project and no connection to Dirty Bird Sports.
At the time it was canceled, the campaign, titled "NCAA Football Game for Xbox 360 & Playstation 3," had 13 investors and $685 in total contributions, a long way from the $500,000 goal. The page promoting the new video game contained a number of images "taken from game," but a little googling shows that they all came from various sites on which 3D modeling artists sell their work. Specifically, the "NCAA D3 Stadium" comes from here, "Generic Stadium" from here, "True To Life Banners" from here, "Detailed Helmets" from here, "Accurate Campus Backgrounds" and "Ultra Detailed Stadiums" from here, "Gameball" from here, and the final two (NFL!) models from here.
G/O Media may get a commission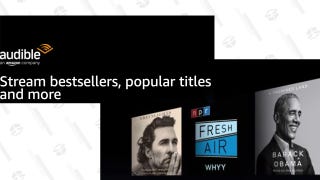 FREE
Audible Premium Plus 3-Month Free Trial
We reached out to some of the artists who created these 3D models and asked if they had any affiliation with Jam Entertainment or Dirty Bird Sports. Artist Josh King, who created the top image in the Kickstarter page, assured us that he had never heard of the game or Dirty Bird Sports. He also confirmed the 3D model he had created had not been purchased any time recently. And even if Dirty Bird Sports had purchased the model, an in-game screenshot would look vastly different from the preview provided on the artist's website.
Anderson acknowledged that he'd had a conversation with an associate—"this guy I know ... somebody not close to me"—about the project, but he said he never signed on to anything, never approved the use of his likeness in the Kickstarter campaign, and is not a co-owner of any video-game-development franchise. Indeed, Anderson told us, he'd had conversations already about hooking up with already-established video-game companies. He declined to name the guy.
Whoever he was, it's a wonder he found any marks at all. The Kickstarter offered various perks for investment that could never actually be delivered. It's entirely possible this individual dreams of one day putting together an NCAA football video game, but it most certainly will not be on PS3 or Xbox360 as the Kickstarter asserts; by the time a new NCAA football property could come to market, those systems would be long gone.
Poor Jamal Anderson, whose post-playing career has been one shabby thing after another. A cocaine arrest. A DUI. A stint on ESPN that never went anywhere. A showdown with the IRS and the loss of his mansion in a foreclosure auction. And now there's "NCAA Football Game for Xbox 360 & Playstation 3": a video-game alternative for which no one was clamoring made by a company that doesn't exist backed by a demi-celebrity who wasn't actually backing anything, marketed with images stolen from other websites. Even now, everything with this guy is just so much futile flapping of wings.