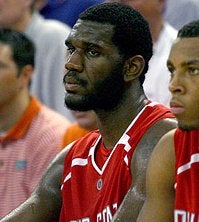 So, that Greg Oden vs. Florida's defending national championship frontcourt matchup that seemed so appealing yesterday... that never really materialized. At least, not in any kind of a way that Greg Oden enjoyed. That Florida won wasn't the surprising part, but rather, how thoroughly Florida beat that ass. The final was 86-60 in favor of Florida, and Oden was never a factor.
Elsewhere on the college hardwood, Bob Knight got his record-tying 879th win yesterday over a decent Bucknell squad. His first chance to break the record will come on December 28th at home against UNLV.
Oh, and Wichita State was SHOCKED AGAIN! The shocking shock of a loss for the Shockers came at the hands of the shockingly-good USC Trojans. USC's Nick Young had a shocking 24 points, and celebrated by doing some shocking of a different kind. Frankly, I'm shocked.
Every other active team in the Top 25 rolled, including UCLA, Wisconsin, Pitt, Alabama, Kansas, LSU, Memphis, Clemson, Oregon, and Michigan State.
College Basketball Scoreboard [ESPN.com]