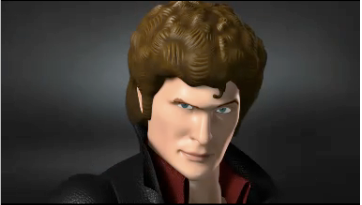 The Hoff's career is studded with with iconic moments—his rockin' crusade to unite East and West Germany, every chest-pelt-centric Baywatch episode, his stint as a Wendy's spokesman— and this Sunday Comedy Central will remind you of these special times.
Hosted by Family Guy's Seth McFarlane, and an insult support team that includes Pamela Anderson, Jerry Springer and Hulk Hogan, The Comedy Central Roast of David Hasselhoff is bound to be a scorcher. Fortunately, not only does The Hoff have thick skin, he also has that luxuriously impenetrable chest hair to help deflect the zingers.
Here's a taste of the hilarity to come, and don't forget to tune in to Comedy Central on Sunday, August 15 at 10/9c for The Comedy Central Roast of David Hasselhoff. Nothing is Hoff limits!
Don't watch the roast alone! Join Roast Watch, a live Twitter event starting a half hour before the show and continuing for the duration. Max Silvestri, Gabe Delahaye, Sara Schaefer, and Joe Mande will be on a live video feed together, watching the Roast and Tweeting their hearts out. Follow along with @ComedyCentral and use the hashtag #Hoff.