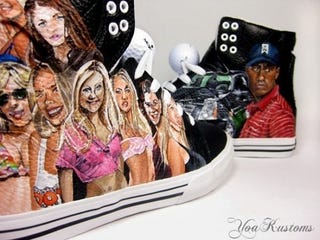 Because no one reads the newspaper, and SportsCenter's anchors are too perky for this early in the morning, Deadspin combs the best of the broadsheets and the blogosphere to bring you everything you need to know to start your day.
• The Spurs dispatched Dirk Nowitzki to a long offseason of Teutonic handwringing and golf. Afterward, Mark Cuban said: "I'm not proud of the NBA. I'm not proud of my inability over the last 10 years to have an impact like I want to have. So I kind of feel like I owe fans an apology. But that's just the way this business goes." David Stern fined him $50,000 before he even got to "proud."
• The Capitals' Brooks Laich helped change a tire after losing Game 7.
• The NCAA's board of directors approved the 68-team men's basketball tournament, and I remain astounded by the outfit's sneaky brilliance in pushing this expansion through.
• Derby favorite Lookin At Lucky gets a bad draw and winds up on the rail. Adjust your boxed trifectas accordingly.
• Our pals at Sparty and Friends have put together a handy Derby primer, touching on such subjects as: how to lose your shirt on the Derby, how to get drunk during the Derby, and what to wear on your head during the Derby.
• Here's an awesome video of my boyhood hero Mike Royko, the great Chicago columnist, talking about softball:
Image via The Shoe Buff