When a championship is decided under circumstances as historic as those that saw the Chicago Cubs claim their first World Series title in 108 years, the impossible becomes overdetermined. The evaporation of a 3-1 series lead leaves behind chokers, miraculous individual feats, and moments of immense luck and misfortune, and any of them can be adduced as the reason why it all happened.

The most incredible thing about this World Series, then, may be that after all of it, the Cubs—who entered the series carrying 108 years worth of pressure, played through a Game 7 in which their manager made decisions between hits of PCP, and saw their bulletproof closer crumble—feel like the most logical of winners.
It's a little crazy to consider that after winning Game 5 at home, the Cubs were going on the road to play two more elimination games with the upper hand in just about every spot on the field. The only cards the Indians had to play in those final two games were Josh Tomlin, a spectacular but overworked bullpen, and Corey Kluber making his third start in nine days. Meanwhile, the Cubs countered with a Cy Young winner and the reigning National League ERA titlist, Aroldis Chapman, and a lineup in which the biggest holes were occupied by an all-world defender who was worth a $184 million contract not so long ago and a power-hitting infielder who had just won the NLCS MVP. They also had the reincarnation of Jim Thome sitting there on the bench, ready to resume his duties as the DH.
The team that's clawing back from a 3-1 deficit is supposed to be the desperate one, but even as things unraveled for Chapman in the eighth inning and the rain came to inject a little chaos into the evening, the Cubs were steadied by their sheer talent and depth. Cleveland needed a two-run bomb from an 11-year veteran with 55 career homers to stay in the game, and although the Cubs did get a mini-miracle of their own with David Ross's solo shot, they eventually prevailed behind the unrelenting strength of the lineup. Everyone in that lineup did damage last night, and it offered no combination of hitters that allowed Indians fans to say, "Okay, well, next inning should be easy to get through." The Indians, on the other hand, had to turn to one of the worst hitters in history for their final at-bat.
There's always been a frustrating tension between baseball's regular season and postseason. No team can avoid revealing its true identity over the course of 162 games, but there have been many teams that have ridden patchwork pitching staffs, unexpected hot streaks, and gimmicky strengths to victory in the playoffs. This is unavoidable, but sometimes it's frustrating to see a clearly superior team eliminated because Jeff fucking Weaver suddenly decided to start pitching like a god.
G/O Media may get a commission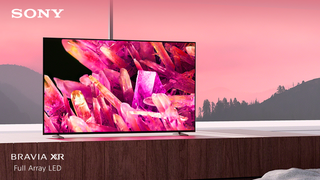 $400 off
Sony 55 Inch 4K Ultra HD TV X90K Series
The Cubs were just too damn good to let that happen, and all the calamities that surely would have undone a lesser team—Chapman's meltdown, Maddon's mistakes, Heyward's disappearance—were neutralized by a collection of extremely good baseball players. That is what's most remarkable about the Cubs' World Series victory—not that they overcame the long odds and erased 108 years of failure, but that they did so simply by being so good that the odds and the history ceased to matter.