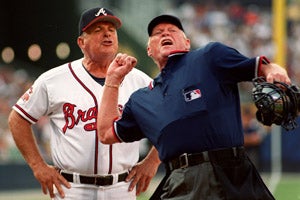 Something seems amiss today. We can't quite put our finger on it ... a great disturbance in The Force, like a million baseball fans crying out at once. So we did what we always do when world events confuse us; we headed over to Wikipedia. And sure enough:
On September 13, 2006 (the game actually started on September 12 but ended after midnight due to a rain delay), the New York Mets' win over the Florida Marlins mathematically eliminated the Atlanta Braves from winning the NL East, finally ending the Braves' record streak of consecutive division titles at 14.
Man, that was fast.
So we couldn't let the day go by without noting this changing of the guard; the burying of the hatchet, as it were. We feel like we're witnessing history, like we are present for the invention of the motorcar, or the addition of another Spice Girl. Fittingly, it rained the day that Atlanta was eliminated, their scheduled game with the Phillies postponed, perhaps forever.
Do you realize there are 15-year-olds who have never seen a Mets NL East title? Party on, New York (thou Magic Number is "3". Meanwhile, over at Braves Tomahawk, there is still a degree of denial:
The Braves will now host the Phillies, and Kyle Davies will pitch against Randy Wolf. The Braves elimination number from the division race is one.
No, my friends. The dance, she is over. The king is dead.
It Was Just A feeling In the Spring [Atlanta Journal Constitution]
Mets 6, Marlins 4 [MetsBlog]
(UPDATE: Look at all that has happened since the Braves last didn't win the division.)