This week's Deadcast guest is the guy who RUINED Deadspin, your editor AJ Daulerio. (Listen here, iTunes here.) And he brings news with him. That news? YOU'RE ALL BANNED AND YOU'LL NEVER KNOW WHY.
The best sports movies according to Toheeb Jimoh
No, no. I kid. No, the news is that, on September 16th, Deadspin will be taken over for the day by Michael Schur, Alan Yang, and Dave King, better known as Ken Tremendous, Junior and dak from the legendary Fire Joe Morgan (Daulerio says it's 9/12 in the podcast, but he fucked up). And they'll be doing all sorts of great Fire Joe Morgan things, like systematically breaking down all the ways that Joe Morgan is a fucking idiot. So that's nice.
Otherwise, this week's podcast features AJ and I talking about upcoming events in the fall and making predictions Cultural Oddsmaker style. Here are some of the questions we tackle:
Where will Erin Andrews make her next television appearance? Does Brazzers count?
G/O Media may get a commission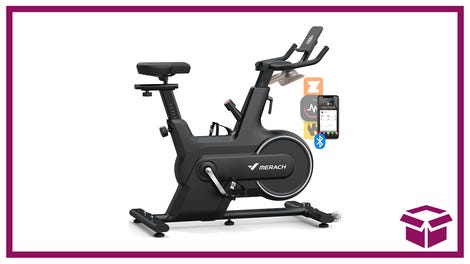 14% off + Coupon
Merach Indoor Cycling Bike
Who's the Super Bowl favorite?
How will Leno's show do?
What's the next celebrity death?
Who will be the #1 college team in October?
Who will win the World Series?
What's the next crazy thing Whitlock will say to get noticed?
From there, we branch out and also track down answers to these other, non-vital questions:
What's the first movie and/or TV show we jacked off to?
How much does Chris Connelly know about Tupac's murder?
Why did AJ buy a mattress full of bees off of Craigslist?
Why does AJ live next to a plant that manufactures garbage trucks?
This week's Deadcast is available for your listening pleasure right here. You can also find the new Deadcast in the iTunes Music Store here. No Deadcast next week. I'm on vacation. Got a question you want read over the air for the week after? Send it to me here. Special thanks to Liberated Syndication for hosting us. Now sit back, relax, and listen as Daulerio admits that he laughs at Jaywalking.