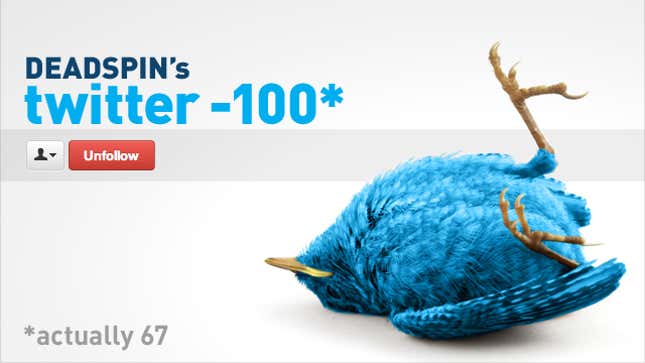 Earlier this week, SI.com published its Twitter 100, a list of Twitter feeds that Sports Illustrated staffers considered "essential to their daily routine for finding news, information and entertainment from the sports world."
Today, we offer a counterpoint: The Deadspin Twitter -100*, our list of the 67 worst sports-related Twitter accounts. We adhered to no criteria while compiling this list, and we did not work exceptionally hard on it. Hope you hate these Twitter feeds as much as we do.
1. Joe Cowley (@cst_Cowley), columnist
Sexist piece of shit whose Twitter avatar makes him look like a violent half-wit.
2. Rick Reilly (@ReillyRick), columnist
Everything you despise about Reilly, condensed into one tiny, loathsome space.
3. Mike Soltys (@espnmikes), ESPN PR flack
Pravda central. Proud, humorless, and beyond reproach.
4. Gregg Doyel (@GreggDoyelCBS), columnist
What's worse than a troll with a national platform? A troll with a national platform who keeps tucking his tail between his legs on Twitter.
5. Hockeyy Insiderr (@HockeyyInsiderr), rumormonger
Painfully fake NHL rumors combined with screenshots that are photographs of his computer screen. No wonder 30,000 have been fooled.
6. Stephen A. Smith (@stephenasmith), screaming head
Peeps got jokes.
7. Bruce Arthur (@bruce_arthur), columnist
Handwringer. Lobs milquetoast commentary from the ramparts of every easily defended position in sports. "Canada's best sportswriter."
8. Jim Irsay (@JimIrsay), NFL owner
Drunk. Can we say drunk? Big drunk.
9. Peter King (@SI_PeterKing), columnist
This man still doesn't know how to properly answer fanmail on Twitter. You answer FIRST, then RT the question. Otherwise ... CHAOS.
10. Jason McIntyre (@TheBigLead), blogger
The type of person who ruins jokes, hits "reply all" on emails, and wears the band's T-shirt to their concert.
11. Sarah Phillips (@SarahPhilli), scammer
Our old grifter friend still sends out meaningless sports tweets and (still) deletes half of them.
12. Not Bill Walton (@NotBillWalton), parody account
Hey, Bill Walton is a blowhard. It'll be super-funny to make lame jokes in a blowhard voice, right? Right?
13. Faux John Madden (@FauxJohnMadden), parody account
Unfunny jokes that you probably heard in a slightly different format minutes earlier.
14. Spencer Hawes (@spencerhawes00), Philadelphia 76ers center
Man who is rich because he won the genetic lottery is concerned about socialism ruining his country.
15. Paul Bissonette (@BizNasty2point0), pro hockey player
Meathead who isn't half as funny as he thinks he is. No one could be as funny as he thinks he is.
16. LeBron James (@KingJames), Miami Heat small forward
People who use Twitter just to Instagram pictures of their food are the worst. LeBron James is one of those people.
17. LaVar Arrington (@lavarArrington) radio host, former NFL linebacker
Retweeted compliments, all-caps babbling, and a quick block on anyone who dares question his football knowledge.
18. Arian Foster (@ArianFoster), Houston Texans running back
The NFL's leading faux-intellectual. Some of his tweets might be thought-provoking if they weren't trying so hard to be thought-provoking.
19. Floyd Mayweather (@FloydMayweather), professional boxer
Oh, you bet another exorbitant amount of money on a meaningless sporting event? Thanks for the update, Floyd.
20. Skip Bayless (@realskipbayless), professional troll
A man who somehow succeeds at being worse than the countless parody accounts of him.
21. Roddy White (@roddywhitetv), Atlanta Falcons wide receiver
He's seeking the answers to life's most pressing questions.
22. Dont'a Hightower (@zeus30hightower), New England Patriots linebacker
Murderer of pizza rolls.
23. Dan Gilbert (@cavsdan), Cleveland Cavaliers owner
A constant reminder that in America, a bumbling old man can become a millionaire and own an NBA franchise.
24. Craig James (@craigjames32), alleged mass murderer
Now he's murdering the English language.
25. Chris Broussard (@Chris_Broussard), NBA reporter
Sources close to Chris Broussard confirm that Chris Broussard can't be bothered to credit anyone other than Chris Broussard.
26. Warren Sapp (@warrensapp), former defensive lineman, NFL Network analyst
If Warren Sapp's account came up to you at a party, you'd lie about having to go to the bathroom in order to get away from it.
27. Jon Heyman (@JonHeymanCBS), baseball insider
Thin-skinned and incapable of proper capitalization. Has a feud with Buster Olney, which is like having a feud with your milkman.
28. Keith Law (@keithlaw), baseball writer
Has Olbermannic tendency to engage with trolls via manual RT.
29. Mike Wilbon (@RealMikeWilbon), ESPN personality
Still treats Twitter as if you're lucky he deigns to be on it.
30. Major League Baseball (@MLB), official Twitter account of Major League Baseball
This account is run by a secret cabal of the lamest dads in America.
31. Lynn Hoppes (@lhoppes), plagiarist
Twitter Inc. is based in San Francisco, with additional servers and offices in New York City, Boston, and San Antonio.
32. Jay Paterno (@JayPaterno), self-deluder
Your drunk, uninvited uncle at the dinner table who's always trying to change the subject.
33. Sports By Brooks (@SPORTSbyBROOKS), internet guy
Single-note microtweeter. Chief Inspector Brooks will crack this Penn State case wide open, in 140 characters or less.
34. Chris Jones (@MySecondEmpire), magazine writer with a capital W
"Let me tell you folks about the agony and ecstasy of a little craft I like to call... WRITING." Tweets thank-yous to admirers like he's signing autographs outside Toots Shor's.
35. Tom Scocca (@tomscocca), Deadspin managing editor
Random subway-lunatic screaming fits, trivial whining, and petty, condescending feuds. Uses hostile retweets as one drawn-out humblebrag.
36. Rampage Jackson (@Rampage4Real), UFC fighter
Sad that a good fighting nickname is wasted on an attention-needing creep.
37. Joe Rogan (@joerogan), comedian, UFC personality
None of you can handle his scathing views on everything! He tells it like it is. Or he's just shitty. Either one.
38. Chad Dukes (@Chaddukes), radio host
Arrington's meathead radio partner. His old Twitter background was him pointing a gun at you.
39. Ryan Lochte (@ryanlochte), Olympic swimmer, epic bro
May as well just tweet dialogue from old episodes of Laguna Beach.
40. Mike Greenberg (@ESPNGreeny), ESPN radio host
ESPN's answer to the DJ 3000. Those clowns at the BCS did it again. What a bunch of clowns.
41. Mark Schlereth (@markschlereth), ESPN NFL analyst
Talks to players on Twitter during games as if they can actually hear him.
42. Eric Stangel (@EricStangel), head writer for The Late Show

The world's most obvious sports jokes, expertly designed to be retweeted by 70-year-old newspaper columnists.
43. David Portnoy (@stoolpresidente), proprietor of Barstool Sports
Spews Boston-tinged diarrhea that New England college bros eagerly lap up to regurgitate later while taking pickup hoops too seriously.
44. Frank Isola (@FisolaNYDN), Knicks beat writer
As bitter as he is excitable. Declares games over after two minutes of the first quarter. Will not stop telling you about that time he saw James Dolan's car.
45. Dan Levy (@DanLevyThinks), lead writer at Bleacher Report
Self-appointed ombudsman of everything.
46. Peter Gammons (@pgammo), baseball writer
Pppppp f//
47. Ethan Sherwood Strauss (@sherwoodstrauss), NBA writer
Seems to regard Twitter as a massive graduate-level semiotics seminar. Excuses dumb comments by saying he's just "starting a conversation."
48. Jon Morosi (@jonmorosi), baseball writer
Baseball writers can be an insufferable bunch (see: Heyman, Jon), but Ken Rosenthal's smirky sidekick beats out all comers.
49. Matthew Cerrone (@matthewcerrone), director of digital media for SNY
Demonstrates social media expertise by asking people why they unfollowed, the Twitter equivalent of handing out a post-date questionnaire.
50. Incarcerated Bob (@incarceratedbob)
WFAN caller who guaranteed LeBron signing with the Knicks. Earned his nickname after he punched a Pats fan, which shouldn't even be illegal.
51. King Kaufman (@king_kaufman), writer-program manager at Bleacher Report
Once-great columnist now d/b/a as Bleacher Report's designated mouthpiece. Wears inferiority complex as if it were a handlebar mustache.
52. Bethlehem Shoals (@FreeDarko), founder of FreeDarko.com, co-founder of The Classical
Remember how FD used to have those pictures you weren't sure you understood in every post? Like that, but without the words in between. Or any pictures.
53. Wright Thompson (@wrightthompson), senior ESPN writer
Hey, it's a Wright-a-Day calendar!
54. Craig Calcaterra (@craigcalcaterra), baseball blogger
Get a room, baseblogger.
55. Justin Goldman (@TheGoalieGuild), columnist
A pseudo-poetic answer for everything. With regard to goalies, the correct answer is usually "random variation."
56. Tommy Craggs (@tcraggs22), Deadspin editor-in-chief
The ultimate in too-good-for-Twitter passive-aggression. Petulant, defensive, withholding. Another prick with a studiedly obscure avatar.
57. Will Leitch (@williamfleitch), writer, Deadspin editor emeritus
A flyover-country refugee with some hay tucked in his city-slicker suit pocket for effect. Garrison Keillor without jokes. Cardinals suck.
58. Jeff Pearlman (@jeffpearlman), writer
Brutally conventional conventional wisdom about sports, politics, and buttocks.
59. Hockey Buzz Eklund (@eklund), rumormonger
A source of bad hockey rumors so blatant he lists his phone number in his bio. TSN could be reporting your next prank phone call.
60. Dwight Howard (@dwighthoward), Los Angeles Lakers center
Likes to tweet about taking dumps, kind of like the one he took on Orlando.
61. Jay Feely (@jayfeely), former NFL kicker
It's as if someone stuffed the corpse of William F. Buckley into soccer cleats and let him periodically fall face-first onto the keyboard.
62. Pete Prisco (@PriscoCBS), NFL writer
Odious anti-union propagandist. Bad at football, worse at foreign affairs.
63. Colin Cowherd (@ESPN_Colin), ESPN shock jock
Facelifted race-baiting honky exemplifies the perils of Twitter for sports yakkers: who needs three hours when your ideas all fit in 140 characters?
64. Jay Mariotti (@MariottiJ), master of media
Hideous American grotesque farting out dumb half-thoughts between court dates.
65. Jason Whitlock (@WhitlockJason), columnist
Insecurity so enormous, it has its own ecosystem. Retweets compliments. Thinks he's Omar; is Valchek. Unclear on how the internet works.
66. Darren Rovell (@darrenrovell), soulless sports business reporter
Headlines? "Talking Haircut Thinks All Human Activity Can Be Expressed Via Minute Fluctuations In Commodity Values." Shill. The worst.
67. Deadspin (@Deadspin), sports blog
Dumb in-jokes amid an endless string of misleading headlines—for the benefit of all the people who follow Deadspin but don't read Deadspin.
Image by Jim Cooke