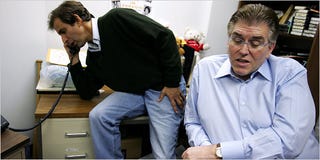 Neil Best wrote a story suggesting that the dynamic sports talk radio duo of Mike Francesa and Chris "Mad Dog" Russo has reached a bitter end. Best relays that industry sources say that the on-air tensions between the two may have finally reached a breaking point and that, unless there is some miraculous change of heart by one of the two, they may already done their final show together. Francesa gave a terse "no comment" to the whole situation and Russo says he has no clue what's going on:
"That is news to me. I have not heard that...That is fascinating information. The only thing I can say is I am signed under contract for another year and a half. I don't think WFAN is going to let me out of that...I wish I had leverage like that."
Like 'em or hate 'em, Mike and The Mad Dog is still one of the most popular shows in radioland and has legions of fans who dig it when two Italian guys have a spirited back-and-forth about sportsy-oriented news. It appears, from the outside, that Francessa is just completely tired of Russo's stage-hogging and back-handed disrespect.
Sportswatch: A split decision? [Newsday]