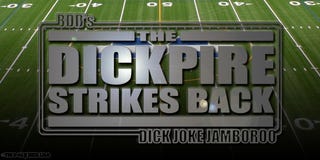 Drew Magary's Thursday Afternoon NFL Dick Joke Jamboroo runs, well, every Thursday afternoon during the NFL season. Drew's new book, "Men With Balls," released October 27th and featuring 100% new material, is available for pre-order here. You can email Drew here. Read him during the week at KSK. Every week, for matters relating to my day job, I have to drive from my home in the DC area to Richmond, Virginia and back. Richmond: Where Segregation Comes ALIVE! It's 95 miles down to Richmond from the DC Beltway. It's not a horrible drive, as long traffic is light. But it's a drive that features an inordinate amount of green mileage signs. You know, the ones that look like so…Fredericksburg 35 Richmond 88 Sweet, Lovely Rio de Janeiro, Bursting With Delicious Rum And Available, Onion Bootyfied Poon Tang 3,457 There must be one of these signs every five goddamn miles. I have very little to do during my drive to and from Richmond apart from listen to music and watch the miles slowly dwindle down, increment by painful increment. And the closer I get to home - the lower those green signs go - the longer each mile seems to take. Like watching the proverbial pot boil, the last ten miles of my drive feel like goddamn forever. It's not like I have anything important to do at home. Quite the contrary. There's just this fierce urgency to GET THERE, and as my anticipation grows, the more pronounced each mile feels. As a result, when I reach home, I feel fucking exhausted. I don't know why, but I do. All I did was sit in my car. Yet the anticipation saps me of all my energy. And that, my friends, in a nutshell, is exactly how the NFL offseason feels. Oh NFL, I come to you now crawling on my hands and knees. For seven months, I staggered through a wasteland of subpar entertainment and inferior sporting event options. The horrors I have witnessed, dear NFL… I cannot describe. There was a writer's strike, which caused me to greatly miss shows I usually didn't even bother to watch. There was a presidential election season, which lasted eons and squeezed every last drop of aggressive retardation out of all the douchebag liberals, asshole conservatives, and terrifying lesbians involved. It was horrible, dear NFL, AND IT ISN'T EVEN FUCKING OVER YET. But wait, it gets worse! Weintraub wrote about BASEBALL, dear NFL. Do you know what that's like? That's like having to hear William Hung sing the entire Yoko Ono catalog. There were also Olympics, dear NFL. Sixteen whole days of them. I had to watch people fucking SWIM, for God's sake. Jesus. If I have to watch people swim, why don't I just watch them play fucking beach volleyball too? Oh wait, I did do that. Terrible things happened while you were gone, dear NFL. Mosquitos swarmed the entire region. Bernie Mac died. FUCKING FAVRE UNRETIRED YET AGAIN. And Lionsgate Films released "Disaster Movie". No, I haven't seen it. But the commercial for it makes me want to eat my own brain. And yet another Boston team won a fucking title this summer, causing now unprecedented and never-thought-possible levels of hubris to emanate from that ghastly fanbase. What. Fucking. Douches. I am a broken man, dear NFL. I have withstood much to arrive here. And that is why I say to you: NEVER LEAVE AGAIN. Please. Never leave me again. I'll do anything. I'll rub your corns. I'll disinfect the backseat of Pacman Jones' van. I'll cover up all your glaring corporate hypocrisies. Just promise me you won't leave me to fend for myself out there next February. I can't do it. I simply don't have the strength anymore. I can't tolerate another extended period of occasionally watching basketball and/or playing with my child. No man should be asked to suffer such hardship. It's not right, I tell you! Alas, I know that there is little I can do to prevent it. Unless I were to invent some sort of drug that voluntarily puts me in a seven-month coma. I'm sure articles from Slate magazine would be a key ingredient. But I won't worry about that shit for now. No, for now, that sign on the road finally reads… NOW ENTERING THE NFL SEASON. YOU QUEER. And, like settling back at home after a very long car trip, the emotional drain of the trip has now melted away and I feel like a new man. Rested. Rejuvenated. READY TO FUCKING FUCK SOME SHIT UP. NIBBLES, SHOW 'EM THE QUEENS.
YEEEEAAAARGGHHHHHH!!!!!!!! Welcome back to the NFL. This is your Thursday Afternoon NFL Dick Joke Jamboroo. The Games All games in the Jamboroo are evaluated for sheer watchability on a scale of 1 to 5 Throwgasms.
Five Throwgasms Redskins at Giants: Tonight's game is a five-star affair because not only is it the very first game of the season – SWEET RELIEF – but it's also a chance for all of us to discover just how mind-bogglingly awful the Redskins will be this year. I personally can't wait to see their offense fail to gain a single yard, and for Jim Zorn to walk around looking completely in over his head. I'm also looking forward to the irate calls from Redskin fans on the radio the next day. "Hey Doc Walker, doesn't Jim Zorn realize that that kind of offense is simply UNACCEPTABLE to fans like me?" I'm sure he does, you entitled little shits. Enjoy going 6-10! Vikings at Packers: Purple Jesus is back! Enjoy him while you can, people. I'm told he's very injury-prone. Something bad could happen to him at any second. Busted collarbone. Torn ACL. Torn PCL. Legionnaire's Disease. They say it's only a matter of time, you know. He runs so tough and upright, they say. He could develop leprosy at any second, I've been warned. Oh, he's fine now. But that only makes him more suspect... GAHHHHH!!!! OH GOD, WHY MUST YOU TORTURE ME SO? JUST INJURE HIM NOW AND GET IT OVER WITH! Cowboys at Browns: The Browns have SIX nationally televised games this season, including three Monday Night games. That's a lot of hours invested in a team whose QB may or may not be a horrifying fluke. Oh please, Horse Balls, don't be a fluke. Six games of watching Brady Quinn "grow into" anything is not a pleasant prospect.
Four Throwgasms Jaguars at Titans: First team to throw loses! Panthers at Chargers: Steve Smith is suspended for this game, and that's too bad. Because I think we can all agree it would be nice to have someone around to punch the shit out of Marmalard during pregame warm-ups.

Three Throwgasms Texans at Steelers: So many people like Steve Slaton that I worry he's going to have Reggie Bush's career arc. I've heard rumors that he is dating West Virginia's answer to Kim Kardashian. Her name is "Mountainside Mabel", and her asscrack always has a large campfire burning inside of it. Bears at Colts: If Peyton Manning was ever gonna miss a game… Jets at Dolphins: It's the Chad Pennington Grudge Match. Laveranues Coles and Pennington will share a romantic night out at Cracker Barrel the night before. Bucs at Saints: You mean New Orleans was SPARED by Gustav? Well, now there's nothing to play for, god dammit! Rams at Eagles: Should be one of Donovan McNabb's trademark awesome early season games before the downward accuracy/injury spiral inevitably begins. Seahawks at Bills: That should actually read Seahawks AGAYNST Bills. May as well get used to it now, before the sled dogs come haul the Bills away in the middle of the night.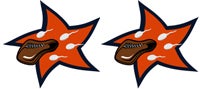 Two Throwgasms Bengals at Ravens: Your first look at Joe Flacco. Also your last, because Ray Lewis will be stabbing him to death sometime around the third quarter. Broncos at Raiders: The Broncos had one of the worst run defenses in the NFL last year, so Darren McFadden's first game could be a pretty good one. And he'll need to reach every rookie contract incentive he can, because 35 toddlers spread across North America are really counting on it. I heard one of them is Willow Palin's. RAWR! Chiefs at Patriots

One Throwgasm Cardinals at 49ers: We had our Yahoo league draft the other night. I got to my computer 10 minutes before it started, only to realize I didn't have the Flash upgrade needed to enter the draft room. By the time I finally got in, I had taken Frank Gore with the #8 pick. Tom Brady was still on the board. Fuck Frank Gore, fuck Mike Martz, fuck Flash player, fuck Yahoo, and fuck the universe. Lions at Falcons: I also had a keeper league draft last night. I was stoned. I cannot begin to tell you how hard it is to remember who just got drafted when you are stoned. "Wait... Dan took who? Michael Turner? He did? When? Just now? Wait, who did Dan pick? Has anyone picked Michael Turner yet? What round is this? Did someone order? Who did I take again? Is it my pick? Is it my pick now? Is it my pick NOW? I select Michael Turner." Another thing that happened ten times during this draft: Someone would forget to cross off someone who had been drafted, then marvel in the later rounds that the person they forgot to cross off was "still around". "HOLY SHIT! NO ONE TOOK CALVIN JOHNSON YET! I AM ABOUT BE THE SHREWDEST MOTHERFUCKER HERE!" Pregame Song That Makes Me Want To Run Through A Goddamn Brick Wall
We already busted out "Feel Good Hit Of The Summer" above, so we may as well put its companion song here: "In The Fade," by Queens of the Stone Age. I think pretty much every song would be improved if it had an outro where people shout NICOTINE VALIUM VICODIN MARIJUANA ECSTASY AND ALCOHOOOOOOOL at the top of their lungs. Embarassing Album I Once Owned That Will Not Fire You Up "T'Pau," by T'Pau. First tape I ever bought. T'Pau had one mild hit back in the 80's: "Heart and Soul". But I distinctly remember the promo sticker on the packaging saying FEATURING THE HITS: "HEART AND SOUL" AND "CHINA IN YOUR HAND". Bands always do this. They have one song everyone knows, but then the album packing has some fucking sticker that says FEATURING THE HITS and then lists half the goddamn album. You can't fool me, T'Pau! I know that other song wasn't really a hit! Did you really expect me to buy your shitty album and then say, "Oooh! This was the song that was on the sticker! AWESOME!" Fuck you, ladies. Bonus M.O.D. Album Of The Week!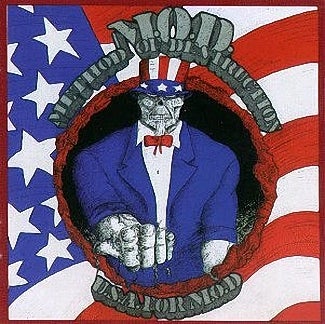 USA For M.O.D.! If you're 13 years old, and you're a moron, there's no better band on planet Earth than Austin's own M.O.D. (Method of Destruction). USA for M.O.D. is arguably the group's masterpiece, highlighted by songs such as "AIDS (Anally Inflicted Death Sentence)". It's funny because it's true! There's also "Short But Sweet", which is six seconds long. But the undisputed centerpiece of the album is "Spandex Enormity," which is easily the meanest song about a fat girl ever written. Let's sample the lyrics, shall we? What a fucking beast Her ass alone would be a feast And her love drippings Contained a stench of rotted yeast… You fucking fat bitch! I've had enough of you Take your blubber buns and leave She left here in tears Followed by my CHEERS I could not help she's faaaaat… Sheer poetry. I'm also a big fan of M.O.D.'s other albums, like Gross Misconduct…
Why is the shark dressed up as a judge? BECAUSE SHARK JUDGES ARE FUCKING AWESOME, THAT'S WHY. Fantasy Player That Deserves To Die A Slow, Painful Death Tom Brady. Can't wait for that late scratch! Five Potential Key Injuries -Peyton Manning (knee) -Maurice Morris (cauliflower anus) -Daunte Culpepper (Velveteen Rabbit Syndrome) -Chris Snee (loose cannon stool) -Matt Leinart (coedependency) Suicide Pick Of The Week Last year I was 10-7 making suicide pool picks. Considering point spreads aren't involved, that's pretty pathetic. Nevertheless, this year we'll again choose both a team for your suicide pool and an actual way of committing suicide. This week's pick? Detroit, and throwing yourself into a frozen river, Virginia Woolf style. That IS how she killed herself, yes? Eh, as long as she's dead, I'm cool either way. Gametime Snack Of The Week
Chips and Salsa. I am a bizarre human being in many ways. I only use dental flossers, and NOT floss, because I greatly dislike winding dental floss around my fingers. My hair is straight in the back and curly everywhere else on my head. And I like drinking tempura sauce directly out of the bowl. But one of my oddest qualities is the fact that I hate raw tomatoes anywhere but in salsa. If you put tomato wedges in my salad, I will pick them out and throw them at you. And you know those tomato and mozzarella capreses they serve at Italian restaurants? I think the tomato is placed on the plate strictly to make you feel better about yourself, 'cause I eat the SHIT out of that cheese and leave the tomato slices completely untouched. Quit polluting my cheese with vital anti-oxidants, Guiseppe. I hate raw tomatoes in sandwiches, or on burgers, or in bed. But you put a bowl of fresh pico de gallo in front me, and I will douse myself in that shit. I have earthly idea why this is so. I hate raw tomatoes in very large slices or wedges. I don't know what makes them so much more appealing when they are diced. But there you go. I am a freak. Onto the chips. We all enjoy chips and salsa at home, of course. But there is an enormous difference between having chips and salsa at home, and going out to a Mexican joint and getting that huge bowl of fresh, warm chips placed in front of you. Ever seek out those one or two in the bowl that are extra translucent? I do. HOLY SHIT. I can't even feel my hand grabbing the chips and stuffing them into my oral cavity. That's just a pure reflex. You can't teach that kind of gluttony. You're just born with it, and then you die of coronary heart disease shortly thereafter. I always do this move when those warm chips arrive at the table. First, I eat pretty much the entirety of the first bowl. Then, when the second bowl comes three seconds later, I eat a few, then I place the bowl at a very far corner of the table so that, in theory, I won't eat as many. Yes, because placing food two feet away from you really works as an appetite suppressant. Oh no, I can't possibly reach that far! I've completely outwitted myself! What incredible restraint, Drew! Great job! Then the waiter walks by and I'll be all like, "Say, you better take these chips away." As if he did something wrong by presenting them to me. That's right, you bastard waiter. You have some nerve tempting spineless fatties with fresh, delicious fried chips. HOW ARE WE SUPPOSED TO DEFEND OURSELVES?! Gametime Cheap Beer Of The Week
Rolling Rock. Greatest ad ever? Greatest ad ever. Sunday Afternoon Movie Of The Week For Dolphins Fans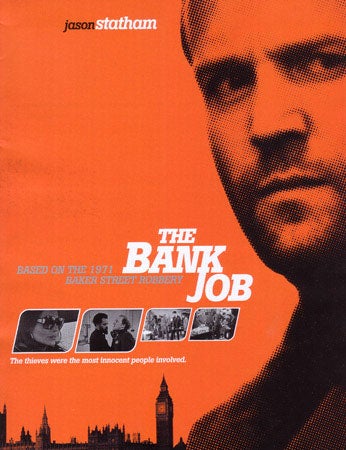 The Bank Job. I like this movie for lots of reasons, but high on the list is the fact that The Bank Job has shitloads of wonderful, unexpected nudity. I'm not sure there's a greater quality for a movie to have. I was just expecting some solid heist footage and a couple scenes of Jason Statham fucking shit up. But then BOOM! Titties! Took the picture to a whole other level, I tell you! If you're making a crime movie and your characters are planning their crimes in any other setting besides a strip club, you have fucking FAILED. Movies that feature unexpected nudity are very few and far in between. If a movie has nudity in it, the studio is usually more than happy to clue you in. Shit, half the time they promise lots of nudity in movies that don't HAVE ANY, and nothing makes me want to beat someone to death with my penis quite like that. (That means you, asshole who made A Night In The Life Of Jimmy Reardon). That's why movies like The Bank Job must be cherished so. I can only think of a handful of other movies that surprised me with nudity quite like that. Rising Sun is the king of such movies. Holy shit, there are tits all over that movie. You'll never be satisfied eating sushi off anything but a hooker's tummy after watching that. Also in this subgenre? "Unlawful Entry," which features plenty of hot, lawful entry into Madeline Stowe. Hooray! Gratuitous Simpsons Quote "Look at that pig. Stuffing his face with donuts on my time! That's right, keep eating... Little do you know you're drawing ever closer to the POISON DONUT! Ha ha ha!!! There is a poison one, isn't there, Smithers?" Halftime Masturbation Kit -For the guys: Anna Faris, Katherine McPhee, and Emma Stone. Rumer Willis is also in this photo, but you may want to direct your penis away from that. -For the gals: A shirtless Mike Modano. He'll get in your crease. Your Motivational Pregame Quote for The Weekend "Well, I guess there's only one thing left to do… win the whole fucking thing." -Jake Taylor Enjoy the games, everyone. The NFL is finally fucking back. Special thanks to 289 for the Photoshop.