Wilt Chamberlain would have been 81 years old today. To celebrate, check out this excerpt from Gary Pomerantz's fine read, Wilt, 1962: The Night of 100 Points and the Dawn of a New Era. After the excerpt, you'll find a Q&A with the author.

There is a photograph of the Dipper with James Baldwin on a Harlem street corner, the big man in a slim suit and snap-brim fedora, tilting his frame toward the writer, seemingly half his size. If not classically handsome, Chamberlain's face was arresting: a long narrow brow over almond eyes lit by youth and restless ambition, high cheekbones and a cool jazzman's trimmed mustache. Then, when he really wanted something (or someone), there came a starry smile and his deep baritone transformed to the smooth, soft patter of the FM radio deejay.

It was Baldwin who in 1961, back in America after years of self-imposed exile in Europe, wrote words that defined his life direction, words that Chamberlain may have heard. Baldwin wrote, "I had said that I was going to be a writer, God, Satan, and Mississippi notwithstanding, and that color did not matter, and that I was going to be free. And, here I was, left with only myself to deal with. It was entirely up to me."
Chamberlain, too, would create himself, would refuse to be defined by size or color or his sport. In 1962, the Dipper drove a white Cadillac convertible, but only until he could take delivery of a nobleman's car, a Bentley, custom-made in England at a cost of nearly $30,000 (including tax and shipping), roughly six times the average yearly salary for an American worker. Wealthy after his one season with the Globetrotters and three with the Warriors, he used his big money as a tool of self-creation. After buying his parents a house in west Philadelphia, he lavished upon himself twenty fine suits, thirteen pairs of stylish shoes, the Cadillac, and a chic, pricey, Oriental-motif apartment on Central Park West. It was a far cry from 401 Salford Street, where Chamberlain had been raised. With nine children, William and Olivia Chamberlain, a handyman and a domestic, at times had two, three, or four kids in each bedroom; at five-thirty each morning they felt the trolleys rumble past their rented row house in ethnic, working-class west Philly.
The young Dipper came of age noticing little discrimination, though once, when he was about four, on a bus in Virginia bound for Philadelphia, his mother wouldn't allow him to sit near the front. "No, mama, this seat right here is open," the young Dipper protested, even as she tried to steer him toward the rear of the segregated bus. It prompted the white bus driver to intervene, "No, sonny, you go back there with your mother like a good little boy," and he did, though uncertain as to why.
G/O Media may get a commission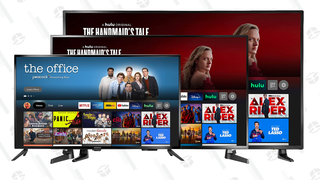 Up to 44% off
Prime Early Access - Insignia Fire TVs
So valuable was Chamberlain's name now, so incandescent his persona, that a historical Harlem nightclub, Smalls Paradise, let him buy in as part-owner and put his name first on the marquee in exchange for his presence. He loved Harlem, the neon, the ladies, James Brown, Etta James, Redd Foxx, a lush life with jazz the soundtrack. And when Wilton Norman Chamberlain moved through Big Wilt's Smalls Paradise, there attached to him an aura suggesting he owned not only this place, but all of Harlem, perhaps all of New York. His presence in the club was signaled by the white Cadillac parked out front by one of the nightclub boys on the corner of 135th street, while Chamberlain strode around the club's dark interior greeting his guests, draping an arm around Tom "Satch" Sanders of the Boston Celtics, squeezing a shoulder, "Good to see you, Satch. Sit down, relax, and enjoy yourself." Reminiscing years later, the Dipper would recall this as the greatest time in his life.
At Big Wilt's Smalls Paradise, the bandleader King Curtis worked deep into the night, and the denizens turned up wearing sharkskin suits and memorable monikers: Big Pete, Little Pete, an intellectual straight shooter known as Knowledge, and of course, Charlie Polk, Wilt's right-hand man, always at his side, Robin to his Batman. His name, called out so often, rolled off the Dipper's tongue: Chollypolk. Small and thin as straw, Polk was, as one Harlem nightclub regular would say, "one of those types of guys who if he latched on to you, he didn't let go." Whatever the Dipper wanted — his shirts picked up at the cleaners, his friend's wife picked up at the bus stop and taken shopping — Chollypolk got it done. When a beautiful woman at Smalls caught the Dipper's eye, Chollypolk became his emissary, quietly letting the woman know of his boss's interest and gauging her availability.
He loved being on stage at the club, and though he couldn't sing or dance and he stuttered slightly, he was a riotous emcee. If you put a microphone in his hand, Chollypolk might never let go of it, and Redd Foxx would sit beside the stage, waiting, waiting to begin his jig.
Foxx, a bawdy redheaded comic, was a Harlem favorite. "Lincoln got his head on all the pennies. Roosevelt got his head on all the dimes," Foxx would say. "I just want to get my hands on some." In his first New York nightclub date in a decade, Foxx, a rising national star (to all but the censors), appeared at Smalls Paradise in December 1961. In smoky clubs, perspiring beneath the spotlight, Foxx would deliver his raunchy routines, unafraid of the social taboos of sex and race. In one, using his trademark off-color double entendres, he told of how everyone in his hometown had bought a jackass. "Even the little bitty kids, they had a ass of their own," Foxx would say. "Preacher's wife had the biggest ass in town. I know because I rode her big ass all the time." And, Foxx said, her husband, the preacher, "didn't have such a bad ass himself," though when a fire broke out in the church's back pew, "Reverend took a long running jump out the window to land on his ass. But somebody had stolen Ol' Reverend's ass and he wasn't there. Reverend fell down into a deep hole in the ground and that's where they found him." Foxx gave a comic's pause. "Just goes to show you, don't it? Some folks don't know their ass from a hole in the ground."
Smalls Paradise was a legend that dated back to the Harlem Renaissance of the Twenties when its waiters danced on roller skates across the room with service trays held high; the club was known then as the Hottest Spot in Harlem. Chamberlain had long wanted his own nightclub, an environment that had always drawn him as a stage for his fabulousness—why, even when he was just sixteen, his rival at West Philadelphia High, Ray Scott, had spotted him at a dance at the O.V. Catto Elks Lodge in Philadelphia and noticed how the Dipper flourished in such a setting, managing what all of the other boys couldn't, a laid-back, Miles Davis, be-bop cool. Chamberlain well knew the precedents of black athletes owning such places in New York. Back in the Twenties, Club Deluxe in Harlem briefly was owned by the prizefighter Jack Johnson, a controversial figure excoriated by the white press in the early part of the century for having twice married white women and later imprisoned for transporting a woman across state lines in violation of the Mann Act. Now Joe Louis and Ray Robinson lent their names and money to The Brown Bomber and Sugar Ray's. It wasn't so much the fast life that attracted the Dipper to buy a piece of Smalls in the spring of 1961. He rarely drank or smoked and he exercised every day, pushing his own physical limits. (Before one weekend trip to Atlantic City, his friend Cal Ramsey tried to pick up Chamberlain's suitcase but found it too heavy. Ramsey looked inside and discovered why — the Dipper's barbells.) What attracted Chamberlain to Smalls Paradise was the chance to explore new avenues of his own celebrity.
In calm moments, the Abyssinian Baptist Church crowd came for early Sunday dinners. But on most other nights, the nightclub was, like its part owner, full of the energy and exuberance of youth. "The Twist" by Philadelphia's Chubby Checker was yet the rage, and the Tuesday night Twist contests packed the downstairs Wilmac Room. Limousines and taxis carrying big-money whites triple-parked out front. "Meeting again at Smalls paradise as their fathers did before them, a brand-new generation of monied fun-seeking whites is flocking happily to Harlem," Ebony magazine noted. "And Wilt Chamberlain's cash registers are running as hot as the gyrations on the floor." It was a see-and-be-seen crowd, sophisticated, elite, and integrated. Smiling for pictures for Ebony magazine on a Tuesday Twist night were comic Jack Carter, famed saxophonist Cannonball Adderley with actress Olga James, a Rockefeller, an Astor, Edward Smalls (the former owner who sold the club in 1955), the Greek ambassador to the United Nations, singer Lloyd Price, and of course, the Dipper himself.
His nightclub impressed other African-American players in the NBA, not only for its high style and glitz but because it suggested Chamberlain's business acumen. They considered Big Wilt's Smalls Paradise a must-stop along the Strip in Harlem along with Jocks and the Red Rooster. The Knicks' Willie Naulls and Johnny Green were regulars at Smalls. The Celtics' K.C. Jones, in with Bill Russell once, met James Brown, and was overwhelmed by the magnitude of the Godfather of Soul's ego.
Here, in Harlem, was the Wilt Chamberlain few white Americans knew: easing comfortably through what W.E.B. Du Bois once had called "the Black World Beyond the Veil." Here was the Apollo Theater and Showman's Lounge, the Big Apple Bar, The Harlem Moon, Lickity Split, and Roy Campanella's liquor store. The neighborhood was thirty years past its heyday; no longer the hub of black intellectual and cultural life, Harlem had become riddled with crime, dope, and storefront vacancies, an urban despair and bleakness suffused with racial tension and frustration. Still, the Strip retained some of its old-time flair. In the neon flash and bustle, crowds moved from one nightclub to the next. At the Red Rooster, where Willie Mays had held sway during the early 1950s, you could still find Congressman Adam Clayton Powell surrounded by admirers. A club hopper could see comic Nipsey Russell at the Baby Grand on 125th Street, stop by Sugar Ray's on 126th Street, and then walk six blocks over to Count Basie's club. Next door to Count Basie's on 132nd was Shalimar by Randolph, a nightclub that featured a late-night beauty salon. When Knicks first-year guard Sam Stith, a Harlem resident, came out to the Strip in 1962, he dressed to the nines and no one crowded him. A few years before, Stith had taken his girlfriend to Shalimar by Randolph at 11:00 one night to get her hair done. She finished at 3:00 a.m. While he waited, Stith saw a hustler, all primped up, enter and shout, "Suits!" The hustler looked at the Knicks guard. "What size?" he asked. Stith replied, "Forty-two." The hustler put the same question to another man sitting nearby, then said, "I'll be back in an hour." Stith looked at his watch: 1:00 a.m. An hour passed, back came the hustler, suits in hand. Stith didn't buy; the other did. Another hour later, Stith and his girlfriend headed to Wells Restaurant for the famous chicken and waffles, a perfect way to end the night, or start the morning.
In this animated environment, Big Wilt's Smalls Paradise remained a bright light. So hot was the revelry at Smalls on Twist nights, local columnist Jesse H. Walker asked, "Will this thing never end?" In Harlem, Jackie Robinson co-hosted a cocktail party for New York's Republican governor Nelson Rockefeller; Malcolm X, in his dark suit and shined black shoes, made his rounds through the streets surrounding the Nation of Islam's Mosque Seven in Harlem (and periodically ridiculed the nonviolent movement, including sit-ins, saying, "Anybody can sit. An old woman can sit. A coward can sit . . . It takes a man to stand."); and Wilt Chamberlain moved through his own celebrated orbit. If Philadelphia was his workplace, Harlem was his living room. He gravitated to a black world shared with whites, not an exclusive world or an excluding one. Each night in the NBA, the Dipper played for white team owners and predominantly white crowds, but here, at Big Wilt's Smalls Paradise, surrounded by icons of black life in the lingering glow of Harlem glamour, whites came to him—to his place.
Reprint permission granted by the author. From Wilt, 1962: The Night of 100 Points and the Dawn of a New Era, Gary Pomerantz, 2005, Crown Publishers.
The Stacks: Did Wilt's 100-point game mean much to you before you started the book?
Gary Pomerantz: When I was a kid, I moved out to L.A. and saw Wilt playing for the Lakers, winning his second title in '72. He was an old, muscled up 35-year-old wearing his gold headband. I heard that he scored 100 points, and at this point he was all defense and rebounding, so I'm thinking, How did this guy score 100 points? So the seed was planted early. was this story about a genuine sports Goliath. We always read about the David's of life, I wanted to know more about Wilt, more about this moment. Everyone had heard of it, hardly anyone knew anything about it. For me it becomes like that sunken galleon that's just waiting to be found and explored. What I realized the deeper I got into this story was that it is really part of Wilt's Goliath syndrome. He had to be outsized in every way, and 18 years after his death, two numbers still define his legacy: 100 and 20,000. One hundred for scoring one hundred points in a game, and 20,000 for his mythmaker boast of having bedded 20,000 women. The second is sad, because it reduced Wilt to parody in the final years of his life. I think enough time has passed since his death that we can see him now in context, as perhaps the single most transformative player in NBA history.
Q: The 100-point game—final score 169-147—must have been such a spectacle.
GP: I interviewed 56 people who were at the game. They were thrilled that it happened in their town of all places. People would go back and talk about Wilt with this hushed reverence. It was almost like when the Native Americans talked about the first sighting of the locomotive, it's like What is this? It's unprecedented. They look at Wilt as somebody who was revolutionary in his athletic achievements.
Q: A lot of your writing has to do with race. Were you surprised that Chamberlain was politically conservative?
GP: Wilt used to call himself the world's tallest Republican. Unlike Bill Russell, Wilt didn't say much about the Civil Rights movement. Not everyone is Jackie Robinson, he said. But what Wilt did in the early '60s, he lived in this kind of luminous, celebrated orbit. He had his own nightclub in New York, Big Wilt's Smalls Paradise, which dated to the halcyon days of the Harlem Renaissance. He would drive his sports car at high speeds and date white women at a time when interracial marriage was still illegal in 16 states, mostly the south. He was unapologetic of who he was, he would not be defined or hemmed in by any false notion that any white person had about race. He was going to be the Dipper. I found it fascinating to study him in that time and that place.
Q: The Dipper in Harlem chapter that opens the book is such an evocative way to introduce Wilt. Did you enjoy reporting and writing that chapter?
GP: Oh, I loved every second of it. My time in Harlem with some former NBA players—Sam Stith, Cal Ramsey—our conversations barely touched on basketball. It was about the nightlife in Harlem. The passion was clear in the stories that they were telling me. The love was evident for Harlem in that time. It perhaps didn't have all of the glamour of the days of the Renaissance, but it still did have a special quality that was fun for me to marinate in. I walked the streets and listened to these guys' stories. I went back and read the newspapers of the time—Ebony magazine, Amsterdam News. As much as I could immerse myself in the time and place to evoke it, I did.
Q: Did your feelings about Wilt change after writing about him?

GP: My view of Wilt deepened. He was almost a cartoon figure in so many of the stories written about him through the years. The 20,000 number kept bubbling up, but Wilt was a complex guy, and I came to feel that even when he was in a crowd, he was alone. He died alone in his house in Bel Air. There was a profound sadness in that, but also there was a grandeur, an outsized grandeur to his life. I think the Philadelphia Inquirer had it right in an editorial; they wrote he was almost like America itself, with his inspiring awe and ambivalence. Haven't had one quite like him since.
—Q&A conducted by Samuel Evers.