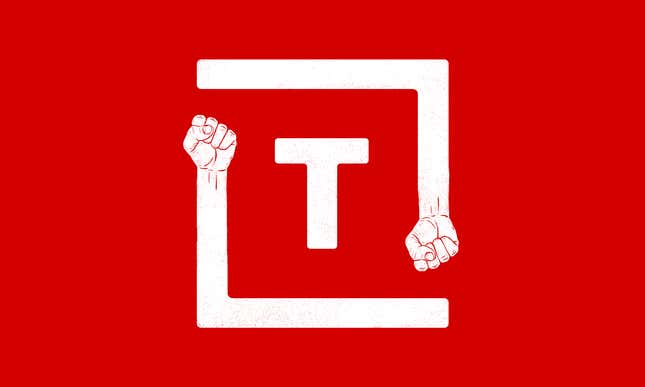 Successful union campaigns have flourished across the digital media industry over the past year and a half. Few have run into more anti-union pushback than the one currently happening at Thrillist. And employees are pissed.
How running an NFL team is like running a restaurant | Chef Emeril Lagasse
On February 15, editorial staffers at the lifestyle site Thrillist announced that they were joining the Writers Guild of America, East, and requested that the company recognize their union. [Disclosure: Gizmodo Media Group is also a WGAE member, and we work with some of the same union staffers who are organizing Thrillist.] More than 85% of Thrillist's 65 editorial employees have signed union cards—constituting an enormous majority declaring that they want a union. Yet now, more than three weeks later, the company still has not recognized the union. It is doing everything it can to fight it.
Thrillist's founder and CEO is Ben Lerer, the son of famed media investor Ken Lerer, the former AOL-Time Warner executive who got rich(er) by helping to found both the Huffington Post and Buzzfeed, and who now owns part of the New York Mets. Last October, Discovery Communications struck a $100 million deal with Thrillist and several smaller sites, all of which are now overseen by Ben Lerer under the umbrella of Group Nine Communications. By all measures, Ben is doing quite well for himself. Last month, he put his Soho loft townhouse (formerly owned by Whoopi Goldberg) on the market for $7.4 million. A week earlier, Thrillist had laid off more than 20 employees.
In the vast majority of media union campaigns that have happened since 2015, company managements have voluntarily recognized the unions when it became clear that their employees seriously wanted one. That does not mean that managements were necessarily happy about it; it just means that they respected their employees' wishes, or recognized that they had little say in it as a matter of labor law, or, more cynically, did not want to be seen as union busters, particularly at places with a progressive editorial tone. (Perhaps the strongest recent corporate anti-union campaign in our industry was waged, ironically, at Fusion, which is now a part of the Gizmodo Media Group union.) But at Thrillist—despite the fact that Ken Lerer is a prominent Democratic fundraiser, and Ben Lerer is a self-proclaimed progressive—there has been a determined effort to stop organized labor from gaining a toehold.
On February 27, a week after Thrillist employees made their formal request for union recognition, management gathered them together for what is known as a "captive audience" meeting—a mandatory workplace meeting used to campaign against unionization. According to a transcript of the meeting that we obtained, Ben Lerer, whose "easygoing bro" persona is a hallmark of his business style, made a point of proclaiming that he was forced to read a statement that had been crafted with the help of lawyers, rather than just speaking from the heart, because "when unions are involved they bring an entire legal process with them."
Lerer said that he and company president Adam Rich "feel very strongly that an edit union, WGA or otherwise would not be a good thing for this team," and made several arguments that are familiar to anyone who has witnessed a corporate anti-union campaign. After saying how much he valued employees, he said that "what I am worried about is the effect the union would have on our unique culture"—particularly on the "flexibility" and "entrepreneurial" nature of the company. "It's presumably no secret to all of you that I'm a staunch progressive, as I know many of you likely are," Lerer said. "I have a deep respect for unions; my wife was a teacher for many years and I recognize the important role they play for protecting workers in more entrenched industries and businesses that do not offer their employees the new types of personal career growth that we traditionally have."
He then proceeded to make several misleading statements about the effects of unionization.
He said that "the role of the union is to exist between management and you," which would "hinder the free flow of ideas and collaboration" at work. In fact, no changes to workplace practices go into a union contract unless employees request and agree to them.

He warned that a union "can make promises that they legally are not required to keep and very well may not be capable of keeping." He did not add that the only reason a union might not be able to deliver on any promised gains would be opposition from management.

He said that "you would lose your direct voice in what happens here on some of the most important things that affect your daily work life. You'd have to speak through your union representatives instead." This is simply false, as demonstrated by direct experience here and elsewhere in our industry.

He stated that "under most union contracts, employers cannot give a wage increase, no matter what the circumstances are," and that "in a union, even if you did something extraordinary, you couldn't negotiate for a bonus or raise beyond what the union determined for your position." Both of these statements are false. Most union contracts (including ours) provide for salary minimums, but set no maximum on how much employees can be paid. The only scenario in which a union contract would preclude wage increases or bonuses would be one in which the members of the union voted for a contract that did that, for some reason.

He warned of the dangerous effects of other hypothetical things that "the union" might ask for, neglecting to mention that "the union" is made up of the very employees he was addressing and would ask for only what they wanted to ask for.

On Wednesday of this week—in response to an email that staffers had sent more than a week earlier, reiterating their request for union recognition—Thrillist president Adam Rich sent an email indicating that the company planned to have even more anti-union meetings before holding a formal vote. "I apologize for the limited contact we've had so far regarding Union requests — but we are legally and bureaucratically bound from responding as openly and often as we would want," he wrote. "We're going to start group sessions shortly to have conversations about the unionization process—we're working with your managers to get these scheduled for next week. We want to present our point of view in more detail, with the goal of giving you more visibility and communicating why we believe it would be better to interact with you directly rather than through outsiders."
Ben Lerer declined to comment on the record for this story; a company spokesperson sent a statement from Adam Rich saying in part "The union has asked to be recognized without a vote; however, we want to ensure that all employees have the opportunity to participate in making this choice."

Thrillist employees are not amused by the company's conduct. They've been voicing their displeasure on Twitter, and were willing to speak out for this story as well. "Hopefully Lerer realizes the damage he's causing to his own company's reputation," said Thrillist features editor Leanne Butkovic. "But based on the Twitter flaming yesterday, it doesn't seem that he cares much about revealing his true character to the people he'd be keen on hiring. Meanwhile, he's busy guesting on the [CNBC business show] 'Squawk Box,' which, quite notably, he was also on during the morning of the mass layoffs."
"They could've recognized immediately, like at HuffPo or Vice, and quibbled over the contract, but now they've forced us into stirring up a shitstorm," said entertainment editor Anthony Schneck. "Any other tactics on their part to drag out recognition will probably backfire, since the general mood is that we're being treated in a condescending way, like we're teenagers who didn't think through our decision." That theme of a staff that is losing their patience was echoed by David Infante, a Thrillist producer and writer-at-large: "As the days tick by without voluntary recognition, it's becoming clear that management isn't taking this/us seriously, and that's definitely getting folks fired up. There's an undercurrent of wry curiosity throughout the ranks, which is probably best summed up by this question (rhetorically posed to Ben Lerer) that a coworker Gchatted me a few days ago: 'lol like... what's the endgame here, BRAH?'"
What's the endgame brah, indeed? Thus far, no digital media company has been successful in fighting a union drive against a large majority of its own employees. Once the staff has already made up its mind to unionize, there would seem to be little to be gained from this endless process except an increase in enmity. In his captive audience speech, Ben Lerer cautioned that a union could "manifest itself in an adversarial relationship between management and employees." It appears that Thrillist's management has already succeeded in bringing that about.