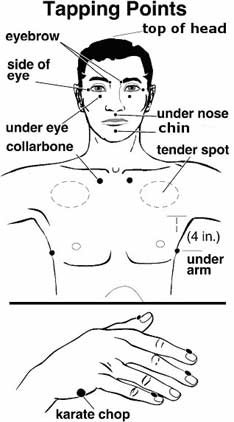 The College Basketball Closer is written by the gang at Storming The Floor.
The epic sports collapse is a baffling phenomenon. It happens to some poor team every year, in every sport, accompanied by near-suicidal bewilderment in fans of the reverse-telescoping team, and icy glee in everyone else. Last year Clemson set the standard, starting the season 17-0 before losing their mojo and missing the NCAAs altogether. This season, we have a few more contenders.
The World Center for Emotional Freedom Techniques provides expert-level guidance in overcoming a fear of success, described here by EFT editor Steve Wells:
Many people think they are suffering fear of failure when what they really have is fear of success. They are often hit by massive feelings of anxiety and overwhelm, and tend to report all sorts of negative thoughts coming up such as "I don't deserve this"; "I'm not good enough"; and so on.
With that in mind, we'll adapt some of EFT's techniques to help treat this year's slumping teams. EFT favors "tapping" parts of the body (oddly "that ass" is never mentioned) while repeating positive messages. These techniques should put a few teams back on track:
• Vanderbilt. Once 16-0, the Commodores can't win on the road in the SEC. Tap the fingertips together to reduce turnovers.
• Pitt. 11-0 before crucial players got hurt. Tap (gently!) on collarbones to ward off injuries.
• Dayton. Rode a thirteen-game win streak to a national ranking before dropping three in a row. Tap under the eyes, then raise hands high over head to increase rebounding.
And if that doesn't work, I don't know what to tell you. Maybe put in a junk defense or emphasize a little more ball movement in the offensive sets.
Happy Madison Pictures. Wisconsin 62 - Indiana 49. A winner is supposed to keep the chokehold on his opponent in the final minutes of a close game. Wisconsin's Joe Krabbenhoft put that metaphor into action with a brick-wall pick that left Indiana's Eric Gordon gasping for air as the clock ticked down. D.J. White had 22 points and 17 rebounds on the losing end.
Free Throws Matter. California 69 - Washington State 64. According to the post-game scorecard, Cal was only awarded six free throws over the course of this game.. Ryan Anderson took and made two of them in the first half, and the remaining four came during the last two minutes of play. Anderson hit two on his way to a game-high 27 points, and Jamal Boykin swished two more with .02 on the clock to ice the game.
Mid-Major Spotlight. North Texas 70 - South Alabama 68. Coach Ronnie Arrow has kept team USA just under the radar, losing only to Ole Miss, Miami (OH!), and Vandy before ripping off thirteen straight wins. The Mean Green brough the streak to an end despite being outrebounded by eleven boards.
The Weekender
Saturday
Pitt (17-4) at UConn (15-5), 1pm. Five teams are deadlocked at 5-3 in the Big East. This will help clarify things a bit.
Baylor (16-3) at Texas (16-4), 1:45 pm. Baylor done growed up, and Texas is showing cracks. Might as well put the whammy on this one: "make mine burnt orange, please."
Florida (18-3) at Arkansas (15-5), 3pm. Razorbacks' easy 20-point win over Miss. St. puts the shine on this one.
Stanford (17-3) at Washington State (17-3), 3pm. Not sure what the Lopez family was going for here with "Brook" and "Robin", but they sure can ball.
Harvard (6-12) at Princeton (3-12), 6pm. I think this one's on PBS. Check your local listings.
Arizona (15-6) at UCLA (19-2), 9pm. Arizona has an intriguing mix of players, and seems to play well when you least expect it.
Sunday
North Carolina (19-1) at Florida State (13-9), 2pm. The Seminoles make a habit of winning games like this every year, just so they can torment their fans by hanging around the "Work Left To Do" section of the Bubble Watch.
Eric Angevine writes about college hoops at Storming the Floor, and is a regular contributor to Chicago Sports Weekly. He can be reached at stormingthefloor@gmail.com.