Remember when Rick Reilly punched up an old Sports Illustrated column and filed it fresh for ESPN? Don Ohlmeyer, the Worldwide Leader's ombudsman, sure does, and he's here to console everyone. It was all just a big misunderstanding.
First, let's review Reilly's most recent case of pass-it-on. In 2007, Reilly filled SI's backpage with a column about why he loved sports, and then three weeks ago, he pulled off a similar shebang for ESPN. The columns were eerily similar. Some might say that they were pretty much the same column. For some reason, this upset the fine readers of The Mag and The Dotcom. They swarmed Ohlmeyer's inbox — Bah! Humbug! — and the ombudsman decided to address the topic in his yearly monthly column with ESPN's official response:
Reilly also provoked some angry feedback from readers concerning an article that appeared in ESPN The Magazine and later on ESPN.com. Some of you, as well as some bloggers, accused him of plagiarizing a column he had written earlier in his career while at Sports Illustrated. Even though it seems difficult to plagiarize yourself, a response was still in order.

Rob King, ESPN.com vice president and editor-in-chief, said he and Gary Belsky, editor of ESPN The Magazine, "looked into this immediately" and concluded that the column — headlined "Why I love sports" — was a case of "uncharacteristic carelessness."

"Rick, who is noodling with column ideas all the time, keeps an ongoing file of works in progress, some more fully fleshed-out than others," King said. "In this instance, Rick, seeking an evergreen idea for an upcoming issue of The Magazine, inadvertently chose a set of notes he'd forgotten he'd used in a previous assignment. Rick expressed no small degree of embarrassment, and I can assure you we will put more rigorous checks in place to ensure that this won't happen again."
Deep breath.
OK, then.
We'll speed past the specious mea culpa, the fact that there's still no explanatory note on the column and the reality that, ahem, Reilly has robbed the SI Vault before. Perhaps we can forget about that, but it's Ohlmeyer's duty, as the public editor of a ginormous media entity that pays its columnists "ridonkulous" money, to outline the various ethical misdeeds here and slap the culprits on the wrist. There's a reason why Ohlmeyer's predecessor, Le Anne Schreiber, left as a beloved ombudsman: She never minced words, and throughout, it was evident that her first loyalty was to ESPN's readers, the public she represented. Her dispatch was hardly just a confessional for ESPN's top brass — absolve yourself and move along — but rather, she was meticulous and methodical in her arguments criticizing and bolstering the network. The ombudsman, in short, is employed to keep the media organization accountable, not to simply serve as a glorified mouthpiece. Naturally, in this particular case, Ohlmeyer offers no judgment on the transgression or the way the aftermath was handled. I guess that burden falls on the rest of us.
G/O Media may get a commission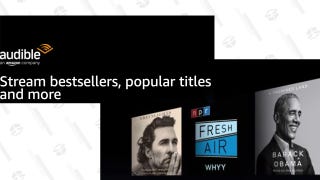 FREE
Audible Premium Plus 3-Month Free Trial
So, to steal Ohlmeyer's preferred sign-off: Until next time...
Peccadilloes on parade [ESPN]
EARLIER: Rick Reilly Gives Himself Another Tongue-Bath