On Thursday, Sammy Watkins asked for the ball. It's now Sunday, and the Bills have the beginnings of the dumbest quarterback controversy in the league.
Here's Watkins on Thursday, saying a perfectly normal thing for a receiver to say:
"I need the ball at least 10 times — I need 10 targets — and l'll be fine with however many yards I get," Watkins told the newspaper. "And that's what I addressed in talking with my agent. We reached out to a couple people and tried to pull some string like, 'Hey, I need my targets. You came up to draft me and I'm not getting targets — that's a problem.'

"'You're making me look bad, and you're making yourself look bad. Why not make both of us look good?'"
The reaction was... predictable:
G/O Media may get a commission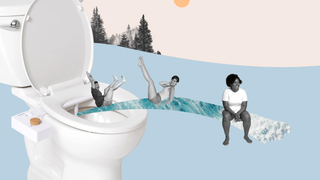 17% off
Tushy 3.0 Warm Water Spa Bidet Attachment
The next day, Rex Ryan said the whole thing was exactly as dumb as it was:
"This just in: He's just like every other wideout," Ryan said. "[Chris] Hogan said the same darn thing. 'Just give me the ball; give me the ball; give me the ball.'"
Bills players didn't really have a problem with their best receiver saying he should probably see a few more targets, either. Mario Williams went on NFL Network and said throwing to the best receiver is a good thing to do:
"Give the man the ball," Williams said. "I think Sammy is obviously a great player and he can get down the field. He's not just fast and can get vertical, he can make guys miss on the short catches and things like that. So I think the more touches he gets, the better chance we have of winning."
...as did deposed quarterback E.J. Manuel, who is starting for the injured Tyrod Taylor today, and gave this, let's say, political answer to the same question as Rex:
"Sammy's a great player, and obviously he wants to help us win. I don't think he meant anything negative by it," Manuel said Friday. "That's what I like to hear. I think as quarterbacks, we like to hear our receiver is hungry and wants to make plays."
And that leads us to today, at the ass-end of the football media's idiotic digestive tract:

Ian Rapoport of NFL Media reports that Bills quarterback EJ Manuel has a chance to win back the starting job with a strong performance in place of Taylor on Sunday. Taylor, who won the job over Manuel and Matt Cassel after joining the team as a free agent, has a sprained MCL and reportedly will miss the game.

...

Although the goal always should be to put the best players on the field, in Buffalo it feels like the quarterback situation could be a product of the ongoing push and pull between the front office, which is invested in Manuel, and the coaching staff, which is invested in Taylor. With someone (possibly in the front office) leaking to the league-owned media conglomerate the notion that Manuel could win back the job he lost more than a year ago, guys in the locker room could start choosing sides.
This is wonderful. Sammy Watkins runs his mouth about a broadly correct notion about distribution of footballs, and the reaction is so hysterical that the Bills front office takes it as an invitation to send out feelers about staging a war of succession for E.J. fucking Manuel, a truly awful quarterback. Taylor, meanwhile, has been a large part of why Buffalo has looked like one of the better teams in the AFC. He's been targeting Percy Harvin and tight end Charles Clay far more often than he has Watkins, but Watkins has missed time early, and as he said himself, young quarterbacks take time to get acclimated to individual receivers.
So here we are on Sunday, with Bills fans left to consider that the team can either drop a winnable game against the undefeated Bengals, or pull it out and maybe get stuck with E.J.
Photo via Getty