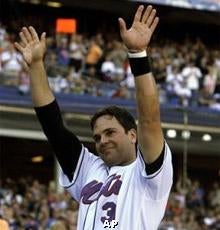 Mike Piazza, arguably the best hitting catcher of all time, has finally concluded that his services as a very expensive designated hitter have passed him by. He's officially retired from baseball and released this statement via his agent:
"After discussing my options with my wife, family and agent, I felt it is time to start a new chapter in my life.It has been an amazing journey."
Indeed. You almost forget just how good Piazza's career stats are: .308 career average, 427 home runs and 1,335 RBIs .
However, Piazza will most likely be remembered for plenty of other things besides those gaudy numbers.
Farewell, you Fu-Machu'd squatting beacon of heterosexuality.
Mike Piazza Retires [Hot Foot Blog]