Novak Djokovic, who's been blessed with some well-timed cakewalks lately, rounded up and slapped a group full of youngsters right in their apple cheeks. Meanwhile Andy Murray hacked his way through a death group, culminating in today's dismissal of Stan Wawrinka (and a very respectable Stan, too) in an efficient 6-4, 6-2. Now both Murray and Djokovic have emerged 3-0 from the round robin phase at the ATP World Tour Finals, snatching top seeds for the elimination phase. That pins the issue of pride—who finishes 2016 with the top ranking?—on the results of this tournament, which froths things up nicely.

The best sports movies according to Toheeb Jimoh
With the way the ATP points play out, if both men falter in the semifinals, Murray will retain his grip on the crown; otherwise, it'll go to whoever advances farther. Today, Andy Murray matched a career-best 22-match win streak—a run he strung together two separate times this year. On Thursday, Djokovic made a world-class athlete look like a feckless child. It's impossible to offer a confident prognostication. Both are very much on one, and both would very much like to be No. 1.
Before arriving at their inexorable, grinding clash in the finals, I'll watch the semifinals, which will pit Murray against Milos Raonic and Djokovic against Kei Nishikori. Murray, the crispest and cleverest returner on tour, seems likely to neutralize, or at least survive, the Raonic serve pelted from the treetops. So while this match will likely contain a trademark Raonic tiebreak, Murray should dispatch him just like he did in the Wimbledon final this year.
I confess much more interest in the other semifinal, which will help test my (admittedly biased) hypothesis that Nishikori can finally hang with the elite of the elite. Granted, Nishikori hasn't won this matchup since his upset in the 2014 U.S. Open—sort of his debutante ball—and Djokovic's had his number ever since, winning the next eight in a row while dropping only one set along the way. But the Nishikori we've seen this week, the one who steamrolled Wawrinka and stretched Murray to the point of physical breakdown, looks like an appreciably different specimen. He will suffer the disadvantage of fatigue, though: before facing Djokovic tomorrow, he'll have to play Marin Cilic tonight, a meaningless round robin match that won't affect the rest of the tournament, but will certainly supply some needed ATP points as he tracks down Raonic and Wawrinka for the year-end No. 3 spot. Nishikori will likely play nice and loose and spray indecent winners all over the hardcourt.
G/O Media may get a commission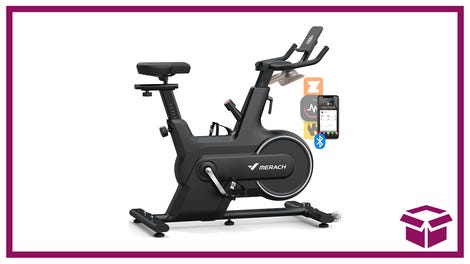 14% off + Coupon
Merach Indoor Cycling Bike
Regardless of your previous level of interest in tennis, watch this tournament. The top four players will sort out where they stand in the hierarchy of the sport, in matches that will place hours of freak athleticism under ludicrous individual mental pressure. It's been a good-ass week so far.