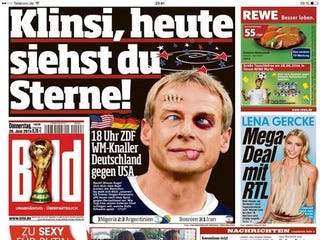 Everyone is gearing up for this afternoon's colossal clash between the U.S. and Germany, and the Germans are no exception. The cocky bastards that they are, almost all of the coverage in their papers pretty blatantly take shots at our boys.
Above is the front page of today's Bild. The words over the photoshopped image of a beaten up Jürgen Klinsmann read "Klinsi, today you see stars!" Inside the paper, the article is even more forceful under the headline "USA vs. Germany: That is why we must never lose." They continue:
On Thursday Jogi's boys playing against the USA - and it's about EVERYTHING! The match against the team of Jürgen Klinsmann (49) is the showdown to win the group. Because for Germany everything is possible: from 1st place in the group up to the World Cup stop.

[...]

Even if Belgium is turned off: After that would threaten Argentina with the first sooooo heavy chunks. That is why we must never lose! So guys: USA beat and win the group!
Express ratcheted up the insults even more. Their front page plays off of a Sport headline ahead of a group stage match in the 1998 World Cup, where they called the Americans the "Burger Boys":
This time, the article calls the USMNT a fast-food team ill-equipped to face the well-fed, sophisticated palates of the German juggernaut:
Germany-USA: Defeat against the Fast-Food Kicker would be disaster

Joachim Loew (54) loves to drink a glass of red wine in the evening. He likes to eat healthy. A piece of meat, fish, salad. He's not a posh gourmet. Rather, one who likes the good bourgeois food.

On Thursday's Fast Food! The United States. Land of Burgers. The ingredients are German this time. A bit Klinsmann, a bit Vogts, a bit Jones. For Löw it only says: plastering, Jogi!

[Should Germany lose] it would be a football disaster. Germany, the land of football gourmets, would lose to these fast food kicker - because the stomach would turn.
The Hamburger Morgenpost at least tried to get analytical, and asked a former German international who played under both Klinsmann and Löw, Arne Friedrich, to break down the USMNT:
Goal

Tim Howard is a rock-solid goalkeeper, an experienced man, but he comes not into areas of Manuel Neuer or Roman Weidenfeller. There we are clearly better occupied.

Defense

In particular, the full-backs DaMarcus Beasley and Fabian Johnson begin to wobble under pressure.

Midfield

Michael Bradley is also primarily a worker, a very strong player running. Footballing he is not Mesut Özil. This is even more true on Kyle Beckerman, a rustic type.

Attack

Clint Dempsey is the superstar of the team. He has just signed a very lucrative contract with the Seattle Sounders. In it you have to watch. With Chris Wondolowski they still have a clipper, an unassuming guy, but freezing cold in front of goal.

Game idea

When Americans try to find a solution to the footballing team Jogi Löw, they will have no chance.
You've had your say, Germany. Over on this side of the world, we're content to let you yuck up your apparently imminent win, focusing on our own game instead. We're just 'bout that action, boss. And we're about to see what's what.
Bild cover image via Twitter