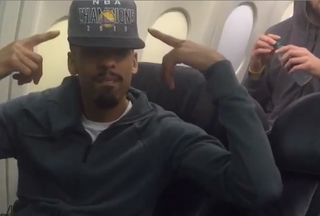 Earlier this season, the Golden State Warriors started one of the best post-victory rituals in the NBA, one that consisted of the team singing and dancing along to O.T. Genasis's "CoCo" on the team plane. Unfortunately, because "CoCo" is about drugs, they got in a bit of trouble and had to resort to loving the CoCo on the low low.
But check this out, squares. The Golden State Warriors are the goddamn champions of the NBA, and nobody can stop them from loving the CoCo now.
David Lee is the real MVP.