As the 2012 Olympics draw near, our London correspondent will be filing semi-regular dispatches on life, culture, and Sport from the Big Smoke.
LONDON—The notion that the Olympics have anything to do with the spirit of amateur athletics is one that corporations gleefully stabbed to death not too long before Michael Jordan and the Dream Team won gold in Barcelona in 1992, when Jordan almost boycotted the medal ceremony because his team's warm-up outfits bore the Reebok logo instead of the Nike swoosh.
Poor Reebok. A similar thing has already happened to them this time around. Last week, Aidan Kirkwood, a British war veteran and charity hero who will be one of the Olympics torchbearers in June, was forced to cover his Reebok tennis shoes in white tape at an event because they weren't made by Adidas, the official cordwainers of the torchbearing team. From The Telegraph:
Such is the level of paranoia at ambush marketing at the London Olympic Games that a soldier injured in Afghanistan was required to cover up the logo on his trainers when he appeared at an Olympic torch relay event this week.
Decisions like these are made by the London Organizing Committee of the Olympic Games, commonly referred to as LOCOG, a murky organization which probably hadn't encountered the phrase "low cognitive ability" until after it named itself. LOCOG occupies a special place in the UK's socioeconomic spectrum, operating as a private company but spending a large amount of public funds—around $1.5 billion—to benefit, primarily, giant corporations.
But it gets worse. Much worse. Eschewing the idea that the Olympics should be organized by someone with a background in sports, public service, international relations, or anything that benefits humanity, LOCOG appointed as its leader Paul Deighton, a consummate control freak who made his name "making" money at Goldman Sachs. Think about that for a second. The city hosting the world's greatest, most inspiring sporting event chose as its captain a guy who made partner in a company that routinely skullfucks the world.
G/O Media may get a commission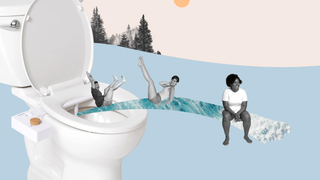 17% off
Tushy 3.0 Warm Water Spa Bidet Attachment
In an illustrative gesture, LOCOG announced today that it would be charging torchbearers like Kirkwood £199, or about $320, to actually buy their own torches. The price goes up to £215 if they decide to keep the torch once the relay begins in May. LOCOG has, in its own defense, suggested that the price for the "high design specification" torches is "good value"—implying that these will be much more functional than the Olympic torches participants might pick up at, say, Best Buy or the local tuck shop next to the sausage-and-tomato flavored crisps.
In all fairness, this isn't the first time a host nation has decided to charge torchbearers for keeping their own torches. The U.S. Olympic Committee applied similar conditions to American torchbearers at the 2002 Winter Games in Salt Lake City. Of course, that was also the year the Salt Lake Organizing Committee, or SLOC, bribed members of the International Olympic Committee with cash, ski trips, and plastic surgery. Want to guess who got to manage the $40 million endowment left by SLOC for Olympics facilities built in Utah? Goldman Sachs.
Stephen McGregor is our 2012 Olympics correspondent. He lives in Camberwell, South London, where he's been working on something big for a long time.