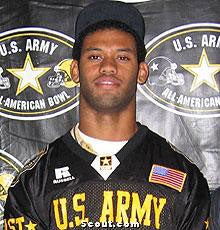 On a slow news day today, we hark back again to the madness of recruiting day yesterday, not from the fans' or coaches' perspectives ... but from the players'. The grand minds at Every Day Should Be Saturday take a look at what the recruiting process means to high school kids, in a hypothetical first-person tale.
I would first like to thank you for the warm welcome I have received since signing with your university. It's not often an 18 year old gets the chance to have sex eleven times in a 24-hour span with anyone but himself, much less with a gang of disease-free ladies with such a dizzying array of techniques, preferences, skills, and battery operated devices illegal in six states. I would personally like to thank the three generous Latina ladies who helped me pull off the "Lotus Spinning While Riding Nandi to Brahmaputra" maneuver, or whatever the hell that thing was. That shit was loco!.
When every college football fan is cheering on their teams' message boards today ... it's important to remember what they're cheering for. Not that there's anything wrong with that, at all.
Open Letter From Your Recently Signed Recruit [Every Day Should Be Saturday]
(Oh, and here's a definitive signing day wrapup.)