Inspired by the saga of "Wrestling Superstar Virgil," we continue with readers' encounters with the titans of the squared circle. If you've had your own run-in with pro wrestlers past or present, e-mail us, subject line "Virgilbag."
Ohtani has the WBC, but will Mike Trout ever lead the Angels to a championship? | Agree to Disagree
Christian:
This happened way back in the day ('87 or '88) when the Honky Tonk Man actually meant something. I was on a school field trip to a poorly attended arts and crafts festival in Memphis when lo and behold who do we see sitting at a picnic table stuffing his face full of funnel cake, but the Honky Tonk Man.

Most of the other 14-year-olds were unimpressed and moved along, but I decided I would get an autograph. Mind you his table was far away from the "action" of the festival (i.e.- he was way out of the way and it took an extreme eagle eye to spot him in the first place.) My friend and I trekked over and asked if he was in fact the Honky Tonk Man. With a scowl and a dramatic sigh, he admitted that he was and then stood there with an expression that implied he would appreciate it if we kindly fucked off.

Being 14, I went ahead and went for the gusto by asking for an autograph. As I held out my Bic pen and the napkin I had procured from a corn dog vendor, Honky simply shook his head and said, "Nope."

I was a bit taken aback, so much so that i was hearing myself ask him "why?" before I had even thought about it. He was the Honky Tonk Man for Christ's sake, he could pull out one of those cheap acoustic guitars the WWF probably bought by the truckload and beat me senseless if he wanted.

"Why?" he replied. "Because, if I sign an autograph for you I will spend the rest of my day signing for everyone."

Mind you, there was NO ONE else within 50 yards of us and when I had informed my classmates of the celebrity in our midst they opted, instead of showering him with adulation, to peruse dream catchers and crappy art made by the local Native Americans. The chances of Honky being mobbed was pretty much nil. We stood there in silence for what seemed an eternity. I had just assumed he would sign the napkin and be happy that kids thought he was cool.

Finally, more out of desire to get rid of us than anything else, he snatched the pen and napkin from my hand, scribbled, "Honky Tonk Man" on it. Handing it back to me he said, "Now will you leave me alone?"

Without a word we turned and dejectedly walked away. As we headed back from behind us came a voice. Had Honky had a change of heart and decided not to be a giant tool? Nope. His exact words were, "Hey, don't tell none of your little friends I did that. I don't want to be signing autographs all day."
G/O Media may get a commission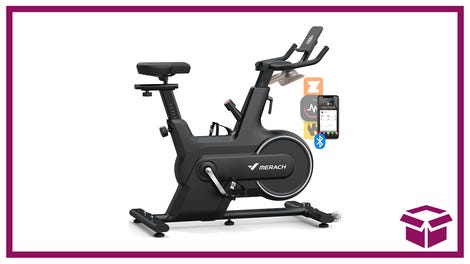 14% off + Coupon
Merach Indoor Cycling Bike
Lance:
The year is somewhere around the 1997—1999 range and I am a local producer/reporter at a tiny local station in the Chicago market. I get assigned to cover the "Special Olympics Sports Celebrity Carnival" at the local convention hall. First I met Road Warrior Hawk. Despite his well-documented demons outside of the ring, old Hawk had it together tonight. Really working the booth like a pro, and with plenty of time to talk with everyone. He even conducted a mock wrestling interview with me that took me back to my heyday in the '80s idolizing the LOD. He punctuated it with a sweet "What a Ruuuuuuuuuuuuuuuussssssshhhhhh!" tag line, and told me to use it in promos, intros or any other way I could on my show. Super nice guy.

When I happened upon "The Honky Tonk Man" sadly working an empty bean bag toss booth at the end of the midway, he seemed like a nice enough guy. When I suggested we conduct a mock wrestling style promo for use in the show like I had just done with Hawk he smiled ear to ear and said he'd be happy to. I put on my best Mean Gene Okerlund look of consternation and began the interview. I don't know if it was the effect of the red light on the camera, or if whatever substance he was abusing that night kicked in right as that interview started, but suddenly HTM went nuts. He grabbed me by my tie put me in a headlock, and gave me a slightly pulled uppercut that still hurt pretty damn good, all the while yelling at me, "You still think you can make it in wrestling punk?" To this day I neither know what I did to anger Honky, nor do I recall ever mentioning that I thought I could make it in wrestling, but I'm still thankful that he somewhat pulled that punch.
Glen:
The WWE only comes to London once a year, and as my mate and I were the BIGGEST Hardy Boyz fans, we had bought tickets to 2001 Insurrextion. The line-up was absolutely great: Eddie Guerrero, Big Show, Dudleys, Benoit, Kurt Angle and Austin. Afterwards we headed to a pub about a five-minute walk from the arena. We had a few beers and as this was the first time we had seen the WWE live, we were in high spirits. We left the pub a couple of hours later, and went straight in to this little kebab shop next door.

As our server was dicing together some meat, pitta and salad combo, Hardcore Holly just comes through the door. He isn't as tall as you might think, but he's pretty broad and imposing. He was wearing a faded blue baseball cap but he was still totally recognisable. He was already known then to be a bit of a grumpy diva (and this was obviously well before he sandbagged Brock and the other stuff he did), and I didn't know if I should approach him. But he was one of my favourite old-schoolers so I did. He had barely got in the kebab shop and I was introducing myself. I am still to this day amazed at my own confidence at that point.

He didn't ignore me, but he didn't say hi back either — he just nodded his head up and down lazily to acknowledge me and then walked past. He then asked for three Cokes (I've never understood this as he was on his own) and the server turned round and walked a few paces away to get them. The other server gave me my kebab. As I reach to get mine, Hardcore looks down at my outdated Y2J t-shirt, sniffs (a real sniff not a dramatic one) and looks back to take his Cokes from the counter.

"Gimme one of those too" he said, pointing at my now fully-furnished kebab. The kebab is being made in deadly silence until the server asks him for his salad options. Hardcore replies: "Just one of those" and points at mine again. He doesn't look at me (or anyone) anymore.

When it is ready, he turns to walk out and the server timidly shouts "Mister, £3.50 please."

Holly points at me with his finger and replies "Little Chris fucking Jericho will pay.".

And I did.
Carl:
This would be in July of 1996 and happened in Vancouver BC, Canada. The WWE was in town and had just held their "International Incident" PPV. It was headlined by a 6 man tag match featuring World Champion Shawn Michaels, Ahmed Johnson and Sycho Sid (filling in for a no show/holdout/give me all the $$$) Ultimate Warrior. They faced the heel team of Vader, The British Bulldog and Owen Hart. The show was awesome and I, a very excited 11-year-old wrestling fan, got to sit ninth row on the floor, right against the guardrail! Show went well and afterwards my mom (who is a champ and sat through many a WWE house show with me) took me out to eat at the Spaghetti Factory.

We had just ordered our food when my mom noticed none other than the Owen Hart walk in behind us and sit at a table nearby. I was still fully marked out from the show and couldn't believe Owen Hart was sitting in the same restaurant as me. I got the guts to finally go over and say hello and ask for an autograph. Owen was nice and obliged by signing the match card for the night and as I was about to walk away he said, "hold up, take a seat with us for a minute."

Owen proceeded to take the time to go through the program with me, constantly ripping on the Ultimate Warrior who was on the cover but didn't make the show and making me laugh. He also took time to talk to me about my Calgary Hitmen hockey jersey I was wearing (a junior hockey team in the WHL that his brother Bret was part owner of). Even at my young age I understood that he was taking his own time away from his family and friends (he had his wife Martha and head of WWE Canada Carl DeMarco with him) to make my night a little more special.
Matthew:
My (admittedly pretty boring) wrestler encounter came 10 years ago while I was waiting tables for a pretty swank restaurant in Atlanta. I had moved past the rasslin' phase of my life at that point, but I had enough friends who were into it to at least recognize that "Diamond" Dallas Page had just been seated in my section. As much as I wanted to walk up and flash him a giant hand vagina, I also wanted to keep my job. He was very polite and soft-spoken throughout the meal, which seemed to be a business dinner with an agent. The one thing about him that will always stick in my mind: his drink of choice. Never before and never since have I seen someone order Coors Light (in a bottle) with a plate of lemon slices.
Robert:
Growing up in Toronto, the WWF was pretty much the only game in town, so whatever I knew of the Missing Link came from his ubiquitous presence in the "Apter magazines" that ate up the majority of my allowance budget each week. Hampered by a drug addiction that was severe even by '80s wrestling standards, his WWF run had been brief and inglorious, the enduring legacy of which was his presence on the back cover of "The Wrestling Album" (and even then he was relegated to standing behind Uncle Elmer.) One of my magazines contained a passing reference to an angle he did in Texas involving something called the "Linkmobile", so imagine the reaction of my eight-year-old self stumbling upon a large, customized pick-up truck emblazoned with that very phrase, parked on Yonge Street just south of St. Clair, literally a block from my apartment. The truck was adorned with mounted steer horns, heavy chains, and perhaps most tellingly, Texas plates. Unaware that the Parts Unknown from which the Link was billed were in fact Hamilton, Ontario, I had no idea what he would be doing in downtown Toronto, but just how many Linkmobiles could there be?

For days I walked past the truck on my way to school hoping to catch a glimpse of its owner, to no avail. One evening I was walking up Yonge with my mother and our dog, when I spotted a heavyset man bearing at least a passing resemblance to the Missing Link, sans green face paint and haircut that gave the appearance of a death row inmate who received his pardon halfway through having his head shaved. He was wearing an ill-fitting tuxedo and working the door of a relatively upscale restaurant and bar. I was fairly certain I had my man, but too shy to approach him myself, I delegated the task to my long-suffering mom (and the family dog.) From what I gather she coyly inquired if he happened to know anything about the unique horned truck parked across the street, and he explained that it belonged to a famous professional wrestler known as the Missing Link. It was only due to my mom's persistence that he finally, somewhat sheepishly, confirmed his identity; in hindsight I suspect it was less a matter of maintaining kayfabe than embarrassment that the famous professional wrestler was now working as a glorified bouncer. At that point my mom waved me over and he introduced himself, fielding whatever inane questions I had while curiously fawning over our Cocker Spaniel.

Fast forward to 2005, at which point I'm dabbling in the wrestling business myself. I'm working the gimmick table at a legends convention in Tampa, Florida, and my trainer George South has been booked to wrestle none other than the Missing Link. George introduced us the afternoon of their match and I relayed my minor anecdote. The Link professed to remember the entire thing, which was surely bullshit, but I appreciated the sentiment and left with an autographed photo on which he scrawled "LINK" in the primitive manner of a Parts Unknown native. After their match George, in his own imitable fashion, recounted how the 65-year-old Link had insisted on having a steel folding chair dented over his head. He passed away two years later. R.I.P., LINK.
James:
I was in Miami during Wrestlemania weekend this year. I had no idea that it was Wrestlemania weekend. I used to love wrestling, but like a lot of things, just sort of stopped following it in high school.

While enjoying an oversized cocktail in South Beach, I saw out of the corner of my mildly drunken eye someone who looked familiar. Upon second look, I was almost certain it was a pro wrestler (since he was unnaturally ripped, and I saw other heads turning his way). I started to get excited, then put two and two together with Wrestlemania in town. When the guy walked by again, he posted up right near our table (we were eating outside) and I got a good look at him. It was none other than Bad Ass Billy Gunn. I was feeling shy since he was one of my favorites as a kid (his intro music was perfect, and the Fame-Asser is an awesome finishing move, especially because its easy to do to friends on a trampoline). Finally I took a big swig of my mojito and my wife insisted that we go and get a pic.

Long story short, he was a pretty nice dude, totally cool to take a picture. After we snapped a few, I had to ask: "So Billy, what will it take for you to drop a Fame-Asser on me right here on Ocean Drive in South Beach?" He smirked a bit, looked down on me (I'm 5'11"), and said, "For ten grand, I'll drop you right here." I told him I'd start fundraising and walked away back to my drink. It made my night.
J.W.:
I occasionally attend an annual gaming convention called Gen Con, which over the years has had quite a few celebrities of various levels of fame to attract more attendees. Back in the early '90s while I was walking down the Exhibit Hall, I spotted a recognizable figure working a table: Hillbilly Jim! He wasn't wrestling too much at the time, but the WWF still had him under contract to do promotional work. Unlike most of the other celebrities, Hillbilly didn't have a public relations manager and didn't ask fans to stand in a line, he just said, "Don't be shy, folks, come on up!" and let anyone interested in talking with him step right up to the table and hang around as long as they wanted. He seemed to enjoy shaking hands and chatting, and whenever someone wanted a photo or an autograph (he had a stack of photocopied photos to sign), they got it for free. (One woman, getting her picture taken with him, proceeded to grab his ass, which caused him to exclaim in an English accent, "Madam, those are my buttocks.")

At the time, I was about 16, and having been a huge wrestling fan for quite a while (I had subscriptions to all the Apter magazines and thought this made me a "smart" fan) I was really nervous to meet him but was determined to show I wasn't like the other "humanoids" here who didn't know a wristlock from a wristwatch. I said, "Mr. Hillbilly, I've been watching you for so long..." and stopped, not knowing how to continue. He jumped in and said, "probably since you were about this high, right?" holding out his hand for reference and nodding with a smile. Then, to prove my wrestling knowledge - since it had been established on television that Hulk Hogan introduced him to pro wrestling - I said, "Are you and Hulk Hogan still friends?" Before I even realized what a lame question this was, he answered, "We still talk now and then. How about an autograph?" And, quite thrilled, I said that would be great and received a signed photo. So yeah, I think
I impressed him.
Tony:
It was a Saturday night in the late '80s/early '90s when friends and I went to the Mardi Gras night club in Stone Park, Ill. It was about 1:30 a.m. We were trying to get to the bar and were stopped by two burly security guard types. They said we needed to go to the other side to get our drinks because someone didn't want to be bothered at the bar. That someone was the Iron Shiek! Being a fan of wrestling I yelled to the Sheik, "let's have a beer!"

He waived me up to the bar where he was two-fisting Heinekens like they were water and shooting whiskey. He ordered me a beer and proceeded to tell me how people thought that he was fat, but he was all muscle. He had me punch his stomach as he lifted his shirt and told me that he would kill any wrestler if they let him fight for real. He said Hogan was no good and most of the other wrestlers were weak.

It seemed like the beers had no effect on him. I saw him drink four in like 10 minutes, and he said he needed to go. I told him it was great talking to him. He said thanks for having a drink, and walked away. About five minutes later I got up to piss and the bodyguard would not let me in the restroom. A minute later Sheik came out sniffling and rubbing his nose (I ain't sayin I'm just sayin) and proceeded to two-fist beers again. He stayed until about 3:30 a.m., then left with his bodyguards/friends/goons.
Chad:
So it was 1998 or 1999, a lifelong friend and Igo over to Hanover, N.H., to see a local show where King Kong Bundy was in the main event. We watched the rest of the show and Bundy blew away the guy he was wrestling, and after we went down to get a picture with him. So we get our chance, my buddy and I were goofing around pulling the ropes like wrestlers waiting our turn, and when it's ours we go over. The first thing I never thought about was how goddamn big he was. I am 6'2", at the time was pushing 240, and he was taller than me, and of course out-weighed me by 150lbs. When it's my turn to take the photo, he grabs me by the back of the neck and pulls me close like I was a 6-year-old (I think my feet left the ground for a moment) and says "This is gonna make the chicks cream in their jeans."
We close, as always, with a Virgil story. Samir:
I went to a comic book convention in Chicago with my brothers and mom. As we are walking around the place we notice Virgil near the far wall in an autograph booth. Obviously, no one is in his line while those other semi-celebs around him have huge lines. We decide to go get his autograph, we start walking up and the first thing that comes out of his mouth is, "Hey sexy mama."

My brothers and I just stare at each other, but he doesn't stop. He proceeds to hit on our mother, not even bothering to acknowledge the three kids around her. This goes on for a solid three or four minutes, before we finally decide we don't want his autograph anymore and begin to walk away. Who knows what would've happened if we stuck around a few minutes longer. Could have definitely been calling Virgil "Pops."
Thanks for your stories. Keep sending them in.