Brit Sebastian Coe, better known to friends and family as Lord Coe, was voted in as the president of the International Association of Athletics Federations over the only other contender, Russian Sergey Bubka. For the past eight years, Coe has been an IAAF vice-president, and also takes credit for putting on the 2012 Olympics in London. The ink on his new business cards has not yet dried, and already Lord Coe has made strange announcements and exhibited unusual reactions which suggest the lofty position may already have gone to his scepter.
For example, when faced with allegations that, for the last decade at least—so, during his stint as No. 2—the IAAF knew about state-sponsored doping in Russia, knew about high-profile athletes with suspicious test results, and did nothing, Coe chose to shoot the messenger. Rather than finding this information troubling, and mumbling something to the effect of, Dadgumit, we'll get to the bottom of this, heads are gonna roll, etc etc, he said that the media had "declared war" on track and field. He was not PO'd that the IAAF had done something awfully, globally wrong on his watch, but rather that they'd been caught, and by golly, he was going to defend that besmirched reputation.
And the way he's going to clean house:

"We do have to recognise there is too broad a view that this something – whether real or perceived – that there are conflicts and loopholes. An independent system is what we need to close down any thought that we are doing anything other than being entirely vigilant about that."
G/O Media may get a commission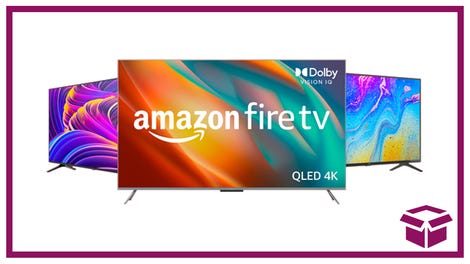 Ooh. stunning.
New Amazon Fire TVs
He's saying there needs to be an independent drug-testing system...a lot like the World Anti-Doping Association, which is an independent drug-testing entity. But WADA apparently isn't independent enough. Instead, Coe wants the IAAF to set up their own drug-testing organizing. That's what he means by independent.
And what he means by rooting out conflicts of interest. From the Guardian:
The 58-year-old...refused to say whether he would relinquish [his] other roles as chairman of the British Olympic Association, chair of the sports marketing agency CLM and a global adviser to Nike. He said his team would "figure out the appropriate corporate governances" and make changes if necessary.
The Telegraph reported his response to questions about being on the Nike payroll this way:
Responding to most lines of questioning in a calm manner, the only time that Coe appeared flustered was when asked if he would give up his role as global ambassador to Nike in light of his new position with the IAAF. Resorting to sarcasm, he replied: "I have only been at Nike since 1978, so that's a fairly new relationship", although he later admitted that he would make "adjustments where appropriate."
I'm going to go out on a limb and interpret that as Hell yes, I'm going to do keep doing it. So, the president of track and field's worldwide governing body is on the Nike gravy train, thinks they've done a swell job of deterring and catching dopers, and to do drug testing even better, he wants to set up an IAAF-appointed unit. Okay.
Meanwhile in Indianapolis, the USATF is doing its best to maintain the same ironclad commitment to transparency, clean sport, and rugged independence from outside interests—sweet swoosh-dollars being delivered in wheelbarrows, big stacks of them, fluttering down like falling leaves, Max and everyone frolicking through them....No! No! In the name of Justin Gatlin, no! It isn't like that.
Because USATF has Steve Miller on the job. Quit it, all you sophomoric people—he's neither a joker, a smoker nor a midnight toker. But he was the director of Global Sports Marketing at Nike prior to 2009, when he joined the USATF board of directors. He steps up to fill the chairman seat of that board vacated by Stephanie Hightower. Hightower will now be the USATF representative at the IAAF, a position 85 percent of USATF members wanted Bob Hersh to have. The good folks on the board at USATF disregarded that vote entirely and named Hightower to the international spot. Steve Miller was in on that sleight of hand.

Luckily, Miller has put all those Nike associations and allegiances behind him. All those Nike connections, and the troubling doping associations. All in the past. What's that you say? Hanging out with dopers? A Nike executive?
USATF doesn't allow just any greasy bum to chair their board of directors. Under a headline that reads, "Hightower Quits USATF Post; New Chair's Ties to Drug Cheat Noted," the Times of San Diego reported this about Miller, in addition to his past life with Nike:
Miller is CEO of Agassi Graf Holdings, the Andre Agassi Foundation for Education, and BILT by Agassi and Reyes. ...Miller's role in the Agassi camp concerned Bob Weiner, a Washington-based Democratic strategist who volunteers as a USATF masters track publicist.

"Agassi is a fun guy and a known tennis champion, but in his autobiography he admitted taking banned stimulant drugs during his Grand Slam tournaments and tennis knew and knows but did nothing about it," Weiner said via email.
At the very highest echelon of track and field, we've got people on the Nike payroll, people who are going to do everything they can to prop up track's sterling reputation, people who hang with drug cheats because they're fun and probably throw good parties. What could go wrong?

photo credit: Getty Images