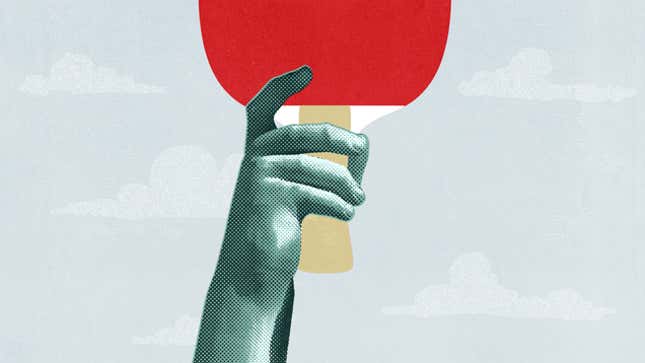 I am standing in a gaggle of table tennis players in a dark bar in Grand Rapids, Mich., on the Fourth of July. Before us, another table tennis player named Donald Hayes is playing Millipede. Donald and the others are all competing in the U.S. Open, the biggest ping-pong tournament in America, but right now that is of little importance. Donald has held the world record for high score in Millipede, Pac-Man, Centipede, and a handful of other games.
Quarters have been procured. One does not often get the chance to watch somebody who is the best in the world demonstrate his talent. We watch for a few moments. Donald's control over the screens is absolute. He moves the little head that shoots bullets at the descending millipede with insane speed and precision. Patrons stumble by, oblivious to what is happening before them.
We watch for a few more minutes. Donald's focus is admirable. The screen is pixely and bright. The little head bounces around among the falling projectiles. The music in the bar changes, and changes again. We stand there. We linger. There are further lives to be lost, but the night is too young. Michael Hyatt, who represented Jamaica at the Barcelona and Atlanta Olympics, wants to go out and see the city. His day job is selling computer software. I ask Michael how quickly he drops the word "Olympian" into conversations with women. He laughs. As soon as possible, he says.
We leave Donald Hayes standing before his Millipede machine.
---
The difference between July's U.S. Open of Table Tennis and the national championships, which are to be held in Las Vegas in December, is the word "open." It applies in the most overt sense: Anybody can come to Grand Rapids to play, and they do. This year, there are more than 700 competitors from 21 countries participating in 83 events. This is fitting, given the nature of serious table tennis competitors in the United States, and of the sport. Many are immigrants, or the children of immigrants; ping-pong, itself an immigrant, is a sport of immigrants. It hums along, visible to the uninitiated but hardly known. Walk through Chinatown and you can see the commerce happening around you, but unless you speak the language, there's something about it that will remain withheld from you. Ping-pong in this country is a little like that. A tournament can be a refreshingly disorienting experience, particularly for an American fan of "American" sports.
My grandfather taught me how to play. He learned the game growing up in Poland before the war and eventually picked it up again when he came to America. In the 1950s, he worked as a machinist at a landing-gear factory in Burbank, Calif. During lunch breaks, he and his coworkers would grab burgers from Bob's Big Boy, then go play ping-pong at a nearby park.
When I was 12, he took me to a tournament at a community college. I didn't win, but I caught the eye of a woman named Bella. She had short hair and a thick accent, and she told me to come back the next week for her youth class. For five years I played ping-pong with Bella. I learned how to touch—not strike—the ball with a sponge racket, and how to return sidespin, and how to start my serve by tossing the ball at least six inches above the table from an open hand, as mandated by the International Table Tennis Federation. Bella was a straightforward person who gave straightforward advice: move your feet, spin the ball, don't be so lazy. She told me about playing table tennis in Ukraine.
Bella reminded me of my grandparents with their old-country accents. But ping-pong was insular and far removed from anything else going on in my life. I wandered along the outskirts. I was good compared with people who didn't play, but could never match the robotic kids I saw at tournaments sometimes, the ones who could hit thousands of forehand loops without breaking concentration or growing bored. As a result, I never fully fit in with them. I drifted away.
Like anybody, I would play here and there: in the common room of my dorm, at parties, and at the YMCA camp where I was a counselor. But that was just goofing off. As Bella would have put it, that was ping-pong, not table tennis. Still, every time I picked up a paddle, the itch would be there. It sounds crazy, but there would be this jolt in my right arm, and suddenly I could picture myself back in a gym, sweating and smashing forehands across the table. On some level, I always knew that I would come back.
Ping-pong is a game for obsessives. Obsessiveness, in fact, is a prerequisite for success. The best players in the world spend hours standing at a table, repeating the same strokes and the same footwork, developing the reflexes and the intuition necessary to defy physics by returning shots struck in their direction at impossible speeds and with unpredictable spin.
In Howard Jacobson's table tennis novel The Mighty Walzer, the title character grows up playing alone against a wall in his Manchester, England, bedroom. He uses a leather-bound copy of The Strange Case of Dr. Jekyll and Mr. Hyde for a paddle. He is terribly shy and has this to say about the game:
"It made concessions to my solitary nature. Ping-pong is airless and cramped and repetitive and self-absorbed, and so was I."
This may not quite be me, but it sounds familiar enough. Writing is also airless and cramped and repetitive and self-absorbed. For years, I had been looking for a way back to table tennis. What better way than to write about it? I set my sights on the U.S. Open in Grand Rapids.
---
First, I need a paddle. There is a table tennis shop run by a sullen Belarusian ex-pro located inside one of Los Angeles's Jewish community centers. We negotiate an affordable set-up and I watch him assemble the racket: carbon blade by Cornilleau, rubbers by a Chinese company called Friendship. We talk about the World Cup as he glues the square rubber sheets to the blade and traces them out with an X-Acto knife. I ask who he wants to win. "Anybody but Russia," he says.
When the glue dries, I test the racket against a ball-spitting robot—the ping-pong equivalent of a pitching machine. I smack the first ball straight down into the table. Each ensuing return jets off in some unexpected direction, or back into the net. I stare down at the racket, but it seems OK. The problem is with me.
I visit clubs around L.A. One shares an old warehouse with a fencing club. There are cement floors and flags drape the high walls, and the sound of ping-pong balls hangs together in the air with the clanging of sabers. The first couple of visits, I stand around awkwardly with my racket in a plastic grocery bag, waiting to play.
I play with nice people: old guys who spin the ball, a huge Russian named Igor who crushes everything, a Chinese guy named Roy who leaves every 30 minutes to inhale a cigarette and comes back slamming the ball that much harder. The city's diversity reveals itself in its ping-pong clubs. I always lose. I am off-balance, pedestrian serves baffle me, and bad tendencies of my youth re-emerge. I fail to spin the ball, watch my returns instead of preparing for the next ball, and get too cute in placement.
The tournament is coming up quickly. I am registered to play the novice events, low-key, unofficial brackets that do not require a rating, or any kind of experience. But I also want to see how I match up with elite players. George Plimpton made a career out of doing this, spinning his adventures into books like Out of My League and Paper Lion, on suiting up with the New York Yankees and the Detroit Lions. The idea, he wrote, was "to play out the fantasies, the daydreams that so many people have—seeing themselves on the center court at Wimbledon, or sinking long putts at the U.S. Open, or ripping through the Green Bay secondary."
I doubt many Americans hold similar fantasies about firing backhands past world champion player Ma Long, but I hope at least to gain an appreciation for just how difficult high-level table tennis actually is, and the many ways that difficulty is imperceptible. A person could look at middle-aged George Plimpton and know he was not an NFL quarterback. The physical skills that make a table tennis player great are far less blatant.
Before I leave for Grand Rapids, I stop by the college where I spent so many hours taking orders from Bella. She only somewhat remembers me, but she takes a few minutes to hit on an empty table and remind me of all the fundamentals I am screwing up.
She reminds me, too, that in order to win at ping-pong you must truly feel the ball on a subconscious level. It is more intuitive than intellectual, and that kind of muscle memory takes years to develop. A successful return is not just a thwack. It is an exercise in timing, patience, and rhythm. It is almost a dance.
She asks to see my paddle, and her face twists. "It is OK," she says, shrugging. "For now."
---
The Sunday evening sky is heavy. Big black rainclouds loom over the highway like alien space craft. Lightning flashes the horizon gold, and the setting sun leaves a hazy purple glow that matches the dashboard in my rental car. By the time I pull into Grand Rapids past the unlit Gerald Ford Presidential Museum on the banks of the river, the city is in shadow.
A rally at a U.S. Open match between Riyo Nemoto and Eriko Kitaoka.
---
I walk across a sky bridge from the parking garage to the Amway Grand Plaza Inn beside a woman wearing a convention name tag. She asks what I am doing in town, and I explain that I am here for a ping-pong tournament, and that the best players in the country are all in Grand Rapids. She asks if it is like Forrest Gump, and for a lack of a better, more succinct way to explain high-level table tennis, I say yes. At the same time, a man in a sweat suit passes by rolling a suitcase, and scoffs loudly.
Players linger around the hotel lobby, identifiable by their rolling suitcases and rainbow Joola and Butterfly polo shirts. But there aren't any ping-pong players at the hotel bar. It's just a few conventioneers and a group of people dressed like heavy-metal musicians. It turns out they are heavy-metal musicians. Alice Cooper and Mötley Crüe are in town, opening a tour. Alice Cooper's backing band charges our tabs to a local booking agent. They ask if the ping-pong tournament will be like Forrest Gump.
On Monday morning, I drag myself from my room through a series of lobbies, sky bridges, tunnels, and further lobbies into the DeVos Convention Center, where the tournament is getting underway. There are trade-show style booths set up with table tennis merchandise for sale, and there is a registration table, and the ticket window is open but unoccupied.
I hear the tick-tick-ticking of celluloid balls on tables and the soft hollow sound of rackets on the ball, and the squeaking of table tennis shoes, and the soft murmurs of many voices. Then I walk through the doors into a bright hangar of a room with cement floors and catwalks high above. Ninety tables spread out before me, and hundreds of people are moving around and among them: an entire city of table tennis. The sounds come into clear focus, then blend together and rise to a steady hum under the halogen lights.
---
A man in an umpire's uniform introduces himself to me: Michael Wetzel, assistant sports editor at the Decatur Daily, vice president of the North Alabama Table Tennis Club, and general goodwill ambassador of ping-pong. Michael is a middle-aged man with white hair and an expression like he is always five minutes late for something. His umpire's uniform—khakis, light blue shirt, blue blazer, red tie—gives him the look of being dressed up in his church clothes.
Michael fires story ideas at me, one after another. He introduces me to Shigang Yang, a coach for the U.S. national junior team, and to Yang's young son Andrew. Yang is from China, tall and thin, with spiky hair and glasses. He is wearing a blue Team USA sweatsuit. We talk for a few moments, but he is fidgety and hurried and keeps looking out over the convention hall. So I ask him if instead of the interview, I could just hit a little with Andrew.
Andrew's head barely reaches above the table. His mouth emits all kinds of silly sounds and makes all kinds of silly faces. But when a ball bounces toward him, he immediately transforms into a perfect model of fundamental table tennis. Andrew's technique is already better than mine will ever be. He waits for my returns to drop low beyond the table, down to his level, before looping them gracefully back over the net. He especially loves to stand far from the table and hit long, arcing returns. When a ball skitters off, he sprints to track it down at full speed. When he hits one badly, he stomps his feet and mutters. We play for about 15 minutes, before his body straightens suddenly. "What time is it? I have a match" And he runs off.
---
I ride the elevator up to my room with a group of teenage players. We get to chatting about the tournament, and I tell them that I'm a reporter. The boys, like nearly everybody I speak to in Grand Rapids, assume that I work for a table tennis publication. When I tell them I work for a website called Deadspin, they assume that Deadspin is a table tennis publication that they have never heard of.
They ask me if I know Matt Hetherington, a table tennis blogger who conducts interviews with players around the world. "He's a really good guy," one kid says. "I think he talked to Waldner," another kids says. Jan-Ove Waldner is like the Swedish Michael Jordan: the greatest table tennis player of all time, inhumanly competitive, not altogether opposed to having a good time. He was so imaginative that his nickname was actually Mozart. I tell them I don't know Matt Hetherington, but that I'll check out his website. If he interviewed Waldner, he must be pretty good. The doors open, and the kids exit. As they do, one yells over his shoulder, "I think Matt's like a 2,200."
That's a 2,200 USA Table Tennis rating. Everybody in Grand Rapids is totally ratings-obsessed. Your rating is part of your identity. Tournaments are broken up into max rating events: "under 1,800 for example," or "under 2,000." Higher-rated players nearly always win matches. So it is not weird to casually refer to a person as a "2,200." That number is just who Matt Hetherington is.
---
A 7-year-old boy and a middle-aged man are playing a meaningless-seeming round-robin match. The little boy is Indian-American, and clearly the better player. You can see it in his technique, in his footwork, in the spin he puts on the ball. He is dressed in ping-pong clothes: bright collared shirt, short shorts, and small sneakers. He is in the process of blowing a two-game lead in a best-of-five match. He shakes his head, agitated, and looks pleadingly to his parents for answers as the match slips away from him. His mom, meanwhile, whispers to her husband that the middle-aged man, who has floppy gray hair and is wearing a New York Knicks T-shirt, is serving illegally.
The match gathers significance with each point. The boy mishits balls he should be returning smoothly. His returns float over the net allowing the man to attack, and his own slams fail to land. When the collapse is complete, the middle-aged man raises his arms, genuinely triumphant, or at least relieved. The little boy, meanwhile, is on the verge of tears. His parents offer hugs and tell him that he played well and that he should be proud.
I wonder how I would do against these players in the lower divisions. I could hang with them, I tell myself. But would I be willing to pull out all the stops to beat a 7-year-old boy? Would I be willing to lose myself in the competition? Or would I be looking over at his expectant parents, and looking down on him with his glasses and spindly little arms and thinking, it's just not worth it, this is crazy, what am I doing? I want to ask the man what it feels like to have beaten a 7-year-old in five sets, but he looks like he has already forgotten. He shakes hands with the boy and with his parents, then walks off toward the snack bar like he owns it.
These dramas play out again and again. Table tennis matches are so short, contained, and emotionally charged. They generate their own energy, and then just as quickly, they are over. Entire tournament events are completed over the course of just a few hours. As soon as one match ends, another begins. I think that maybe I would have beaten the kid, but that I would have been ruined for the next match. The table is a great equalizer: It can reduce differences in age and athleticism to almost nothing. But it takes a determined competitor to look across the table and see an opponent, not a child. The whole thing makes me feel better about the fact that I'm only participating on the novice side.
---
One of the volunteers running the novice event is Connie Sweeris, a Grand Rapids native who went to China in 1972 as part of the "ping-pong diplomacy" delegation. She and her husband, Dell, are Table Tennis Hall of Famers, and a good picture of what competitive ping-pong looked like before players from Asia and Europe began to fill the U.S. ranks. They met through table tennis and are now serving as co-chairs of the U.S Open. It is not an accident that the tournament is being held in Western Michigan. When I ask Connie about China, she gives nice, polite prepackaged answers. She is used to talking about it. She wants to make sure I have a nice time.
Aside from me, the novice players are all local. Nobody comes to Grand Rapids to play novice ping-pong. They call us into a back corner of the gym—tables 79 through 90—and divide us into round-robin groups. I warm up with an old Chinese man who plays penhold style and slams every other ball a foot off the table, laughing constantly throughout. My group consists of a Ghanaian immigrant who plays in a church basement, a Cuban immigrant who tells me later about coming over on a raft—how he was starved and losing his mind when the Coast Guard picked him up—and a white dude in his mid-20s.
I play the white dude first. He takes a big lead in the first game, but I come back to win that game and then beat him 3-2. He has a table tennis coach whispering in his ear between games, and the coach even tries to call a timeout but the white dude waves it off: It is clear he doesn't take things seriously. It is also becoming clear that I don't either. I realize that I didn't come to Grand Rapids to win.
Next I take on the Cuban. He is a purely defensive player, standing way back from the table, bending his knees deliberately and lofting every ball back to me with an ancient cheap paddle that seems to chew spin off every ball it strikes. He is fun as hell to play with and seems preoccupied with extending rallies as long as possible. He never attacks. But I hurt myself. I miss shots. I strain and fall into old habits: striking the ball instead of spinning it. I find myself thinking too much about what I'm doing. The pace is so slow I can't help it. Still, I hold on to win in five games. My opponent doesn't seem to mind.
Finally, the player from Ghana. I had seen him crush the white dude, but the Cuban took him to five sets. He is friendly as heck—everybody in Grand Rapids is friendly as heck—but he is also merciless. After about 30 seconds of warmup, he says he's ready to go. Maybe he's just that relaxed. Maybe he's playing mind games. In table tennis, it can be hard to distinguish sportsmanship from gamesmanship. But probably he's just ready to go. This is a novice tournament, after all. So I tell him that I'm ready to go, too. But I don't know if I am.
No amount of warmup time would've been enough. I am confounded by his serve. It is a befuddling and heavily camouflaged sidespin that leaves me off-balance from the first point. My returns are like wayward shots from a broken pistol: I aim, but I don't know where the bullets are going. And so it ends. I manage a few points in every game. But my opponent wins the group. He goes on to win the entire tournament. His name is Noah, and he shrugs and smiles as he accepts his trophy. A few blocks away, Alice Cooper and Mötley Crüe are beginning their concert.
---
A drunk lying on a bus stop bench asks Wally Green if he is Sisqo. Wally laughs. He had warned me about this. "I look nothing like Sisqo," he had said. But Wally likes attention. He'll even take this kind. We're strolling through Grand Rapids among the dozens of microbreweries. Hotel concierges here are quick to remind anybody that they are in Beer City, U.S.A. But Wally is not much of a beer drinker. Usually he orders Red Bull vodkas. At one stop, Wally tries to order tea, but settles on an Irish coffee.
Wally has bleached hair cut into a crazy pattern and a gap between his front teeth. It's hard to tell whether the gap makes him seem boyish, or if his preternatural boyishness gives the gap its character. He looks nothing like Sisqo, but he does make music—he raps—and he does stand out as one of very few African-Americans in the U.S. table tennis scene. People in the ping-pong world have strong opinions about Wally, and Wally has strong opinions about them. One of his opinions is that people inside the sport take themselves too seriously. This makes him a great person to talk to.
For example, the fundamental philosophical question of the sport's name: ping-pong vs table tennis. Competitive players have a reputation for insisting that the sport be called table tennis. But Wally hates that. Why take yourself so seriously? Call it anything. Once upon a time, in England, it was called whiff waff, gossima, and pom-pom. It was also called pim-pam. Table tennis, ping-pong. Same fucking thing. This is not an especially controversial opinion. Many championship players say ping-pong. But Wally says it more strongly.
Wally grew up in the Marlboro Houses, a 28-building project in Gravesend, Brooklyn, out near Coney Island. He ran in gangs. Ping-pong, he says, saved his life. He tells the story repeatedly, always vaguely: a mysterious old rich guy—anonymous to us—got to know him and helped get him started. One day he saw that Wally was carrying a gun, so he sent Wally to a table tennis academy in Germany. Now Wally plays all over the world, even in top pro events where he loses every match but that's OK, because he is moderately famous now in China.
It's a hustle, after all. He coaches a well-off teenage student and travels with him to tournaments, which is what he's doing here. On Friday nights, Wally emcees at the table tennis social club Spin: New York. He appeared on the Steve Harvey Show. He used to do bar mitzvahs, which was a wonderful gig, until some other players started undercutting his price point. Wally says that one of ping-pong's obstacles to greater popularity is the people who play it: There are generally older white people who are out of touch with how the sport is perceived, and there are immigrants who come from places where table tennis is so obviously a serious and compelling sport that the concept of people not getting it is unfathomable.
Now Wally wants to hit this club he remembers from the last U.S. Open in Grand Rapids, in 2012. It's across the street from the hotel. There's a dueling piano bar on the first floor, and the club is upstairs. It's college night. Wally says we should go upstairs. We stand by the bar for a while, then beside the dance floor. Wally doesn't dance. He says the guys who dance too much never get any girls. Instead, he talks. I'm a flirt, Wally says. He talks to everybody. I nod my head and act like I don't feel out of place at all. He sips his Red Bull vodka and relishes momentarily being so far from the ping-pong tournament, even though the convention center is just two blocks away.
---
I drift through the grid of tables, wandering uselessly between the players, coaches, umpires, and assorted hangers-on. Children are everywhere: playing matches, being talked to seriously by their parents in quiet corners, giggling by the food stand, chasing each other down aisles. Crystal Wang, 12, the highest-ranked girl in America, prepares for a doubles match. She sits on the first bleacher by one of the center tables and fixes her hair, then she taps at a cell phone in a pink case. Moments later, she is at the table hitting mechanical backhands, not smiling and not missing either.
The matches are highly ritualized: Chinese players all scream the same way after hitting a big point: "Choooo." Players from everywhere approach the table after a rally and wipe their sweaty palms on the front corner of the surface beside the net, locking eyes. In a best-of-five or best-of-seven match, with games to 11, just a few points can change everything. Small swings of momentum become massive tectonic shifts.
There is something impenetrable about the event. Small talk fizzles quickly. Hitting with players is a better way in, but that lasts only so long. The player will wander off, never to be seen again. Ping-pong tournaments are like Star Trek conventions, says Steve Hopkins, who edits USA Table Tennis Magazine. This is the biggest convention of the year. Hundreds of people who spend their free hours watching Chinese Super League clips on YouTube connect with like-minded peers and talk about the sport they love. I can see the action but can't fully grasp it.
---
Comerica Park is about two and a half hours from Grand Rapids, and feels even further from the DeVos Place Convention Center. I drive out there halfway through the tournament to watch the Rays take on the Tigers. Before the national anthem plays, a few dozen people are led onto the field. They raise their right hands and are sworn in as U.S. citizens under the Michigan sun.
What could be more patriotic than celebrating these new Americans inside a temple of the national pastime, a stadium built with public funds and owned now by a fast-food pizza mogul? They stick around to watch as Max Scherzer of the Tigers strikes out seven Tampa Bay Rays, and Victor Martinez, Ian Kinsler, and Torii Hunter reward their loyalty to the U.S.A by hitting home runs. The home team wins, 8-1.
It is all very neat and very easy to follow. Two teams, one outcome. The players stand far apart on the vast grass field, and the ball soars over the fence, or past the flailing bats of the Rays. When Austin Jackson chases down a fly ball, you can appreciate the distance he is covering, the instinct his work requires, from 200 yards away in the upper deck. You can look at the lineups and see how baseball has spread. Victor Martinez. Miguel Cabrera. Eugenio Suarez.
Meanwhile, across the state, they are playing a game invented in England and mastered in China, a game that did not spread from America, but continues to come to America. The scope is at once smaller and larger. A table tennis match is tiny and fragile and self-contained. Each point is the culmination of a lifetime of experience. The facts of greatness are practically imperceptible to spectators: spin and strategy and the slightest shifts in footwork. The table is only nine feet long. The ball is only 40 millimeters across.
In Grand Rapids, there are very few outside spectators. There is no gleaming stadium; there are no momentous civic or industrial stakes. Each match takes on only the significance brought to it by its players. Each tournament is its own enclosed universe. With so much happening at once, it is hard to draw a line through the week. One tournament ends, and another begins. The momentum of the open itself is as hard to see as the spin on a tiny orange ball. But to the players—immigrants and foreigners so prevalent among them—it is perfectly plain. If baseball is a colonial game, then table tennis is the opposite. It is the world come to America.
---
Before our epic Plimpton-esque match, Tahl Liebovitz and I eat lunch together at Subway. He orders a turkey sandwich with mozzarella. He says he likes Subway because he's trying to watch his calories. Tahl is getting his master's in social work at NYU. He sings in a punk band. He can't talk about anything for five minutes without getting distracted. But over lunch, he tells me about his life. He is writing a book about it, which makes sense.
Tahl is a Paralympic gold medalist and a hell of an able-bodied player, too—a 2,445, in fact. He was born with a disease that causes benign tumors to grow on his bones and he has a hard time moving around. He also got kicked out of his parents' house as a teenager and spent years sleeping on the subway in New York. During the afternoons, he would play at a Boys & Girls Club in Queens for hours and hours, six days a week.
Tahl is always waffling between unbridled enthusiasm and brutal honesty. On the phone, he tells his wife, "Yeah, I won ... handicapped players, that's amazing." He says a student of his was "on fire, he played really well ... well, not really well ... but no, he didn't play that well, but he's getting better, he's improving."
Before we play, Tahl talks up my chances. "I'm not looking forward to it," he says. We play best of five, games to 11. Tahl plays with both hands and it is pretty clear he can shut me out with either. He wins the first point of the game when I can't return his serve. I take the second on an unforced error. From there it all happens very fast. Professional athletes often speak of slowing the game down. In table tennis, that's hard to do. Once the ball is in play, the ball is in play.

View of the crowd watching the men's singles final.
---
I'm almost foot taller than Tahl Leibowitz. I'm younger. And I have no chance, even though he isn't even trying. Tahl tells me repeatedly that the game is all mental. It's all tactics, all confidence. Mine evaporates as soon as we start. It's hard to assert yourself when you know that you can't win. And after a week in Grand Rapids, I knew from the first point that I couldn't. The rallies are not rallies, just a series of mishits. "Nice try," Tahl says at one point. He means well.
Losing in table tennis is not as majestic as losing in baseball or losing in football. The whole set-up seems so manageable, so natural. But you crouch over the table, you swing your racket, and you just cannot do anything at all. The ball moves in ways you can't fathom. The reticence I felt when I first bought the racket returns. It is like walking around in the dark.
Tahl is not a vastly superior physical specimen. He doesn't throw a hundred miles per hour or run a 4.3 40-yard dash. But he is better in a thousand microscopic ways. He has trained nurtured his instincts and his technique. He is sure that he will dominate not just me, but anybody. Final score: 11-1, 11-0, 11-0.
---
In his 1974 tall-tale memoir of ping-pong hustling and glory, The Money Player, Marty Reisman wrote about one of the strange phenomenons of the sport:
The average table tennis player is different from most other sports buffs. He is unable to comprehend the enormous gulf in ability that separates him from the professional. I find this puzzling, because the average fan would never consider putting on the gloves with George Foreman, or playing a one-on-one basketball game with Jerry West.
Reisman played money matches around New York wearing slacks and a fedora practically until his death in 2012. He was Wally Green before Wally Green: a ping-pong showman. But he was perhaps most famous in table tennis as the self-proclaimed first and greatest victim of the sponge-rubber revolution. Until 1952, the legend goes, table tennis was played with hardbat rackets. The ball clucked off wooden paddles. Spin was negligible. Then, at the 1952 world championships in Bombay, an obscure Japanese player named Hiroji Satoh showed up with a blade covered in sponge rubber. He beat everybody, including Reisman.
Contemporary ping-pong is obsessed with equipment. A term you hear often is "arms race." Different rubbers and blades suit different styles. The glue that holds the rubber and blade together is no small thing either. Lately players have taken to "boosting" their rackets with illegal glues and oils to maximize speed and spin.
Reisman was getting at an issue that persists today: the chasm between recreational and competitive table tennis that is only exacerbated by high-end racket technology. Ping-pong came into being as a parlor game, played on emptied dinner tables in Victorian England. Even as it has evolved into a highly athletic, tactical sport, it has never really shaken those roots. Players who have spent thousands of hours perfecting their skills tend to have little patience for people who think their sport of choice is funny.
The gulf between recreation and competition remains the defining topographical feature of ping-pong in America. This also breaks down racially: Competitive ping-pong is growing in immigrant communities, but has yet to capture the national imagination as anything more than a mere activity. In Grand Rapids, there are relatively few American players between the ages of 20 and 40. The over-40s tend to be whiter, and the under-20s tend to be second-generation immigrants. But this has been the trend in ping-pong for years. In Bombay in 1952, Hiroji Satoh became not only the first sponge-rubber player to win a world championship—he became the first non-European.
---
I am sitting among the center tables watching a men's quarterfinals match between defending champion Eugene Wang, who emigrated from China to Canada, and a young Japanese player named Hidetoshi Oya. Oya is tremendous to watch: He gets his whole body into returns, tilting back and spreading his arms like Juan Marichal preparing to deliver a fastball. But as he overwhelms Wang, the crowd's attention is drawn to something happening at the next table.
A women's quarterfinals match between Riyo Nemoto and Eriko Kitaoka is getting underway. Nemoto and Kitaoka are doubles partners, and will go on to win the women's doubles championship. Both are choppers, patient defensive players who try to force their opponents into beating themselves.
Nemoto, wearing a red polo shirt with her hair tied back in a ponytail, opens the match with an unfrivolous backspin/sidespin serve to Kitaoka's backhand side. Kitaoka, wearing navy blue, pushes a dignified return. Nemoto pushes back. Kitaoka pushes back. Neither player seems hurried in any way, each waiting for the other to open the offense. But over a few minutes, the passive rally evolves into something else: a war of attrition. The crowd turns to Nemoto and Kitaoka. People check their watches as the rally continues unimpeded for five, six, seven minutes.
On the other table, Wang and Oya have completed an entire game to 11 and walked over to their coaches for water and pep talks. But Nemoto and Kitaoka continue in their decorous way. The poor umpire remains perfectly still in her chair, hands wrapped in her lap, head swinging back and forth like a cartoon character's. The players, meanwhile, chop and slice with perfect form. They rock on the balls of their feet. The pace of play tenses and eases, but in a way that feels organic: shifts in the wind, tides rising and falling. It should be boring but it isn't.
I think about Donald Hayes standing before the Millipede machine, moving his hands at speeds inconceivable to an ordinary civilian. What we call sports—these games with arbitrary sets of equipment and boundaries and rules—is totally subjective. This sport is growing —it's just not growing in the most obvious directions. Recreational ping-pong is healthy. Social ping-pong clubs like Spin are popping up everywhere. There's even one in Detroit. Officials talk about leveraging this success—"the ping-pong moment," I even hear one person call it—into greater interest in, and respect for, the competitive game. They're talking about a kind of cultural assimilation.
I wonder why. Why should table tennis have to seek validation? The difference between a competitive sport and a mere recreational activity is nothing but perception. Table tennis is not worthy simply because it is hard to play, or because it is recognized by the International Olympic Committee. Its stakes comes from the people who play it, hundreds of millions of them. Ping-pong is worthy because it is played.
Meanwhile, Nomoto and Kitaoka continue. It is hard to say whether they are competing or collaborating. They are feeding off one another. They are friends, dancing. Neither player wants to mess up, but neither do they want to betray the rhythm that they have fallen into. The crowd grows around them. Finally, a few seconds shy of 10 minutes into the rally, Nemoto sends a backhand into the net. The crowd erupts into applause and then laughter. The players let out dramatic sighs, and they laugh, too, covering their mouths with their rackets.
A fan will watch video of the rally and count 731 combined shots: 365 for Nemoto and 366 for Kitaoka. A year and a leap year. The umpire invokes the expedite rule, which is meant to speed the pace of play and encourage offense by forcing the serving player to attack within 13 strokes or lose the point automatically. Despite losing the opening marathon rally, Nemoto defeats Kitaoka in five sets. The next point consists of only four returns. In the bleachers, I can hear the umpire counting.
---
Eric Nusbaum is the deputy editor of Vice Sports. A co-founder of The Classical, his work has appeared in Sports Illustrated, ESPN the Magazine, and The Best American Sports Writing. You can reach him on Twitter @ericnus.
Top image by Jim Cooke.