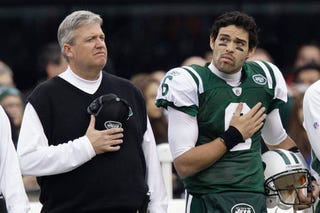 First, let's temper our hopes and dreams: HBO hasn't asked the Jets to take part in the 2012 edition of Hard Knocks, the training camp reality show that introduced the world to Rex Ryan, the most interesting man in sports. But, and this should be front page news, Jets ownership didn't immediately rule it out.
There was a big event at today's grand opening of the NFL Store in Manhattan (literally across the street from HBO's offices), and someone asked Jets owner Woody Johnson about doing Hard Knocks for a second time. Johnson said they haven't received a formal inquiry from HBO, but didn't dismiss the idea out of hand—as brass did a year ago.
With the addition of Tim Tebow to a still-volatile cast (Santonio Holmes is still a Jet, people), a return engagement with Hard Knocks is high on the list of Kickstarters we'd fund. But even if it doesn't happen, and there's no reason to expect the Jets to embrace their circus, nothing will go uncovered. We're told multiple beat writers have already started work on their e-books on the coming Jets season, to be published next winter.
[Gary Myers, via Pro Football Talk]