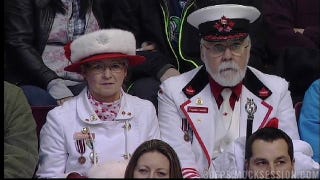 Your morning roundup for Jan. 18, the day we learned even the law says size matters. Photo via Mocksession. Got any stories or photos for us? Tip your editors.

What we watched: San Antonio at Miami. There was something natural about Chris Bosh's play with Dwyane Wade out—an almost uncharacteristic fluidity because he wasn't hampered by the where-do-I-stand-so-as-not-to-get-in Dwyane's-or-LeBron's-way role he normally assumes. Thirty points, eight rebounds, five assists and four steals later, the Heat crushed the Spurs 120-98.

What we're watching (all times EST, unless noted): Cincinnati at Connecticut (ESPN2) and Seton Hall at Villanova (ESPNU) in men's college basketball at 7. Buffalo at Chicago in NHL hockey at 7:30 (NBCSN). Portland at Atlanta in NBA basketball at 8 (ESPN). Oklahoma State at Iowa (ESPNU) and Texas at Kansas State (ESPN2) in men's college basketball at 9. Dallas at Los Angeles Clippers in NBA basketball at 10:30 (ESPN). Australian Open, 2nd Round at 11 (ESPN2).
Read Me
Chris Heath on Michelle Williams: "There is a question I have been wanting to understand the answer to, but have been feeling that I simply can't ask. Eventually I just ask it anyway: Do you think there was a part of you that imagined the two of you would somehow end up together? Immediately, I wish that I hadn't. The look on her face—a kind of juddering visceral alarm at what has been said...I don't wish to see that look many more times in my life. 'That would make me way too sad to answer,' she says quickly, and I hurriedly begin another question, about something completely different, hoping that if I say it fast enough these new words will chase the old words away from where they are hanging in the air between us, and maybe she will let me pretend that it was something I never said." [GQ]
This Date In Deadspin History
Jan. 18, 2008: First Video Of Mike And Mike Roast Surfaces
Elsewhere
Engorging oneself with Subway to take the pain away: "The quality of play in the NBA this season has not been ideal, thanks to the lockout, but the Washington Wizards have stood out as a particularly putrid group. With their 1-12 record and numerous instances of in-fighting, they have no clear path to relevance and few bright spots to build upon. It's all a little depressing for everyone involved, from coaches to players to fans. Head coach Flip Saunders appears to be taking these difficulties especially poorly. After Monday's 114-106 loss to the Rockets at the Verizon Center, he gave the media a sense of just how much of a toll the losing has had on his life. 'You can say it really kills you to lose, but until it really kills you? For me, for 3-4 weeks, I've been on a steady diet of Subway, which is 20 minutes from my condo, and I bring it back up to my apartment. Because like I said, you don't feel good about yourself. As a team, that's how it has to be. It has to really hurt a lot.'" [TBJ, via Ball Don't Lie]
A glimpse at a playoff quarterback: "More importantly, Flacco left one of the Ravens' most important players with a distinctly unimpressed feeling. Talking to SIRIUS NFL Radio on Monday, mega-safety Ed Reed said that Flacco underperformed against Houston's aggressive defense. 'They had a lot of guys in the box on him and they were giving [the pass] to him,' Reed said. 'I think a couple of times he needed to get rid of the ball. It just didn't look like he had a hold on the offense. I don't know how much of [that was] the play calling … but it just didn't look like he had a hold on the offense, you know, of times past … It was just kind of like they [were] telling him [what] to do — throw the ball or get it here, you know, get it to certain guys.'" [Shutdown Corner]
Your Bull Riding Accident Interlude:
In case everyone forgot about this: "The man who wore No. 48 for the Giants in one playoff game nine years ago and knew the last snap of his career had gone astray the moment it left his fingertips stands in front of a mirror. He dons a camouflage baseball cap and sports a gray goatee inside the wooden shed he's converted into a makeshift weight room. He calls the tight space - filled with metal bars, chains and ropes - his torture chamber. His voice softens as he details the darkest moment of his professional life. 'For 19 years I tried to be invisible in my profession,' says Trey Junkin, now retired, spinning an official NFL leather football and tracking it with his eyes. 'Once I put my hands on that ball that day, that shitty snap was my fault. I think about it every day.' Junkin, who turns 51 on Sunday, is reliving the miscue from the end of the Giants' 2003 wild-card loss to the 49ers on endless loops this week as the teams prepare to meet in the NFC Championship Game, their first playoff pairing since the last-second loss. Signed four days before that game - Junkin, then 41, submitted retirement papers to the league a month earlier and had not been on a roster in 2002. What ensued at Candlestick Park sullied a career celebrated for repeated excellence after two of his 12 snaps led to blown field-goal attempts. 'It still jolts me from sleep,' says Junkin, in an exclusive interview with the Daily News, his first since the day after the defeat." [NY Daily News]
Just agree to fight already, Pacquiao: "January 16th was Dr. Martin Luther King Birthday January 17th is Muhammad Ali Birthday and May 5th is Pacquiao ass whooping day" [@FloydMayweather]
Send stories, photos, and anything else you might have to tips@deadspin.com.