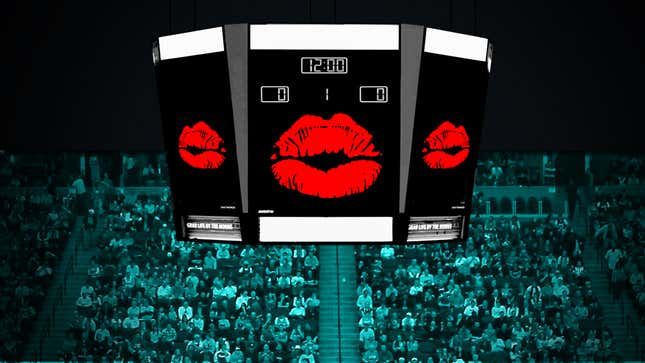 To tell the story of the Kiss Cam, let's start with a kiss that happened off camera. On Aug. 8, 2000, Danielle Goldey and Meredith Kott attended a game at Dodger Stadium. At one point, as couples are wont to do, they smooched. Before long, security guards arrived, removed the women from their seats, and escorted them out of the ballpark. "It was shocking," Goldey told me not long ago. "I'm a diehard, true blue Dodger fan and this is happening. Are you kidding me?"
How running an NFL team is like running a restaurant | Chef Emeril Lagasse
Their friends, a man and a woman, kissed, too. But they were allowed to stay. What's worse is that Goldey and Kott initially weren't given a reason for being ejected. They later learned that another fan had complained. According to Goldey, the anonymous person had told someone, "I don't want my kids around those kinds of people."
Kissing at a ballgame can be a fraught experience. Kissing at a ballgame can be good, clean American fun. Somewhere between these two poles lies the Kiss Cam.
---
The exact origins of the Kiss Cam are unclear, but like so many American cultural artifacts with mixed legacies—the Eagles, macrobiotics, porn—its roots can be traced to Los Angeles in the 1970s. Somewhere in that decade, the Dodgers decided they needed a video board. Barry Stockhamer, a marketing guru who spent 30 years with the team, remembers touring ballparks in Chicago, Milwaukee, and Montreal in search of inspiration. All the in-game highlights he watched on those trips were on black-and-white screens. But Stockhamer's employer wanted something bigger and shinier.
And thus, Diamond Vision was born. Manufactured by Mitsubishi Electric and reportedly purchased for $3.5 million, the 20-by-28-foot glowing showpiece made its official debut at Dodger Stadium at the 1980 All-Star Game. "Nine people run the scoreboard with a computer board resembling the one used to operate the space shuttle," United Press International gushed. In the same story, Stockhamer deemed it the "largest color television in the world." (For comparison's sake: Each of the comically gargantuan screens at AT&T Stadium in Dallas is 72 feet tall and 160 feet wide.) The newfangled attraction, which loomed high above left-center field, beamed highlights from the game (but never replays of close or controversial calls), snippets of out-of-town games, musical numbers, crowd shots. Cheering, jumping up and down, kissing—it was all on display.
"It's live theater," Stockhamer told me. "If you tried it, you got an immediate response from fans." He began noticing that between innings, umpires would glance up at the board. Revered broadcaster Vin Scully also approved, regularly mentioning Diamond Vision on the air.
It didn't take long for other franchises to follow the Dodgers' lead. Amazingly, when the Mets shelled out $4 million on a new video board in the fall of 1981, club chairman Nelson Doubleday felt the need to reassure the media that the upgrade "will in no way affect our commitment to making necessary investments to improve the team." (Eight months later, the Mets drafted Dwight Gooden.)
In 1986, the New York Times reported that 14 of Major League Baseball's 26 parks had color screens. From a production standpoint, the advent of in-game entertainment presented unique challenges. John Franzone, now the Tampa Bay Lightning's vice president of game presentation, worked for the Mets and Yankees in the '80s and '90s. He remembers live shots being tricky propositions. "In NYC," he said in an email, "I wasn't worried about Kiss Cam as much as avoiding Middle Finger Cam."
By the early '90s, seemingly every arena in the nation had its own video board. Technological advances, like wireless cameras and cheaper, stronger lenses, "made the Kiss Cam (and other fan shot interactive features) proliferate as low-hanging entertainment fruit," according to Franzone.
Bob Becker, executive vice president of Van Wagner Big Screen Network, the company in charge of scoreboard content and production at the Super Bowl, helped introduce the Kiss Cam during the Florida Marlins' inaugural season. It took only three easy steps: Blast a Sinatra love song through the Joe Robbie Stadium speakers, point a camera at a couple, and put them on the screen accompanied by a heart wipe. It was simple, and it stuck.
The Kiss Cam has turned up in movies (How to Lose a Guy in 10 Days), sitcoms (Modern Family), and as a WWE gimmick (it was The Great Khali's signature bit). It been used to catch wanted criminals. Two years ago, while sitting courtside at the Verizon Center for Team USA's Olympic tuneup against Brazil, Barack Obama noticed that he and Michelle were on the arena's video boards. But when he leaned in to lock lips with the First Lady, she didn't reciprocate.
"I didn't see the Kiss Cam part," Michelle later claimed on The Tonight Show, "so I didn't know we were supposed to kiss." Naturally, Malia Obama, in the words of her mother, "was just disgusted with us." The teenager proceeded to explain the gimmick to her parents, and when the Kiss Cam came around again, they embraced.
"It's still the crowd favorite," Becker said. "It could be your first game ever or your 1,000th game." When the Kiss Cam catches you, he said, "You know what you're going to do."
---
But that's just the problem now. As the Kiss Cam became a staple of sporting events, the gimmick's underlying assumptions—that sports fans were straight, that they would find something funny about the prospect of two men kissing—began to fall away. The Kiss Cam hasn't kept up with the times. Consider: Next fall, the NFL's massive stadium video boards are more likely to feature an openly gay man making a bone-jarring tackle than an openly gay man kissing his boyfriend.
In 2011, Jezebel's Erin Gloria Ryan interviewed Jeff Szynal, who oversees scoreboard operation for the Chicago White Sox:
When queueing up for a fan-cam bit, his camera operators look for people who are engaged with each other and with the game and who look unlikely to embarrass themselves or the team (AKA: not sloppy). After all, people consume alcohol at sporting events, and alcohol makes people act like jerks sometimes, especially when they know that a lot of people are paying attention to them (see: Mardi Gras).
There's little doubt that at every game, several same-sex couples meet that criteria. Yet Kiss Cam operators typically shy away from two men or two women. Some teams don't even attempt the gimmick at all. The Washington Mystics—which, like all WNBA teams, should eternally be thankful for its lesbian fans—have no use for the Kiss Cam. "We got a lot of kids here," managing partner Sheila Johnson told Washington Post columnist Mike Wise in 2009. "We just don't find it appropriate." Slate's Mark Joseph Stern rightly called that kind of bogus reasoning "the blatantly bigoted old plea to think of the children."
Among homophobes, this brand of gay panic masquerading as thoughtful parenting is a common trope. Exhibit A: David Whitley's 2010 FanHouse column in which he argued that grade schoolers are too young to understand why two men or two women might kiss.
"The sooner my kids see examples of racial harmony, the better," wrote Whitley. (In 2012, he argued that biracial quarterback Colin Kaepernick's tattoos made him look like a parolee.) "But this issue has torn up entire religions. Call me homophobic, but I just don't think a 5- or 10-year-old brain is ready to tackle those complexities." (My wife, a preschool teacher, long ago informed me that 2- and 3-year-olds have no trouble grasping the concept.)
When two people of the same sex are featured on the Kiss Cam, they're usually teammates. "Because, you see, there's nothing quite as insulting to the rival squad as suggesting that two of their guys might want to kiss each other," Kyle Weidie snarked in Washington City Paper.
There are many examples of this, but let's look at one from January 2002. During a Flyers-Maple Leafs game at Air Canada Centre, the Kiss Cam found Philadelphia's bench. Naturally, Jeremy Roenick proceeded, in the words of Sports Illustrated's Michael Farber, to "plant a wet one" on teammate Mark Recchi. The crowd went wild. "Biggest roar all night," Roenick quipped.
This can be cute and mostly harmless, particularly when celebrities like Will Ferrell and John C. Reilly, or Dustin Hoffman and Jason Bateman, are involved. But Stern argues that there's a thin undercurrent of homophobia running beneath the gag. Becker, for one, said he wouldn't put a same-sex couple on the Kiss Cam in order "to get a laugh. No."
But it happens. In September 2010, the Kiss Cam at the Edward Jones Dome in St. Louis focused on two guys in rival jerseys. "The crowd laughed and booed when the two men tried to shoo away the cameras," the Post-Dispatch reported. "But there were gay men in the crowd who said it was offensive that the Rams organization would choose to embarrass Arizona fans by portraying them as a gay couple."
Pride St. Louis, which coincidentally had planned an "Out at the Ballpark" day at Busch Stadium for that month, figured it was a good time to push the Cardinals to put a gay couple on the Kiss Cam. "We always felt left out because the Kiss Cam always singles out heterosexual couples," Harrison Roberts, manager of local gay bar Just John, told the Post-Dispatch. "But after what happened at the Rams game, all the gay and lesbian fans that were there felt embarrassed and a little degraded. Why shouldn't we be on the camera, too?" The "Out at the Ballpark" event reportedly went well, but the Kiss Cam once again ignored same-sex couples.
Then, about a year later, there was a bit of a breakthrough. At a Giants-Cubs game in San Francisco in August 2011, Thom Watson and Jeff Tabaco ended up on the AT&T Park Kiss Cam. The couple embraced warmly. The moment, it seemed, was not played for a cheap laugh.
"It does piss me off that San Francisco did it before L.A.," Goldey said. But she applauded the sentiment. The goal, she added, should be to put same-sex couples in the Kiss Cam's regular rotation. It's not a very difficult proposition.
"Make it more inclusive," said Doug Johnson, co-creator of PuckBuddys, a site aimed at gay hockey fans. "Just pick people. It doesn't have to be: man and woman." A kiss, he said, is "not a car crash," no matter who's doing the smooching.
Last September, the Dodgers held their first LGBT Night Out. Newly minted gay icon Jason Collins threw out the ceremonial first pitch, and the Gay Men's Chorus of Los Angeles sang the national anthem. Goldey was there, in her usual seats. She'd never stopped loving the Dodgers, even after her expulsion.
"It wasn't my team that did this," she said, explaining that it wasn't the players' fault that a handful of employees had acted so stupidly 14 years ago. It took a few weeks and a threatened lawsuit, but the organization eventually apologized. The club reportedly donated 5,000 tickets to gay and lesbian organizations and promised that its staff would undergo sensitivity training. "I think they stepped up to the plate more than they had to," Goldey said at the time. "All we wanted was an apology. … I'm very proud to be a Dodger fan."
That's not to say the incident doesn't irk her still. After all, this was supposedly progressive Los Angeles, not some backwater. Despite her comments at the time, Goldey allowed that she wasn't satisfied with the team's response. "I wish [the Dodgers] would've done more," she said. "They walked away doing what they had to do."
At that game a few months ago, Goldey hoped a gay or lesbian couple would end up on the Kiss Cam, but it didn't happen. Given the chance, Goldey said she would've taken it. Her fiancée, however, may not have been on board.
"She is definitely not a Kiss Cam person," Goldey said. "She is very private. The irony is, if they did show us on it, I would feel obligated. Now's the time we have to do it."
---
Alan Siegel is a writer in Washington, D.C. Contact him at asiegel05@gmail.com; follow him on Twitter @alansiegeldc.
Image by Sam Woolley.