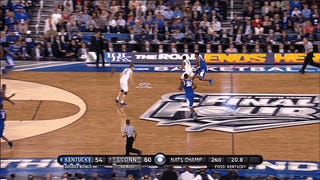 Kentucky didn't really have a great shot at winning, down six with 20 seconds to go, but the play it ran to get a late look was one we've seen over and over this year.
Because of college inbound rules, "Chop" has become a sort-of industry standard for late-game offenses. Everyone runs this thing now, following Bill Self originating it in 2006. The Wildcats messed around with it some, too. From Matt Giles's rundown on the "Chop" play:
Fran Fraschilla has taken to calling it "America's play." He says: "It has a hallowed place in college basketball's virtual playbook." You might see Kentucky's interpretation of the play in tonight's championship game.
The Kentucky interpretation turned out to be a few missed screens, a wobbly pass, and a couple missed threes.